The BigCommerce platform offers the best of both SaaS (software as a service) and API-enabled flexibility, providing enterprise integrations and tools for faster customization. We're going to look at 20 inspiring BigCommerce ecommerce design examples. These clients harnessed the power of BigCommerce's high-performing ecommerce platform and achieved outstanding results.
Americaneagle.com is a digital agency that believes in technology's ability to transform business practices through web design, development, and digital marketing. We are proud to be a top BigCommerce development services partner that has created award-winning ecommerce websites in many different industries. As an Elite partner, we implement this powerful platform to produce high-quality websites for clients of all sizes. We also offer technical and design expertise, consulting services, and post-launch support. You can trust Americaneagle.com to seamlessly implement BigCommerce for your ecommerce business.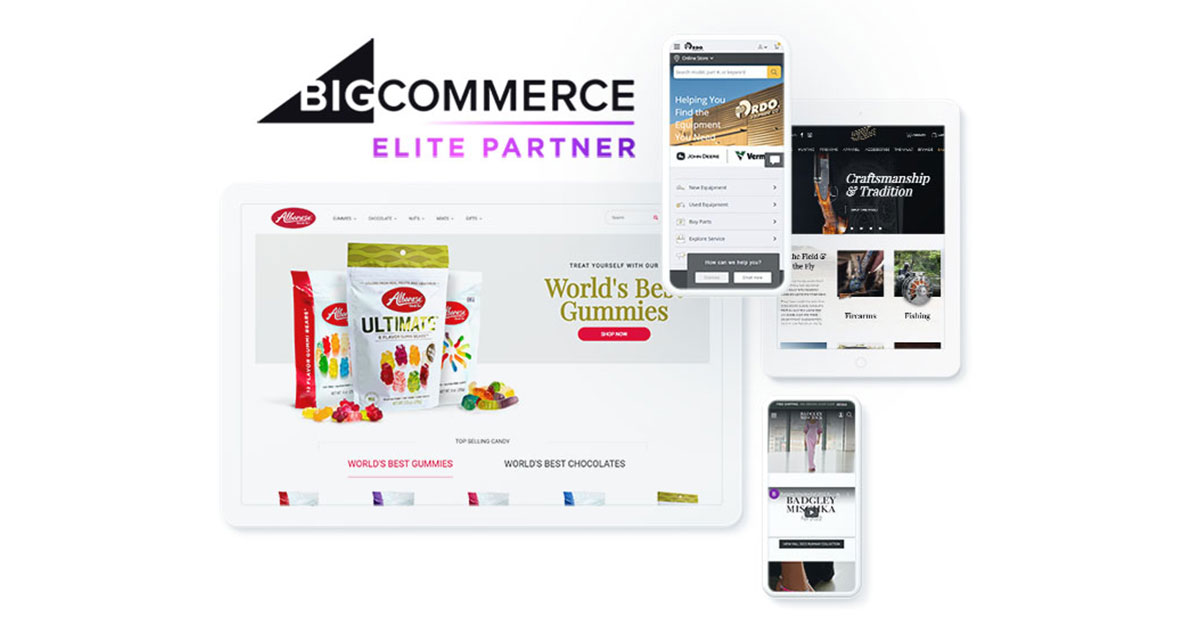 Key Features of a Stellar BigCommerce Ecommerce Design
User-Centric Design
A high-quality BigCommerce website prioritizes the user experience. It is designed with a deep understanding of the target audience's needs and expectations, so that an online environment that is intuitive and easy to navigate is created. The website's design should not only be visually captivating but also functional, ensuring that users can find what they're looking for with minimal effort. BigCommerce utilizes a High Availability (HA) infrastructure, enabling them to provide 99.99% uptime as well.
Rich Content
Harnessing BigCommerce's capabilities, the best sites feature high-quality multimedia elements, ensuring content is relevant, organized, and frequently refreshed. The aesthetic appeal has a significant influence on the user's first impression. A well-designed website using BigCommerce must captivate the user from the moment they land on the page. This involves a careful selection of color schemes, fonts, images, and other visual elements that reflect the brand's identity and resonate with its target audience.
Personalized Shopping Experiences
By understanding user behavior, leading ecommerce platforms like BigCommerce provide tailored product recommendations and personalized content, enhancing user engagement. A good BigCommerce website should be personalized based on shopper preferences, using data analytics to understand their behavior. If shoppers frequently abandon their carts, the website can be optimized to simplify the checkout process and provide security assurances.
Seamless Checkout Process
The pinnacle of ecommerce design ensures a frictionless shopping journey for the user, from product selection to secure payment and order confirmation. Products should be organized by category, robust search function and filters should also be provided to help shoppers easily find what they want, leading to increased likelihood of conversion. The BigCommerce ecommerce platform features one page checkout, superior payment processing, shipping and tax features, flexibility in customization, and specialized B2B capabilities.
Integrated Systems
Integrate BigCommerce with your ecosystem using APIs and effective data orchestration. Top BigCommerce designs seamlessly integrate with essential business systems, from inventory management to customer relationship management, ensuring operational efficiency. You can also connect a WordPress site to BigCommerce's commerce engine with pre-built plugin for brands with an editorial or content focus.
Advanced Search Capabilities
Shoppers can quickly locate their desired products thanks to advanced search features, filters, and categorization. The platform includes faceted search using Elasticsearch with custom field support for precise searching, and integration with other top-notch third-party tools is also available.
Robust Security
Trust is paramount in ecommerce. Leading BigCommerce sites prioritize user data protection, secure transactions, and compliance with ecommerce regulations. The BigCommerce platform is certified for ISO/IEC 27001:2013 and PCI DSS 3.1, Level 1 as a Merchant and Service Provider. The platform secures your store's data with two data centers and a separate back-up data center as well.
Feedback and Analytics
Continual improvement is key. The best sites gather user feedback and employ analytics tools to refine the user experience and site performance. Reporting and analytics features drive real-time business success with important metrics for customer data, orders, marketing, and more through the BigCommerce analytics dashboard.
20 Best BigCommerce Ecommerce Designs by Americaneagle.com
Badgley Mischka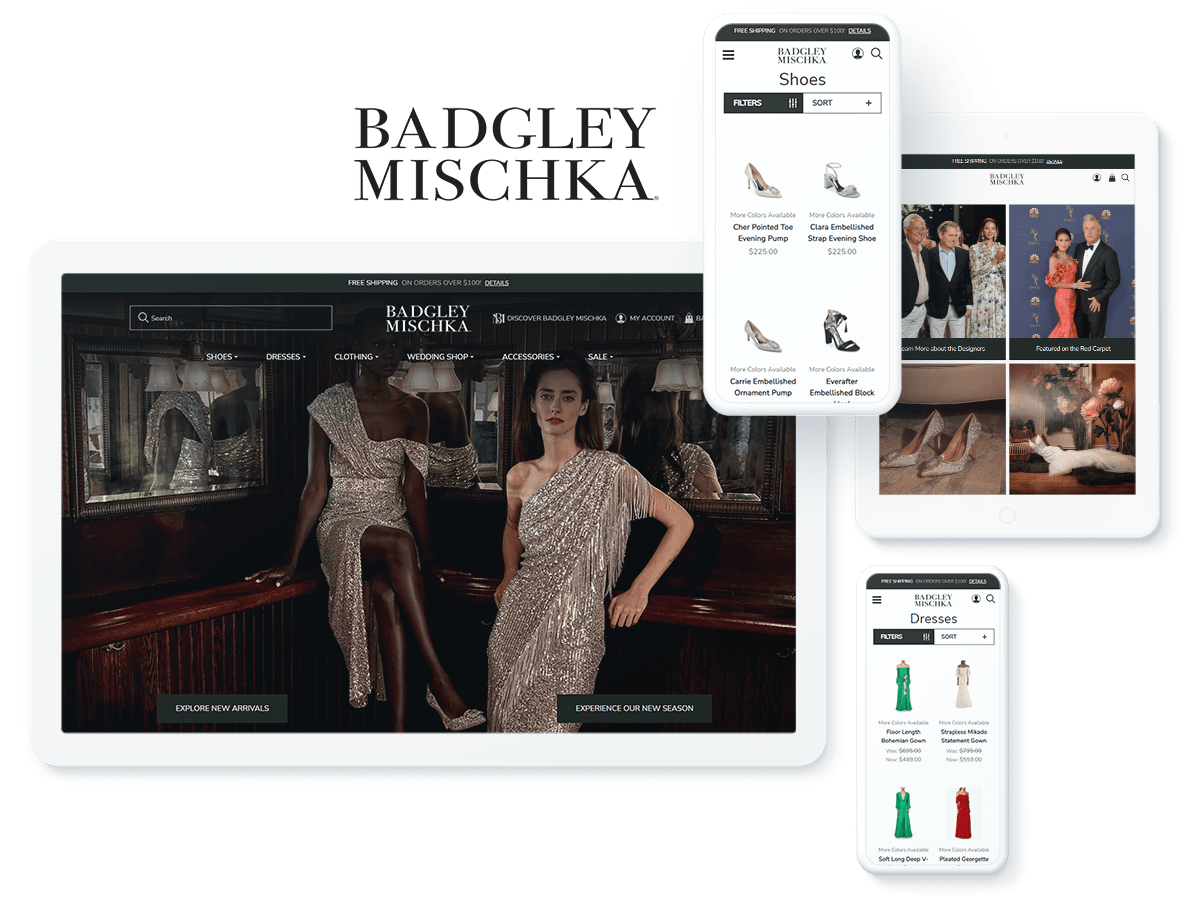 Badgley Mischka sought Americaneagle.com's expertise to enhance its online presence and expand the client base. Our digital strategy team began with a comprehensive strategy that formed the basis for all subsequent efforts. Our web development team used the foundational strategy and integrated marketing strategy to redesign the website specifically for Badgley Mischka. Badgley Mischka's digital presence has grown significantly since partnering with Americaneagle.com, and the website has become a major area of business growth.
WisconsinMade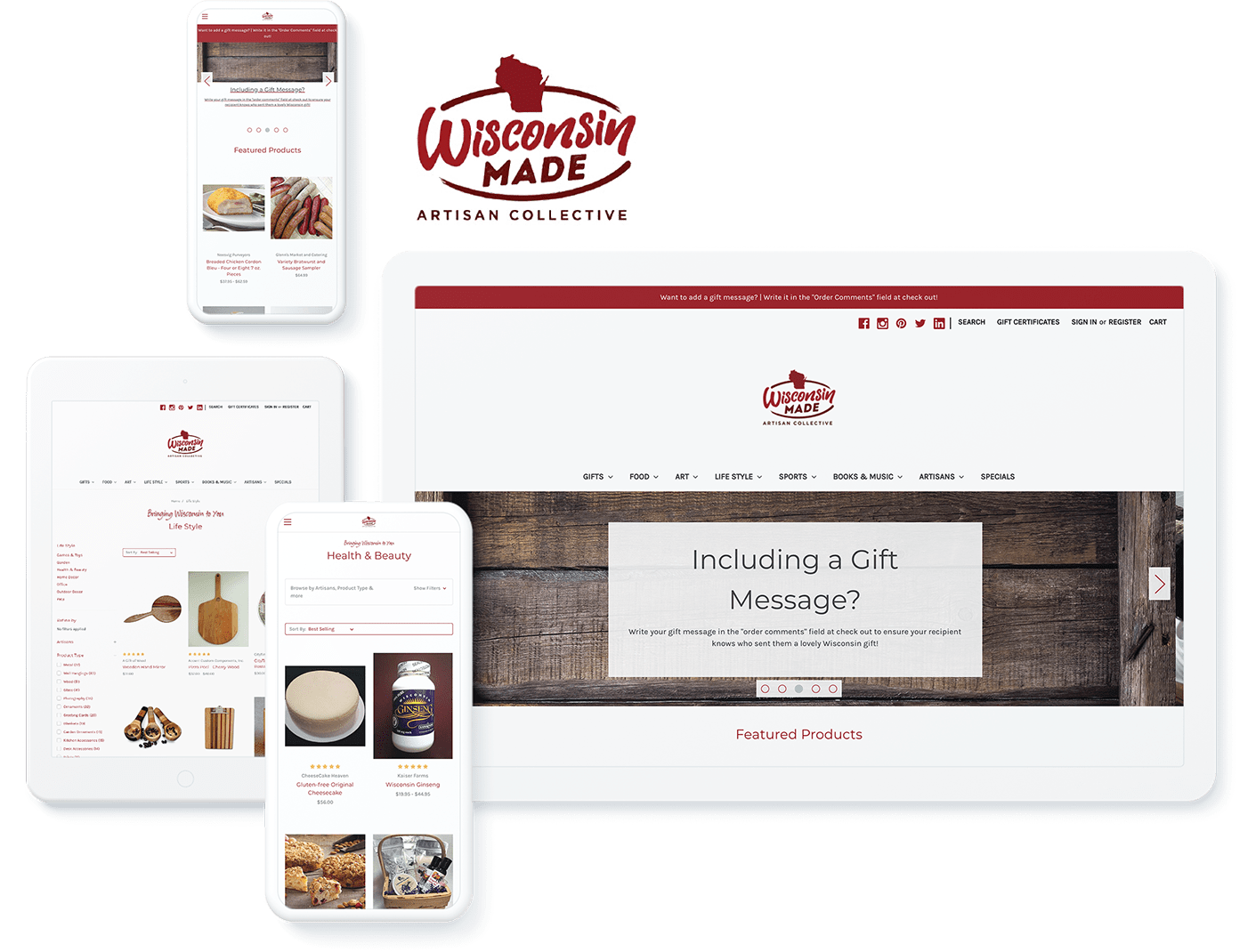 WisconsinMade partnered with Americaneagle.com in 2008 as they needed a digital agency that specialized in web strategy, design, development, and maintenance services. The BigCommerce ecommerce platform was implemented to meet the company's customer, staff, and vendor needs.
Gordy & Sons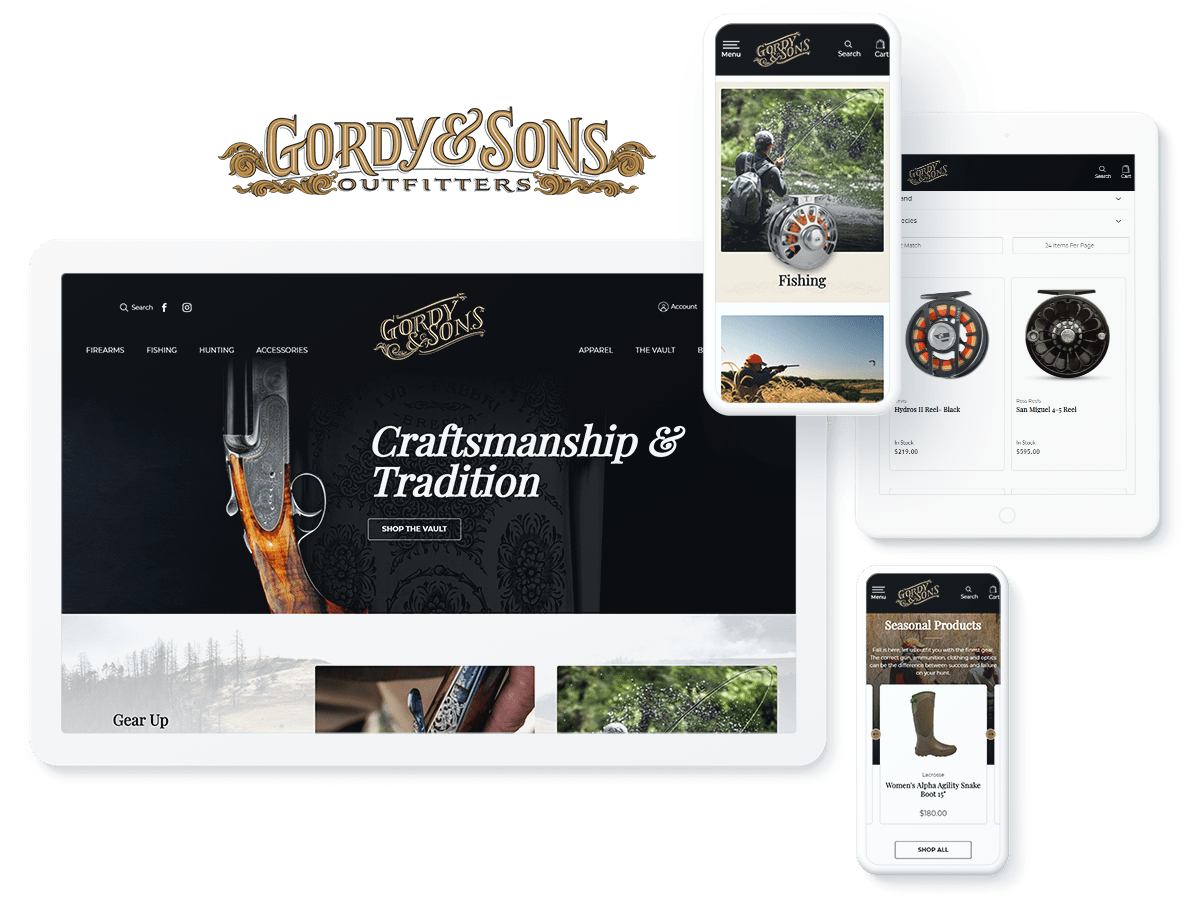 Gordy & Sons needed a new, strategic partner to help grow its ecommerce revenue and they chose Americaneagle.com. The new BigCommerce website for Gordy & Sons integrated its graphical point-of-sale environment and inventory management system, CounterPoint. It was critical that the two systems communicated seamlessly for accurate, real-time data on product inventory, orders, and customer details.
Dana Rebecca Designs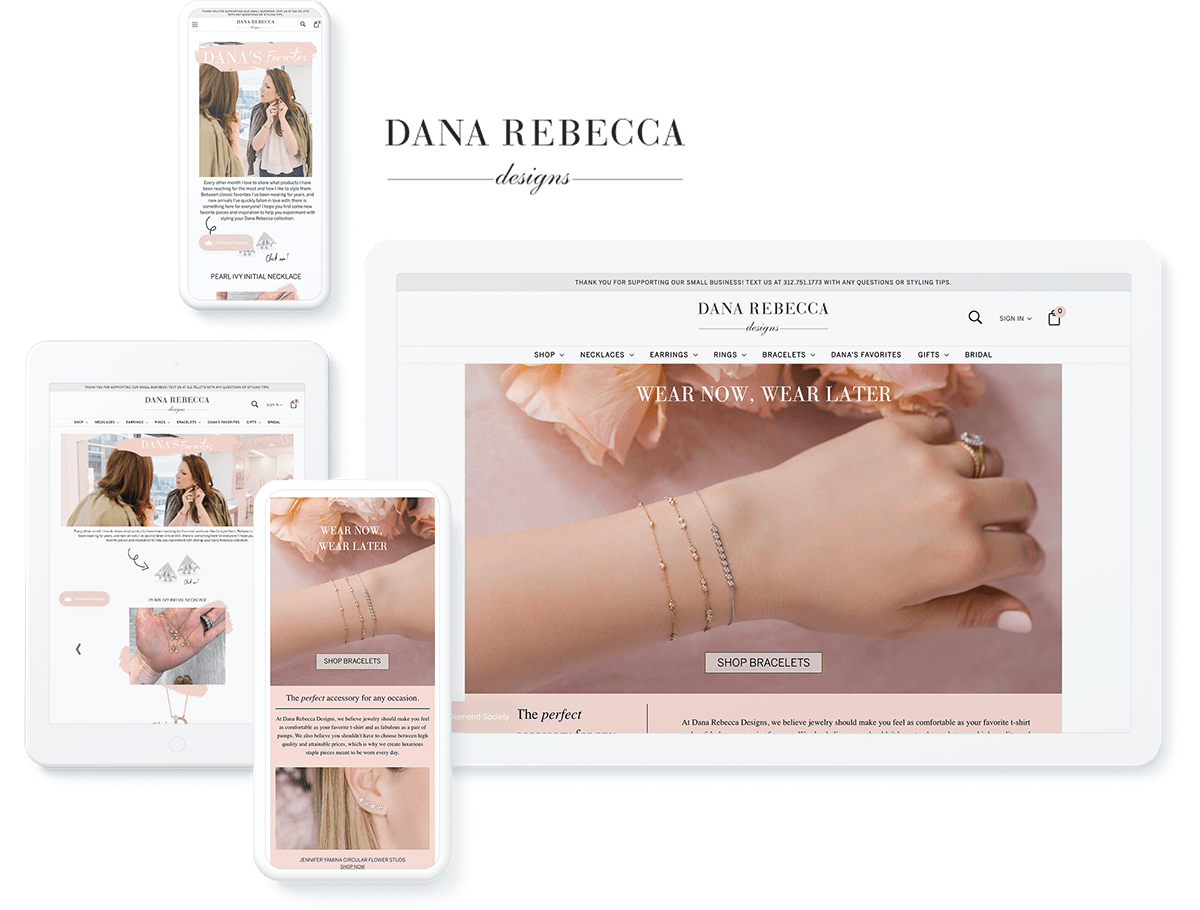 Americaneagle.com developed a strategic roadmap and completed enhancements and improvements to the Dana Rebecca Designs current site on the BigCommerce platform. The team finished a user behavior analysis and continues to work on improving the site through optimization, maintenance, and other recommendations.
Carson-Dellosa Education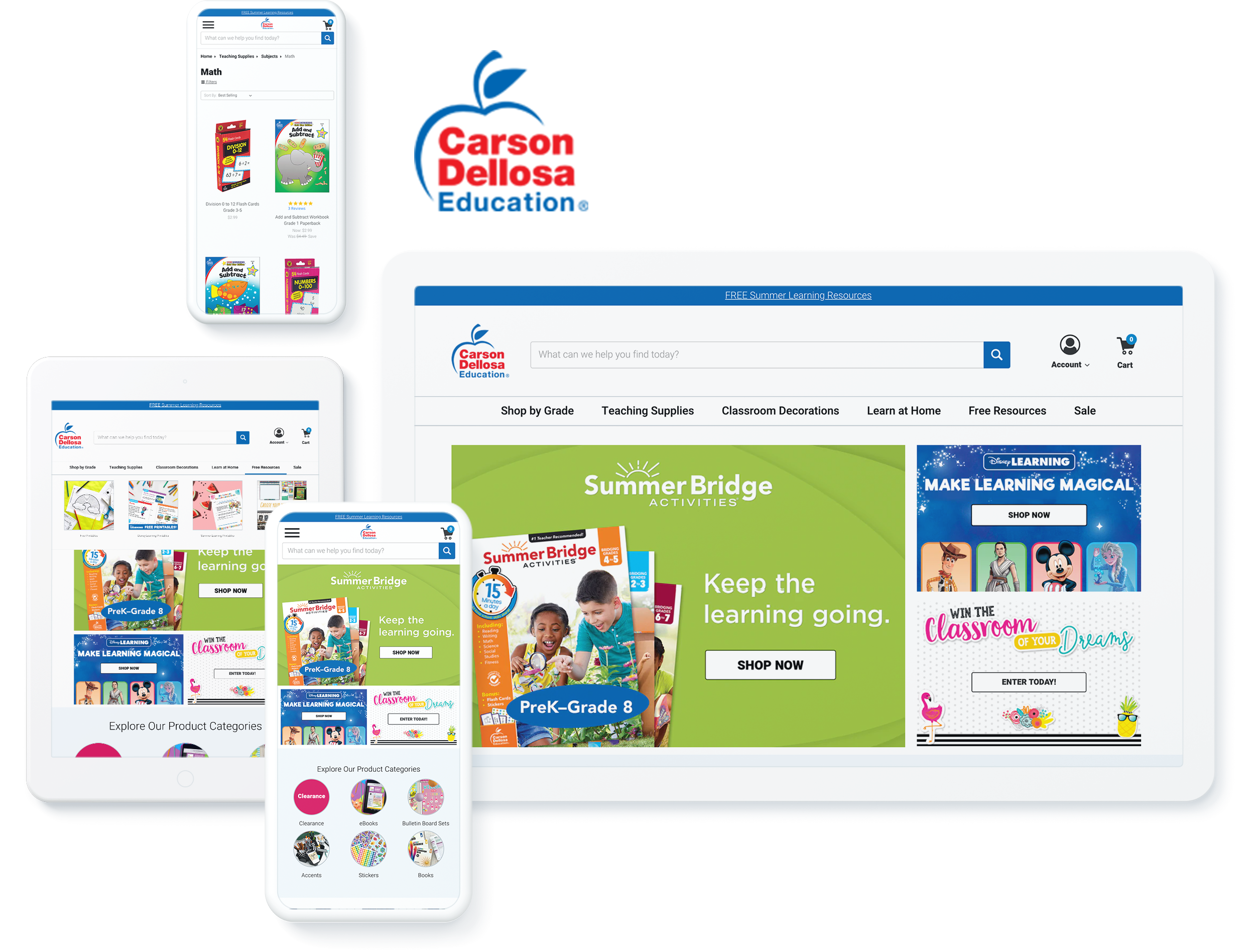 Carson-Dellosa had an outdated website and its previous ecommerce infrastructure was expensive and difficult to use. The team at Americaneagle.com built a visually appealing website on BigCommerce that represented the company and its products well, with custom features that maximize the platform's capabilities.
ZokyDoky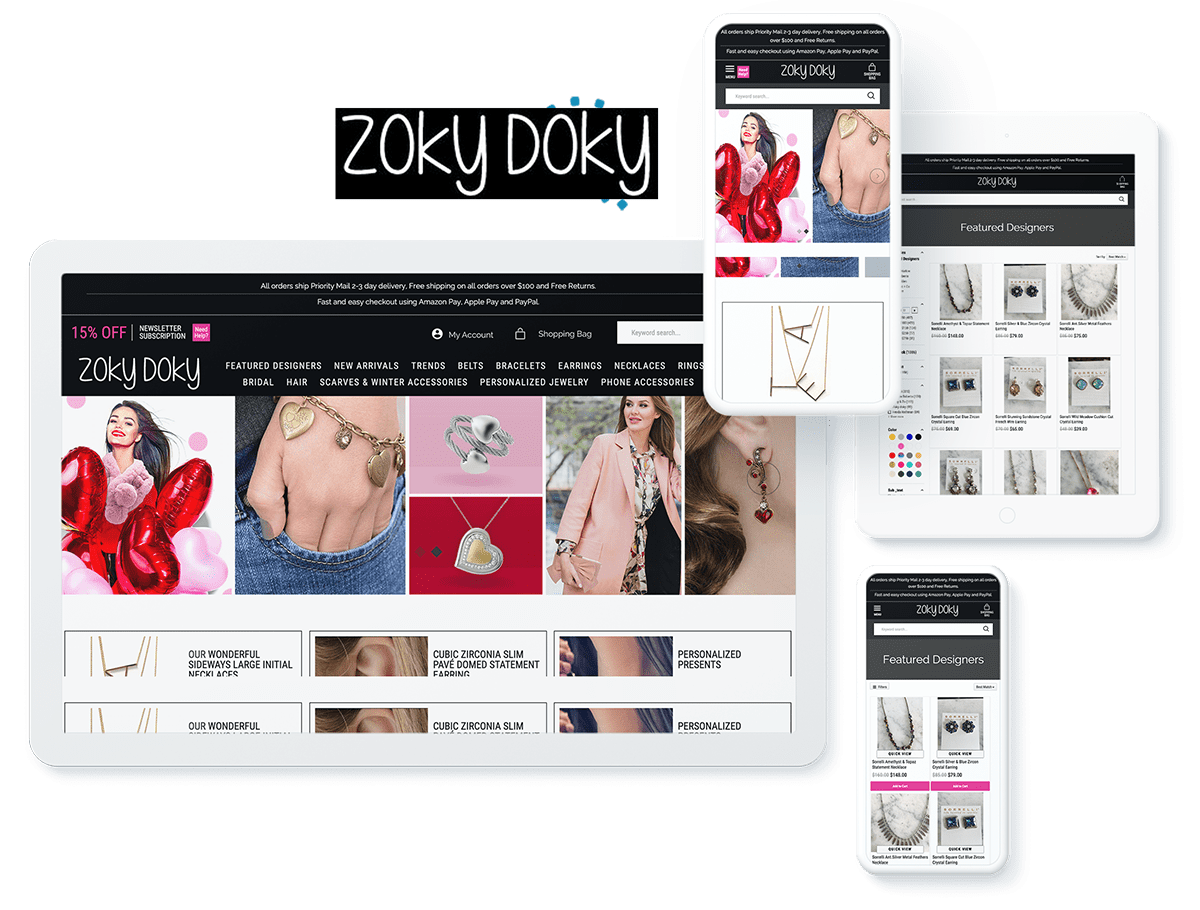 ZokyDoky approached Americaneagle.com for web development services in 2017. The site was built on BigCommerce with a focus on providing a guilt-free purchasing experience, with the back end of the site providing numerous personalizations and customizations. This resulted in a beautiful site design and experience.
Striping Service and Supply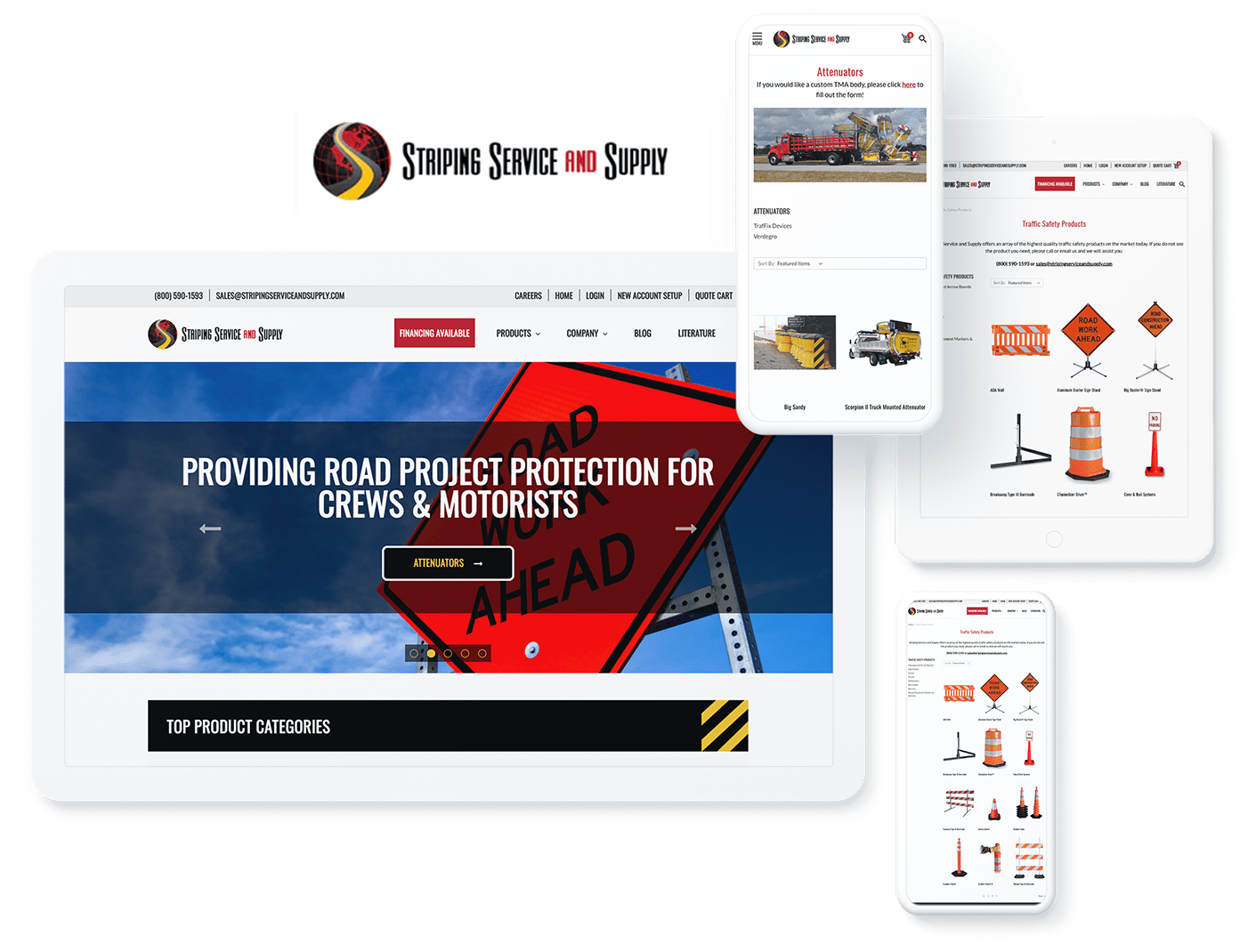 Striping Service and Supply approached Americaneagle.com for a product catalog website to display their business and product offerings. The new website was built on the BigCommerce platform and caters to those in the manufacturing and distribution industry. Americaneagle.com provided expertise in web and application development while implementing the platform.
Kennicott Brothers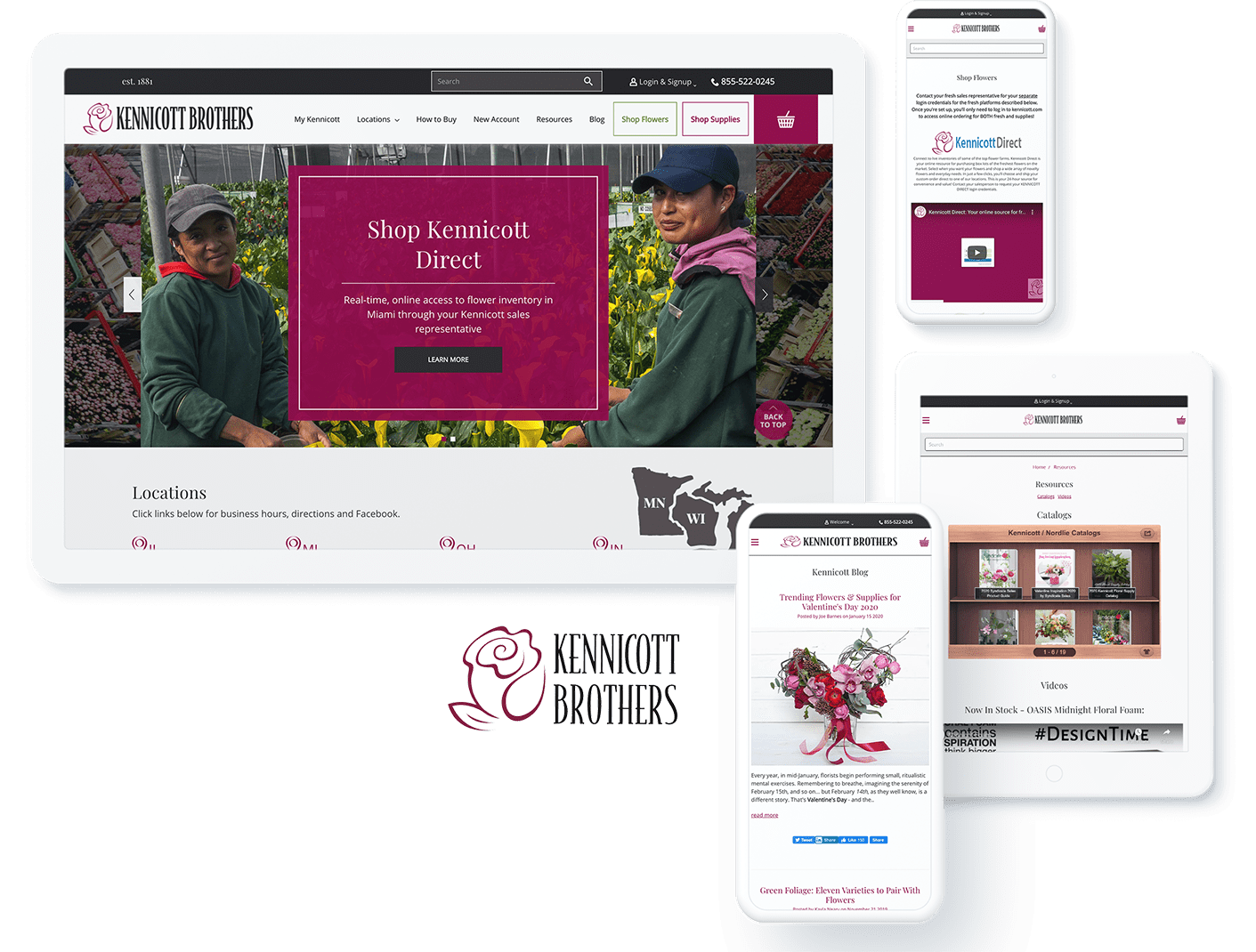 Developed by Americaneagle.com on the BigCommerce platform, Kennicott's B2B site can expand as they incorporate ecommerce with the physical store options. Custom integrations were added to manage customer data and onboard new vendors who can submit products for review before being posted on the website.
The Compression Store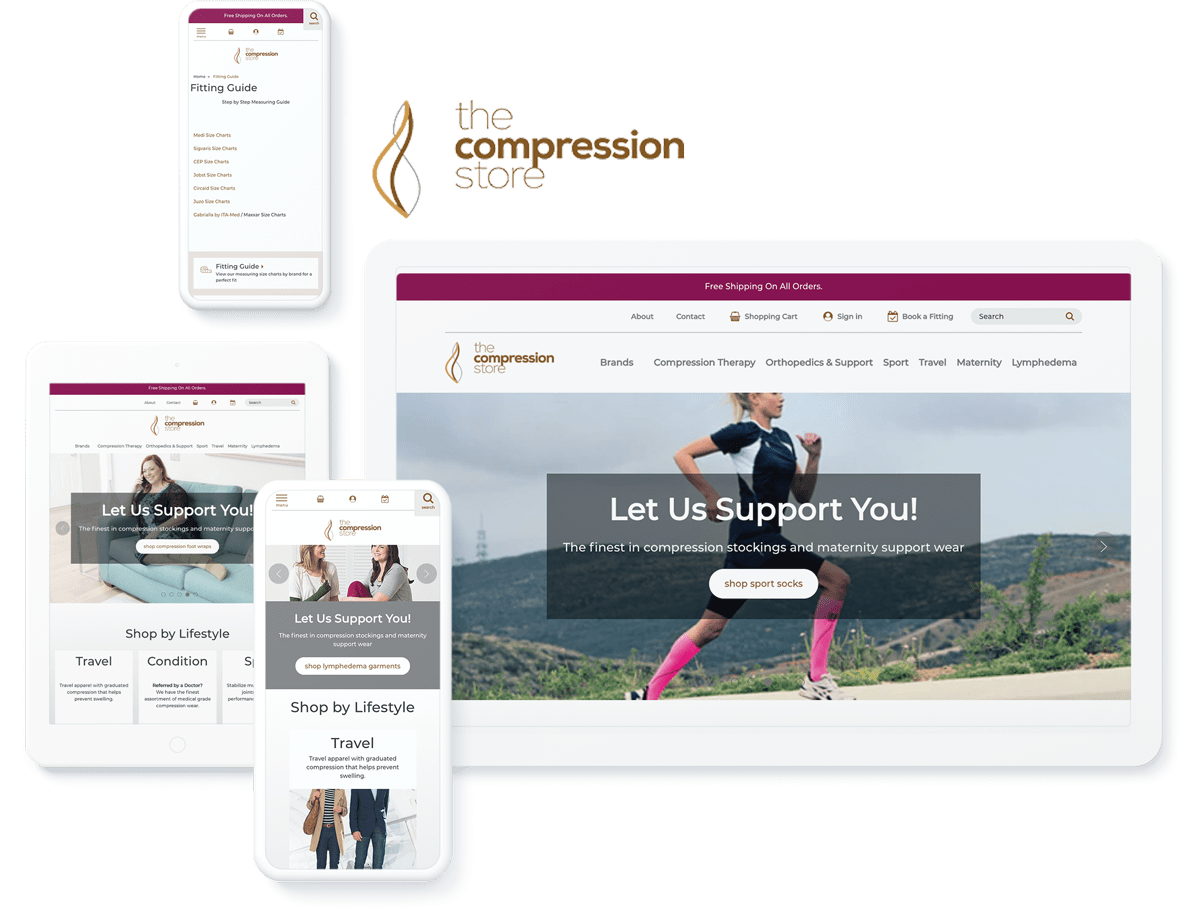 With over 20 years of experience, the Compression Store is the go-to destination for compression socks and specialty footwear. And now, thanks to Americaneagle.com, the company has an ecommerce website on the BigCommerce platform that is intuitive, easy to use, and successful.
New Chapter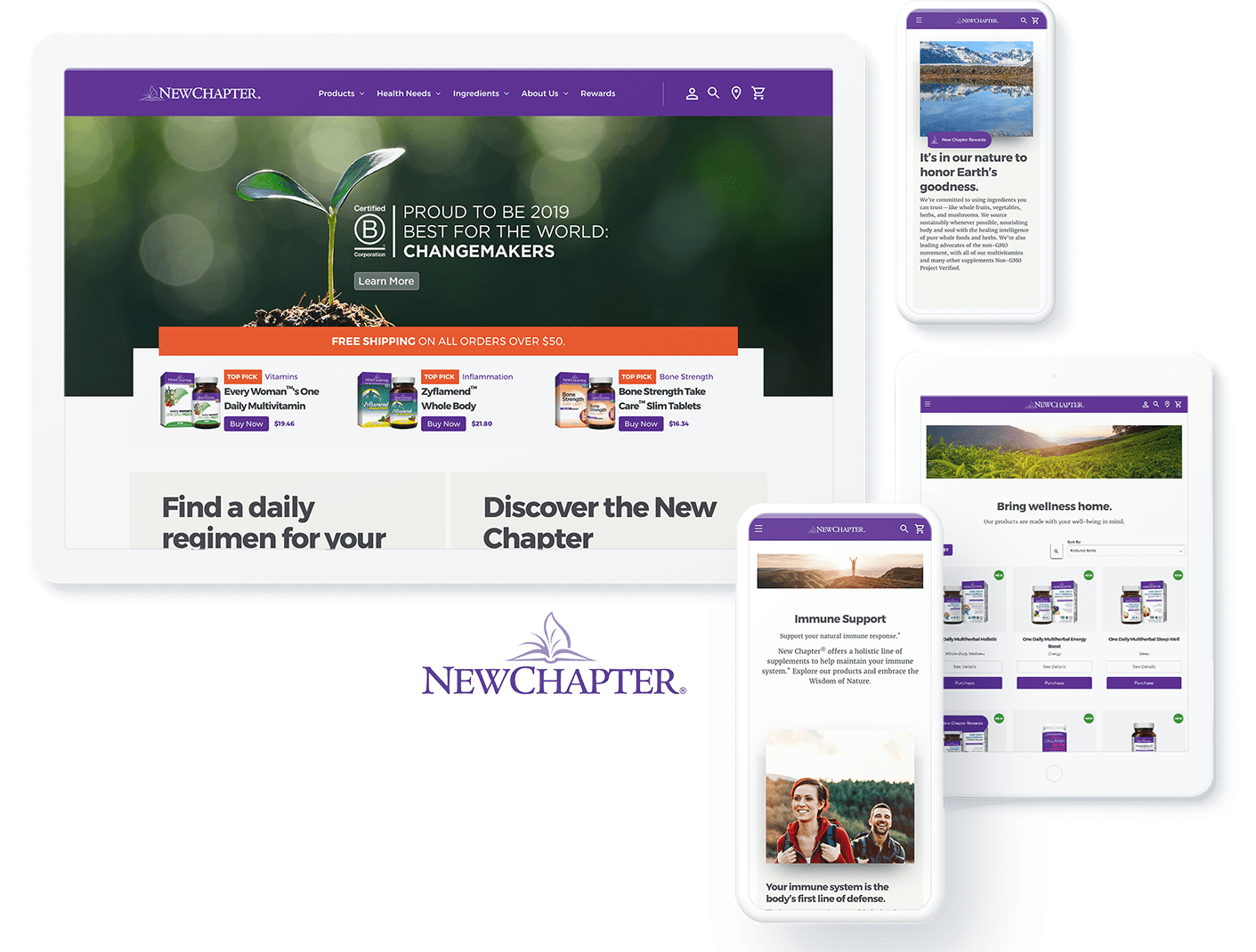 Before coming to Americaneagle.com, the previous website was challenging for the internal team of New Chapter to maintain because it was on a headless CMS. They turned to the team at Americaneagle.com who migrated the site to the BigCommerce platform, enhancing the website with powerful features.
The Monticello Shop/Thomas Jefferson Foundation Inc.
Monticello has been maintained and open to the public for almost 100 years by the Thomas Jefferson Foundation, Inc. The Monticello Shop needed a web development partner to provide strategic guidance and completely revamp its ecommerce website. The new site works across all devices, has a modern look and feel, and provides a seamless user experience.
HoMedics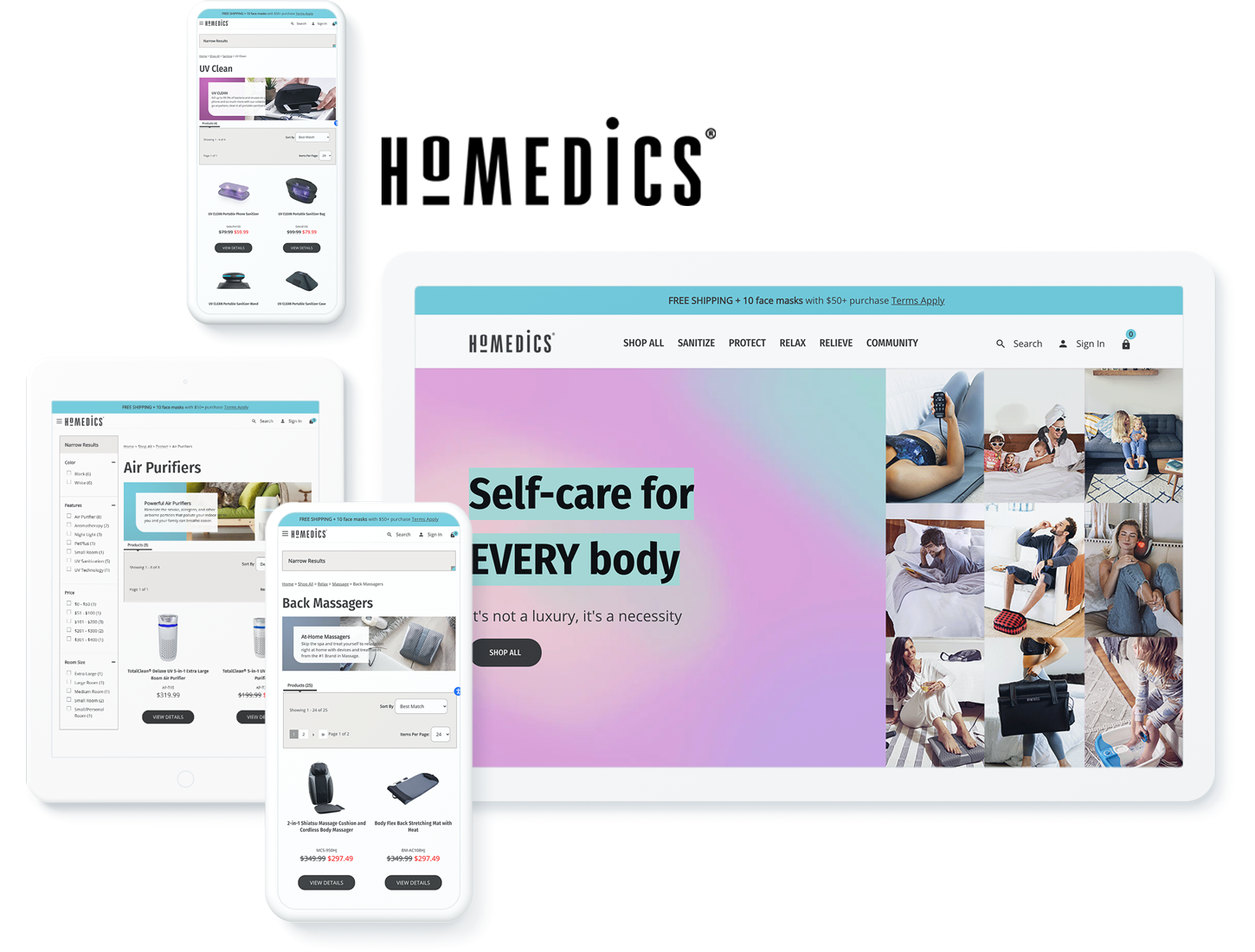 Prior to partnering up with Americaneagle.com, FKA Brands had all six of its subsidiary websites using an outdated version of Magento that was being phased out. This led FKA Brands to collaborate with Americaneagle.com in search of a new ecommerce platform that would enable it to reach its business goals. HoMedics.com launched Phase 1 of FKA Brands' project to update and improve its ecommerce sites.
FKA Brands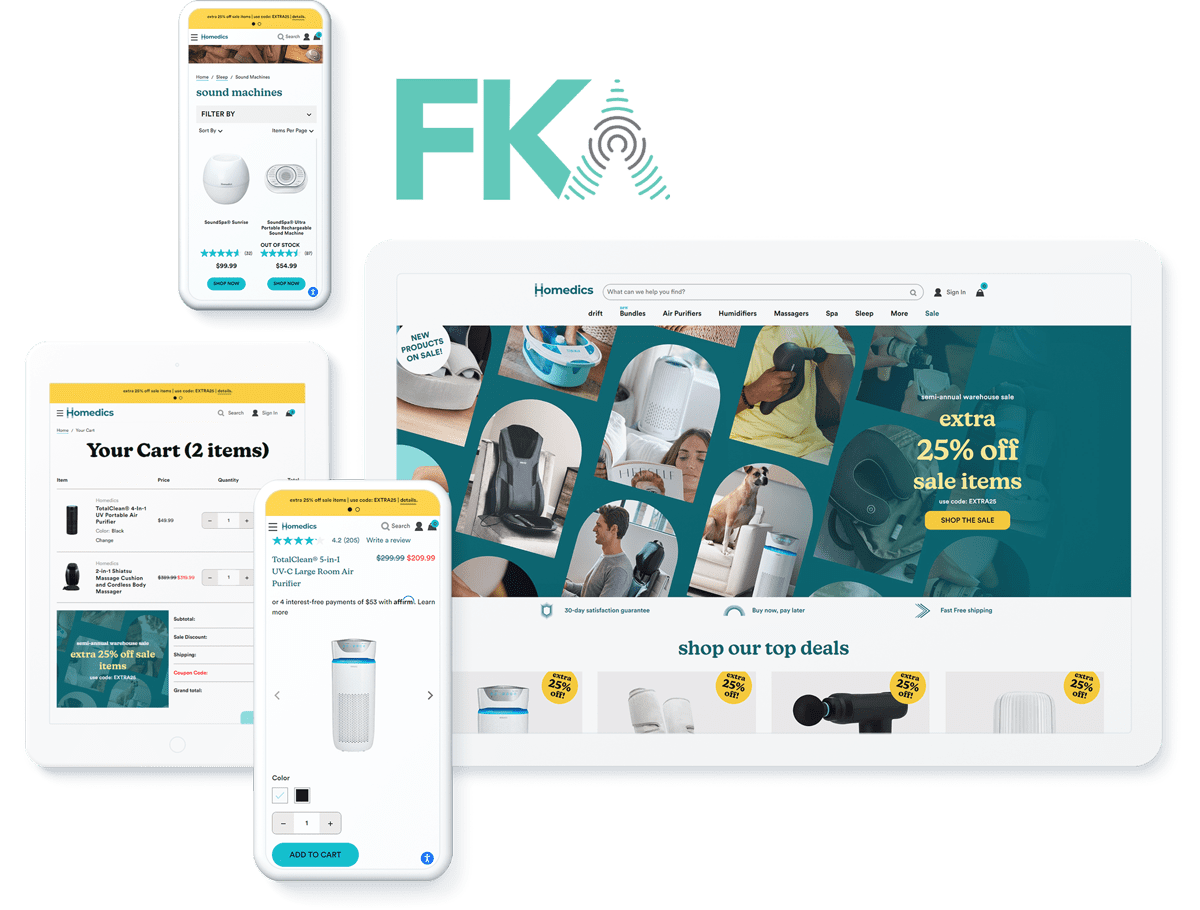 FKA Brands has a diverse range of businesses catering to different consumer personas. Its online stores needed to be launched on country-specific domains with successful translation, payments, and shipping across Europe and North America. They partnered with Americaneagle.com on the successful implementation of BigCommerce to drive results and success.
PinMart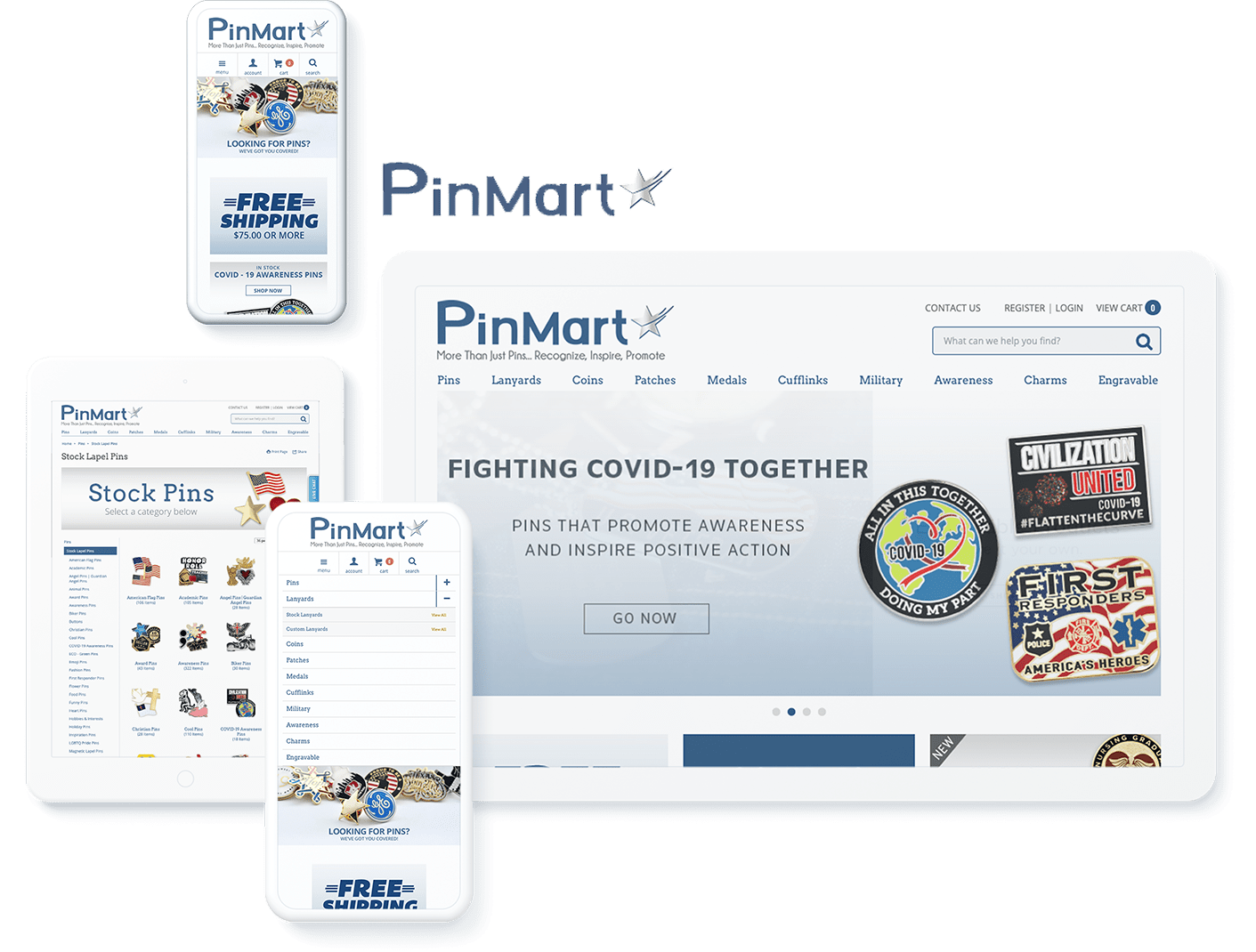 PinMart opened in 1999 and has been working with Americaneagle.com since 2007. PinMart redesigned its website with Americaneagle.com, and the site was responsively designed with the BigCommerce ecommerce platform.
Natori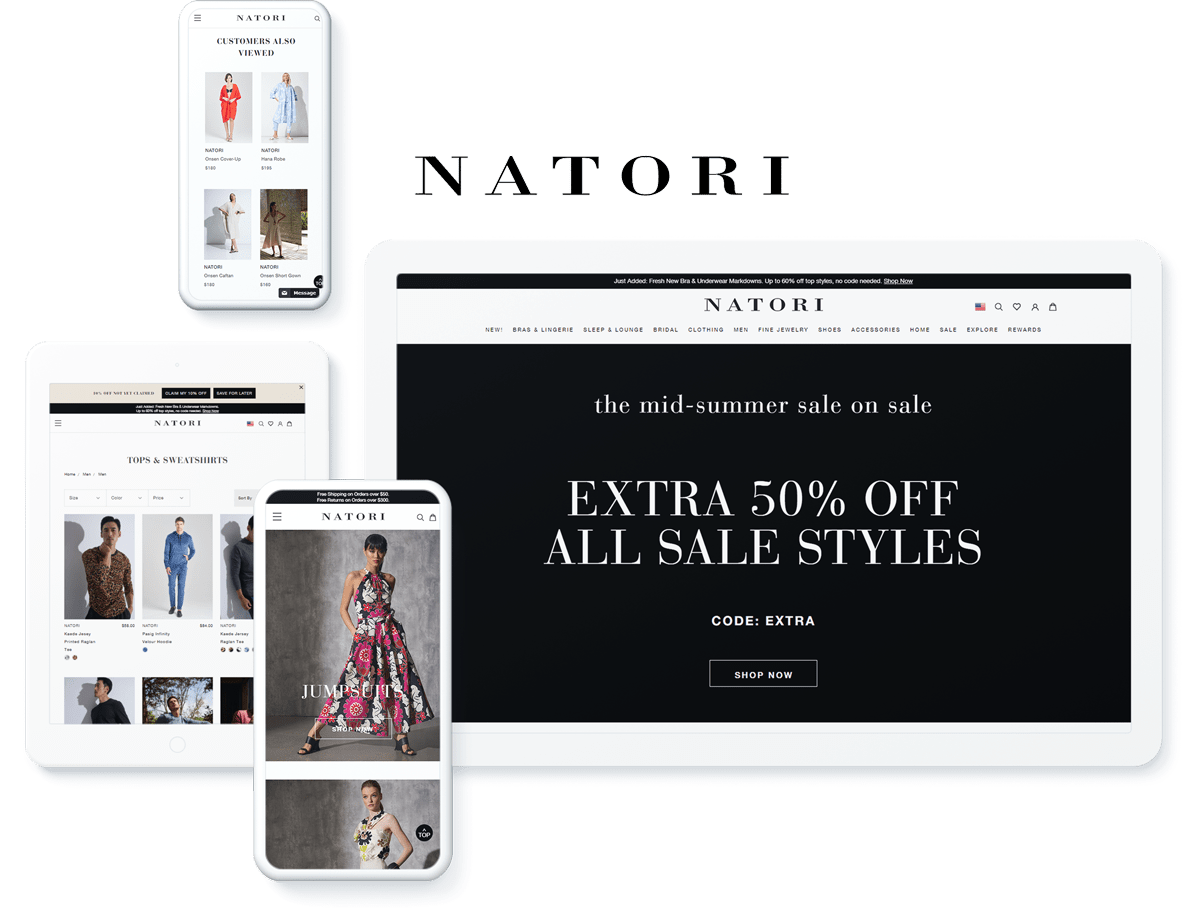 Natori decided to expand its ecommerce business and they sought a solution that would provide more functionality and enable them to scale as needed. Americaneagle.com transformed Natori's online presence with a seamless and vibrant ecommerce user experience, leading to a surge in customers, orders, and revenue with this new, efficient digital ecosystem.
The Ohio State University Extension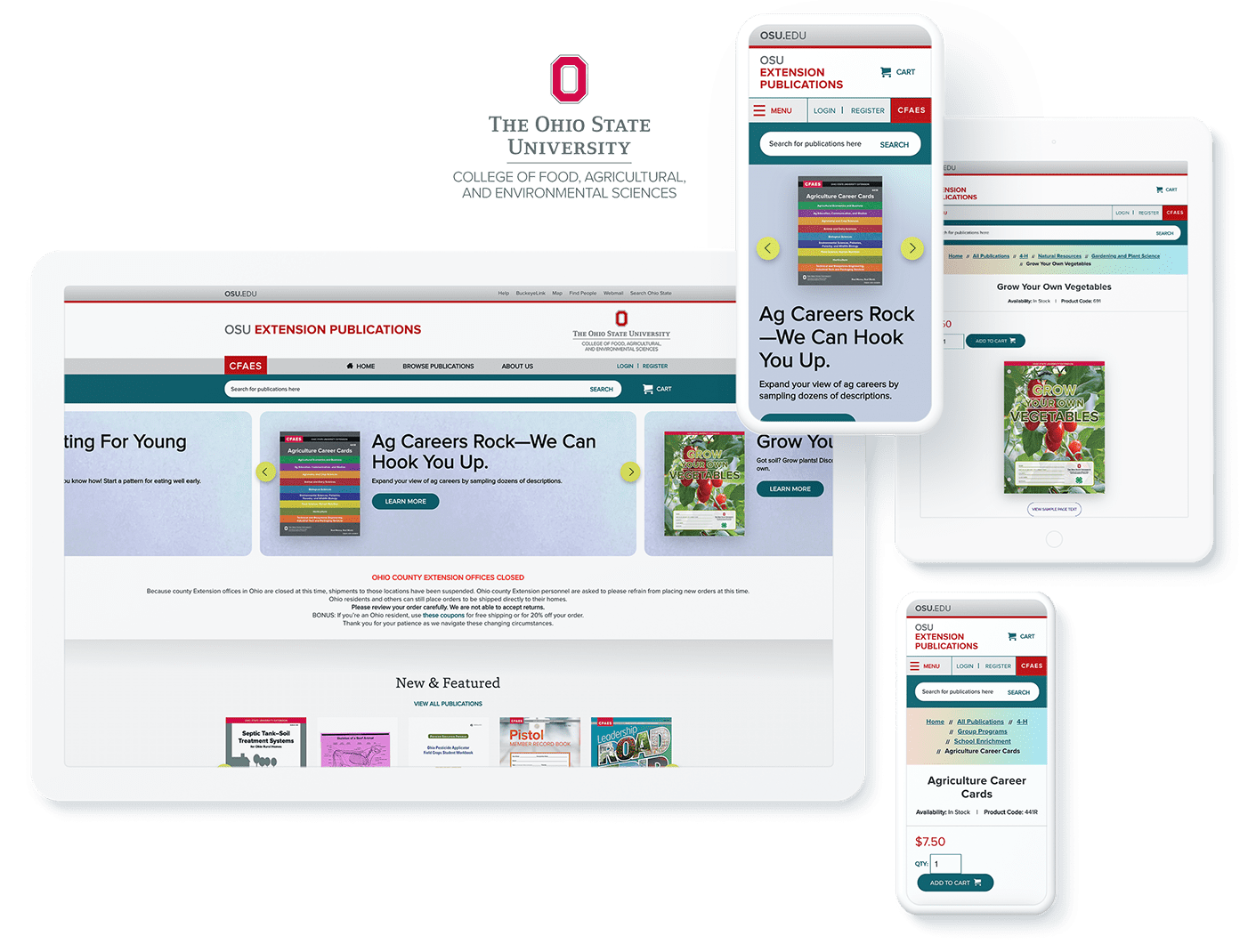 Americaneagle.com implemented the BigCommerce CMS for the Ohio State University Extension Publications site, which has customer groups with different discounts, visibility, and payment methods. The site integrates with Brightpearl and appeals to both B2B and B2C shoppers.
LightMart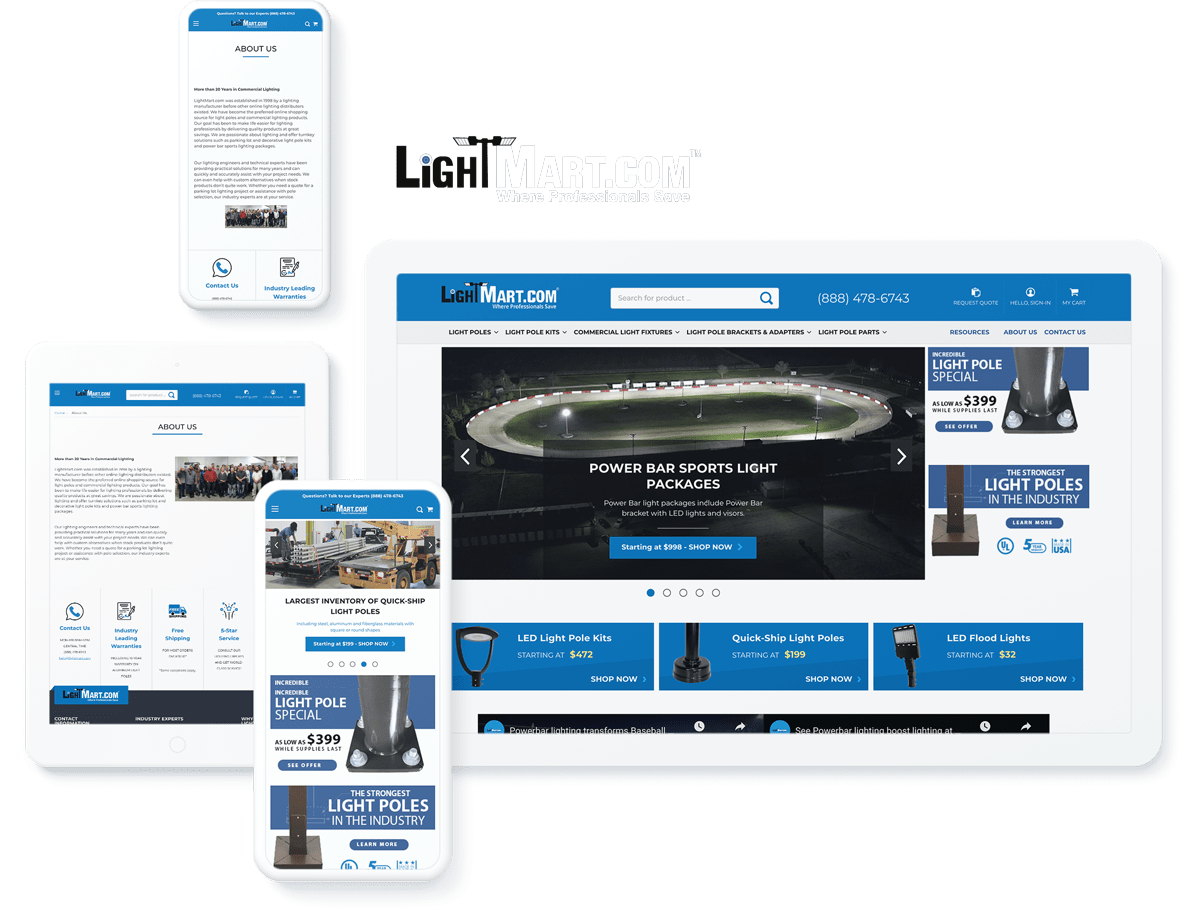 LightMart.com is the preferred online shopping source for light poles and commercial lighting products. They approached Americaneagle.com to change its website platform from Magento to BigCommerce for improved stability and functionality. Americaneagle.com delivered.
Delasco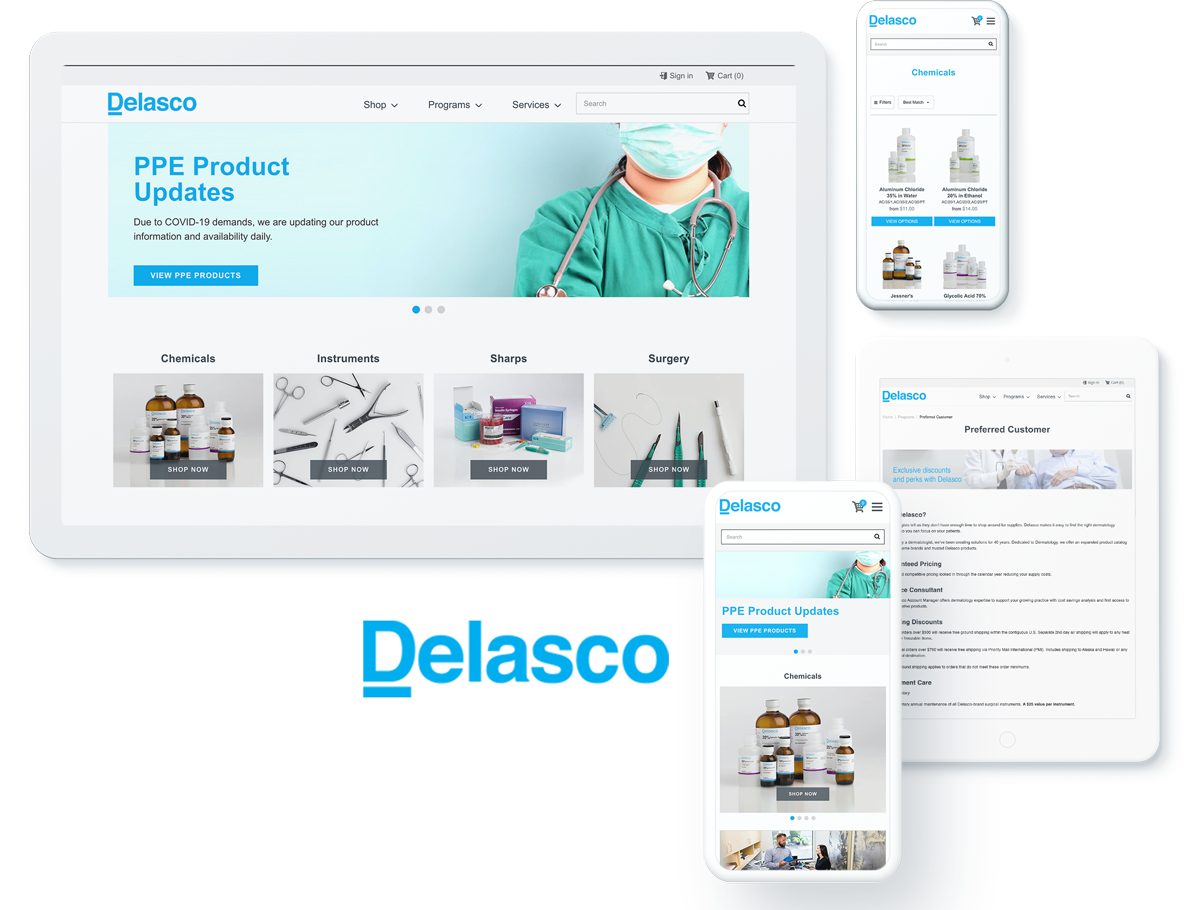 Delasco Physician's Catalog is the ultimate destination for top-quality dermatological supplies. They moved from a fully custom homebrew platform to the cutting-edge ecommerce solution of BigCommerce. With the expertise of Americaneagle.com, Delasco now has a stunning, user-friendly B2B site.
Wrapsmart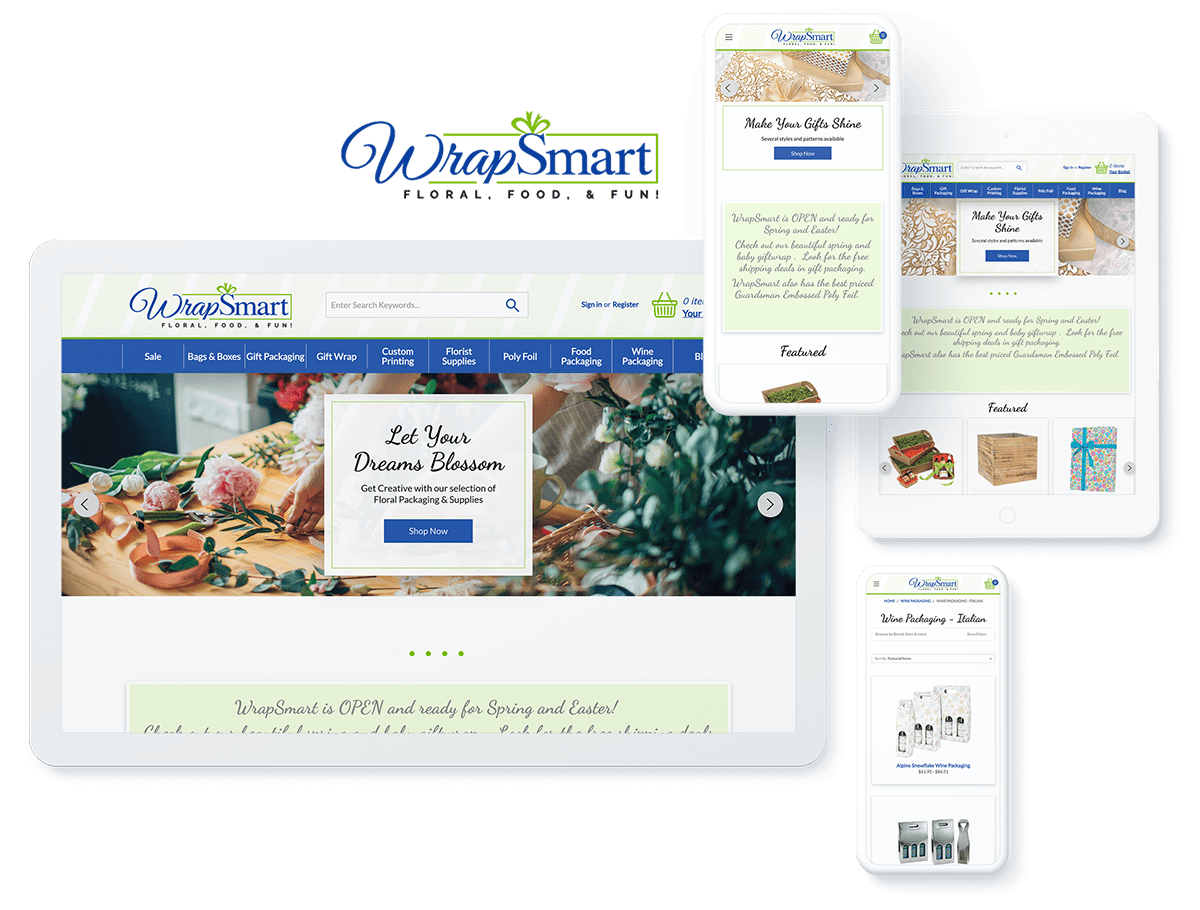 The Wrapsmart project included an ecommerce site redesign and re-platform from Volusion to BigCommerce, with an integrated marketing strategy. The goal was to grow the ecommerce business nationally while serving Chicago-area customers.
Spinning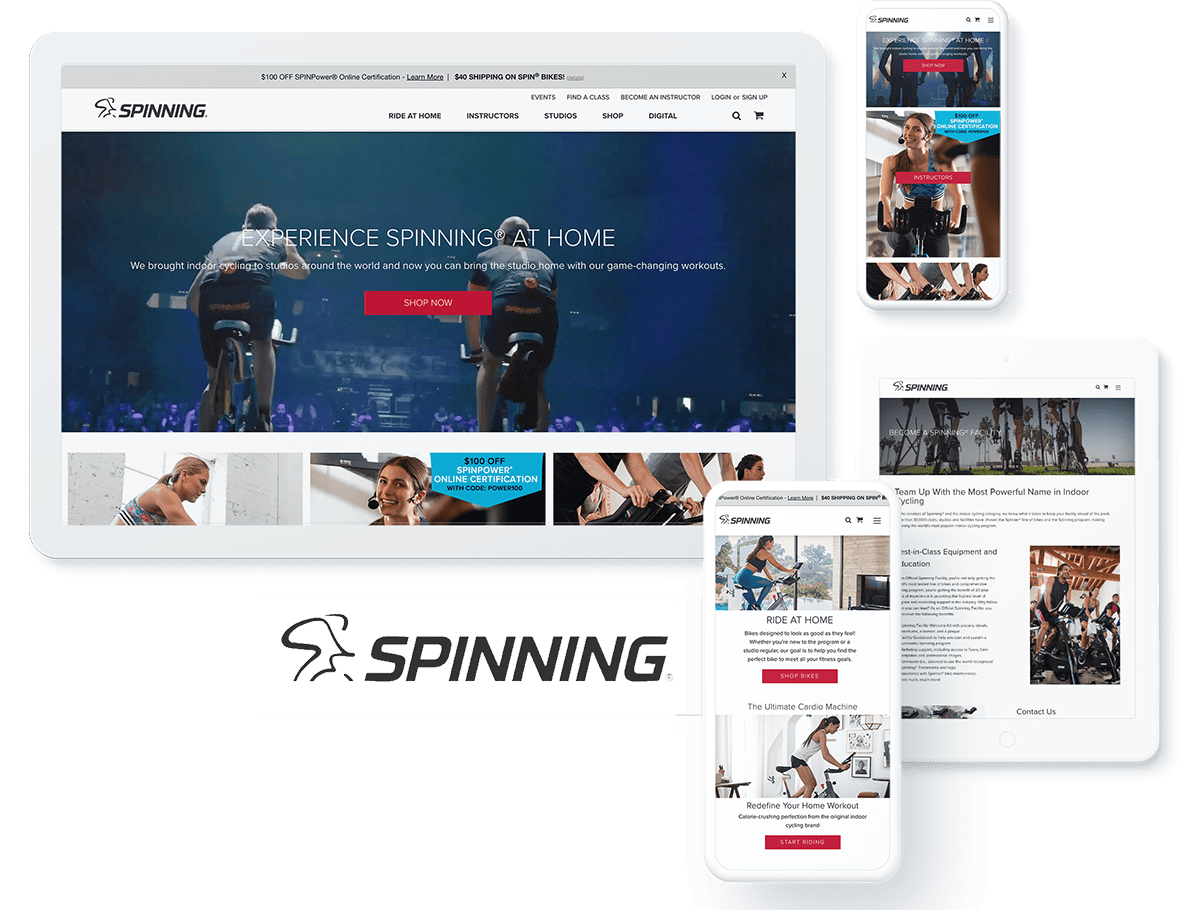 Americaneagle.com and the BigCommerce platform transformed Spinning's online ecommerce experience. Now, customers enjoy a seamless shopping and order tracking process with a convenient members' tool. The user-friendly product catalog module makes managing products a breeze as well.
BigCommerce Ecommerce Design FAQs
Essential FAQs on BigCommerce Ecommerce Design Optimization
BigCommerce ecommerce web design is the process of creating and optimizing online stores using the BigCommerce platform. The overall focus is on aesthetics, user experience, a dynamic content management system, and other functionality tailored to the specific ecommerce needs of the client.
How does BigCommerce differ from other ecommerce platforms in terms of design capabilities?
The BigCommerce platform utilizes a range of customizable templates, advanced design tools, and a drag and drop builder that provide a high degree of customization when it comes to design capabilities. This makes it stand out from other ecommerce platforms.
Is it possible to migrate my existing online store design to BigCommerce?
Yes, it's not only possible, but it's been done successfully by Americaneagle.com for many clients.
How does BigCommerce support mobile-responsive web design?
Mobile-responsive web design is supported by BigCommerce templates that are responsive out of the box, ensuring that online stores look and function seamlessly across various devices.
Can I integrate third-party tools and plugins into my BigCommerce web design?
The BigCommerce platform supports a wide range of plug-ins and third-party integrations. From payment gateways to marketing tools, they are seamlessly incorporated into the website.
How secure is a BigCommerce ecommerce website design?
Security is a big concern for BigCommerce as they prioritize security by providing features like SSL certification, fraud protection, and PCI compliance for user data protection and secure transactions.
How customizable is the checkout process in BigCommerce web design?
BigCommerce offers a fully-customizable, one-page checkout process so online retailers can tailor the checkout experience to their needs, from custom fields to branded design elements.
Do I need coding knowledge to design on BigCommerce?
There are some advanced tools for developers, but you don't need to know coding because the platform includes a drag-and-drop builder and customizable templates that can easily be implemented by non-technical users in the BigCommerce CMS.
How does BigCommerce web design support SEO?
SEO is supported with built-in tools that provide search optimization for product pages, meta tags, and URLs. A well-designed BigCommerce implementation will be structured for search engine visibility and search rankings.
Can I get professional assistance with my BigCommerce web design?
Yes, Americaneagle.com is an Elite BigCommerce partner that provides expertise in creating, optimizing, and maintaining online stores on the platform.
Why Choose Americaneagle.com for BigCommerce Web Design?
Americaneagle.com, with its vast experience providing a wide range of digital solutions, stands out as a premier BigCommerce Elite partner. Our commitment to excellence, combined with BigCommerce's robust platform, results in ecommerce sites that not only look great but perform exceptionally well, with real results. We specialize in delivering successful websites for businesses of all sizes. With our technical and design expertise, consulting services, and post-launch support, we seamlessly implement your BigCommerce ecommerce platform to drive online success.
Ready to Elevate Your Ecommerce Game?
If you're inspired by these BigCommerce designs and want to begin your own BigCommerce digital transformation, Americaneagle.com is ready to assist.
Call us at (877) 932-6691 or
submit the contact us form
to provide more details on what you're looking to do. We are here to ensure your online success!
---
About Author
---