Branding and Technology Lead Next Generation of Business Success for FKA Brands
FKA Brands is a company that operates an array of businesses in the consumer electronics, health, and personal care industries. They aim to redefine self-care and bring playlists to life.
Challenges
FKA Brands has a broad portfolio of businesses that offer products of different categories to mostly unrelated consumer personas. As a holding company, establishing a tech stack for digital solutions that maximized corporate economies of scale within website development, offering the agility to make fast portfolio additions, as well as allowing flexibility for unique brands to increase engagement between products and their potential buyers, was a clear priority. The online stores for FKA Brands needed to also launch on country-specific website domains with successful translation, payments, shipping and more across Europe and North America.
Project
Platform
Expertise
Experience Design
Strategy & Insights
Web & Application Development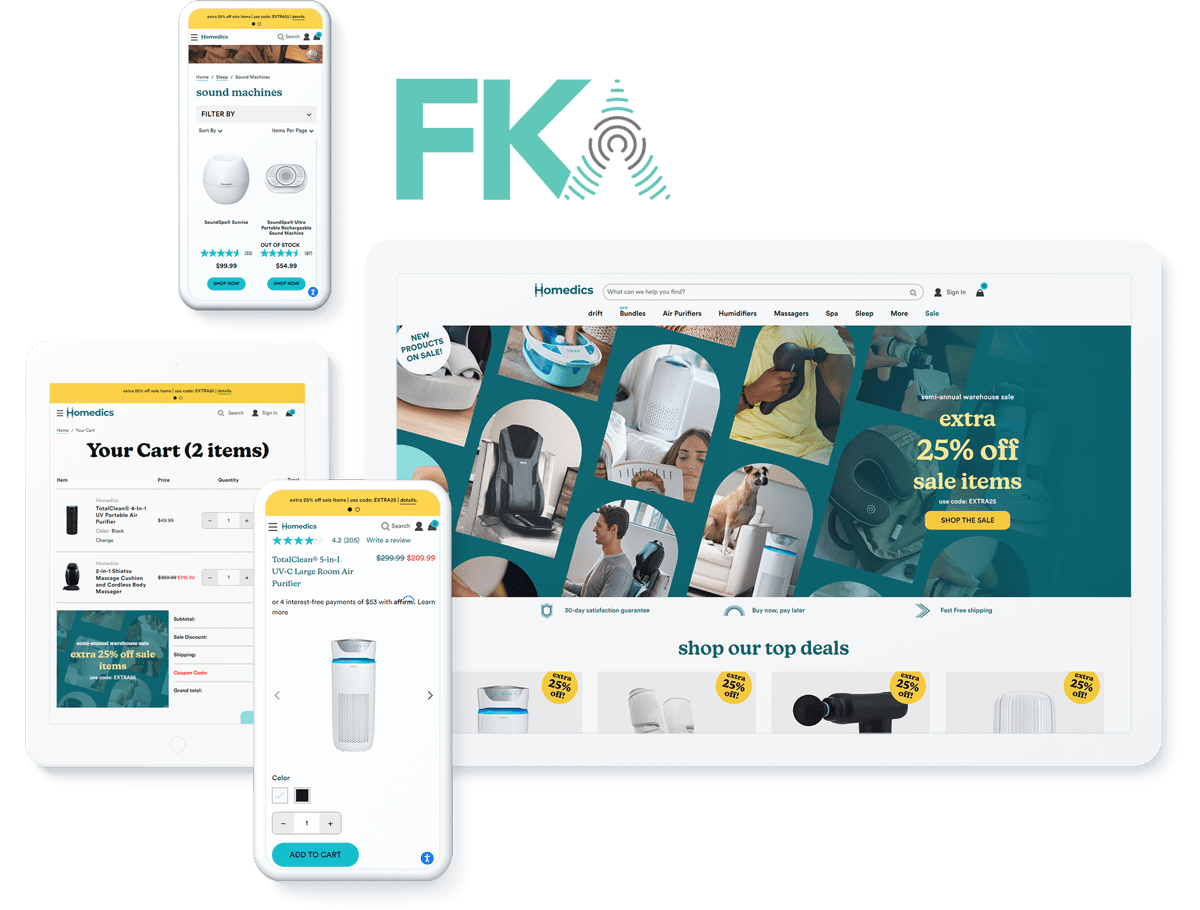 Solutions
The digital strategy team from Americaneagle.com teamed with FKA Brands to identify the technology mix, web development solutions, web page components, and online functionality that would provide operational benefits of scale across FKA Brands without sacrificing the uniqueness of each entity within their portfolio.

The digital agency's strategy was to build a degree of kinship throughout the digital solutions, without the goal being "twinship." The branded sites are far from identical. Many of the consistencies that are now built into the tech solutions are seen only from the back end. Internal teams at FKA Brands now create and manage content components in uniform ways throughout the branded websites. The representation of those components within each website, however, is unique to each brand.

The optimal digital platform solution needed to advance content management capabilities and be a recognized, dependable ecommerce powerhouse. BigCommerce was chosen for its leading ecommerce capabilities, flexibility, and scalability in an open-source software as a service (SaaS) solution.

HoMedics, a global personal health and wellness brand that manufactures a wide range of products such as massagers, humidifiers, sound machines, footbaths, and more, was the first business within FKA Brands to be digitally transformed. Homedics.com had been operating on an antiquated, soon-to-be unsupported, version of Magento. For each consideration, the development team planned for not only the HoMedics website, but also established elements that could promote success within the branded sites that would follow this reimagined solution. There was a significant focus on intuitive navigation structure and function, including header and footer treatment, as well as drop-down actions for expanded navigation. For the HoMedics website, Americaneagle.com also created a cohesive style guide for text, color considerations, buttons, iconography, and photography that ongoing contributions from developers and designers.

Redeveloped websites for HoMedics are now fully operational on country domains for the U.S., Canada, United Kingdom, Germany, and Italy. Spain and France will be launching next. Unique considerations to optimize frictionless, country-specific user journeys have been made throughout each HoMedics website. Thoughtful language translations for content, preferred payment options, shipping and efficient fulfillment lead user-centered, country-specific website solutions.

Americaneagle.com is now in the process of helping FKA Brands plan and execute the migration of nearly 30 different brand and country sites to BigCommerce and consistently reliable, high performing blend of digital solutions.