Gordy & Sons Launches Ecommerce and Digital Marketing to Match In-Store Sophistication
Gordy & Sons is a premier outfitter that services hunters and fly fishers from their spacious destination store in Houston, Texas. They carry the top brands of gear and clothing for adventures on the water or in the field. Gordy & Sons is very unique in its fine assortment products and the world's most desirable, select firearms.
Challenges
Gordy & Sons was pursuing a new, strategically sophisticated partner to help grow their ecommerce revenue. They identified Americaneagle.com, a full-service digital agency with big brand experience and respected solutions in ecommerce, as the ideal partner to build their new site. With the agency's help, they wanted to implement a more user-friendly ecommerce platform, refine search engine optimization (SEO), develop content to support that optimization, and launch an intelligent digital advertising campaign to maximize return on ad spend (ROAS).

The new BigCommerce website for Gordy & Sons needed to successfully integrate their graphical point-of-sale environment and inventory management system, CounterPoint. It was critical that the two systems communicated seamlessly to ensure accurate, real-time data for product inventory, orders, and customer detail.

Additionally, search engine performance improvements were necessary to align with a targeted digital advertising campaign to broaden reach and grow Gordy & Sons' customer base. The new site also had to launch efficiently to minimize the service gap between the old site going down and the new site replacing it. Lost time would equate to lost revenue.
Project
Platform
Expertise
Digital Marketing
Experience Design
Web & Application Development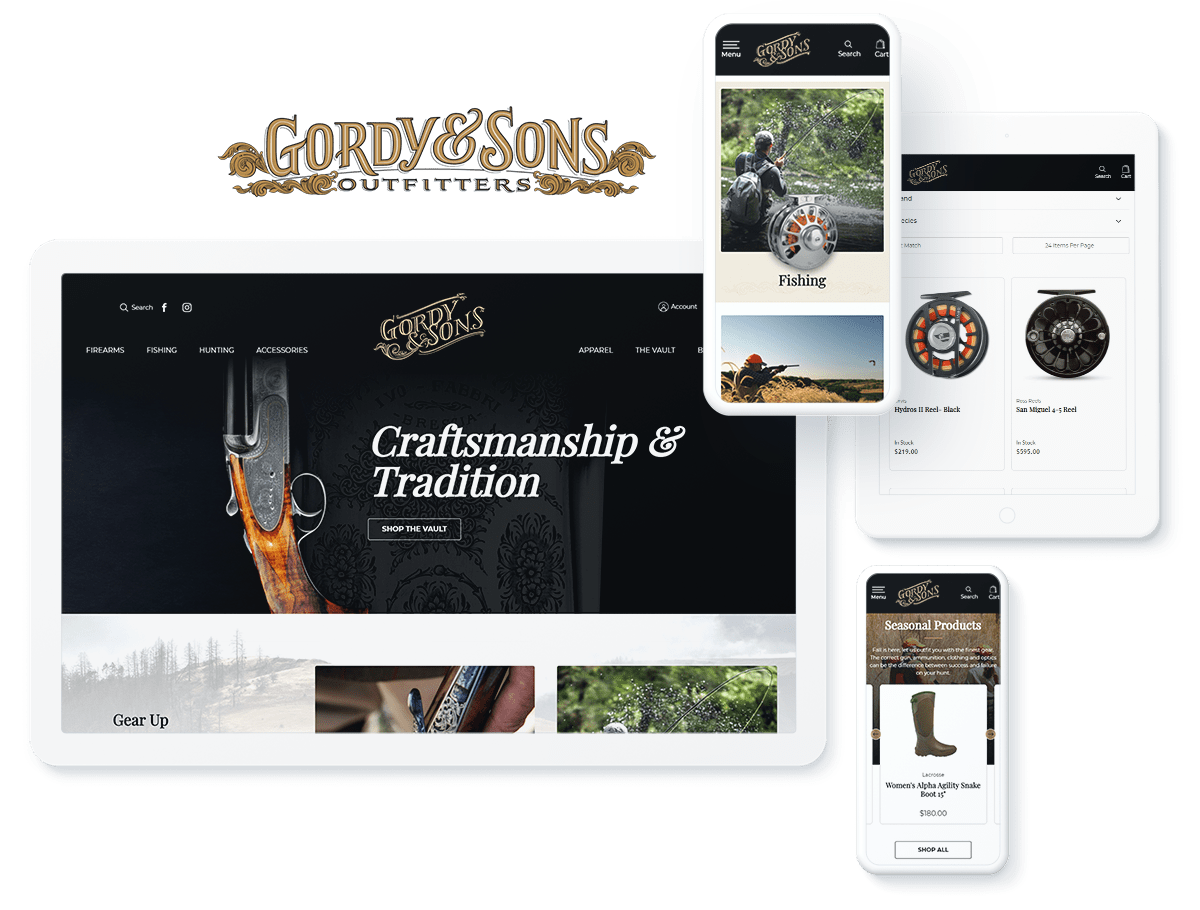 Solutions
The redeveloped website launched quickly and without sales interruption. It welcomed site visitors with an engaging design that is unmistakably kin to the experience of walking through the upscale brick-and-mortar store. The new ecommerce presence showcases firearms as well as all-weather apparel and outdoor accessories for hunting and fishing.

Via the new website, customers are now able to confidently purchase firearms and have them shipped directly to their preferred Federal Firearms Licensed (FFL) dealer.

Switching ecommerce solutions from Magento to BigCommerce, the team at Gordy & Sons is now self-sufficient in maintaining their ever-changing inventory within their website, adding content, and engaging with their loyal customers. The new site also successfully integrates with their Counterpoint point-of-sale system.

Targeted expansion of visibility and brand reach began with significant improvement of organic search engine optimization within the Gordy & Sons website. The team's keyword research within tools like Google Search Console and Semrush prioritized a focused selection of industry and product-related keywords to target. Within each page of the website, those keywords were strategically included in content and metadata, such as page titles, descriptions, and more. Internal linking additions, including breadcrumb navigation enhancements, improved search indexing and optimization as well. These efforts provided a quick and impactful return in organic traffic acquisitions to the website.

Sights were then set on maximizing an identified advertising budget for available digital ad opportunities. Campaigns were led by Google Ads that focused on product-specific and gender-specific campaigns for apparel. There are products within Gordy & Sons' inventory, like firearms and even fish hooks, that are not permitted to be advertised throughout the Google Ad network. The apparel ad campaigns, however, have proven effective in attracting targeted shoppers who have shown an interest in every other product department within Gordy & Sons as well.

Select campaigns have focused on product seasonality by running campaigns for specific products during active hunting and fishing seasons.

Social media efforts for Gordy & Sons were producing consistently strong branded images for their posts on Instagram and Facebook. Consultation from the Americaneagle.com digital marketing team recommended increased frequency of posts led by a planned content calendar, more tagging of the store's popular brands, engagement with the social media channels of those popular brands, as well as more links back to the Gordy & Sons website with featured products, promotions, or insightful content.

Gordy & Sons and Americaneagle.com have successfully teamed to grow customer engagement and sales via digital marketing. Measurable business growth has been directly attributed to all of the digital strategies deployed. That success is leading to the targeting of additional opportunities to continue to maximize digital marketing, such as personalized email campaigns utilizing abandoned cart information.

Gordy & Sons is confident the previous site's performance inconsistencies and downtime will never return. Their online sales have greatly benefitted from the new site's detailed SEO and strategic digital marketing campaigns. More of the right customers are finding Gordy & Sons online than ever before.
Results
151

%

Increase in Keywords in SERP Top 10

100

%

Increase in Revenue from Organic Acquisitions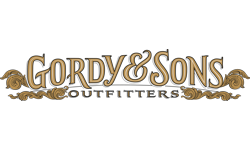 It has been an absolute pleasure working with the entire Americaneagle.com web development team. They communicated clearly and effectively throughout the entire design process and built a site that is as visually stunning as it is functional. Our customers have enjoyed a more efficient shopping experience, and our backend functionality has greatly improved. We'd recommend Americaneagle.com to anyone looking to improve their online presence.