ROC Commerce
An omni-channel commerce solution with the flexibility for any B2C or B2B business
Americaneagle.com, the #1 ROC Commerce implementer, has over 25 years of experience designing and developing award-winning ecommerce solutions that increase traffic, conversions, and profits. By taking advantage of ROC Commerce's unique flexibility, we can create ecommerce functionality that leads to your success. From design and implementation to hosting and everything in between, Americaneagle.com's full scope of services delivers an unrivaled "one-stop-shop" environment for retailers.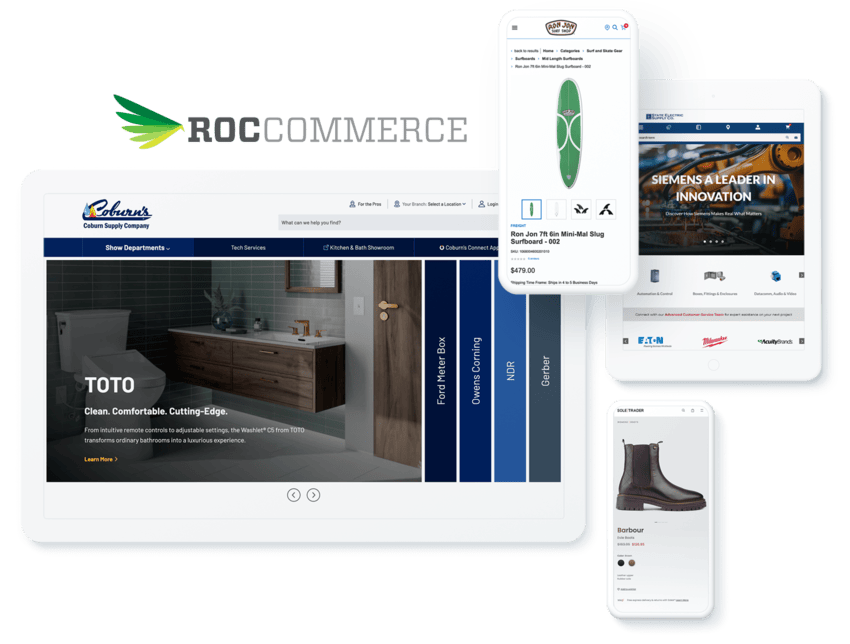 Decades of ROC Commerce Success

As the top solutions partner for ROC Commerce, we are extensively qualified to implement this system. ROC is one of the first enterprise-grade ecommerce solutions with the capabilities to handle B2B or B2C businesses of any size. We take the flexibility and comprehensive functionality within this platform to build a dynamic solution for you.
Our ROC Commerce Services
Customizable & Responsive Design
Unlike other storefronts and ecommerce platforms, ROC is built for mobile first and foremost. Our developers leverage the platform's open design to build the user interface you want, without limits.
Large SKU Volume Support
ROC is built on a proven .NET Core framework, which provides both performance and easy development. We can implement ROC for optimal performance whether you have 500 or 5 million products.
Intelligent Search & Navigation
Machine Learning and AI-driven search is available right out of the box with the latest tools and features like relevancy tuning, recommendations, and more. Our team can push this search to the next level.
Intuitive One-Page Checkout
Using ROC's robust features, we can enable one-click checkout for members and easy registration for guests to accelerate conversions and future purchases on the site.
Dynamic Administration
ROC is built on a framework ready for growth and enhancements. We take the developer-friendly module builder to provide a dynamic admin page and navigation.
Flexible Plugin System & Integration
ROC Commerce comes ERP ready. We leverage the ROC integration engine to quickly and easily configure connections to ERP systems, Warehouse Managers, PIM/PLMs, and more.
#1
ROC Commerce System Implementer
25+
Years of experience developing award-winning ecommerce solutions
2,000+
Third-party system integrations
True Integration-Ready Platform
While many platforms claim to be ERP ready or integration ready, the ROC platform has a flexible framework to assure requirements that can be defined by your systems. ROC's requirements can be adjusted to match the requirements in your system.
Developer Friendly Technology
ROC is built on the latest technology stack and provides developers with easy to use tools and processes when building your site. Making the development easier means lower costs and a faster time to launch.
Secure and Safe Checkout
Velocity control, Honeypots, and other techniques in our cart and checkout assure your customers will have a safe and secure checkout process. We also protect your backend systems from receiving an influx of spammed transactions and other malicious practices.
;
Founded in 1952, State Electric Supply Co. has grown into one of the nation's largest, highest-ranked, and best-known distributor... Read More

B2B ecommerce website development can be intimidating, but it doesn't have to be. An experienced web development company can help you s... Read More

Awesome Dynamic, an Americaneagle.com partner, is an experienced, full-service ecommerce agency focused on helping sellers improve thei... Read More
---
Company name is required.
Email address is required.
Phone number is required.
Please use 250 characters or less.