BigCommerce Re-platform Builds Foundation for Global Health and Wellness Brand
HoMedics, a subsidiary of health, wellness, and fitness company FKA Brands, is a global manufacturer of personal health and wellness products. Founded in 1987 and headquartered in Commerce Township, Michigan, HoMedics manufactures a wide range of products such as massagers, humidifiers, sound machines, footbaths, and much more to over 60 countries around the world.
Challenges
Prior to partnering with Americaneagle.com, all six of FKA Brands' subsidiary websites were housed on an antiquated version of Magento that was being phased out. This prompted FKA Brands to work with Americaneagle.com to find a new ecommerce platform that would allow it to achieve its business goals and objectives. HoMedics.com was one of three websites to officially kickoff Phase 1 of the FKA Brands' multi-site project to re-platform its U.S. and international ecommerce sites to a more modern and flexible solution.
Project
Platform
Expertise
Experience Design
Strategy & Insights
Web & Application Development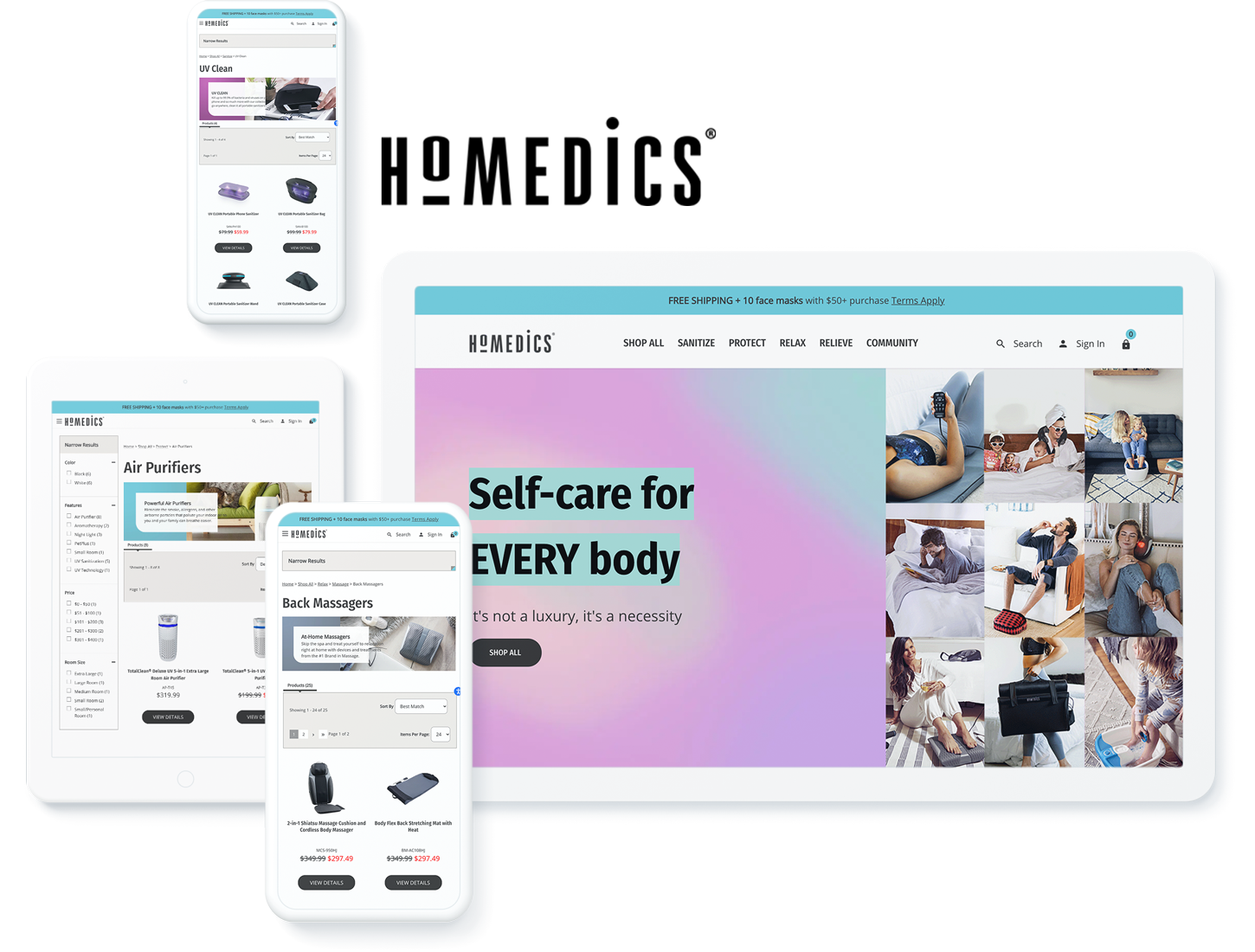 Solutions
Prior to beginning the project, it was determined that BigCommerce, an open SaaS (software-as-a-service) ecommerce platform, would be best suited to handle all of FKA Brands' sites and functionality requirements. Once the project officially kicked off, Americaneagle.com went through a discovery period as well as conducted foundational strategy work to precisely understand FKA Brand's business goals and objectives, and what it was looking to accomplish across all six websites.
Once the goals and objectives were established, Americaneagle.com got to work planning the sites' design. There was significant focus on the navigation structure, including the header and footer, of the homepage, as well as an expanded navigation menu with specified drop-down actions. From there, Americaneagle.com created cohesive style guides for text, colors, buttons, iconography, and photography for developers to easily and efficiently implement across all of FKA Brand's websites.
After the design was finalized, Americaneagle.com launched HoMedics.com with custom homepage and product detail page (PDP) graphics that would further enable developers to utilize the framework for the remaining websites. The PDP graphics were highly customized and included a marketing line to display text above the fold as well as product badges alerting customers of new arrivals, best-selling items, and more.
With a solid foundation in place, Americaneagle.com was able to build tailored functionality based on FKA Brands' needs for flexibility while still being cohesive. The project also included a variety of platform integrations such as Hawksearch, Shogun, BazaarVoice, Bronto, and VWO. Additionally, Americaneagle.com created documentation for FKA Brands' internal team to build their own integration with their existing enterprise resource planning platform, JD Edwards. Lastly, customers, order history, coupons, and products were migrated from Magento to HoMedics' new BigCommerce website.
The HoMedics project was successful, and as a result, FKA Brands will continue to migrate its remaining websites to BigCommerce in an effort to expand its digital presence across the globe.