Using Digital Marketing to Grow Online Business Regardless of Event Cancellations
Badgley Mischka is a leading American design team creating some of the most cutting-edge fashion designs across the shoe, apparel, and accessories spaces. Launched in 1988, the iconic brand has graced runways, red carpets, wedding aisles, and events with a glamorous, effortless signature style.
Challenges
After successfully transitioning their online storefront to the BigCommerce platform, Badgley Mischka set out to drastically improve their digital presence in order to bring shoppers to their physical storefronts. The cancellations of in-person events over the last two years also provided a challenge for the fashion organization. Badgley Mischka needed a holistic strategy to increase their overall customer base.
Project
Platform
Expertise
Digital Marketing
Web & Application Development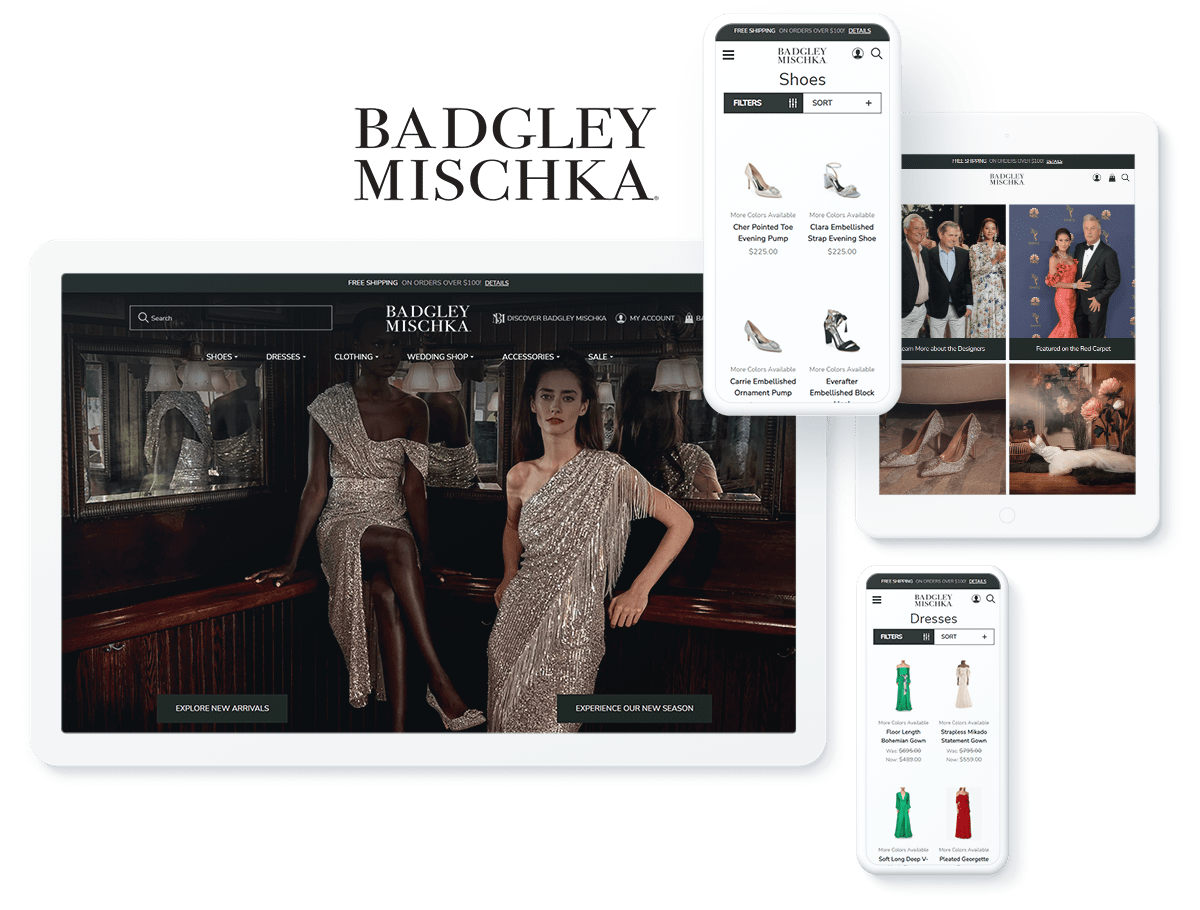 Solutions
When Badgley Mischka set out to improve their digital presence and increase their customer base, they turned to the Digital Marketing experts at Americaneagle.com for guidance. The Digital Strategy team initiated a foundational strategy that provided the backbone for all efforts to stem from. The team then conducted an integrated marketing strategy to develop a playbook for Badgley Mischka to hone in on the audiences outlined within the foundational strategy in order to boost online engagement and sales. The Web Development team took the foundational strategy and the integrated marketing strategy to apply a website redesign that spoke directly to the Badgley Mischka women – stylish, glamorous individuals who won't let the cancellation of events stop them from looking fabulous.

While the Web Development team was working on the redesign and launch of the enhanced website, the Digital Marketing team worked on the execution of the integrated marketing strategy. They replatformed and overhauled Badgley Mischka's email marketing program to better segment users based on their purchasing behaviors. Additionally, the team created a search engine marketing program to move and nurture prospective buyers through a series of paid ads within search engines. Finally, the Digital Marketing team worked closely with the Badgley Mischka brand team to create a more engaged following across social media platforms, knowing this is where Badgley Mischka's key audience was spending their time online.

Since partnering with Americaneagle.com, Badgley Mischka has seen a significant increase in their digital presence and the website is becoming one of the biggest areas of growth for the business. Badgley Mischka is able to better serve their customers by knowing their shopping behaviors and patterns and create a unique experience for those users.
Results
70

%

Increase in Total Website Revenue

153

%

Increase in Email Marketing Transactions

70

%

Increase in Social Media Revenue