Sitefinity Development Partner
Expert Sitefinity development services across industries
As a Premium Progress Sitefinity partner, Americaneagle.com has the Sitefinity CMS development experience to build you a robust digital solution that achieves meaningful results. Our Sitefinity agency team members create dynamic websites that leverage the full suite of tools available on the powerful CMS platform. We innovate, integrate, and create user experiences to perfectly fit each customer's specialized needs. Our Sitefinity development team is uniquely equipped to design, deploy, and support your website, no matter which industry you operate in.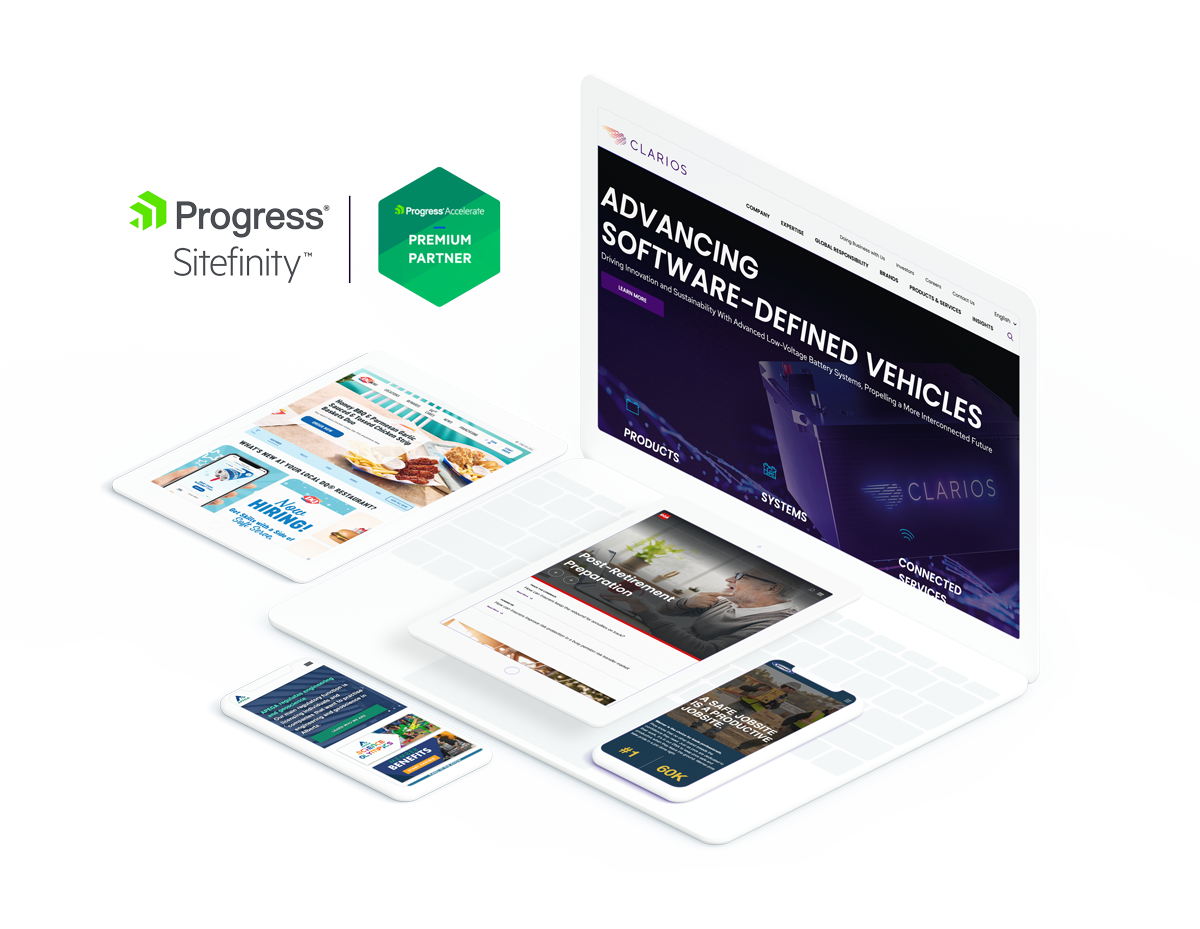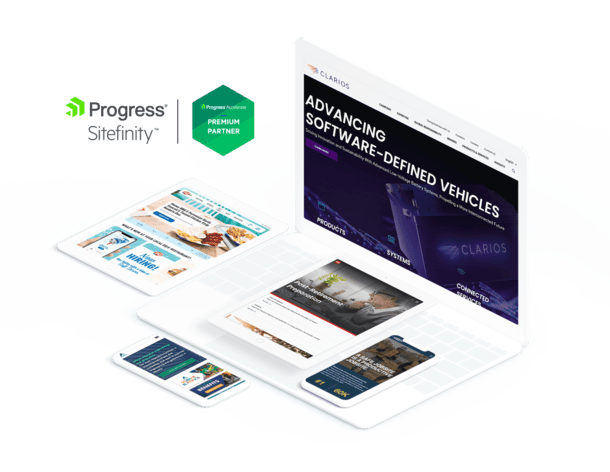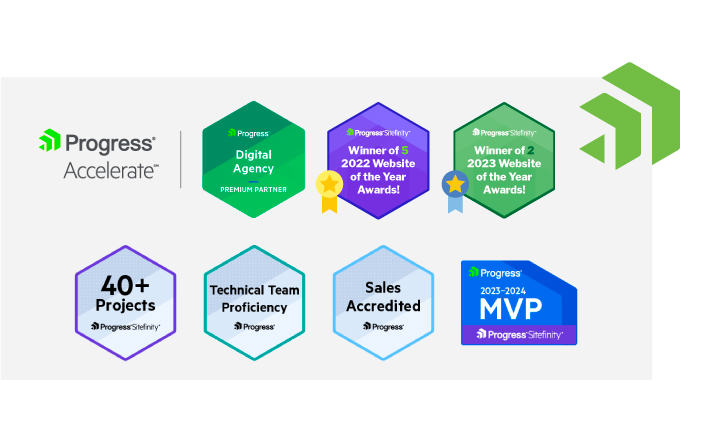 A Sitefinity Partner Dedicated to Your Success
With more than 100 certifications and one of the first-ever Progress Sitefinity MVPs on staff, Americaneagle.com's Sitefinity services are unparalleled in the industry. We've been launching award-winning websites for more than 25 years and our custom solutions have helped organizations transform their digital experiences. Our Sitefinity development team builds upon our long-term success to craft websites that are both visually appealing and powerfully functional.
Transform Your Business with Progress Sitefinity
As one of the top Sitefinity partners in the world, Americaneagle.com has deployed hundreds of Sitefinity websites across all industries, including healthcare, legal, financial, manufacturing, and more. Our collaboration with Progress Sitefinity ensures that we provide each customer with an exceptional Sitefinity web development experience, delivering the most valuable insights and quality websites.
Progress Sitefinity Development Services
Sitefinity Web Design & Implementation
As a Premium Sitefinity partner, our implementation experience and expertise are second to none. Our Sitefinity development services span a vast range of industries and vary in complexity, but we're confident that each has delivered a best-in-class website experience and ease of management that is expected with the Sitefinity CMS and DXP.
Sitefinity Upgrades & Support
Expert Sitefinity support and upgrade services ensure optimal performance and security while further empowering your organization with the latest innovative Sitefinity integrations, web design, hosting, and more. Americaneagle.com offers comprehensive Sitefinity upgrade services and annual upgrade packages.
Sitefinity Performance & Security Audits
As part of our expert Sitefinity development services, we provide performance and security audits to ensure your website is optimized and consistently advancing toward your efficacy goals. Our Sitefinity support works to prevent unforeseen maintenance costs, enabling you to focus on what matters.
Sitefinity Multisite Design & Deployment
If your business has multiple brands, our knowledgeable Sitefinity website development and website design team can build you a unique digital experience that maintains a unified brand presence and creates a clear and user-friendly interface for front and backend users.
Sitefinity Insight & Personalization
Tap into the power of Sitefinity's insight and personalization software to deliver experiences that target the unique interests of your website's visitors. Our strategic Sitefinity consulting and marketing experts work with your team to create and execute plans that increase engagement, optimize conversions, and take your Sitefinity integration further.
Sitefinity System Integrations & API Development
Our Sitefinity integration and API development services work to simplify, automate, and connect your website with key business, operational, and marketing software. Our certified Sitefinity developers architect, implement, and configure connectivity to your CRM, AMS, marketing automation software, PIM, and any custom, off-the-shelf software.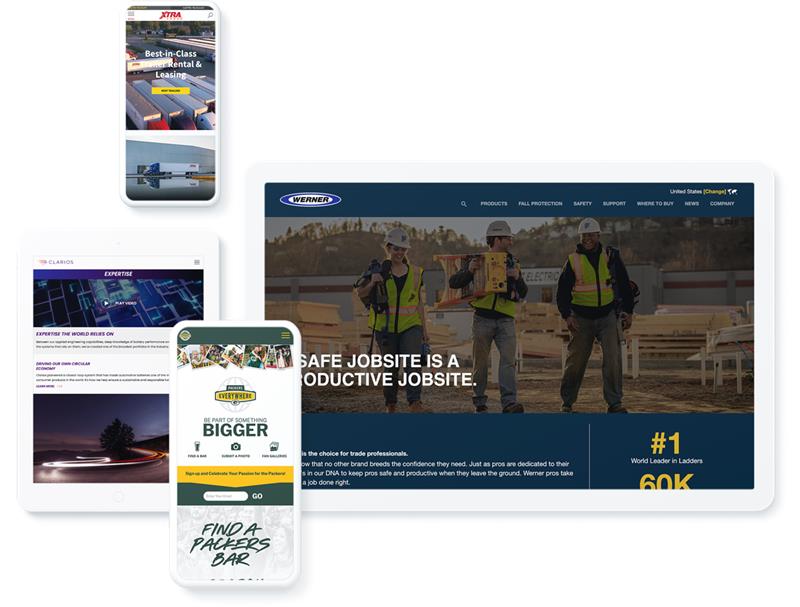 Global Sitefinity Developers
At Americaneagle.com, our Sitefinity development expertise spans the world. Our United States and international locations ensure we provide each customer with exceptional services, no matter where they're located. Visit our locations page to learn more.
8+
Years of Sitefinity Partnership
100+
Sitefinity Certifications
Siteimprove CMS Plugin, Built by Americaneagle.com

Built by Americaneagle.com, the Siteimprove CMS plugin is the seamless connection between the Sitefinity CMS and the Siteimprove platform. Compatible with up-to-date Sitefinity websites, the connector enables you to scan your website content for errors prior to publishing. It also minimizes errors, optimizes content, and improves workflows, thus empowering your team to make informed decisions on top priorities.
The Siteimprove CMS plugin provides expert insights into readability levels, accessibility issues, misspellings and broken links, page visits and page views, feedback ratings, and much more. As an expert website company, Americaneagle.com saw the opportunity to take its partnership with Siteimprove a step further and develop a plugin that promotes accessibility and Sitefinity website development. Sitefinity's user-friendly interface aligns perfectly with both Americaneagle.com and Siteimprove's mission to continuously create exceptional digital experiences.
Take Your Sitefinity CMS Further
Sitefinity Cloud
Manage your experiences, not your infrastructure. The best digital experiences demand a CMS with an architecture that facilitates agility, extensibility, and scalability. Hosted on Microsoft Azure, Progress Sitefinity's Sitefinity Cloud software enables integrators, digital agencies, and end users to develop, run and manage Sitefinity-powered digital experiences without the complexity of building and maintaining infrastructure.
Sitefinity Insight
Sitefinity Insight is a powerful software tool that amplifies your marketing operations. Americaneagle.com can help you build personalized, customized, and optimized experiences on the Sitefinity CMS and DXP. By bringing together our team of Sitefinity developers, strategists, consultants, marketers, and data scientists, we provide the expertise needed to achieve meaningful results.
OpenEdge
Take advantage of the Progress Sitefinity OpenEdge software. It's an innovative, reliable application development platform that enables you to continually evolve applications as business requirements shift. Americaneagle.com's Sitefinity website development team has extensive experience with OpenEdge to help your company leverage the technology to thrive in today's fast-paced digital world.
Sitefinity is a powerful and user-friendly CMS (content management system) developed by Progress. It stands out due to its intuitive interface, extensive customization options, and scalability. Sitefinity offers a wide range of features, including website design, content editing, page templates, personalized content, ecommerce support, multi-site management, hosting and security, and digital marketing tools, making it an ideal option for organizations across a variety of industries. Working with an expert Sitefinity partner and website design and development company will help you maximize all that the Sitefinity CMS has to offer.

While the exact number is hard to pinpoint, there are approximately 3.2 million live Progress Sitefinity websites. Because of its robust features, Sitefinity is used by organizations across a variety of industries such as financial services, associations and nonprofits, manufacturing and distribution, and many more. As a Sitefinity development agency and dedicated Premium Sitefinity partner with 115+ certifications, Americaneagle.com has the expertise to help you decide if the platform is right for you.

Out of the box, Progress Sitefinity CMS supports three search services: Azure Cognitive Search service, Elasticsearch service, and Lucene.NET. By default, the Sitefinity CMS utilizes Lucene, however, users are able to switch between search services and/or adjust the settings as preferred. According to Sitefinity support documents, all three search services perform quickly, returning results within 0.5 seconds even with high load volume.

Progress Sitefinity offers various API system integrations to facilitate interaction with its CMS. Users are able to leverage Sitefinity's APIs to integrate with their existing external applications or to extend their implementation's capabilities. Some of the key Sitefinity API system integrations include Content API, Events API, Dynamic Modules API, Feeds API, Image API, Search API, Security API, and Workflow API. As part of our Sitefinity development services, Americaneagle.com can help you determine which Sitefinity API integrations will help your website succeed.

Sitefinity is a powerful CMS and DXP (digital experience platform) developed by Progress. When comparing it to the other CMS and DXP platforms available, there are a number of features and functionalities that come into play. These include ease of use, flexibility and customization, scalability, content personalization, multi-site management, ecommerce capabilities, hosting and security support, and more. If you're comparing Sitefinity to other CMS and DXP platforms, it's important to consider your individual business needs, such as budget and specific features. Additionally, it's best to consult with a Sitefinity development agency, like Americaneagle.com, to provide you with all of the necessary information in order to make the best decision for your website.

The Progress Sitefinity platform is built on the Microsoft ASP.NET framework. ASP.NET is a popular web application framework developed by Microsoft, which enables developers to build dynamic and robust websites and web applications. Using the capabilities of ASP.NET, Sitefinity provides a scalable, flexible, and feature-rich content management system (CMS) and digital experience platform (DXP).

The exact pricing details for Sitefinity are dependent on the edition chosen, the number of user licenses required, and any additional add-ons or services needed. Contact us today to speak with a certified Sitefinity strategist or to learn more about Americaneagle.com's Sitefinity development services.

While Sitefinity is not inherently a headless CMS, the platform does offer a hybrid approach that combines both CMS capabilities and headless CMS functionalities. With its "decoupled" mode, also known as Sitefinity DX, the frontend presentation layer is decoupled from the backend, allowing Sitefinity developers to use the platform as a headless CMS. Sitefinity DX delivers headless content to decoupled frontends built on JS frameworks and is equipped with WYSIWYG (what you see is what you get) functionality.

While a website's level of accessibility compliance is largely dependent on how well it was configured and how developers and content creators implement accessibility best practices, the Sitefinity CMS does provide several features and capabilities to help improve web accessibility. As a popular CMS and DXP platform, Sitefinity websites can be built with accessibility in mind.

Content editor accessibility: the Sitefinity CMS, including the content editor interface, is designed to be accessible, enabling creators to leverage alternative text for images, use headings properly, and input accessible content.
Customization and widgets: Sitefinity developers can create custom widgets and modules within Sitefinity with accessibility in mind, ensuring that user interactions and interfaces meet accessibility requirements.
Templating and theming: Sitefinity developers can create accessible templates and themes that comply with the various web accessibility standards.

There are a number of reasons why you may choose the Progress Sitefinity CMS for your website or digital experience needs. First, Sitefinity offers a user-friendly interface, making it easy for non-technical users to manage and update content without the assistance of a developer. The platform also provides a high level of flexibility and customization, enabling Sitefinity developers to build personalized and unique websites that align with their company's branding. Sitefinity also provides scalability opportunities and is designed to handle websites of varying sizes and complexities. Sitefinity provides additional capabilities for content personalization, ecommerce, marketing automation, multi-site management, and more, making it an excellent CMS and DXP option.

To learn more about Sitefinity website development or to talk to a certified Sitefinity partner, contact us today.
Sitefinity Project Reviews
"Another great example of why I like dealing with Americaneagle.com. This is an example of them being aligned with our business requirements while simultaneously being cost-conscious. If we had a Supplier of the Year Award, I would nominate them."

"There's a reason we keep coming back to Americaneagle.com for business. Our expectations are always exceeded and this project is no different. [The project manager] and the team are phenomenal to work with."

"The upgraded Sitefinity platform version and implementation significantly improved page experience and performance of the P.F. Chang's marketing site. The rebuild enabled us to efficiently optimize content structure and hierarchy leading to significant visibility increases in organic search. We've seen a 41% increase in site pageviews, 40% YoY increase in the number of keywords ranked on page one of Google and a 20% YoY increase of organic impressions our menu pages. Additionally, we immediately observed improvements in detected page experience and page load speed scores which was a huge win."
;
Sitefinity custom development is a game-changer if you know which integrations are best to utilize. In this blog, we explore a number o... Read More

Sitefinity has a lot of great features but there's one that may not seem as prominent as the others, and that's the ability to extend o... Read More

With Headless CMS, you have one platform that manages your content with many systems able to access and consume that data and/or react ... Read More
---
Company name is required.
Email address is required.
Phone number is required.
Please use 250 characters or less.