Americaneagle.com
Cleveland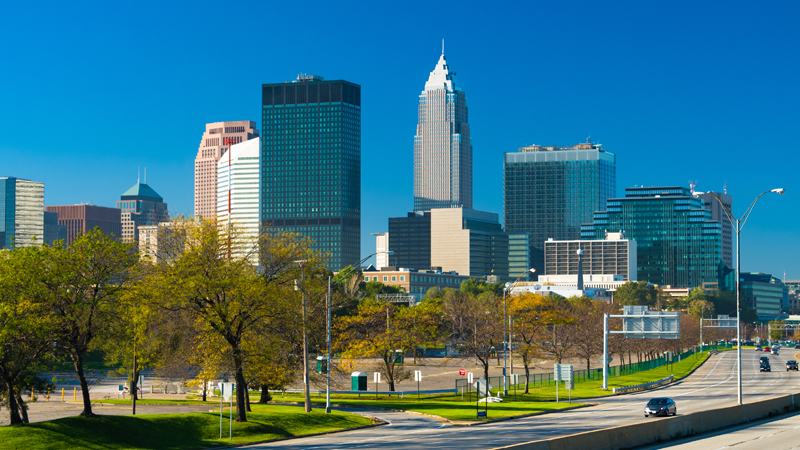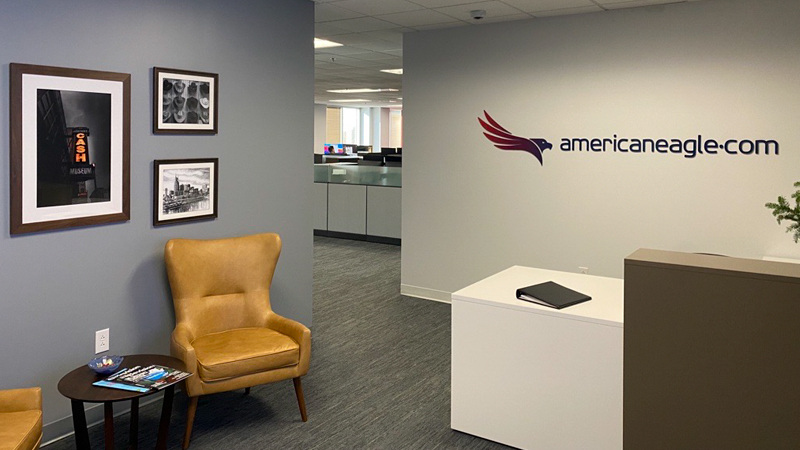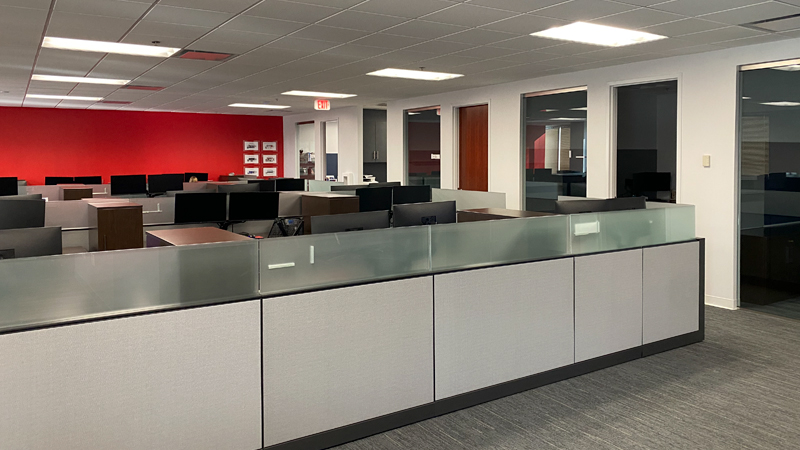 Americaneagle.com
Cleveland
Hours of operation

| | |
| --- | --- |
| Mon - Fri | 8:30 AM - 5 PM |
| Sat | Closed |
| Sun | Closed |
Digital Agency in Cleveland
Americaneagle.com contributes toward client success and digital growth from our Westlake, Ohio office. Throughout the greater Cleveland area, Ohio, and neighboring states, our digital agency has maintained lasting client relationships by providing globally-acclaimed web design, development, hosting, digital marketing, and post-launch support. From mid-size to enterprise-level corporations, across a variety of industries, our experienced digital solution teams help brands to consistently achieve impactful results.

Building Transformative Digital Experiences

Whether we're developing business websites, engaging mobile apps, or ecommerce solutions, the digital solutions team at Americaneagle.com delivers successful, measurable results. Both our technical and creative expertise consistently produces digital experiences that increase reach, conversions, and business growth for the businesses we serve.

Since launching our very first website in 1995, Americaneagle.com has been a pioneer and market leader as we've grown into the global agency we are today. Today, our client partnerships include some of the world's most recognized brands, enterprise corporations, and mid-size businesses. The breadth of our team's experience spans a wide array of industries, including financial services, healthcare, associations, government, manufacturing, transportation, and many more. Americaneagle.com is proud to have successfully launched more than 20,000 digital experiences with our inspiring clients.

Americaneagle.com has been a family-owned business focused on recruiting excellent people and professionals from the very beginning. That is still true today as we have expanded to employ 700+ productive contributors within more than a dozen offices around the world. The Americaneagle.com team now includes 200+ programmers and developers, 100+ digital marketers, 10+ partner MVPs, and more. Emphasizing local hiring around each of our office locations has contributed to teams that are personally invested in both client and community relationships.

We have nurtured strong partnerships with leading technologies and web platforms, such as Sitecore, WordPress, Liferay, ROC Commerce, Progress Sitefinity, Drupal, and more. Within these platforms, Americaneagle.com consistently delivers transformative digital experiences for our customers. We are always a platform-agnostic agency, implementing the most capable and budget-conscious solutions for each unique brand we serve.

We welcome the opportunity to learn more about your business and begin visualizing your digital potential. Please consider contacting Americaneagle.com today. If you happen to be in the Cleveland area, we hope you'll schedule a visit.
Digital Agency Serving Cuyahoga County
Directions
From Cleveland Hopkins International Airport
Get on OH-237 N in Brook Park from Lower Dr. Dive 0.9 miles. Turn left onto Inner Dr. Use the left lane to continue toward Lower Dr. Lower Dr turns slightly left and becomes Inner Dr. Keep left, follow signs for I-71/OH-237 N/I-480/Cleveland and merge onto OH-237 N. Take I-480 W to Stearns Rd in North Olmsted. Take exit 3 from I-480 W. Drive 7.4 miles. Use the right lane to merge onto OH-237 N. Drive 0.2 miles. Take the OH-17 exit toward Interstate 480 W/OH-237/Toledo/Lakewood. Drive 0.4 miles. Use the left 2 lanes to turn left onto OH-17 W/Brookpark Rd. Drive 0.8 miles. Turn right onto Grayton Rd. Drive 0.3 miles. Turn left to merge onto I-480 W toward Toledo. Drive 5.4 miles. Take exit 3 for Stearns Rd and drive 0.3 miles. Follow Stearns Rd and Crocker Rd 4.6 miles to your destination in Westlake. Turn right onto Gemini Dr. Your destination, 1991 Crocker Rd, Ste 600, Westlake, OH 44145, will be on the right.

Cross Streets
Crocker Rd and Detroit Rd
How can we help you?
Americaneagle.com welcomes the opportunity to partner with your business to advance your digital presence. We are prepared to share the very best of your brand with the world. Consider contacting us today to get started. If you happen to be near Cleveland, Ohio, we hope you will schedule a visit with us so that we can meet and visit face to face.
Award Winning Expertise
Our greatest reward for the work we do is in the shared celebrations with clients as project goals are exceeded. Often, by doing that, we also get to enjoy additional celebrations when industry awards are received. It is always exciting to be recognized by some of the world's leading digital experts. Year after year, we are honored to receive many of these distinguished award recognitions for our website development and digital solutions.
Website Platforms
Americaneagle.com is a platform-agnostic digital agency. What does that mean? We implement only the highest potential and budget-appropriate tech stack solution for each unique brand we serve. That solution varies for our business partners' wide range of sizes, products, industries, and audiences. Our experienced and attentive strategists clarify each client's business goals and needs before recommending the optimal digital solution. The platform and technology solutions they recommend are equipped to most capably achieve each brand's highest digital potential.
Ecommerce Platforms
Americaneagle.com helps businesses stay ahead of their competition by skillfully integrating, deploying, and consistently optimizing ecommerce platforms. We partner with only the world's most dependable and feature-rich ecommerce platforms to successfully serve our clients. Whether your market priority is B2B, B2C, or a hybrid, we will partner with your team to identify the ecommerce platform that makes the most sense for your specific goals and objectives.
CMS Platforms
An informed and future-focused selection of content management solutions (CMSs) is critically important in today's competitive digital landscape. Your business's CMS is the vehicle that drives audience engagement and should consistently nurture and grow your brand relationships. Americaneagle.com has established formal partnerships with the most respected CMS platforms. We will help you maximize your CMS to provide the very best results for your clients and brand.
Projects
View All Projects
Werner Ladder

Recently, Americaneagle.com successfully Werner Ladder's 20 branded sites to one admin platform within Progress Sitefinity. This integrated transition has streamlined the process of launching new websites as Werner's product lines continue to expand. Seamless integrations with existing business systems and third-party tools have added functionality, enhancing both internal and external user experiences.

User Experience Website Design Case Study

Frontier Management

Search engine optimization (SEO) has been a major focus in Americaneagle.com's recent advancements with Frontier Management. As one of the largest senior housing operators in the United States, Frontier Management has celebrated the targeted SEO strategy that led to a more prominent organic search presence. A number of digital marketing strategies became a part of the optimized mix, including keyword targeting, social media ads, and local SEO. The Americaneagle.com digital marketing team has successfully increased leads and conversions for Frontier Management.

Digital Marketing Strategy Case Study

Albanese Candy

Americaneagle.com re-platformed and redesigned Albanese Candy's website on the BigCommerce platform to allow backend users to quickly and easily make product, image, and page updates. Additionally, customized product features were built, allowing customers to easily navigate Albanese's wide array of products.

Ecommerce Web and Application Development Case Study
Reviews
"Every day, players, coaches, and teams add to the ongoing history of professional football. To share those moments with the passionate fans of the game, the Pro Football Hall of Fame chose Americaneagle.com as its teammate. The Hall's enhanced website offers fans more ways to engage with pro football – from its start over 100 years ago through times of transition and change to even greater heights in the future."

"Our website went live on the new Infor CSD platform with no noticeable issues. In fact, we were receiving orders and registrations as soon as we launched the new CSD environment. This is a tremendous testimony to the State Electric and Americaneagle.com partnership! I am so, so, proud of our ecommerce team."
FAQs
Discovery – align business goals with strategic, scalable technology and content.

Design Concept – refine visual communication within the proposed digital solution to benefit business visibility, engagement, and user experience to drive conversions.

Development – deliver a tested, efficient, and business-advancing website that meets project goals and exceeds client expectations.


Promotion & Partnership – many clients, following training to effectively maintain their new website, elect to continue partnering with Americaneagle.com to optimize ongoing paid and organic search results and pursue emerging digital project opportunities.

Americaneagle.com is a full-service digital agency. We partner with clients to deliver everything from website/application design and development to digital strategy, data integration, analytics, and PCI-compliant web hosting 24/7/365. Our digital marketing team works as an engaged extension of each client's business. Post-launch, our support services provide a proactive team of professionals who consistently maximize digital assets to reach business goals and stimulate growth.

In this fast-paced world of digital options and regulations, Americaneagle.com's experience truly matters. Don't let an agency talk you into the web solution that is convenient for them. Be certain you are getting the right solution(s) to meet your specific business needs today, with a confident plan for your brand's future.

Project pricing depends on the full scope of the new website and the intended features and functionality. Please contact Americaneagle.com to speak with a digital strategist about the details of your project and estimated pricing.

Americaneagle.com employs teams of professionals who specialize in the most capable and scalable digital development platforms. Whether your business is intending to upgrade an existing platform, is considering a platform switch, or searching for the smartest platform solution for a new web project, we can help.

The digital marketing team at Americaneagle.com is consistently focused on every available strategy to increase leads while decreasing cost-per-lead. Experience matters when data-driven decisions are made within this fast-paced and competitive field of digital optimization. Our digital marketing team identifies and executes timely strategies to fuel online success for our clients' businesses.

All RFPs can be submitted via e-mail to [email protected], the Contact Us form on our website (which accepts attachments), postal mail to Americaneagle.com, 2600 S. River Road, Des Plaines, IL 60018, or fax at (847) 699-4207. Once received, an account representative will review the RFP and follow up with your business. Thank you for considering a partnership with Americaneagle.com for your next-generation digital solutions.

Our digital solutions and designs identify the best ways for all users to interact with them. Attentiveness to ADA requirements and best practices is critical to that success. We consistently focus on all users and input devices. The goal is to create accessible digital interactions with clear messaging. Client brands value Americaneagle.com's promotion of accessibility throughout our digital solutions.

Yes, we offer a variety of mobile solutions including mobile apps for both Android and iOS devices. You can view a variety of our mobile projects by clicking here. If you don't need an app, we also build all of our sites responsively so they perform optimally on mobile devices.

We have not always been a global leader in web development and digital solutions. Our family-owned and operated business has been technology focused since 1978. Originally providing solutions for software development and office network implementations, we built our first website in 1995. Since then, future-focused, business-integrated websites have driven our growth to the forefront of digital solutions.

A project timeline depends on the full scope of the new website and the intended features and functionality. Please contact Americaneagle.com to speak with a digital strategist about the details of your project and estimated pricing.

We have very mobile project teams who regularly travel to client-preferred locations. Recent experience has indicated that our favorable ratio of in-person versus video conference project meetings has become a clear advantage in promoting consistent project success. The Americaneagle.com team at this Westlake, Ohio office is one of 12 throughout the United States.

In addition to the very best technology professionals, developers, and designers in our field, Americaneagle.com also prioritizes content development. In doing so, our respected team of writers, designers, and content strategists can help ensure your business' content amplifies your strengths and promotes reach, engagement, and conversions.