Salesforce Consulting Partner
Connecting your customers with Salesforce, the world's #1 CRM platform
We put the #1 Salesforce objective – aligning sales, marketing, and service to provide a 360° view of your customers – at the forefront. As a trusted Salesforce Consulting Partner, Americaneagle.com works alongside you to ensure that Salesforce meets your needs. We're a full-service agency, experts in cross-cloud implementations, and we actively analyze ways to make your applications and software work better together. Whether you're implementing Salesforce for the first time or you have an existing Salesforce implementation, Americaneagle.com is committed to your success. By leveraging our depth of capabilities and expertise, we help our clients innovate, improve customer relationships, maximize operations for efficiency and, ultimately - sell more.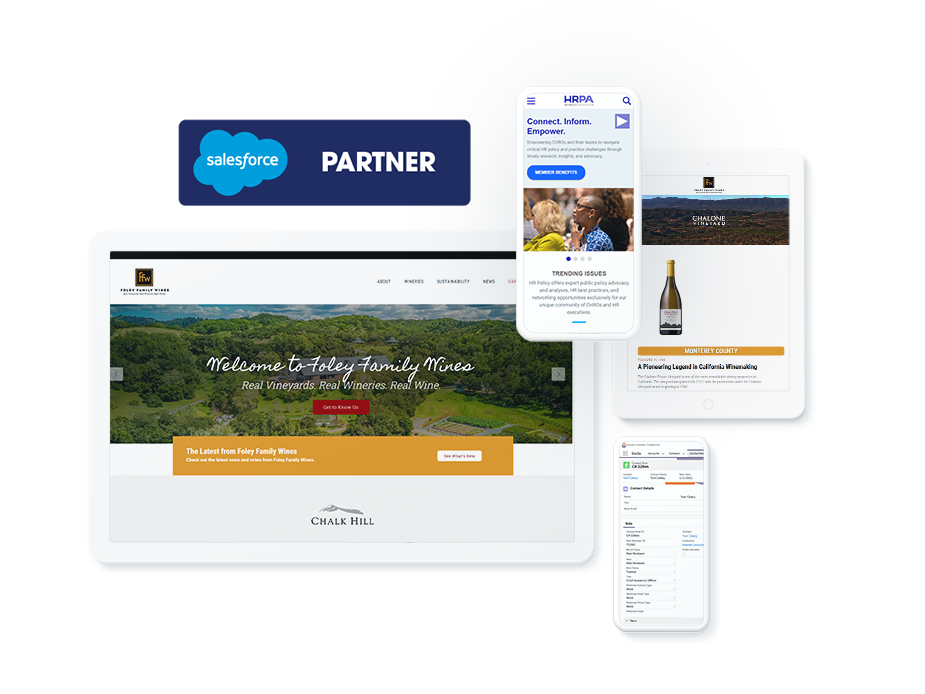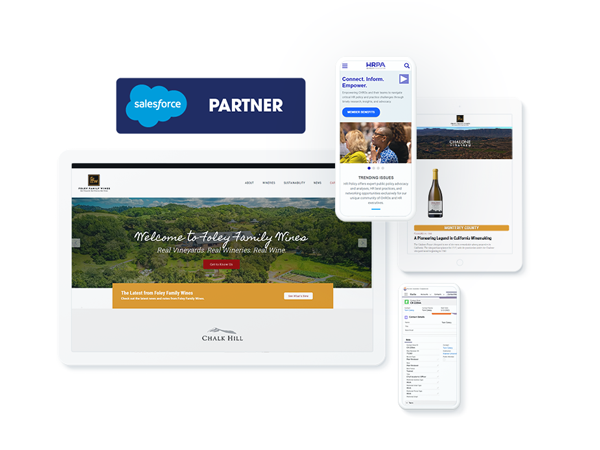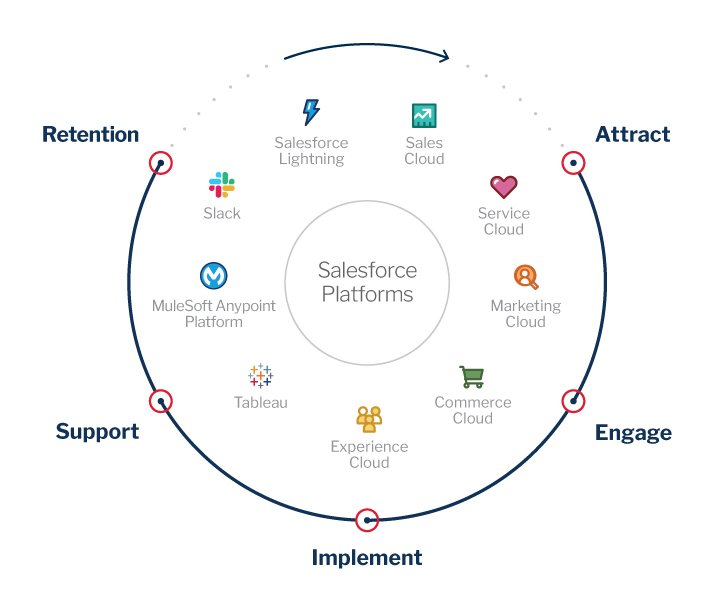 Our Salesforce Technology Expertise
Our dedicated Salesforce team can help your business leverage the full suite of Salesforce offerings through full product implementations, consulting, and continued development.
Salesforce Sales Cloud
Salesforce Service Cloud
Salesforce Marketing Cloud
Salesforce Experience Cloud
Mulesoft
Salesforce Commerce Cloud - B2B/B2C
Pardot Marketing Automation
Tableau
Bringing Success to Salesforce Clients
With a knowledge base of professionals, including certified Salesforce experts, Americaneagle.com utilizes our comprehensive experience, spanning many industries, to provide Salesforce services across all products –including Salesforce Commerce Cloud, Marketing Cloud, Sales Cloud and more! We take our years of expertise to create a winning solution that's great for organizational efficiencies and your customers as well.
Implementation
By analyzing ways to make your applications and software work together, our implementation services will provide your organization with a strategy to streamline business processes and create a seamless experience for your team.
Dedicated Support
From staff augmentation to recurring maintenance, our Salesforce Implementation & Dedicated Support team provides the support needed to drive ongoing value, enabling you to better market, sell, and service your customers.
Salesforce Consulting
As a Salesforce Consulting Partner, Americaneagle.com can provide ongoing consulting in application maintenance, external integrations, visual force conversions and commerce implementations. Our consulting expertise has maintained relations and helped companies achieve measurable results.
Integrations
Salesforce's capability to connect with any third party system or data source empowers users to have a 360-degree view of any customer. Americaneagle.com has the expertise to execute complex, custom integrations and unify customer data.
Digital Marketing
Leveraging Marketing Cloud's robust capabilities, Americaneagle.com helps drive efficient growth through marketing and sales alignment. Our Salesforce experts will help you understand and utilize all that the tool has to offer, including Marketing Cloud Account Engagement, to entice customers to convert with scaled, personalized, and automated outreach.
Ecommerce
Whether you are B2C or B2B, our portfolio of ecommerce clients showcases our success in this specialized field. Our team of experts will help you successfully deploy your Salesforce Commerce solution.
30+
Dedicated Salesforce team members & growing
70+
Salesforce Certifications
Salesforce Commerce Cloud
Americaneagle.com is an official Salesforce Consulting Partner and Commerce Cloud Solutions Partner. With Salesforce Commerce Cloud certified developers on staff, Americaneagle.com utilizes our comprehensive expertise to help you get the most out of your Salesforce investment. We will support your growth with the world's leading B2C & B2B commerce solutions.
Sales & Service Cloud
Adopting Salesforce will jumpstart your company's digital transformation. Whether you are already using Sales Cloud or looking to implement it for the first time, let Americaneagle.com's team of certified Salesforce experts set you up for success.
Salesforce Marketing Cloud
As a trusted Salesforce partner, Americaneagle.com can help you understand your customers, personalize their experiences, and engage them throughout their entire web journey. Through the use of Salesforce Marketing Cloud, our Salesforce experts will actively analyze ways to make your applications and software work better together. Are you ready to deliver personalized customer engagements to scale, with a marketing software built into the world's #1 CRM?
Mulesoft
Let our team of Mulesoft experts reduce the cost and complexity of your organization's software infrastructure by developing reusable, maintainable, and observable APIs to utilize across your organization.
;
At Americaneagle.com, we utilize our comprehensive experience, spanning many industries, to provide Salesforce expertise for many diffe... Read More

The foundation of a successful marketing strategy is understanding the ideal customer. This article details how you can utilize various... Read More

In this episode, we're going to dive into how Renown Health was able to utilize a Salesforce and Sitecore connector to better reach the... Read More
---
Company name is required.
Email address is required.
Phone number is required.
Please use 250 characters or less.