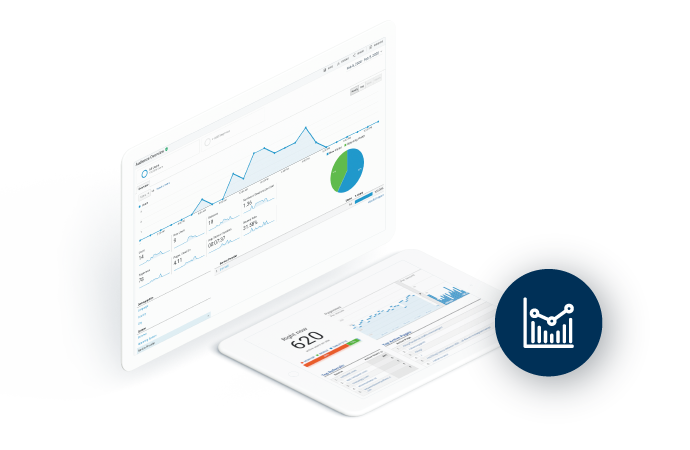 Analytics Consulting & Data Analysis Services
Analytics that provide key insights into your growth
It's vitally important to have insights into the user behavior happening on your website and applications. This information is valuable when determining your website's return on investment and when shaping future enhancements around user behavior.
Through our analytics and data analysis services, Americaneagle.com's team of Google-certified data experts will help explain how, where, and when visitors navigate through your site. We will provide actionable strategies that truly move the needle and give you a better understanding of your site's performance.
Analytics & Data Analysis Services
Analytics Setup
If you are just getting started with website analytics, we will set you up for optimal success. We will integrate your website with Google Analytics and other reporting software to give you a full understanding of the pageviews, traffic, and behavior on your site. With the use of Google Tag Manager, Google Search Console, Universal Analytics Tags, Event Tracking, and more we will gain a better view of your website performance.
Core Analytics Review
With our standard Analytics Review, we investigate the current website statistics that have been gathered and identify trends and patterns to establish a recommendation for changes to address how the site visitors are utilizing the website. We analyze everything, from a visitor's entire flow through your site to the specific completion of a goal and conversions to provide the best ROI on any future revisions to your website.
Advanced Analytics Consulting & Strategy
Accurate data is crucial to make informed business decisions. Our analytics team is available to troubleshoot the most complex analytics scenarios from the account setup to third party data integrations. We are here to assist with all of your data analytics needs across all digital marketing channels.
Analytics Reporting & Dashboards
Our dedicated Google Analytics Certified strategists offer key insights and strategies on an ongoing basis. We develop Google Data Studio dashboards and custom reports. With our methodology, we start with a stakeholder meeting to discuss goals, audience needs, and engagement tactics before moving on to identifying KPIs, setting benchmarks, and setting up monthly calls with detailed reporting and recommendations.
Analytics & Data Analysis Insights
;
Google Analytics 4 is Google's newest iteration of web analytics and its most powerful tool yet. This article takes a deep dive into GA... Read More

Three actions you should take after your data quality audit is complete, as well as what the risks and rewards of those actions are. Read More

When you understand your website's data, you're better equipped to use those numbers to guide your marketing budget and strategies. Dow... Read More
Get Answers About Analytics & Data Analysis