Google Analytics 4 is going to change the data game as we know it. New features and functionalities make it the most powerful iteration yet – which is why it's crucial for you to understand what it's all about. This article takes a deep dive into the most important components of Google Analytics 4.
What is Google Analytics 4?
Google Analytics 4, also known as GA4, is Google's next generation of analytics. It enables users to measure traffic and engagement across their websites and mobile apps.
The GA4 launch is different from previous iterations as it's not just an upgrade – it's a completely different operating system.
Think of the previous updates being similar to an iPhone OS update. This switch is more like switching to a Samsung Galaxy phone on an entirely different operating system. If you have an iPhone and decide to switch to a Samsung Galaxy you can't just take out the SIM card from your iPhone, put it in the new Samsung, and expect all of your contacts, pictures, applications, etc., to be there.
Your phone data doesn't simply transition from one operating system to another. Transitioning from Universal Analytics (UA) to GA4 is similar. Website data that exists within UA will not port over to GA4. Historical data will not be available. It's an entirely new operating system that needs to be set up, carefully and successfully, in order for your data and analytics to accurately inform business decisions.

(Image courtesy of Evolytics.com)
When will GA4 be going into effect?
The current version of Google Analytics, UA, is sunsetting on June 30, 2023. On July 1, 2023, all standard Universal Analytics properties will stop processing new hits. 360 Universal Analytics properties will stop processing new hits on October 1, 2023. You will only be assured of access to your existing UA data until December 31, 2023.
Although it may seem like the deadline is pretty far out, it's important to get started on the transition right away to build year-over-year data within GA4. Ideally, successful implementation occurs as soon as possible.
Is GA4 free?
Just like Universal Analytics, Google Analytics 4 is a free property type. There are no costs associated with using one or multiple GA4 properties on your account.

What's new in Google Analytics 4?
New reporting interface
There are a number of changes from UA to GA4. To start, there's a different reporting interface. After you've set up GA4, we recommend spending some time familiarizing yourself with the new dashboards as it will take time to get used to.
New reporting mechanisms
The first difference is with the bounce rate metric. It will be going away in favor of a new metric called "Engagement Rate." Other engagement-related metrics include Engagement Time and Engagement Sessions. Second, note that currently, the GA4 data is not matching the UA data in metrics we would expect it to, such as the number of users and number of sessions.
Finally, a lot of reports that come off the shelf with UA do not do so in GA4. If you use these they will need to be custom replicated. A good example is if you're looking to see more granular data with events. In UA, you could visualize Event Action and Event Label with Event Category. You can only see Event Category (renamed Event Name in GA4) with canned reporting. In order to see further details (these are called parameters in GA4 rather than Action/Label), you must create some steps for this custom report.
New event-based models
The way in which GA4 collects data is vastly different from that of UA, from a technical perspective. Everything collected in UA was based on page views and sessions. With GA4, everything collected is event-based. Pre-created events are set up and everything is predicated on those (page views, clicks, etc.). Continue to the next section of the article to learn more about which event-based data GA4 collects.
New attribution models
GA4 offers new attribution models. With UA, you were limited unless you created custom attribution models with what's known as last-touch attribution. Whichever conversion you were looking to track was directly sourced to how a visitor came to your website most recently. This method isn't particularly helpful if you have someone visit your site multiple times, but wanted to only track the initial visit. With GA4, you are able to select whichever model you would like to attribute your traffic.
Elimination of 'views'
Views do not exist within GA4. Only properties exist. Previously, views were used to be able to filter out data so that you can see very specific aspects of what's going on with your website. This does not exist at the data collection level for GA4. Instead, you need to be doing the filtering at reporting level, which emphasizes the importance of understanding the nuances between UA and GA4 reporting mechanisms.
Access to predictive insights
Google's machine learning models enable you to use your data to make future predictions regarding your audiences' behavior. GA4 comes equipped with several predictive metrics which can significantly impact retargeting campaigns. These include purchase probability, churn probability, and revenue prediction. Utilizing these metrics, you can create different audience types which can then be targeted using Google Ads or social media.
Event tracking in GA4
There are four categories of events in Google Analytics 4. They include automatically collected events, enhanced measurement events, recommended events, and custom events.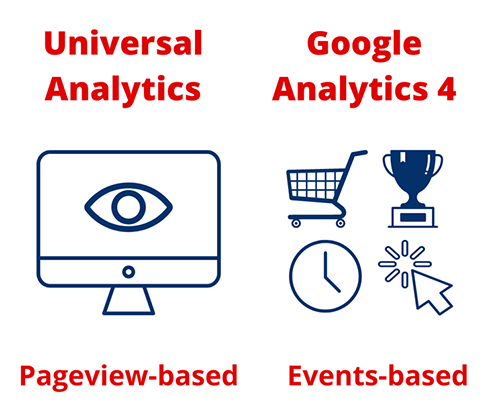 Automatically captured events
There are three types of events that are automatically captured within GA4.
First visit (first_visit) – the first time a user visits a website or launches an app
Session start (session_start) – when a user engages the website or app and starts a new session
User engagement (user_engagement) – fired 10 seconds after the visitor has stayed on a page
Enhanced measurement events
Enhanced measurement events are designed to help marketers get as many events in their reports as possible without needing to involve developers or configure in Google Tag Manager. They are enabled by default, but can be disabled individually if needed.
Page view (page_view) – when a new page loads or the URL of the page changes without reloading the page
Scroll (scroll) – tracks once per page when a visitor scrolls below the 90% threshold of the page height
Outbound link (click with parament outbound:true) – when a clicked link redirects a visitor to another domain
Site search (view_search_results) – when a page loads and the URL of the page contains a query parament such as q, s, search, query, or keyword
Video engagement (video_start, video_progress, video_complete) – tracks interactions of any embedded YouTube videos
File download (file_download) – when a link is clicked and a file is downloaded
Recommended events
Recommended events come into play when the previous event types (automatically captured events and enhanced measurement events) don't cover a specific use case or cases. Google put together a number of recommended events you can able to match your website's needs. Here's a full list of Google's recommended events, put together by Analytics mania.
Custom events
If you want to send an event that's not covered by the previously mentioned event types, you're able to create custom events. The only caveat is that you'll have to create your own event names – which can certainly be modeled after your other event names.

What should I do until UA is turned off?
It's critical for you to run UA and GA4 in parallel until UA is turned off. Because you're moving to an entirely new operating system, your existing and/or historical UA data will not be available in GA4 and vice versa. If you're not running the two systems in parallel, you run the risk of negatively impacting business decisions.
How do I keep a record of my old analytics?
If you think you may need data that goes back further than what you've been able to collect since implementing GA4, we recommend you start pulling that data from UA now. Whether that's via screenshots, downloading tables of data, etc., it is important to get yourself set up for future success.
There are some workarounds to this, however, it's a highly technical process. Essentially, Google has created an API that will allow you to export and download data, but there are several limitations. For example, you are only permitted to download 50,000 rows of data per day. So, if you need years' worth of data, this is a limiting factor of how much you're realistically able to collect. In addition, in order to download that data, you need a database, such as BigQuery, to collect and store it.
We want to emphasize that, even if you decide to download your historic data and create a database, the data will still not work in GA4.

How to transition to GA4
There are two steps involved in the transition from UA to GA4.
Step 1: Set up GA4 tracking to collect data.

Variables that may impact your GA4 setup include:

Whether or not your site has ecommerce
Whether or not your site utilizes Google Tag Manager (GTM), either for events or collecting UA data
Whether or not you have events hard coded to your site

The nature of your setup will drive what needs to be done and the level of effort associated with it.

Step 2: Begin utilizing the new GA4 metrics
Before UA turns off, you'll want to have GA4 data to be able to make informed decisions. We are recommending our clients begin gathering the data right away. Once you have a strong foundation of data, you will be ready to transition to using the new metrics. For most, this means spring of 2023 which is when Americaneagle.com plans on educating clients on how to evaluate their site with the new metrics.
Does Google Data Studio play a role in the transition?
As mentioned above, the reporting mechanisms, and the processes to set them up, are different between UA and GA4. You will need to spend time configuring and customizing your dashboards utilizing Google Data Studio. On the bright side, this means that your dashboards will reflect smart, data-driven insights that matter most to your business. You can also create custom segments based on "trigger" events or a subset of events that occurred on your site. Doing so enables you to more accurately track your visitor's interactions, thus providing a more granular view of their behavior.
What is Americaneagle.com doing to support clients with the transition?
Americaneagle.com can help your business with the transition to Google Analytics 4. Currently, we offer:
GA4 audit
GA4 setup
UA data export for continued historical analysis
Email [email protected] or fill out our "Contact Us" form to get started.
For more information, listen to the latest episode of the Modern Marketing Messages podcast titled "Google Analytics 4 and What it Means for Your Website."

A Deep Dive into Google Analytics 4: Conclusion
Google Analytics 4 is a powerful analytics tool that can help your online business thrive. With proper setup and usage, you're able to make informed decisions which lead to higher site traffic – and ultimately conversions. Consider engaging Americaneagle.com to assist with your transition today.
To learn more about the differences between UA and GA4, click the button below to download our free webinar titled "Ask Me Anything: The Transition to Google Analytics 4."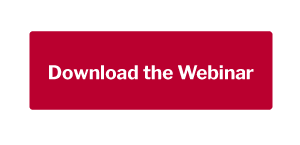 ---
About Author
---