Southland Credit Union (SCU)
Credit Union Receives Website Redesign for Revenue Generation and Continued Growth
Southland Credit Union (SCU) was founded in 1936 to serve the financial needs of Los Angeles County employees and is now one of the top-performing credit unions nationwide. SCU's member-owners benefit from a full spectrum of competitive products, convenience and exceptional service.
Challenges
SCU sought out a new website development agency who could assist in creating a visually sleek, updated, and easy-to-navigate site. The credit union wanted a more user-friendly website, built on a CMS that allowed it to manage existing content, update rates, and inform users of updates in order to streamline the process.
SCU needed an agency who would create a dynamic website that generates greater awareness of the their brand and services while meeting business goals. The credit union looked to form as easy-to-navigate entry point for online banking, a logical site hierarchy that showcases offerings, clear calls-to-action such as loan initiation and journey to join, and easy to understand self-serve support areas to compliment or enhance the member service department.
Project
Platform
Expertise
Accessibility
Responsive Design
Web & Application Development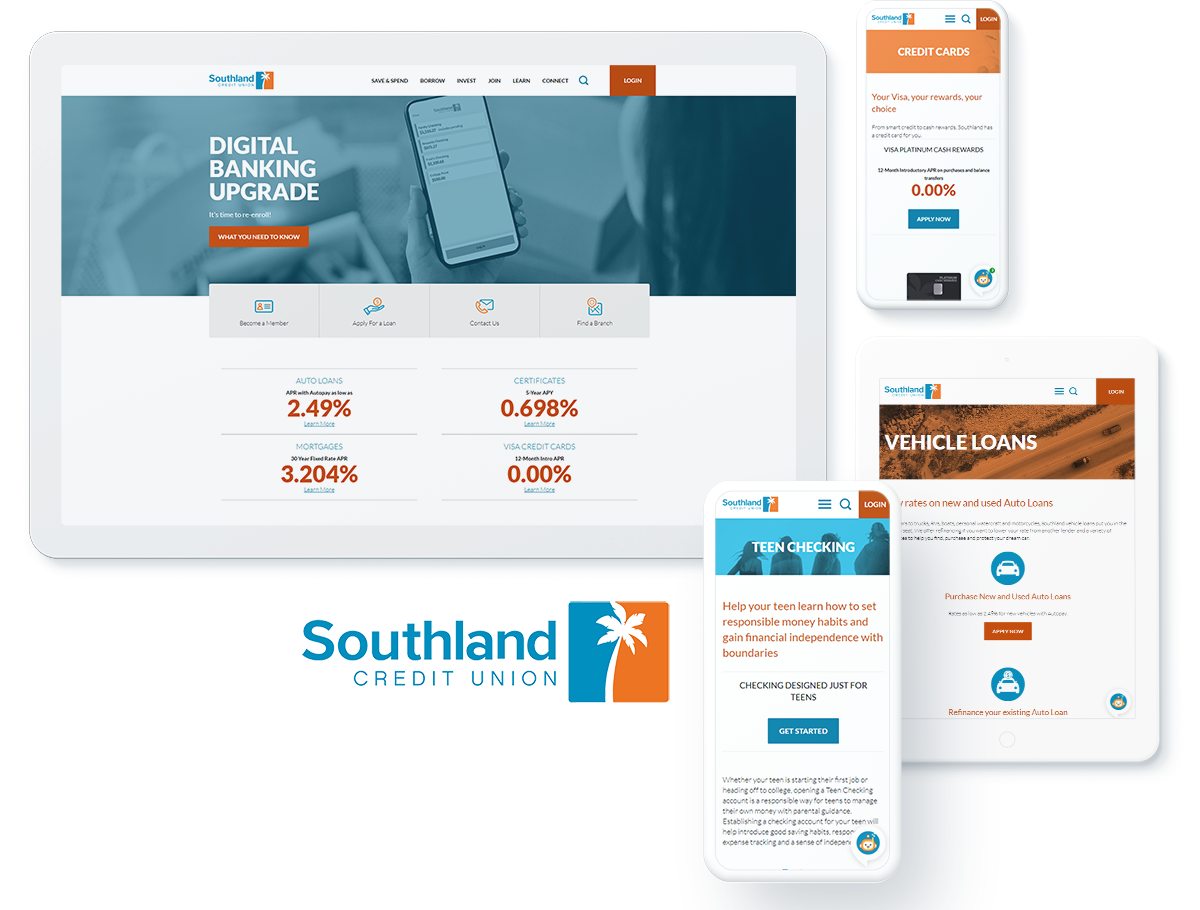 Solutions
With over 25 years of website development experience and an extensive financial services client portfolio, Americaneagle.com was chosen by SCU as the agency to tackle this project. The team began by assessing SCU's existing system and decided to migrate the site onto a new CMS. Americaneagle.com implemented the Kentico platform for its functionalities and long term scalability for continued growth while the team also performed content migration for SCU. Americaneagle.com also created custom rate widgets so that SCU could easily update and add them to pages through back-office systems. To facilitate this integration, the team enabled data flow in and out of the platform.
Americaneagle.com provided a website audit of the merging or acquired organization to determine risks and vulnerabilities that SCU will need to manage. The audit was accompanied by a website repair and remediation period to help stabilize and ensure the quality and integrity of the newly acquired web properties.
To enhance the user experience, Americaneagle.com added brand and ATM maps to the new website to give users the ability to find any SCU branch or ATM while also searching by zip code, city, and state to filter by the type of branch or ATM. The team built a map tool that allows SCU to upload new locations and manage details on the backend. Additionally, a custom "Subscribe" feature was added to alert users anytime a rate is updated. Custom banners were added to provide emergency alerts and privacy policy viewings. Americaneagle.com then architected a clear and uncluttered journey to joining to support member sign up and conversions objectives.
In addition to the integrations, Americaneagle.com worked to ensure website accessibility by testing for multiple areas of compliance. With Americaneagle.com's vast experience implementing compliant sites, including the federal government, the team operated alongside SCU to build towards ADA compliance.
Following the launch of their new website, the credit union saw a significant increase in new users and new members. With the redesigned, optimized site created by Americaneagle.com, SCU is now in a greater position to grow revenue.