Hughes Federal Credit Union
Credit Union Increases Memberships with Sleek, Speedy Website
Hughes Federal Credit Union (HFCU) was formed in 1952 in Tucson, Arizona to serve the financial needs of Hughes Aircraft Company (now Raytheon Missile Systems Company) employees and their families. In 1992, they merged with Arizona Transportation Credit Union, which served Union Pacific Railroad employees and more than 400 other select employee groups in Phoenix and Tucson.

Hughes came to Americaneagle.com with a new branding effort underway, seeking a new website to serve as their online branch.

Americaneagle.com began with a strategic initiative to drive both the immediate redesign effort with a revised taxonomy and information architecture, and to prepare for future development by identifying the various user groups and populations Hughes serves online. The new architecture and the greater understanding of user types and goals drove a custom design effort, uniting the look and feel with the framework of various conversions and user paths through the site.

Ultimately, Americaneagle.com built the new site on the Sitefinity CMS, utilizing Sitefinity's geolocation and personification tools to provide different users different site content, depending on where they are located. Other functionality improvements included a custom location finder to enable members to find services, a product comparison function to allow side-by-side comparisons of multiple products and a custom integration to import APR and APY rates for Hughes's products and services. The team at Americaneagle.com also built in a "Quick Finder" feature that enabled navigation by persona to further users' ease of access.
Following the launch of their new website, Hughes Federal Credit Union quickly saw positive results. In just six short months, the credit union saw a significant increase in account sign ups and much faster page speeds. With a new, optimized site, Hughes Federal Credit Union can now serve a greater portion of their members and attract prospective members as well.
Project
Expertise
Responsive Design
Web & Application Development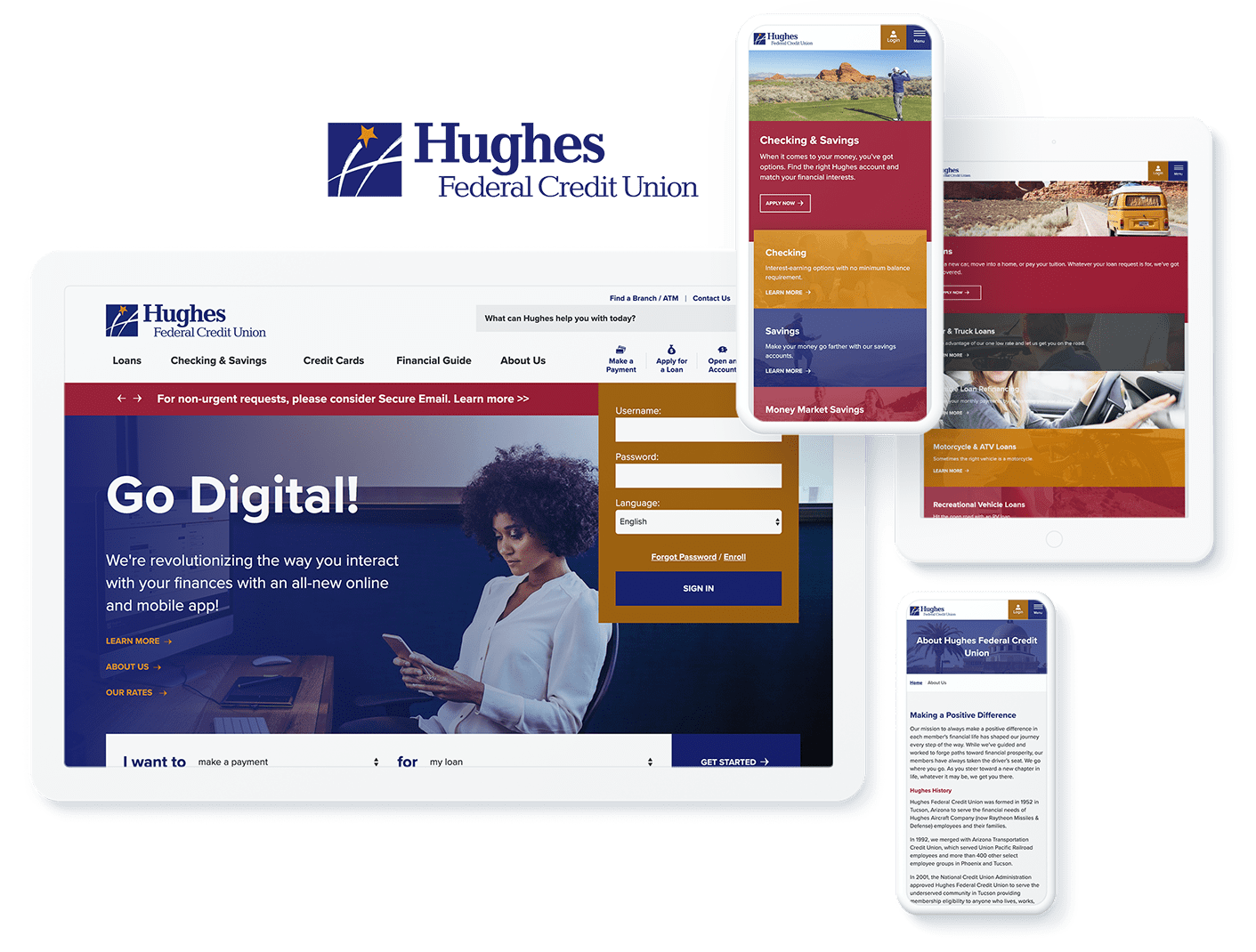 "We've been happy with Americaneagle.com from the very beginning. The team is amazing to work with and the entire process felt like a true partnership. I would recommend them to anyone!"