Kentico Implementation Greatly Enhances Financial Institution's User Experience
Founded in 1999, TowneBank is one of the largest banks chartered in Virginia. It operates over 40 banking offices throughout Central Virginia as well as Northeastern and Central North Carolina, and offers customers a competitive array of business and personal banking solutions.
Challenges
TowneBank was seeking to move away from its previous content management system (CMS) provider to Kentico for several reasons. First, it was looking for a provider that was more cost efficient. Additionally, it was looking for a CMS provider that was easy to use as well as gave them the ability to enhance the website, in terms of both content and features, without the need for constant IT and development support. Lastly, TowneBank was looking to modernize its overall website design while still maintaining its original brand look and feel.
Project
Platform
Expertise
Experience Design
Strategy & Insights
Web & Application Development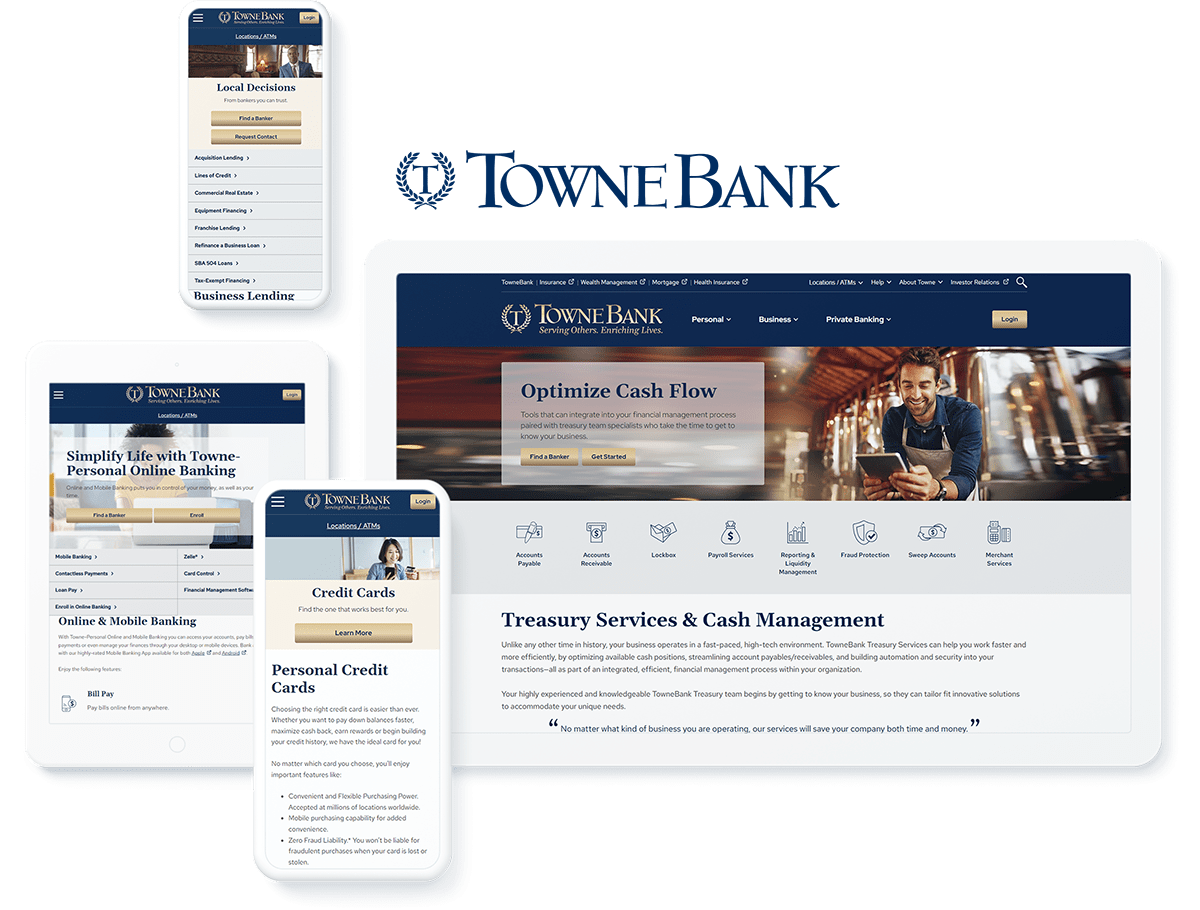 Solutions
As a long-standing digital partner of Townebank, Americaneagle.com sought to resolve its challenges in a few ways. To start, foundational strategy work was conducted to help drive the new website construction with a more audience-focused information architecture and design. Next, Americaneagle.com migrated TowneBank from its previous Sitecore implementation to the latest version of Kentico. Now, backend users can easily build pages, change color schemes, add videos to hero callouts, and more. This flexibility enables them to tailor their messaging to fit their specific business goals and objectives.
In addition to the Kentico migration, Americaneagle.com implemented a variety of features to greatly enhance TowneBank's functionality and user experience. The location search now allows the browser to read the user's location and then plots nearby TowneBank locations automatically. It also allows users to pin their favorite location for easy access in the header and searches. Furthermore, because TowneBank spans various cities and states, Americaneagle.com implemented a widget that allows content authors to add personalization to individual content blocks. This ensures users are seeing the correct information when looking at certain pages.
Americaneagle.com then redesigned the Online Banking Enrollment process to improve the user experience, increase the ease of which content authors can modify data on the form, and integrate with DocuSign to allow both electronics and print and scan enrollment forms. Based on selections throughout the form, users are guided to choose the right online banking product, are shown helpful tips along the way, and will receive customized emails based on which account they choose, which Treasury products they select, and when they save the form to complete later.
To end, Americaneagle.com integrated several external systems to ease content authoring while also increasing the amount of content and resources for frontend users. The third-party integrations included YEXT to power the site search, SB Resources to provide financial help articles to customers, and Dinkytown to power the site's calculators.
TowneBank's new Kentico website is recognized as a success. Through various features and third-party integrations, the user experience has been significantly enhanced for both frontend and backend users. Additionally, thanks to the website's newfound flexibility and usability, TowneBank is now able to easily lay the ground work for in-person conversions.