Beretta USA Increases Orders and Conversions with Successful Design and Digital Marketing
In 1526, Mastro Bartolomeo Beretta delivered 185 firearms to the Venetian Arsenal, and thus began a 500-year tradition of excellence that continues today. As the world's oldest manufacturing company still in operation, Beretta continuously aims to extend their industry superiority.

Challenges
With ecommerce growing at an alarming rate it was imperative Beretta offered their clients a pleasant online shopping experience. The company needed a technology partner that could assist with the redesign, development and hosting of their US ecommerce website, BerettaUSA.com. The goal was to increase online conversions by making it easier for visitors to find and purchase items. They also were looking to increase their conversions and sales as well.
Project
Platform
Expertise
Digital Marketing
Experience Design
Web & Application Development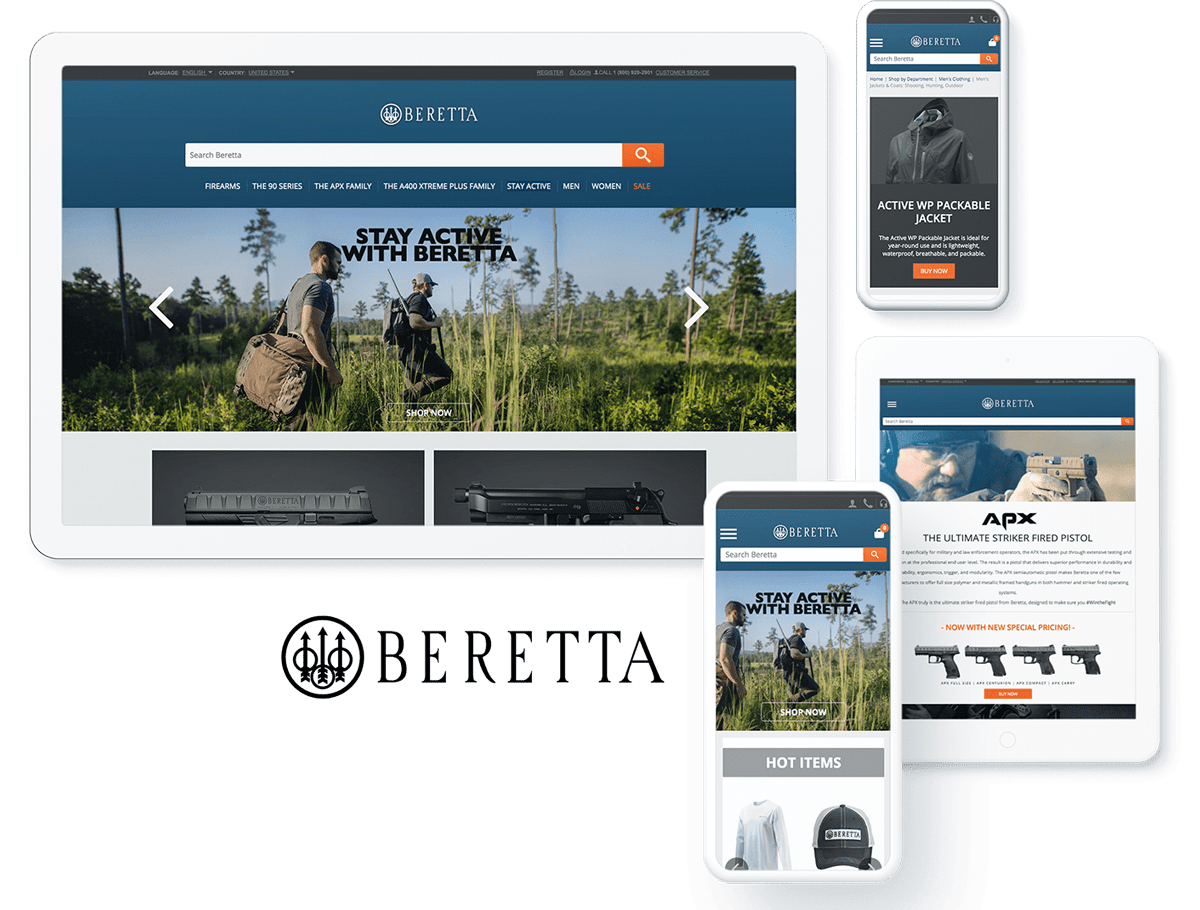 Solutions
Beretta USA came to Americaneagle.com for the redesign and development of their outdated website. The team took user research to create a custom design that aligns with the Beretta brand.
Beretta selected ROC Commerce and the implementation of the platform enables Beretta USA to focus on continuous revenue generation through well-crafted navigation, search functionality, purchasing paths, and merchandising tactics. BerettaUSA.com was built to accommodate new features and functionality that can be easily added as the online store grows. Integration with Beretta's in-house system streamlines the backend business operations. Call center operators use the new website to place orders for customers and look up information in one centralized location. In addition, Americaneagle.com's digital strategists used A/B Testing to determine how the transactions were affected when visitors are allowed to sort products by the average product rating.

During the Black Friday to Cyber Monday weekend, over 40% of our customers used search at least once before purchasing. We've also found that 90% of our visitors only see the first page of search results, meaning relevancy and merchandising have become hugely important. With Hawk Search's advanced internal site search, we've decreased the time and effort it takes our customers to find products, which is a crucial element to increasing our conversions.