PPC Campaign Strategy Cuts Costs and Boosts Revenue for Repair Clinic
Repair Clinic is a leading online retailer for replacement parts for appliance, lawn equipment, power tools, and heating and cooling equipment. They carry over 4 million parts from over 175 major brands and have an extensive library of step-by-step videos and repair help resources. To compete with large competitors like Amazon in the search results, Repair Clinic utilizes a variety of paid online advertising techniques.
Challenges
Repair Clinic had a number of active Pay-Per-Click (PPC) campaigns running on Google, Bing, Criteo, Yahoo, and YouTube. However, the Return on Ad Spend (ROAS) was well below its desired threshold. Additionally, the campaign structure did not follow best practices. The ads were overloaded with keywords, using out of date ad formats, and they targeted the homepage instead of the specific keyword resulting in users having to take extra steps to convert. Analytics tracking issues hindered the company's ability to make informed bid decisions and lead to the over reporting of sales and revenue. Repair Clinic used a 3rd party tracking software called Marin but the platform's algorithmic bid folders lacked theme and structure causing the software to bid inefficiently across campaigns and ad groups.
Project
Platform
Expertise
Digital Marketing
Strategy & Insights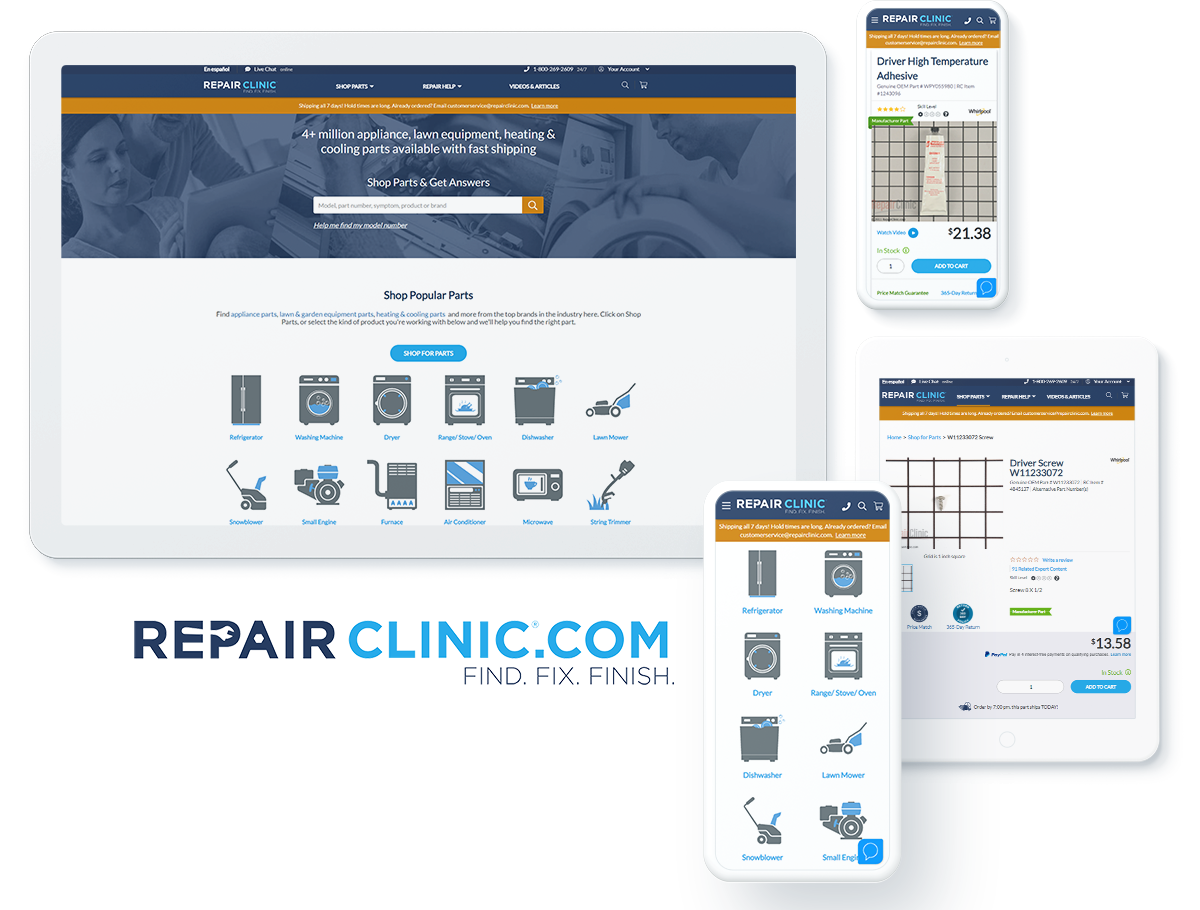 Solutions
Americaneagle.com performed a deep PPC audit at the beginning of the engagement to understand the current campaign setup and discover underlying performance issues. From there, the Americaneagle.com team took the following actions:
Campaign Structure: To improve campaign efficiency, the team re-structured campaigns by removing non-converting terms, breaking up large ad groups into smaller themed campaigns, and breaking out general terms product brand terms (i.e Toro lawn mower parts) from specific parts terms (i.e. Toro lawn mower blade).
Ad Copy: Repair Clinic was running outdated text ads, which negatively affected overall performance. Americaneagle.com updated these ad formats and switched to expanded text and responsive search ads. Leveraging the company's brand guidelines, the team rewrote these ads using more enticing language while remaining in alignment with the company's brand messaging.
Bidding: For more optimal bidding that would cut overall PPC costs, Americaneagle.com re-aligned Marin bid folders by channel and campaign to increase efficiency. The team also tested Marin's bid folders against Google Ads's Target CPA strategy to uncover which method would maximize conversions.
Shopping Campaigns: To simplify campaign management and maximize conversion value, Americaneagle.com tested standard shopping campaigns vs. Smart Shopping, finding that smart shopping campaigns increased all of the company's KPIs.
Tracking & Reporting: Finally, to fix Repair Clinic's reporting, the team resolved tracking issues between the two sources, Marin and Google Analytics, by fixing the ad URL structure that caused tracking to drop off during the ordering process.
Since working with Americaneagle.com, Repair Clinic saw drastically improved PPC performance and major increases in revenue and Return on Ad Spend. The ads are now much more optimized and driving more traffic at much cheaper costs.