The phrase "content is king" is widely used by content marketing agencies in blogs, articles, and informative videos. "Content is king" is referred to frequently because of its proven importance when people make purchases online. Over time, digital and content marketing have become increasingly important due to increased social media and smartphone usage. People consume a wide range of content daily as they browse online, which allows marketers to market their brands with informative, relevant, and valuable content.
Content Marketing Defined
What is content marketing, you ask? Content marketing is a strategic approach that prioritizes creating and distributing valuable, relevant, and consistent content to reach your audience and increase sales, engagement, brand awareness, and brand loyalty. Below, we summarize why content marketing is essential, along with various aspects of an effective content marketing strategy, content calendars, governance, and more.
Why is Content Marketing Important?
Ahrefs shows that "content marketing generates over three times as many leads as outbound marketing and costs 62% less." As content marketing takes center stage with impressive ROI opportunities, businesses should consider prioritizing a content marketing approach crafting high-value content to increase their number of leads.
Many industries recognize that consumers utilize social media and Google to search for products and services before purchasing. Content marketing has become incredibly important to online performance with this shift. Below, we list some of the benefits of having an effective content marketing strategy.
Provides a solution for your audience with your products and services.
Boost conversions.
Increases loyalty to your brand by developing content that resonates with consumers.
Builds long-lasting relationships between your customers and business.
Offers your customers information about your business.
The Customer Journey
Today, providing an exceptional customer experience through the buyer's journey is crucial. According to Salesforce, 94% of customers believe that a positive customer experience increases their likelihood of repeat purchases. By offering your customers seamless, informative, and helpful knowledge, you can improve the chance of a purchase and customers will recommend your business to other buyers. For example, Salesforce notes that 82% of customers recommend a brand based on their positive experience with customer service. A strong content marketing strategy will affect the customer journey and encourage them to turn toward your business to meet their needs.
One vital aspect of the customer journey is personalization. Personalized content marketing includes targeting your audience by researching their demographic and creating content for each step of the buyer's journey. Below is a breakdown of the buyer's journey so you can personalize the experience for your customers.
Awareness
Awareness is the first stage. This first step is where they find information about a product or service when searching online.
Consideration
The next part of the buyer's journey is consideration. The quality content writing in your blog, a well-done infographic, or an interesting video has helped them understand what they need to know to move forward.
Decision
At this point, they decide whether to make a purchase or bookmark the page for further decision-making.
Types of Content Marketing
There are many different types of content marketing and determining which one to implement is dependent on the type of business and goal of your marketing efforts. Let's explore some content marketing types and give you the necessary information to decide which type of content marketing will help achieve your goals.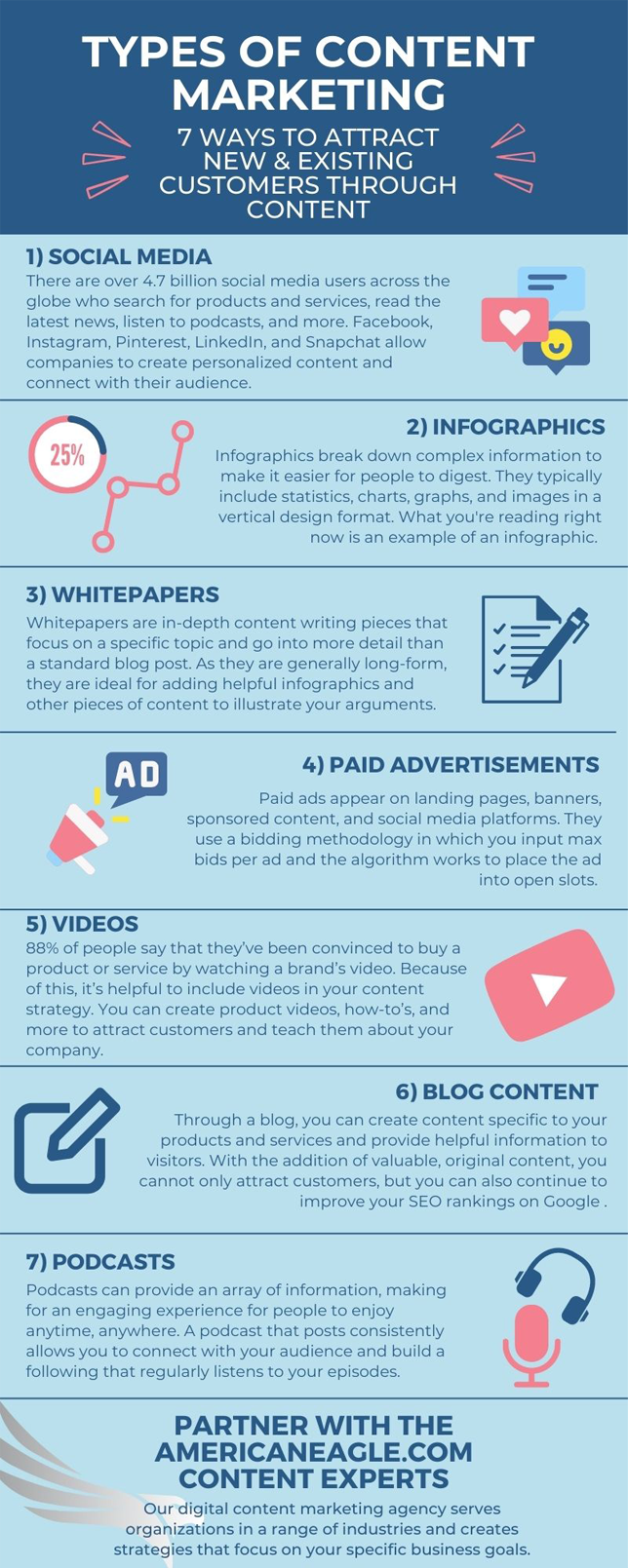 Social Media Content Marketing
Every day, there are over 4.7 billion social media users across the globe who search for products and services, read the latest news, listen to podcasts, and more. Facebook, Instagram, Pinterest, LinkedIn, and Snapchat allow companies to create personalized content and connect with their audience. You can use photos, live videos, pre-recorded videos, stories, and more.
Spotify Wrapped
At the end of each year, social media is flooded with Spotify users sharing their music evolution of the last year. Spotify Wrapped was released in 2015, and by 2017 their formatted allowed users to share their personalized music stats on social media. The shareability of people's specific music tastes not only took social media by storm, but boosted Spotify's popularity, resulting in Apple Music creating a similar campaign, although Spotify Wrapped is still considered the superior music streaming service because of the visibility they have gained through this campaign.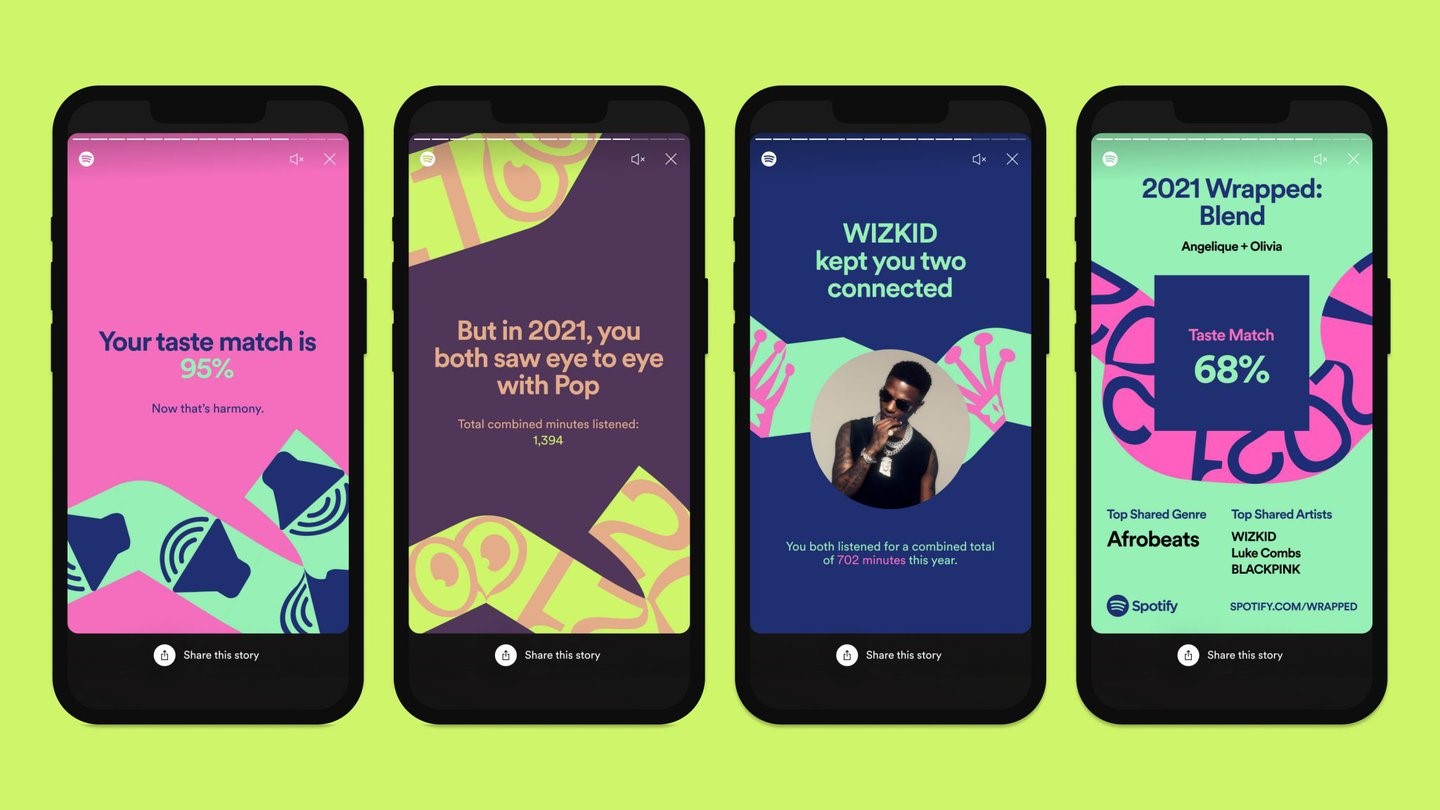 Apple
Apple's #ShotoniPhone campaign has garnered nearly 30 million posts, making it an incredible example of content marketing on social media. Through this campaign, Apple has made its customers the voice of their brand, and it at started as a way to show the impeccable quality of the iPhone cameras. Not only has this campaign continued to push the boundaries of what Apple's products can do, but gives potential customers an inside look at how customers utilize the technology, making Apple's customers the best form of marketing to potential customers.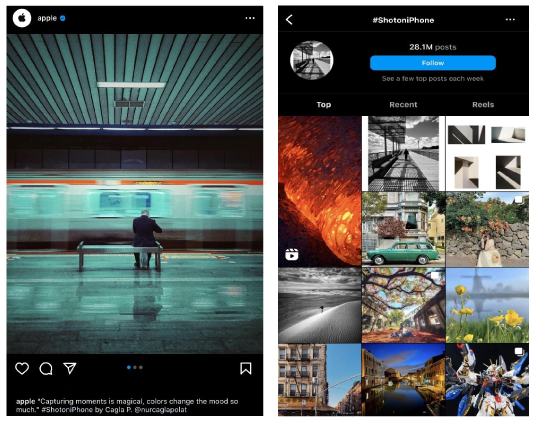 Whitepapers
Whitepapers are in-depth content writing pieces that focus on a specific topic and go into more detail than a standard blog post. As they are generally long-form, they are ideal for adding helpful infographics and other pieces of content to illustrate your arguments. This form of content is great to show your expertise in any given niche as well as educate on your audience on your proposed solution to an industry problem.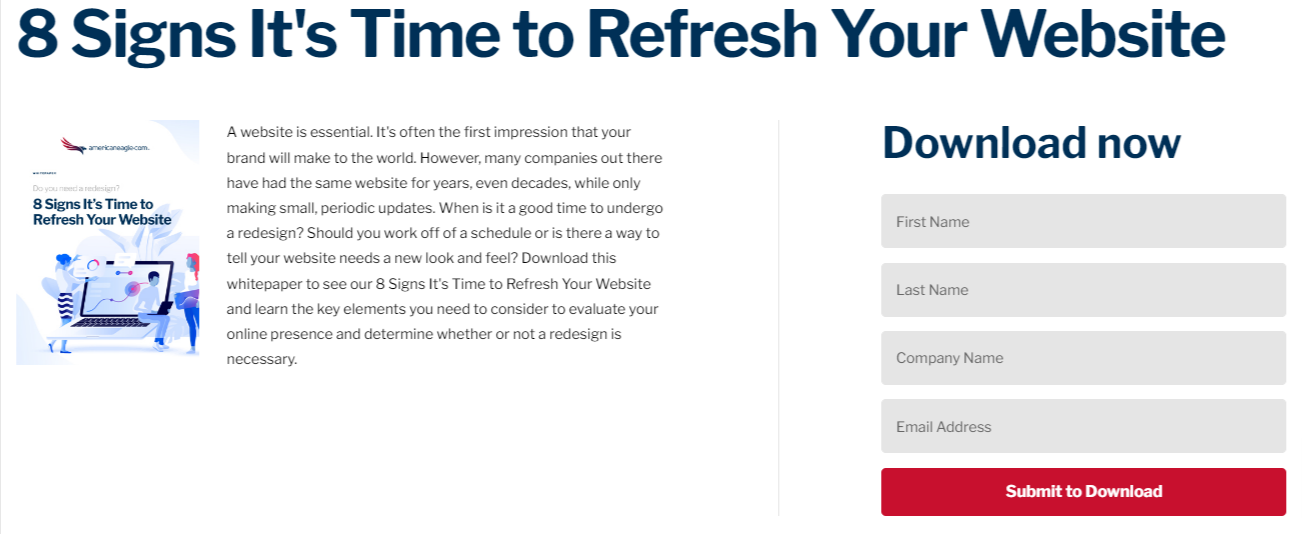 If you're looking for whitepapers that will educate you on website development, marketing trends, and the ever-changing industry of digital marketing, explore Americaneagle.com's website for informative and engaging content. We create content designed to help your business flourish in the digital space and keep up with the changing trends of digital marketing.
Online Content
One of the most prominent forms of content is through a website. Online content marketing is any content you post online that focuses on your web pages, such as a services page, copy on your home page, and more. By creating valuable content on your web pages, you have a higher chance of success on the SERPs and getting your business in front of your target audience.
Ron Jon Surf Shop
When it comes to marketing, first impressions are everything. You always to ensure that customers and potential customers have a positive first interaction with your brand because it will dictate their feelings your brand from that moment forward. One of the best ways to ensure a positive first impression is to ensure that your website is user friendly and engaging. For example, Ron Jon Surf Shop is known for selling the active lifestyle of beach and surf to customers around the world. Not only does their website accurately reflect their brand, but it's also incredibly user friendly for their online store. The content on their homepage include engaging branded images and a quick navigation system so visitors are able to easily find whatever they may be looking for. Their online content gives visitors a clear-cut, positive impression of their brand and encourages visitors to browse their site.
Paid Ads Content Marketing
Another effective form of content marketing is paid ad campaigns. Paid ads appear on landing pages, banners, sponsored content, and social media platforms. They use a bidding methodology in which you input max bids per ad and the algorithm works to place the ad into open slots. You can intelligently position your business in front of your audience through pay-per-click (PPC), pay-per-impression (PPI), or display ads.
Starbucks
Starbucks is known for taking advantage of the visual aspect of their brand to encourage customers to visit their stores. In this ad campaign example, they showed off the different combinations of coffee drinks that people can make with the instant coffee they sell, as well as give viewers an insider look at how to make their instant coffee. This campaign has high-quality and engaging visuals, making it a prime example as to why making your advertisements visually appealing can encourage customers to visit your website or store and explore your product further.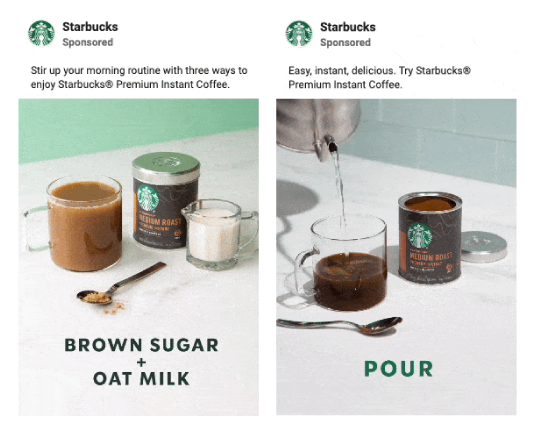 Videos
Video content is on the rise. Wyzowl's studies show that "88% of people say that they've been convinced to buy a product or service by watching a brand's video." With such a large percentage of purchasing coming from video engagement, it's helpful to include videos in your content strategy. You can create product videos, how-to's, and more to attract customers and teach them about your company.
Google
In 2021, Google released A CODA Story during the Oscars to tell an emotional story about the ways in which their accessibility features work for users with disabilities. Not only did was this advertisement transformed into a story by highlighting their accessibility features through live captions on its video chat service, but it also showed off Google's search functionality, SERP video integration and Google Chat. Through the video they created, they showed how technology can improve the lives of everyone while at the same time tugging at heartstrings to create an ad that became a memorable highlight for viewers.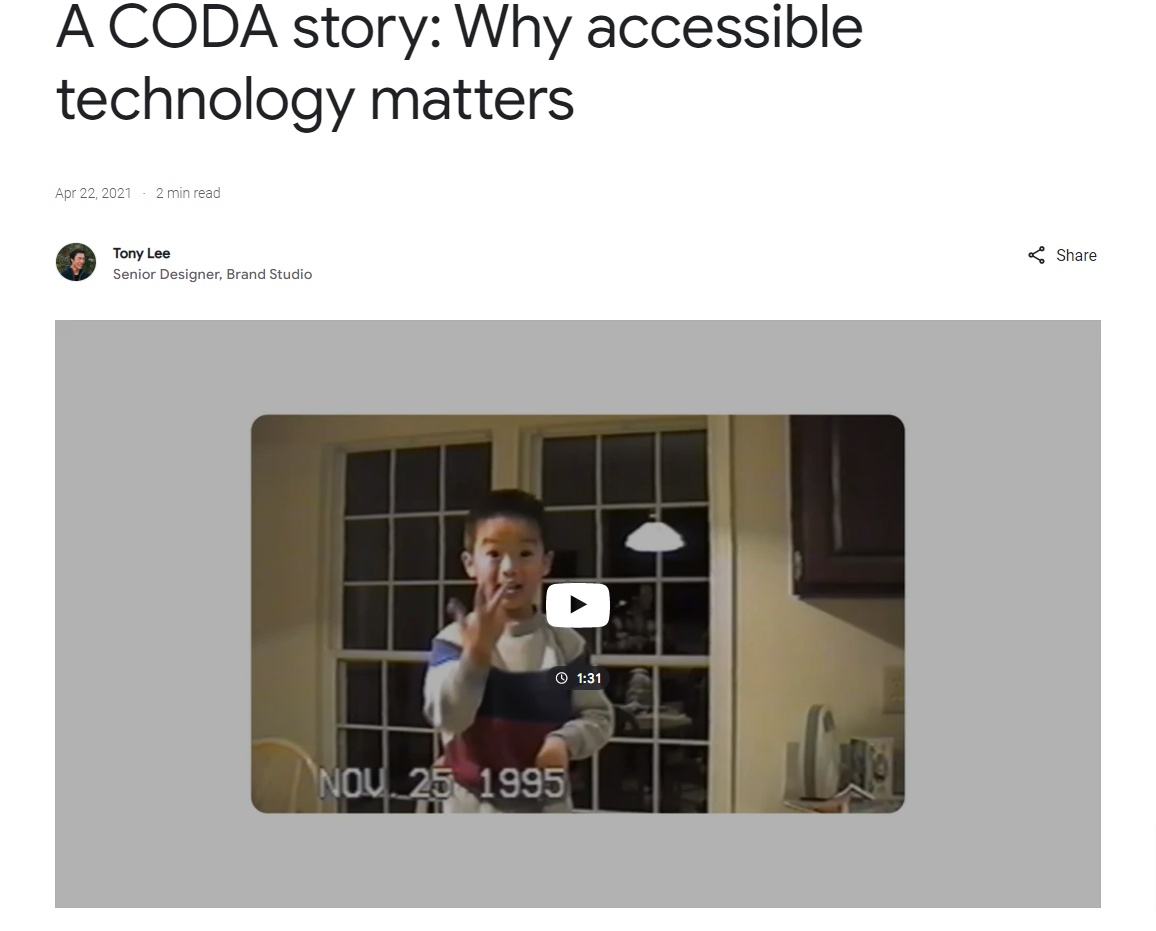 Blog Content
Blog marketing is one of the most effective forms of a good content marketing strategy. Through a blog, you can create content specific to your products and services and provide helpful information to visitors. With the addition of valuable, original content, you cannot only attract customers, but you can also continue to improve your SEO rankings on Google by adding internal links throughout your blogs that take you to relevant areas of your website. In addition, you can add links to your blogs on your social media platforms to bring traffic to your website.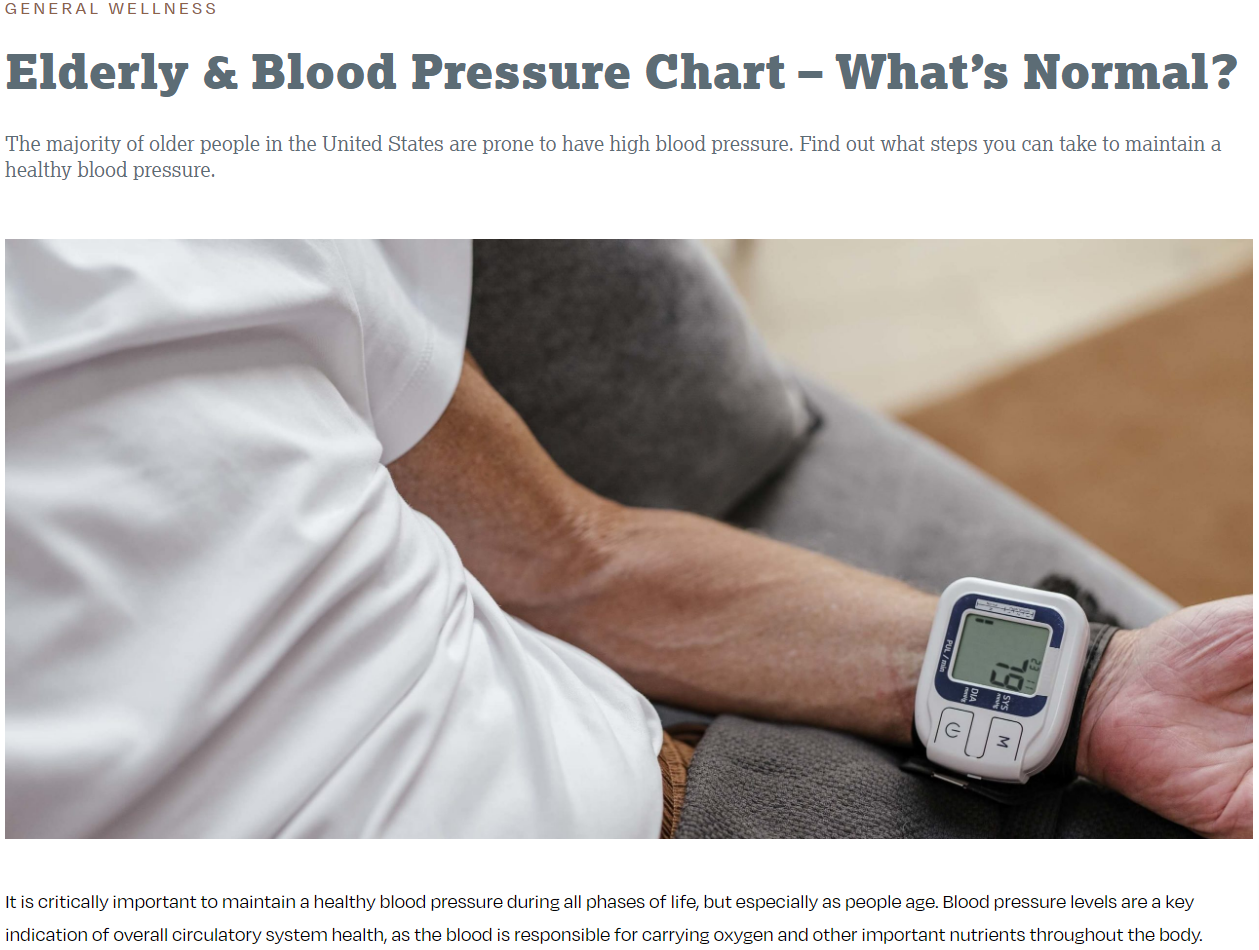 The blog post is "Elderly & Blood Pressure Chart – What's Normal?". It received a Gold Hermes Creative Award in the Web Element à Single Blog Post category. It has generated over 142,000 organic sessions, and it has a featured snippet. This blog post is the perfect example of the power that blog posts can have when it comes to content marketing and bringing more organic sessions to your business.
Infographics
Infographics break down complex information to make it easier for people to digest. Generally, infographics include statistics, charts, graphs, and other pieces of information in a vertical graphic design format. Marketers can insert infographics into blogs, whitepapers, and long-form articles to break up the text and visually represent the content.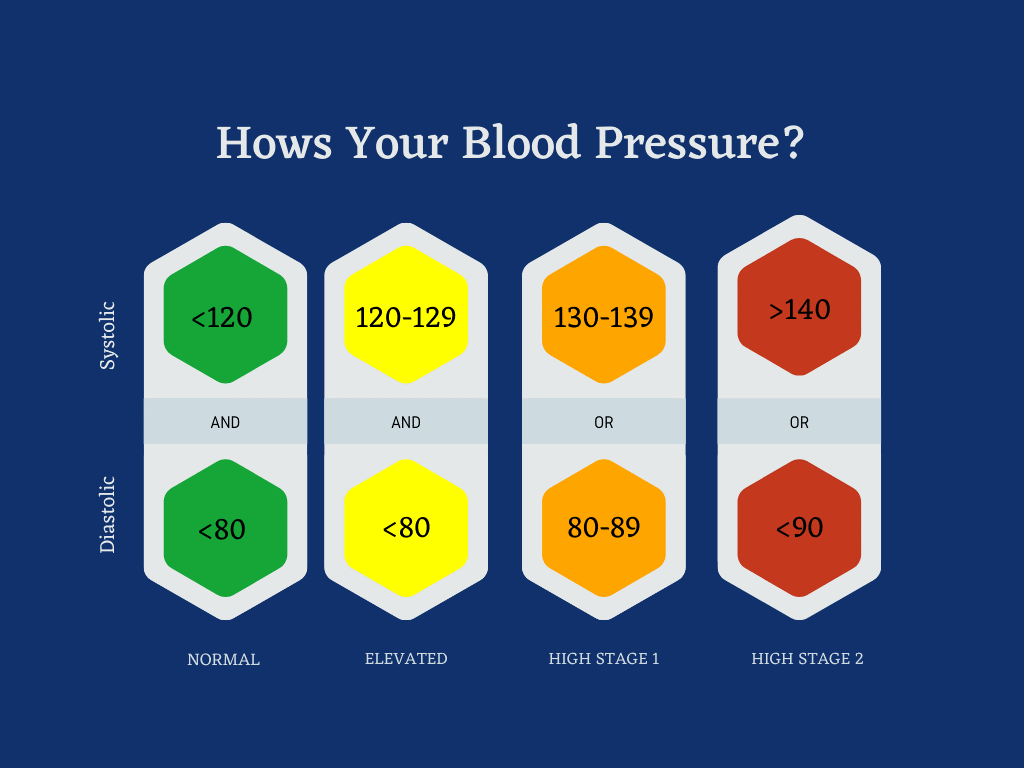 This infographic is from the blog post we listed above and is currently out-ranking Harvard and NIH (National Institutes of Health) by generating over 142,000 organic sessions for the blog post it lives on as well as a featured snippet. Not only does this graph provide necessary information for those wanting to know more about blood pressure, but it also brought a massive number of organic searches to the Frontier website.
Podcast Content Marketing
Podcasts have become an essential part of content marketing. Podcasts can provide an array of information, making for an engaging experience for people to enjoy anytime, anywhere. You can advertise the podcast on your social media platforms and your website. A podcast that posts consistently allows you to connect with your audience and build a following that regularly listens to your episodes.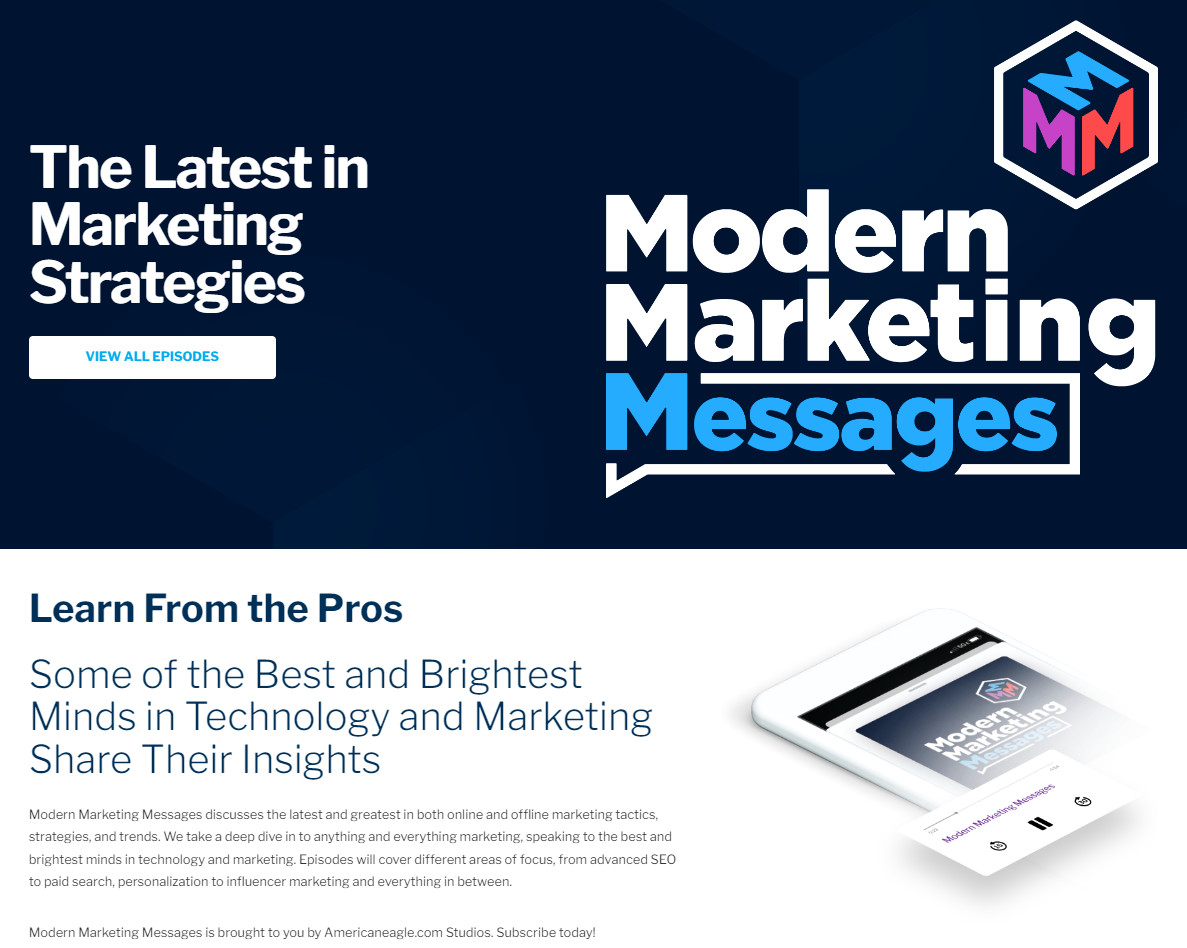 If you're looking for educational podcasts on the subject of marketing, check out Modern Marketing Messages, a podcast produced by Americaneagle.com Studios. Additionally, we produce a number of other educational podcasts on the subjects of Sitecore, WordPress, and more.
Content Marketing Strategy Checklist
Your content drives traffic, leads, engagement, and sales, so creating a content plan to reach your potential audience is essential. A content strategy guides your content marketing initiatives and identifies your audience and what steps to take to stand out in the digital sphere. With this document, you can determine your goals and metrics to keep track of your initiatives. Your strategy considers many factors for success, including SEO, content migration, content governance, and a cohesive plan across multiple channels, such as social media platforms. By creating a comprehensive content marketing strategy based on best practices, you can incorporate content that will resonate with your audience and succeed on the SERPs.
A typical content marketing strategy framework is as follows:
Your business goals
Your audience needs
A structured path to conversions
Tone and voice of your content
The media channels you will promote content on
Appropriate content resources and platforms
A content governance plan that fits your organization's structure and capacity
Establish SMART Goals
The first step of an effective content strategy is setting up goals based on the acronym SMART. SMART means Specific, Measurable, Attainable, Relevant, and Timebound. By sticking with this approach, you can have an easier time reporting progress and adhering to a time frame by taking proactive steps. Some goals could include the following:
Ranking in the first position for five priority keywords
Boosting engagement by minutes on the page
Increasing conversions by 10%
Create Customer Persona Profiles
Next, determine your audience by creating profiles about them, including the type of content they prefer to consume so that you can personalize their experience. Ask yourself the challenges they may encounter and questions about a product or service, and address their needs. Your buyer personas will help you define your audience, allowing you to create content that resonates with them.
Understand the Buyer's Journey
The buyer's journey illustrates a customer's decision-making process when interested in a product or service. By understanding the buyer's journey, awareness, consideration, and decision, you can ensure you have appropriate content for each stage of the journey. Different types of content correlate to various stages of their buyer's journey. You can research these types of content to develop a content strategy that speaks directly to buyers, no matter which stage their currently in.
Set Your Budget
Next, you must establish how much you spend on content marketing. Content marketing campaign costs depend on how much you create, your resources, deadlines, and more. Determine whether you need large-scale content creations or smaller pieces to fill the gaps.
Produce and Optimize Content
Now that you understand your audience and have a plan and a budget, you can begin to produce original, high-quality content for your audience. If you need guidance on creating content that can help improve your site's visibility in search engines, consider following our step-by-step template to creating SEO-friendly content. Once you have your content, whether online marketing, social media posts, whitepapers, or more, take the time to optimize everything by utilizing content marketing and Google best practices.
Define Distribution Channels
At this stage in your content marketing strategy, you have your content and now you need to get it in front of your targeted audience. You can utilize several distribution channels, including paid advertising on Google and social media, organic search engines, and your own social media pages.
Launch and Optimize
Lastly, you can begin launching all of your content on your determined distribution channels. After the launch, you can observe result metrics. In the early stages, aim to build awareness around your brand, products, or services; you will see a variation in results over time.
How to Create a Digital Content Marketing Strategy
Since so many companies create and publish content online, creating an effective marketing strategy is imperative to being successful in your marketing efforts. If you're looking to start creating a marketing strategy, it's important to have a level of criteria to meet with your strategy in order to be as effective as possible.
Value Beyond Products
Content marketing isn't just about pushing your products or services out in order to gain more customers. It's important that you're providing value to your customer base in a way that empowers your customers to work more efficiently. No matter what your product is, ensure that your content provides a solution for your customer's most urgent needs. While your product may be a solution in itself, only incorporate product mentions in your content when it makes sense. For example, if your business sells hair products, you can create content educating your audience on the importance of having the right ingredients in a hair product and then show them how your product falls in line.
Targets the Buying Journey Stage
Every piece of content you create should also target your customers' specific buyer's journey stage. Since there are generally three stages of the buyer's journey, you should ensure that every piece of your content targets one of the following: awareness, consideration, and decision. Each of these stages allow for different forms of content that target the specific stage and encourage your audience to complete their journey with your business.
Consistent Brand Voice and Image
No matter the type of content you're creating – blog post, web page, etc. – the people who see your content should be able to recognize it immediate. Your brand shouldn't sound like its multiple people creating content, even if that's the case. This makes it imperative to create a writing and brand style guide to ensure that all of your content is cohesive, from the tone, voice sounds, and visuals.
Timely and Engaging
One of the most important aspects of creating effective content is to ensure that your content is timely and engaging. If you know your customer's behavioral and spending patterns throughout the year, you should be creating content that's in line with those patterns.
Content Calendars
Now that you have a comprehensive strategy, you can use content calendars to keep everything organized and ready for publishing. In addition, having a content calendar can streamline your content with your entire team so everyone is aware of timelines.
A social media calendar generally includes the following:
The time and date it will go live
Social platforms, such as GMB, Facebook, and Instagram
Copy and creative components such as videos, images, and other pieces of content
Links and tags for the post
Here's an example of what a monthly content calendar could look like: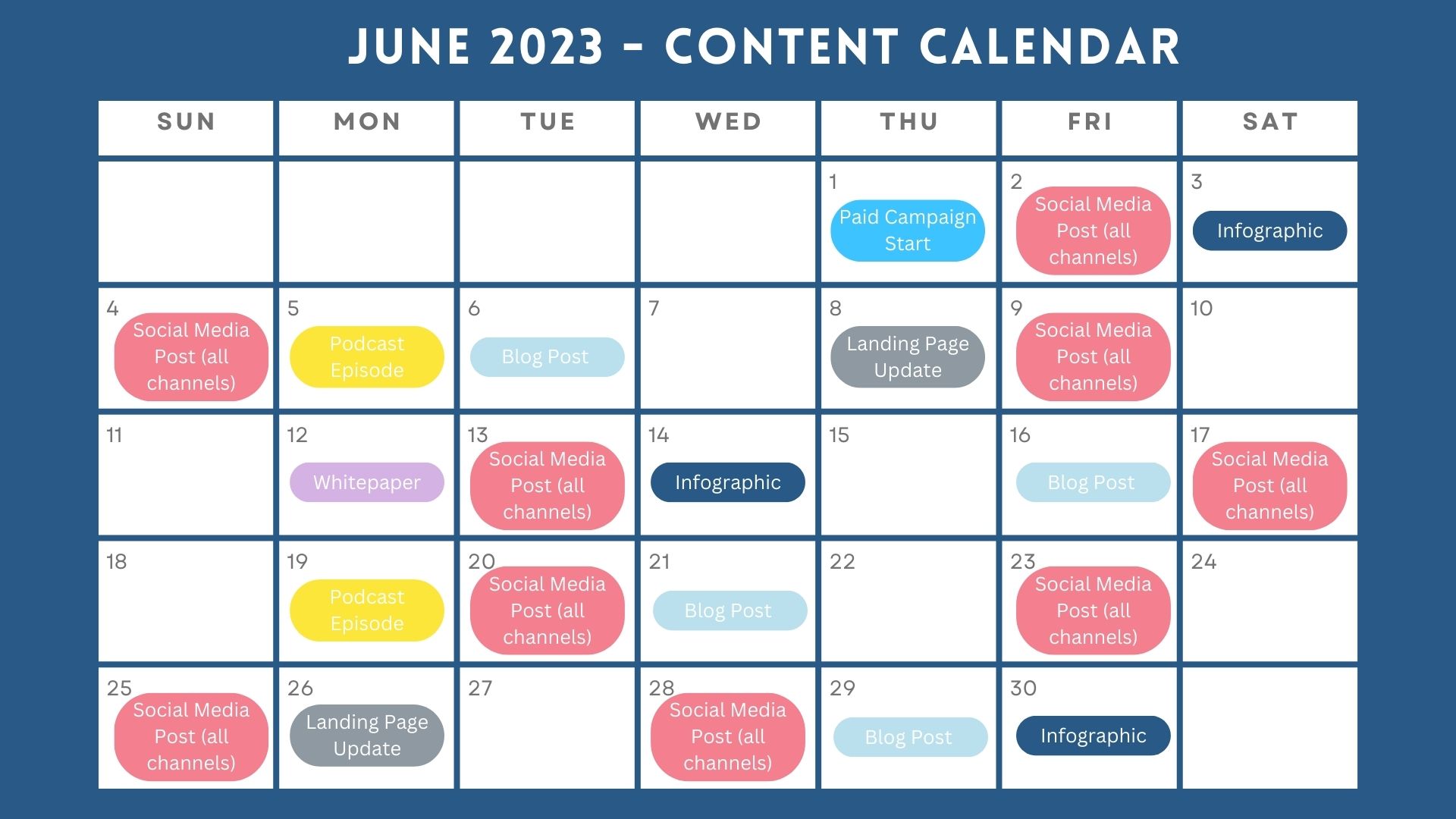 Content Governance
Content governance, or content management, facilitates the production and publication of content by aligning people, processes, and tools. Content governance considers the capabilities of people, staff, and techniques to enable content marketing to execute a content strategy and promote long-term content success. It avoids missed deadlines, publishing issues, and more. With the available tools, resources, and expertise, you can continue delivering valuable content through a comprehensive content management plan.
What Content Marketing Is Not
If you're thinking about implementing content marketing strategies, it's important to understand what content marketing isn't. The process of creating and implementing content marketing strategies isn't just creating random pieces of content and hoping that one form of content will work for your brand. Below are some examples of what content marketing is not.
Not Directionless
When brands are looking into content marketing, many of them will simply think they need to create a bunch of content without any purpose behind it. The opposite is true, and having a strategy will not only help direct what content you produce, but will also give you a purpose as to why you're spending time and money creating content.
For example, without a strategy, you may end up with a piece of video content that looks more like a promotional ad rather than a piece of content that's meant to connect and resonate with your audience. Even though this may be a high-quality piece of content, it's not going to be as effective as content that's been designed to resonate with your target audience at a specific time in their buyer's journey while being connected to other content involved in your strategy.
Creating Blogs Doesn't Equal Content Marketing
While blogging is a substantial and effective piece of content, if you're only writing blogs, you're not implementing the different aspects of content marketing to its fullest potential. Content marketing is about providing information, and this can happen through different forms of content as long as the information it provides is useful to the intended audience. Content goes far beyond blog posts and can be delivered through a myriad of channels, including video, graphics, apps, social media posts, emails, and more.
Not a Commercial
Many companies will assume that they don't need direction to create content that's effective. As a result, the content developed will revert back to outdated ideas of advertising. For example, a video that should explain how you make a customer's life easier turns into a commercial about features, and this content won't engage your audience in a meaningful way.
Social media is one of the most effective forms of marketing, but sharing your content on these platforms isn't content marketing. The value of implementing social media in your marketing strategies is to use them as way of bringing people to your website. This makes social media an effective platform for distribution in your marketing strategy.
Content Marketing Metrics – Measuring What Matters
Now that you have a clear understanding of what content marketing is, let's talk about how you can best measure its performance. Once you've created a strategy that's working for your business, it's important to measure the content performance metrics.
Content Marketing KPIs
Key performance indicators, also known as KPIs, focus on the operational side of content marketing and force you to think about your "why." Some KPIs to consider include:
Customer acquisition costs (CAC): Calculating the CAC for each of your campaigns will provide key insights on how to streamline operations to reduce it.
What new business came from your content marketing efforts? This will help you figure out how much influence your content marketing has.
How long does it take for a campaign to generate interest? If it seems like it's a long time, it's important to gather context and better understand how to shorten the time.
Metrics
Now that you've defined your KPIs, it's important to know which metrics you should be paying attention to. There are many different metrics out there, so it may feel overwhelming to figure out which ones work best for your goals. Here's an overview of key metrics you should focus on:
Now that you've defined your KPIs, it's important to know which metrics you should be paying attention to. There are many different metrics out there, so it may feel overwhelming to figure out which ones work best for your goals. Here's an overview of key metrics you should focus on:
Traffic
The traffic of your website is one of the most important metrics you can track. Once you learn where your traffic is coming from, you can make changes in order to continue to grow the traffic on your site. For example, if you find that you're receiving a lot of traffic from content on Instagram, you can make more content for that platform to increase the traffic even more.
Conversions
When it comes to conversions, it's different for every business. It can include filling out a form, making a purchase, or signing up for an event. Whatever conversion applies to your business, it's important to determine exactly what links your marketing efforts to your conversions so you can understand the sphere of your content's influence.
Engagement
While traffic is great, engagement is even better. Engagement is when people spend a considerable amount of time on your website and on multiple pages of your site. These are metrics that can be found on Google Analytics. Another element of engagement is through your social media accounts, which can help drive a significant amount of traffic to your website.
SEO
Organic search rankings are vital to a healthy content marketing strategy and it's imperative to consistently monitor your keyword performance. Keywords are how your audience looks for answers that could lead them to your website. Check your keywords on a regular basis and ensure that you're optimizing every piece of content.
Authority
Authority isn't as easy to measure as the other metrics, but it's just as important. The objective of measuring your authority is to have a strong domain authority (DA) in a range of 1-100, and the higher the number, the greater the authority. Building authority will improve your SEO and conversions, as well as be measured by Google.
Best Content Marketing Resources
Creating a content marketing strategy can feel like a daunting task, but it doesn't have to. There are many different resources that you can utilize in order to create the best strategy for you.
HubSpot
HubSpot is a great resource for content marketers because it not only has free lessons on how to become an effective content marketer, but it also has access to resources that will propel your content forward. HubSpot offers free or paid social media management tools and free or paid email marketing software.
Marketing Template Library
This library is a high-quality collection of digital marketing templates that can help you speed up the process and increase traffic, subscribers, and conversions to your website. There are many ready-to-use templates that range from SEO, email marketing, content marketing, and more.
Google Trends
Every good content marketer needs to stay on top of the search terms that are trending, utilizing a tool like Google Trends important. It allows you to conduct comparative keyword research and discover demographic insights and related topics. You will also be able to discover similar queries to help you better understand what is currently trending on Google.
Google Keyword Planner
A tool like Google Keyword Planner will help you make your on-page SEO impeccable. This is a free tool that will provide you with data on monthly trends and the search volume for the search terms that are relevant to you.
Content Marketing FAQs
1. Does content marketing work?
The short answer is yes, content marketing does work. The nature of content marketing is to create authentic and transparent content that will resonate with your consumers. This is a stark contrast to outdated advertising tactics and it pushes businesses to think about how their products add value to their customers' lives. The fundamentals of content marketing are relationship-building and focusing on the customer versus the brand, which pushes businesses out of their comfort zones when it comes to marketing in a way that helps them connect with their audience.
2. What are the main goals of content marketing?
There are four main goals of content marketing: subscribers, sales support and enablement, customer support and loyalty, and leads. Building a list of subscribers gives you the opportunity to communicate with your audience on a regular basis, marketing your content to them in a manner that is both relevant and valuable. A large part of content marketing is to create content that encourages your audience to make the decision to purchase your product though testimonials and case studies. While content marketing plays a role in the customer's journey, it also can further reinforce their decision to make a purchase from your business and encourage them in the future. A lead is defined as any action that you have identified for your business (signing up for emails, registering for an event, etc.) and creating valuable content can encourage more leads from your audience.
3. What is the role of a content marketer?
A content marketer plays the role of a storyteller and a data analyst, combining both technical and creative elements to create content that pushes a businesses' marketing goals forward while also creating a relationship between the brand and the audience. Content marketers do a myriad of things, including creating written and video content, managing social media, analyzing data, and creating calendars and strategy to drive those marketing goals.
4. What's the most common mistake you can make with content marketing?
The most common content marketing mistake you can make is jumping into creating content without having a clear and direct strategy. If you're creating content that has no end goal in mind, it won't hit your target audience. This will lead to creating content simply for the sake of making content. Having a goal with a clear plan in mind will allow you to make targeted, high-quality content that will help you reach your goals.
5. Is content marketing the same as social media marketing?
Even though many businesses will combine their social media marketing efforts with their content marketing efforts, the two are not the same. Content marketing encompasses written, video, and graphic material that can exist both on your company's website and on any other areas of the internet. On the other hand, social media marketing exists solely on social media platforms like Instagram or Facebook. Social media marketing and content marketing can work together to meet your marketing goals.
Contact the Content Strategy Specialists at Americaneagle.com
The digital marketing and content sphere constantly evolve with new trends, consumer behaviors, and technology, so it's vital to be mindful of your trajectory. A comprehensive content marketing strategy can help you better understand your audience and how to attract them with personalized, valuable content.
The content strategists at Americaneagle.com are at the cutting edge of this science and provide comprehensive content plans to improve your online performance. Our digital content marketing agency serves organizations in a wide range of industries and can create strategies that focus on your specific business goals. Contact Americaneagle.com today to get started!
---
About Author
---