An editorial calendar is a great motivator – it can help you see your content successes, drive continuous improvement and keep you and your team on target.
If you haven't worked with one yet, you may be surprised. Let's dive in and explore the benefits of a professionally crafted editorial calendar for cross-channel success!
What is an Editorial Calendar?
An "editorial calendar" can refer to any schedule defining when content will be posted and where. It makes it easier to visualize a full month's worth of blog posts, email newsletters, social media posts, and more, as you get an overview of your outreach across channels.
An editorial calendar enables you to visualize the following at a glance:
The content being published, this month and beyond.
The theme or heading associated with each piece.
The intended date/time of publication.
The channel via which each piece will be published.
Authors/content owners for each piece.
Deadlines for various stages including publish and review/reporting.
What is the Purpose of an Editorial Calendar?
An editorial calendar will help you to improve your content every step of the way. Here's how:
It will help you stay organized; you'll always know what content is coming up next. As such, you'll be in a better position to keep to deadlines and make the most of key dates.
It will help you post more consistently and deliberately, at the best times for your readers – no more periods of silence or bursts of chatter from your channels!
It will help you easily review your progress, see your successes, and keep optimizing.
It will help your team better manage their time; they'll know what's coming up so they can work ahead when they have time, or reassign tasks when necessary. They'll also be able to make better judgement calls when they're asked to say yes to additional assignments.
An editorial calendar can give you a birds-eye view of your content. Are you posting too much around one particular theme, and not enough about another? Are you driving too much traffic to email sign-up and not enough to contact forms? A good editorial calendar provides you with the visibility you need to create better content.
Keeping an editorial calendar can help you write the best content for your audience; with careful planning, you won't end up choosing a topic last minute, that could have been better researched and more impactful.
A well-maintained and respected editorial calendar sets expectations and deadlines to keep things moving.
How to Make an Editorial Calendar
If you're like most marketers, beautifully crafted visual calendars and color coordination are right up your alley. This is your chance to make a thing of beauty that you love returning to and optimizing. Don't be afraid to enjoy it. That sense of pride is bound to make your content calendar all the more successful.
Here's our top tips on how to create an editorial calendar from scratch.
Step 1: Choose the Format
There are many ways to format your editorial calendar. Do you prefer to work using a spreadsheet, kanban board, classic calendar design, or within a content management app? There are plenty of free options available for those looking to get started, including Google Docs and Excel. Our partner Hubspot offers free editorial calendar templates. Asana, a work management tool, is another way to build efficient editorial calendars. Here's an example of what that may look: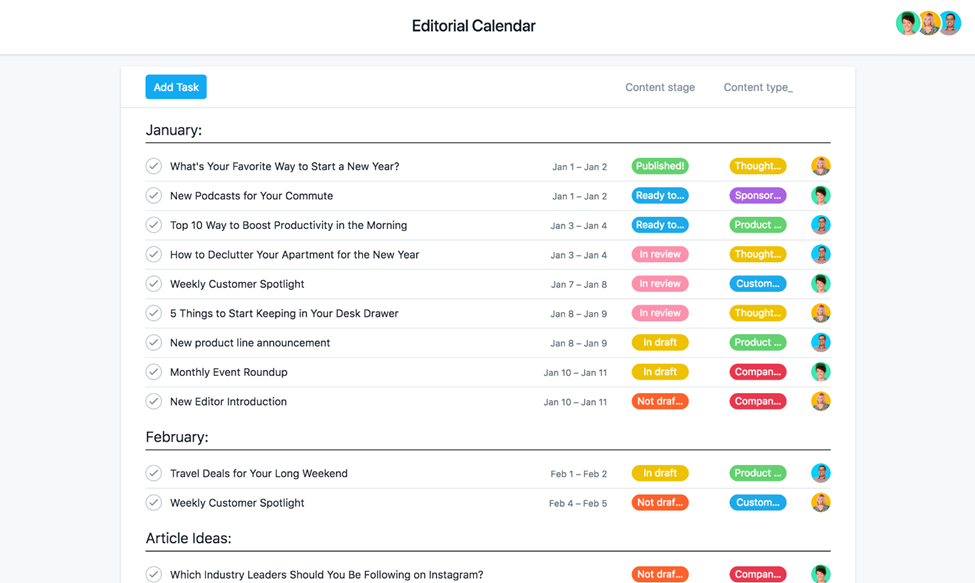 (Image courtesy of Asana)
Step 2: Write a Backlog of Content
You'll need plenty of content ready for when you start posting. Write whatever you will need to get started ahead of time so you begin on a strong footing including keyword-driven blog posts and social media posts.
Step 3: Make a List of Future Topics
You'll also need an ongoing list of ideas to look to so that you're always posting content that's relevant and valuable. The backlog list should be available for everyone on the team to add their ideas.
Step 4: Add in Key Dates
Make sure you look ahead to tailor your content around key dates nationally, and those that are important to your organization. Holidays, product launch dates, anniversaries, major sales, and more will all influence your content.
Step 5: Create a Key
Make sure your editorial calendar is easy to understand at a glance and from multiple perspectives. Create a key or color-coding system so a user can easily see content for certain channels, on particular key themes, or at various stages of progress, as you see fit.
Step 6: Determine Posting Regularity
Decide how frequently you will post each type of content. Take a look at what your competitors are doing for inspiration. Choose set days/times for particular types of posts.
Step 7: Start Scheduling
You're ready to schedule your first month of content in your new editorial calendar. Try to keep four to six weeks ahead as you continue to move through the schedule.
Step 8: Report & Optimize
Report on the success of your content, in terms of which blog posts receive more sessions or conversions, and the engagement and interactions on social posts. Look for patterns relating to time/date posted and engagement, which goals you are meeting, and those that need greater focus. Take a deep dive into your statistics once a quarter.
Conclusion
Starting an editorial calendar is a great way to breathe life into your content, make it more meaningful, and get your team motivated. Make data-driven changes as you learn more about your content and you're well on your way to success!
Looking for professional guidance to get your editorial calendar off the ground, or to manage day-to-day content creation? Our digital marketing team is here to help. Fill out our contact form today, and we'll be in touch.
---
About Author
---