If you're involved in any aspect of content creation, you probably already know that Search Engine Optimization (SEO) is key to getting the right eyes on your copy.

Without SEO driving organic traffic to your website (aka users that find you through search engines like Google), your best content is about as useful as an expensive sports car with an empty gas tank. It won't get you a minimal return on investment (ROI) and only a limited number of people will get to see it.

Turning a landing page, blog, or any other written material into a well-oiled traffic machine is as easy as following a content template. Here's a simple example that generated great results for clients. No previous SEO expertise required.
1. Master Keywords Research
Keywords and keyphrases are specific terms that your ideal audience is looking for when trying to find similar products or services. Google's ranking system is based on a series of algorithms that present users with the most relevant website pages for a particular set of keywords.
No matter how well you think you know your ideal buyer, guessing what these keywords are is out of the question. Instead, you should be using one of the many free or paid keyword research tools such as Google Ads, Google Search Console, Google Keyword Planner, SEMrush, Moz, Ahrefs, or Ubersuggest.
To start your search, think of several words your audience might search for to find your content online and plug those into your tool of choice. Once presented with a list of relevant keywords, select one primary keyword, and five or more secondary or related keywords.
Your primary keyword should serve as the centerpiece of your content, so choose wisely, using filters to organize keywords by word count, search volume, keyword difficulty, competitive density, and many other factors.
Be sure to select a primary keyword with a good search volume (that means people are searching for it!), but not so high that it'll make it difficult for you to compete with a bigger website.
Use this template as a visual display of your primary, secondary and related keywords.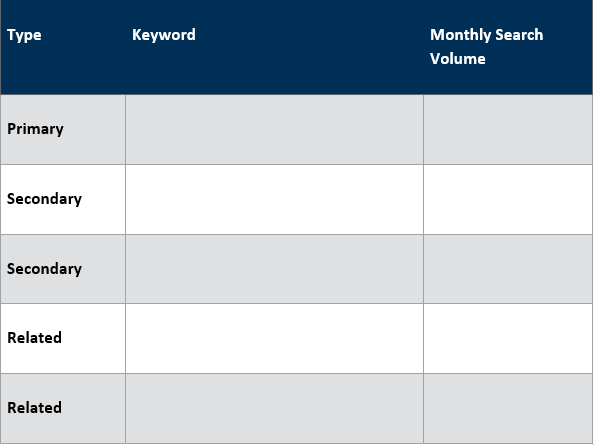 (Image courtesy of Americaneagle.com)
2. Optimize your SEO Elements
Now that you know which keywords you're going to create your content around, use them to build your main SEO pillars. This checklist will guide you through the SEO optimization process:
❏ Suggested URL - https://www.example.com/
❏ Page Title - Page Title Here | Brand Name Here
❏ Meta Description - 160-word meta description here
❏ Links to Include - Add any internal/external links here
❏ Top Websites for Primary Keyword
https://www.example.com
https://www.example.com
https://www.example.com
❏ Suggested Word Count - 500-800 words
Let's break down each item on this list and see how you can apply it to your content:
❏ Suggested URL
The URL of your future piece of content has a tremendous impact on your organic traffic. A good URL is short, contains your primary keyword, and is easy for search engines and users to read it. This means avoiding codes, numbers, or any other special characters. Here are two ways to write the URL of an article titled "SEO Optimization for Beginners" written for a made-up company called Search Boost, using the primary keyword "SEO optimization:"

Good URL: https://searchboost.com/seo/seo-optimization-for-beginers
Poor URL: https://searchboost.com/seo/tt0468569

The first version tells search engines that this web page doesn't just cover Search Boost SEO related content, but rather specific information on SEO for beginners. The URL also makes it easier for users who are looking for similar content to spot and click on your article.

The second URL example will be labeled by any search engine as poor content and will "hide it" from your ideal audience.
❏ Page Title
Your page title is the first thing users look at when presented with a list of search results. It's also a determining factor in how Google understands the topic of your content.

Going back to the Search Boost example, here's how the page title should appear to users: "SEO Optimization for Beginners | Search Boost"
Variations include:
"SEO Optimization for Beginners - Search Boost"
"SEO Optimization for Beginners • Search Boost"
Aside from containing the ranking for your primary keyword, an SEO-optimized page title should include your domain or company name. This is especially important for smaller enterprises that need to build brand awareness by getting users familiar with their presence.

The length of a page title matters. While Google doesn't offer any specific recommendations, the ideal page title length is between 50-60 characters, including spaces.

Note: Don't confuse the page title with the main heading of the page, which users will see after they click on the article. We'll cover that in a later section.
❏ Meta Description
If you do a quick Google search for any terms, you'll see a couple of words being displayed under each URL.

That short blurb is called a meta description and it should never be random. Instead, think of your meta description as your article pitch. What would you say to convince someone, in 160 characters or less, that they must click on your article and ignore competitors' content? Here's how you could write a meta description for our "SEO Optimization for Beginners" article:

"Learn how to increase your site's visibility and rankings with this beginner's guide to SEO optimization."

This copy has 150-characters and contains a call-to-action ("learn"), a reward ("increase your site's visibility and rankings"), as well as the primary keyword ("SEO optimization").
❏ Links to include
Internal and external links give your content more depth and authority. Let's analyze each type of link and understand their individual SEO value:

Internal links make it easier for search engines to crawl your web pages and discover relevant content on your site, which can ultimately improve rankings. For users, internal links can open the door to other content opportunities. Internal linking is proven to be an effective tactic in moving readers through the content marketing funnel, so make sure to include links pointing to high-priority pages that take them to the next stage of the buyer's journey.

Conduct a content audit of your website to make quick decisions about what existing links would complement new content. Then, tie those links to "anchor" words, which are words within the copy that best describe the article they point to.

External links are exactly that: links from other websites. Be very selective when choosing your external links because Google will use this information to gauge your website's reputation and promote your content. Associate yourself with the right platforms and your traffic will inevitably skyrocket. As a rule of thumb, you should link only to authoritative websites that offer further information on the topic you're covering. Trustworthy domains have one of these suffixes: edu, gov, org, and com. Other valuable resources include press releases, industry reports, and leading brands' websites.
❏ Top Websites for Primary Keyword
When trying to rank for a particular keyword, it's helpful to know:

Who is ranking for that term on the first page of Google's search results?
What makes their content so interesting that users can't help but click on it?

Using your chosen search engine, identify the top three links competing for your primary keyword. Open and study their content closely. Pay attention to the concepts and ideas presented on those web pages, their SEO structure, and their design.

Your mission is to understand what your competitors are doing well, create something even better, and take over their spot in search results.

Note: Steer clear of plagiarism. More often than not, you'll need to put a new spin on old information. To get Google's attention, dig deeper for fresh data, and build your article around reputable sources and expert insights.
❏ Suggested Word Count
Google prioritizes quality over quantity and promotes valuable content, regardless of the word count. It's rare that you'll be able to properly cover a subject and provide real value to readers in less than 500 words. Ideally, a regular blog post shouldn't go over 800 words, but it's perfectly acceptable to write more if you are expanding on a complex subject like we are in this article.
What matters in both scenarios is that you focus on clarity and conciseness. It's better to write 800 words of practical and actionable advice, than 1,300 words of gibberish that readers won't find helpful.
3. Structure your body content
Headers are probably the most important structural element of a web page, helping readers and search engines understand the hierarchical levels of information. H1 is used for titles or headlines, H2 for section, H3 for subtopics and so on.

If you're using a popular platform like WordPress, your titles will automatically get the H1 tag, but you need to manually select the rest. This is another opportunity to incorporate your keywords. The primary keyword should go inside your H1, and the secondary and related ones inside the remaining headers.

Take a look at the correct way to use header tags:
Headline: SEO Optimization for Beginners
Section: The Basics of Search Engine Optimization
Subtopic(s): On-Site Optimization
Note: Keep your headline 65 characters or less, so it won't get truncated in search results.
The template below will help structure your page in a logical manner.
Body Content
1. H1 Heading: ENTER HERE
Overview of content in this section
2. H2 Heading: ENTER HERE
Overview of content in this section
3. H2 Heading: ENTER HERE
Overview of content in this section
4. H2 Heading: ENTER HERE
Overview of content in this section
5. H2 Heading: ENTER HERE
Overview of content in this section
Go and apply everything you just learned
This guide is meant to be bookmarked, printed, and acted upon. If you are serious about your business goals, these templates will help you achieve them faster and learn a lot more about SEO in the process. And if you get overwhelmed, don't throw in the towel. At Americaneagle.com, we have digital marketing experts who are eager to enhance your online presence on major search engines.
---
About Author
---