*Updated on 5/3/23
If you're involved in any aspect of content creation, you probably already know that Search Engine Optimization (SEO) is key to getting the right eyes on your copy.

Without SEO driving organic traffic to your website (users that find your content via search engines like Google), your best content is about as useful as an expensive sports car with an empty gas tank. It will not be seen by people who would find the content useful and, ultimately, your content won't engage with and grow trusted relationships. Without nurturing relationships, your content will not achieve a good return on investment (ROI).

Turning a landing page, blog, or any other written material into a well-oiled traffic-generating machine is as easy as following a content template. Here's a detailed, six-section template that has provided great results for clients.
1. Master Keywords Research
Keywords and keyphrases are specific terms that your ideal audience is typing within a search engine to find particular knowledge, products, or services. Google remains the world's most popular search engine. Effective SEO keyword analysis and research should prioritize Google results. Google's ranking system is based on a series of algorithms that present users with the most relevant website pages for a designated set of keywords. Other search engines prioritize content in very similar ways.
No matter how well you think you know your ideal buyer, guessing what these keywords are is incomplete and unnecessary. Instead, you should be using one of the many free or paid keyword research tools, such as Google Search Console, Google Keyword Planner, Semrush, Moz, Ahrefs, or Ubersuggest to confidently edit and create SEO-friendly content that relates to your targeted keywords.
Your keyword research should begin with the most prevalent word that you think your audience might search for to find your content online. Plug those keywords into your tool of choice. Once presented with an extended list of relevant keywords, select one primary keyword to target, then five or more secondary or related keywords.
Your primary keyword should serve as the centerpiece of your content, so choose wisely. Use filters to organize keywords by word count, search volume, keyword difficulty, competitive density, and many other datasets available within the common keyword research tools.
Be sure to select a primary keyword with a good search volume. You certainly want to prioritize a keyword that people are searching for! Be realistic, however, with the competition level for your primary keyword and your ability to win audience share over that competition. Sometimes David beats Goliath, but relying on your ability to outperform bigger players should not be your primary SEO strategy. The more times you do this, the better you will become at choosing keywords that can impactfully improve search engine results page (SERP) rankings.
Next, complete a Google search for your main keyword/keyphrase and identify the top webpages that target it. Pay close attention to whether or not that keyword is included in the title of the page or not. It truly is a good sign if see other pages of brands you recognize, and possibly compete with, targeting the same keyword as you. If you don't easily find competition for a keyword it will, typically, not be a keyword that drives impactful traffic.
To share an example, if we search "seo friendly content" in Google (without quotation marks), you will notice the that first three results (at the time of writing this) have the keyphrase in the title: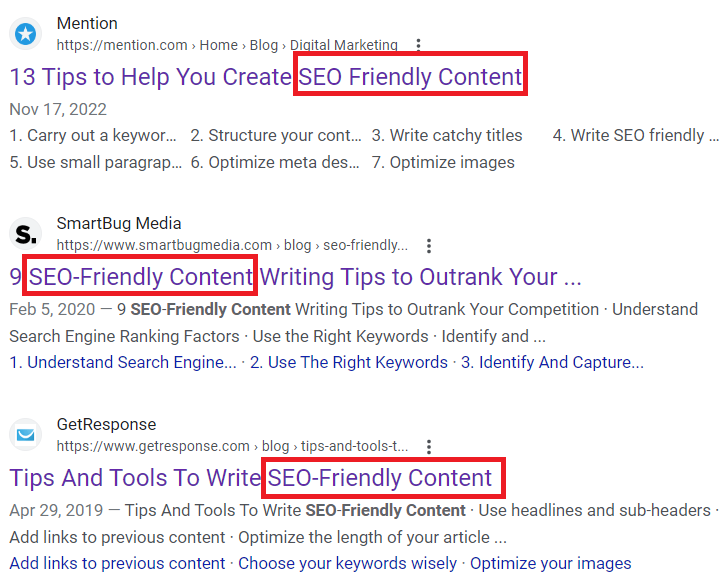 Compare that to "Google search template", a keyword phrase with 210 monthly searches, per Semrush, and you will find only one result, a Pinterest page that has it in the title.
Google Search Console Provides Free Keyword Research Insights
Google Search Console is a free tool from Google that can be extremely beneficial to keyword research, search performance, and much more. It can help you identify the most popular keywords people are searching to arrive at existing content on your website. It can also help you find out how well your website is ranking for those keywords.
To use Google Search Console for keyword research, you'll need to sign up for a free Google account and add your website. Once you've added your website, you can start using the Google Search Console reports.
One of the most helpful reports available there is the "Performance" report for search results. This report shows you how many impressions and clicks your website has received for a designated period of time. The user can select 28 days, 3 months, 6 months, 12 months, 16 months, or even a customized time span. It is also possible to compare two time periods. You can use this information to see which keywords are driving traffic to your website and how well you're ranking for those keywords. It will also identify the number of impressions each of your web pages receives in a given time period.
You can utilize Google Search Console to find additional keywords to target. To do this, use the "Queries" report within Performance > Search results. This report shows you all of the keywords that people have typed into Google that are considered relevant to the content on your website. You can identify specific keywords to prioritize and expand upon in the development of new content for your website.
Pro Tips: Queries
Identify search queries with decent search volume to add to the content on the existing pages of your website.
Utilize "+ New" in the top menu of the Queries report to help generate ideas for improving keyword performance on specific pages of your website.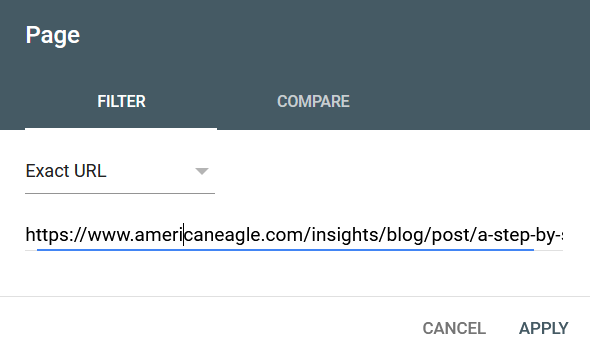 To do that, select > + New > Page… > Exact URL, and then paste in your page URL.
That search will generate a list of "Top queries" relevant to the content on that page. Some of the search queries listed will not be currently found in your page's content. Add the ones that make sense. If needed, write additional content sections to weave appropriate keywords into your page. If you think that there is a search query that deserves a dedicated page, create that page.
Adding search queries and additional content around them will improve your webpages' rank, as well as ranking for more keywords. This improvement will drive more and more relevant traffic to these pages.
Consistently utilize Google Search Console to track your "Average position" improvement over time. Why? A higher average position leads to more people clicking through and visiting your page. A web page in position 1 of organic search engine results will get more visits than the same page in position 10.

Ultimately, this is an important way for your website to successfully serve more people with your expertise. By optimizing your site content development to relevant searches, you are ushering more people who have matching interest and intent to your site.
Maximizing Your Keyword Strategy with 'People Also Ask'
A SERP feature within Google that can help you generate ideas for new keywords to target is the "People also ask" or "Others want to know" section (the heading is different depending upon browsers and operating systems). If your primary keyword is a highly competitive one for which your small business, for example, would have difficulty attaining visibility, you may want to shift your primary keyword focus to a phrase from the people also ask box. If your primary keyword targets are set in stone, then answer each of the "People also ask" questions in your content. Some opt to add an FAQ section to their page. Others go even further and create a separate page for each question that can link to their original content.
If it is an FAQ section, or page, that you create, we have additional recommendations relating to schema markup that is related to those, specifically, later in this article.
The Intent Behind Keyword Research
Understanding search intent is very important to keyword research. Content marketers need to confidently understand the specific needs of their audience. What motivates an individual to fire up Google and type "best men's shoes," for example? Why are they looking for new shoes? Are they looking for the best men's shoes under $100? Maybe they seek the best men's shoes for tennis. We need to understand the searcher's intent to satisfy their specific needs and promote sales conversions. It is helpful to identify secondary or related keywords that also relate to specific intent. Here are a few ways to research intent related to your primary keywords.
Autocompletion
One way to advance our understanding of popular search intent is to utilize Google's autocompletion. Ideas for long-tail keywords (keyphrases) that relate to your content can come from autocompletion suggestions as you use Google Search. Begin typing your intended keyword and note all of the drop-down suggestions from auto-completion. These suggestions represent long-tail keywords that have been searched by users.
Related Searches
Scrolling further down Google search results, "Related searches" is also a section that can be an excellent source of inspiration and insight for keyword research. These suggestions are based on real user queries, which makes them particularly valuable for understanding the intent behind searches and identifying popular long-tail keywords.
Website Help
Doing this intent research manually can be time consuming. To speed up the keyword generation process, you may want to try using an online tool like KeywordToolDominator.com to get hundreds of keywords in a matter of a few minutes.
Answerthepublic.com is a popular website that can help you discover what people are searching for that relates to your content.
Use this SEO template as a visual display of your primary, secondary, and related keywords.
| | | |
| --- | --- | --- |
| Type | Keyword | Monthly Search Volume |
| Primary | | |
| Secondary | | |
| Secondary | | |
| Related | | |
| Related | | |
2. Select Keywords that Provide Your Brand its Best Opportunities
Keyword research is important because it indicates the priorities of people who are searching for products or services related to those you promote. Your brand cannot be all things to all people. Knowing this, it is important to target keywords for which you are confident you can gain authority. You have to be able to prioritize dedicated efforts toward content development promoting rank improvement for your selected keywords.
You can certainly target very popular, hard-to-rank keywords. Expectations, however, should be conservative. High competition keywords require more patience and diligence as you work toward impactful rankings improvement.
One way to determine the level of your site's authority and keywords to target is referred to as the "SEO Avalanche Strategy." Similar to the accumulation of tiny snowflakes that can lead an earthshaking event of an avalanche, your small adjustments to the right target can greatly impact positive momentum for your brand. Utilizing the SEO Avalanche Strategy, your work adds up over time.
To utilize this strategy:
Log in to Google Analytics (or whatever tracking platform you use) and check your website's daily sessions for the last 30 days
Find your lowest traffic day, and then your high traffic day
The range between the two is your natural tier
Next, go back to Google Search Console and find the keywords that have search volumes that match your website's average daily tier. These will be the keywords that give your brand the best opportunity to improve rankings. When you do well within your original tier, your website will naturally progress to higher tiers where you can successfully target keywords with larger search volume.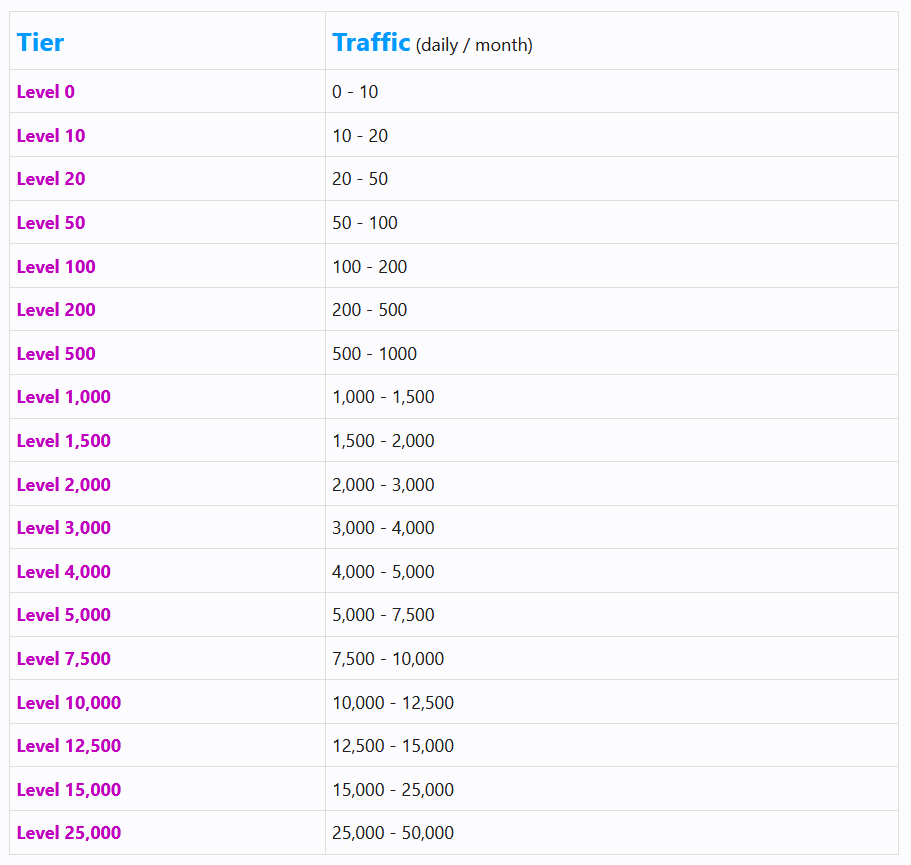 3. Optimize Your SEO Elements
Now that you have identified the keywords you're targeting to improve SEO-friendly content, use them to build your main SEO pillar pages on your website. This checklist will guide you through the important contributors to SEO success within your pillar pages and entire website:
❏ Suggested URL - https://www.example.com
❏ Meta Title - Page Title Here | Brand Name Here
❏ Meta Description – up to 160-word meta description here
❏ Page Title (H1) Tag or Main Heading – The big bold title on the page that visitors see
❏ Links to Include - Add any internal/external links here
❏ Top Websites for Primary Keyword – create a top ten competitor list
❏ Suggested Word Count – the number of words the piece of content should have, based on the average word count of the top 10 competitor results
❏ Image Optimization – a picture (or infographic) is worth 1,000 words
❏ Mobile Optimization – responsive design
❏ Social Media Participation and Promotion – share your authentic brand voice and consistently engage with your audiences
Let's break down each item on this list and see how you can apply it to your content:

Suggested URL

The URL of your piece of content has a tremendous impact on your future organic traffic. A good URL is short, contains your primary keyword, and is easy for search engines and users to read it. This means avoiding codes, numbers, or any other special characters. Limit the number of nested folders contained in the URL. Here are two ways to write the URL of an article titled "SEO Optimization for Beginners" for a made-up company called Search Boost, targeting the primary keyword "SEO optimization."

Good URL: https://searchboost.com/seo/seo-optimization-for-beginers
Poor URL: https://searchboost.com/blog/expertise/seo/tt0468569
The first version tells search engines that this web page doesn't just cover SEO-related content from Search Boost, but also information on SEO intended for beginners. The URL makes it easier for users who are looking for this type of content to spot the name on a SERP and consider clicking into the article.


Meta Title
Your meta title is the most visually prominent representation of your content within SERPs. It is the first thing users will read when presented with a list of search results. It is also a factor that is critically important to Google's understanding of your content topic.

Going back to the Search Boost example, here's how the meta title should appear to users:

"SEO Optimization for Beginners | Search Boost"
or
"SEO Optimization for Beginners - Search Boost"

In addition to containing your primary keyword, an SEO-optimized meta title should include your company name or domain name. This is especially important for smaller enterprises that need to build brand awareness via consistent visibility.

The length of a meta title matters. While Google doesn't offer specific recommendations, a meta title length that is between 50-60 characters, including spaces, has shown consistently strong performance. After 50-60 characters, meta titles get truncated within SERPs. While Google will still index the entire meta title, it is not visible to users. Because of this, be sure to keep important keywords toward the beginning of longer meta titles, at the very least.

Note: Don't confuse the meta title with the main heading represented on the actual page, which users will see after they click on the article link. We'll cover that in a following section.
Meta Description
If you do a quick Google search for any terms, you'll see a two- or three-line description under each linked piece of content listed in the SERP.

That short blurb is called a meta description and it should never be random. Instead, think of your meta description as your article pitch. What would you say to convince someone, in 160 characters or less, that they must click on your article before your competitors' content? Here's how you could write a meta description for our example "SEO Optimization for Beginners" article:

"Learn how to increase your site's visibility and rankings with this beginner's guide to SEO optimization."

This copy has 150-characters and contains a call-to-action ("learn"), a reward ("increase your site's visibility and rankings"), as well as the primary keyword ("SEO optimization").

Also, make sure to include the main keyword that that piece of content is targeting or a variation of it. And remember, don't leave the meta description blank. If you do, Google will pick a snippet of text from the page at random and that can negatively impact your rankings.
Page Title (H1 Tag) or Main Heading
The Page title or the main heading is the big bold title users see when they land on the page. After the meta title this is the second most important on-page SEO ranking factor. When crafting it, make sure it contains the main keyword you are targeting with your piece of content, or a variation of it.

The goal of the page title (as well as all other main headers on the page) is to encourage the visitor read the following paragraph(s) of narrative copy. That's why it needs to sound irresistible. Here's how you can do that:
A. Use modifiers like free, fast, quick, best:

"Free Guide to Mastering SEO in 30 Days"
"Fast Techniques for Boosting Your Website Traffic"
"Quick Tips to Optimize Your Content for SEO"
"Best Practices for Writing SEO-Friendly Content"

B. Put the keyword as close to the front as possible:

"SEO Content Writing: A Comprehensive Guide"
"SEO Strategies: How to Rank Higher on Google"
"SEO Optimization: Maximize Your Online Visibility"
"SEO Tools: A Review of the Top Software Solutions"

C. Add brackets:

"Top 10 SEO Trends to Watch in 2023 [Expert Predictions]"
"SEO Checklist: How to Optimize Your Website [Infographic]"
"Mastering Local SEO: A Complete Guide [Case Study]"
"Keyword Research for SEO: Tips and Tricks [Video Tutorial]"

D. Evoke an emotion

"Unlock the Secrets of High-Converting SEO Content"
"Transform Your Business with These Powerful SEO Strategies"
"Skyrocket Your Traffic with This Proven SEO Blueprint"
"Discover the Art of Crafting Irresistible SEO Headlines"
Links to Include
Internal and external links give your content more depth and authority. Let's analyze each type of link and understand their individual SEO value:

Internal links make it easier for search engines to crawl your website's pages and discover relevant content throughout your site. By doing so, internal links improve rankings. For site users, internal links can open the door to other relevant content that is available on your site. Internal linking is proven to be an effective tactic in engaging readers and advancing them through the content marketing funnel of successful brands. Make sure to include links pointing to pages that encourage them to the next stage of the buyer's journey.
Conduct a content audit of your website to make quick, informed decisions about existing links that would logically complement newly developed content. If you do not have a local site search that can help you with this on your site, Google can help. Within a Google search, type your keyword and site:yourURL. This should provide a search result that lists the pages on your website that are relevant to your chosen keyword. Tie relevant pages together with links to "anchor" words, which are words within the copy that best describe the article they point to. Make sure that the anchor word or phrase is descriptive and not just a "click here" link.

External links are exactly that, links to other websites. Be very selective when choosing your external links. Associate yourself with the right thought leadership voices and you will benefit from that relationship's reach. As a rule of thumb, you should link only to authoritative websites that offer trusted information on the topic you're covering. Trustworthy domains typically have one of these suffixes: edu, gov, org, net, and com. Valuable external links can often include press releases, industry reports, and leading brands' websites.
Top Websites for Primary Keyword
When trying to rank for a particular keyword, it's helpful to know the answers to these questions:

Who is ranking for that term in the first ten positions of Google's organic search results?
What makes their content so interesting that users can't help but click on it?

Using your chosen search engine, identify the top ten web pages competing for your primary keyword. Open them and study their content closely. Pay attention to the concepts and ideas presented on those web pages, their SEO structure, and their design.

Your mission is to understand what your competitors are doing well, create something even better, and take over their spot in search results.
Note: Do not copy. Do not plagiarize. You'll need to share a unique perspective and a new spin on information with your brand's authoritative voice. To get Google's attention, dig deeper for supporting data and build your article around reputable sources and expert insights. Cite your sources.
Suggested Word Count
Google prioritizes quality over quantity and promotes valuable content, regardless of the word count. It's rare that you'll be able to properly cover a subject and provide real value to readers in less than 500 words. There is actually no SEO standard for maximum word count. Our best advice is to take a look at the top ten posts that are competing for your targeted keyword. If the average word count is 1,000, don't write a 5,000-word article. Try to stay close to the average word count as you can. If you need more than 1,000 words to cover impactful information pertaining to the targeted keyword, keep writing. You are the subject matter expert and you will know what information is necessary to communicate the greatest value to your reader. This article is significantly longer than our average. The current average of the top ten we can compare this to is 3,232 words.

What matters most is your focus on clarity and conciseness. It's better to write 800 words of practical and actionable advice, than 1,000 words that readers won't find helpful.
Image Optimization
Images not only help engage website visitors and reinforce messaging, but they can also improve your SEO. Here are some tips on how to optimize images on your website to improve search engine rankings:
Use the right image file format.
The most common image file formats are JPEG, PNG, and GIF. JPEG is a good choice for compressing the file size of photos. PNG is a good choice for images with text or graphics. GIF is best at optimizing graphics that include transparency or have a limited color pallet. There is a new image format called "WebP" that provides superior lossless and lossy compression for images on the web. Using WebP, webmasters and web developers can create smaller, richer images that make web pages load faster. "WebP lossless images are 26% smaller in size compared to PNGs" per Google Developers Documentation.
Reduce the file size of your images.
Large image files slow down your website's loading speed, which potentially hurts your search engine rankings. Large image files also hurt user experience. How many people will wait 10 seconds for an image to load before clicking the back button? Photoshop users should familiarize themselves with the many ways that the application can optimize various file formats. Other image-optimizing tools are available. TinyPNG, Compressor.io, and ImageOptim are a few examples of those.
Add alt text to your images.
Alt text is a text description of an image that is used by screen readers and search engines. It is important to add alt text to all of the images on your website. Make sure that the alt text is relevant to the image and adds context. Here's a simple routine to help write descriptive alt texts: write "this is an image of …" and then delete "this is an image of." It is ok to leave the alt text blank only if an image is purely decorative and provides no relevant information to associate with the content. In those cases, it is best to use an empty alt attribute (alt="") to inform screen readers to skip the image.
Use keywords in your image file names.
When you upload an image to your website, be sure to give it a descriptive file name that includes keywords related to your website content. This will help search engines understand the visual communication that the image conveys and help your website rank higher for relevant searches.
Use captions and titles for your images.
Captions and titles are additional text that can be added to images. They can be used to provide more information about the image or to highlight key points. Captions and titles can also be used to include keywords.
By following these tips, you can make your images SEO-friendly.

Pro Tip: In specific industries, well-optimized images can generate additional traffic from the image search engines of Google and Bing. Some good industry examples include fashion and apparel, food and beverage, travel and tourism, home décor and interior design, beauty and personal care, automotive, health and fitness, and technology.
Here is an example of an image that was created for a client of ours, Frontier Management. This system of senior living communities developed a blog post to promote insights to help seniors maintain a healthy blood pressure. The custom graphic shares blood pressure ranges for normal, elevated, high stage 1, and stage 2. This infographic is now a top three result in Google image search for "elderly blood pressure." The graphic helped contribute to generating 150,000 organic sessions to this article on the website of Frontier Management within twelve months.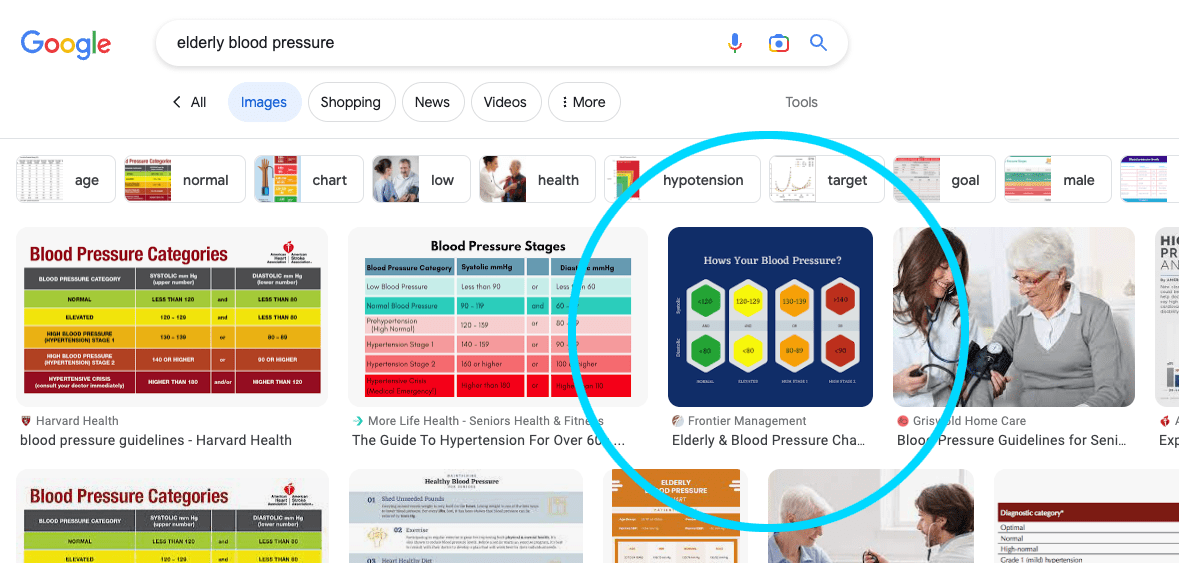 Mobile Optimization
Mobile optimization is crucially important to improving website SEO. It enhances user experience, improves load times, ensures mobile-first indexing, and increases mobile traffic.

Better User Experience
Mobile optimization provides a better user experience on mobile devices. Your website will be better optimized for smaller screens, touch navigation, and faster load times, all improving user engagement and reducing bounce rates. Google's search algorithm takes into account the user experience of a website when determining its ranking. To see your website's performance on mobile, check out the Page Experience report in Google Search Console.
Faster Load Times
Mobile optimization also means that your website loads quickly on mobile devices. Google has publicly stated that page speed is a ranking factor for mobile search results. Faster load times can also lead to improved user engagement, lower bounce rates, and higher conversion rates.
Mobile-First Indexing
In 2020, Google shifted to mobile-first indexing. Since then, it has prioritized the mobile version of a website's content to determine its ranking. If your website is not mobile-optimized, it will not rank as well on search results.
Increased Mobile Traffic
As more people use their mobile devices to browse the internet, having a mobile-optimized website can attract more mobile traffic to your website. This can improve your website's visibility and increase the chances of getting backlinks from other websites, which can further boost your SEO.
Social Media Participation and Promotion
Social media participation improves website SEO by increasing website traffic, sending social signals, generating backlinks, increasing brand awareness, and impacting personalized search results.

Increased Website Traffic
When you promote your website content on social media, it can drive more traffic to your website. The increased website traffic can help improve your search ranking because search engines factor in the amount of traffic a website receives.
Social Signals
Social media activity can also send social signals to search engines, indicating that your website is relevant and engaging. Social signals include likes, shares, comments, and other interactions on social media platforms. These signals can help improve your website's ranking. Search engines consider the social activity as a sign of a website's popularity and relevance.
Backlinks
Social media can also help you generate backlinks to your website. When people share your content on social media, it can lead to other websites linking to your content, which can improve your website's ranking.
Brand Awareness
Social media can help increase brand awareness, which can indirectly improve SEO. When people become aware of your brand through social media, they will be more likely to search for your brand on search engines, which can improve your website's ranking.
Personalized Search Results
Social media activity can also impact personalized search results. When people search for content on search engines, personalized results based on their social media activity may be displayed. This means that if your website content is shared by people in a user's social network, it may be more likely to appear in their personalized search results.
Brand Outreach
Social media provides an excellent way to build brand relationships. Find industry publications, businesses that provide products and services that add benefit to yours and follow their social media channels. Share, like, comment, and celebrate posts. Inbound links to your site improves SEO. If your social media relationship outreach is successful, you may be able to request that one of your new friends share a link to relevant content on your site from a post, or even their website.
4. Structure Your Content with Header Tags
Headlines are probably the most important structural element of a web page, helping readers and search engines understand the hierarchical levels of information.
Headlines are prioritized within each page's HTML with header tags. The header tag H1 is used for titles or main headlines, H2 for section headlines, H3 for subtopics, and so on.

If you're using a popular content management platform like WordPress, your titles will automatically generate the H1 tag, but you need to manually indicate the rest. Header tags provide a great opportunity to incorporate your targeted keywords. The primary keyword should go inside your H1, and the secondary and related ones should be included among the remaining headlines.
Take a look at the correct way to use header tags:
Headline: SEO Optimization for Beginners
Section: The Basics of Search Engine Optimization
Subtopic(s): On-Site Optimization

Note: Keep your headline 65 characters or less so that it won't get truncated in search results. At the very least, make sure the main keywords are close to the beginning of the headline.
The template below will help structure your page in a logical manner.
Body Content
A. H1 Heading: ENTER HERE
Overview of content in this section
B. H2 Heading: ENTER HERE
Overview of content in this section
C. H2 Heading: ENTER HERE
Overview of content in this section
D. H2 Heading: ENTER HERE
Overview of content in this section
E. H2 Heading: ENTER HERE
Overview of content in this section
5. Technical SEO for Organic Search Engine Rankings
In addition to writing helpful content for your intendent audience, be certain that your website has no technical issues that are hindering SEO success. Even the most informative, best written content won't be read if the search engines can't find and crawl that page. These are the three most common technical factors that positively or negatively impact SEO success:

A. Make sure your pages are fast to load. To do that, review your Core Web Vitals report in Google Search Console.

The report provides an excellent summary of your website's performance in terms of "Poor," "Needs Improvement," and "Good" URLs. Examine these metrics to understand how well your website is performing.

Identify the issues by clicking on each category (LCP, FID, and CLS) to view the specific URLs affected by each issue. This will give you a better understanding of the pages that need optimization.

B. Fix orphan pages. Orphan pages are web pages that have no incoming links from other pages on the same website. This means that these pages are not accessible through the website's typical navigation structure and can only be reached if a user has the direct URL. Orphan pages can be problematic because they are difficult for both users and search engines to find.

Fixing orphan pages involves identifying them and then integrating them into your website's navigation structure through internal linking. Include links to and from other relevant pages on your site. Remember to link from descriptive anchor text, rather than "click here" or something similar to that.

Another way to identify orphan pages is to utilize a web crawler tool, such as Screaming Frog, Sitebulb, or Deepcrawl. You can also check your website's server logs, analytics tools (like Google Analytics), and XML sitemap to find pages that are not linked internally.

C. Make sure all pages are indexed. The best way to identify pages that are not indexed is within Google Search Console in the Pages report.
6. Use Schema Markup to Help Search Engines Understand Page Content

Schema is a markup language developed by Google, Bing, Yahoo and Yandex to better understand the content on a web page. The markup code isn't displayed by web browsers, but it can be read and interpreted by the search engines. There are multiple types of schema that you can see at https://schema.org/docs/schemas.html.

Why is that important? If I say "I love Chicago," you don't know if I am talking about the city of Chicago, the musical Chicago, or the band Chicago. To be certain, you need more contextual detail. Schema provides that sort of context to search engines.

The two most commonly used are Article schema and BlogPosting schema. The differences between the two are specific to their content type. Article schema provides good schema framework to share context relevant to news articles or magazine-style content. BlogPosting schema, obviously, is structured to accommodate blog posts.

To generate page schema, search 'article schema generator' or 'blogposting schema generator' in Google and simply follow the instructions.

Once the schema is generated, use validator.schema.org to test the markup code. Your schema should not return any errors.

The last step is to implement your schema markup on the webpage, either through Google Tag Manager or have it added directly to the source code of the page.
7. Improve Organic Rankings by Improving Information Gain Scores
You have probably noticed it yourself. You are not satisfied if you look up something and the top 10 results all cover the topic from nearly exact angles. It's like you are reading the same thing again and again. That's a bad experience for the searcher. Because of that, search engines work to diversify their results.

Fairly recently, Google filed a patent application for "Information Gain Scores," which measure the additional information a source provides compared to other sources on the same topic. This method aims to rank pages based on how much new information they offer to the user who has already viewed similar pages.

In simple terms, that means that your piece of content should include information and perspective that no other page has discussed. To do this:

Discuss something new no one has talked about. Certainly, this is a hard one.
Discuss the same topics as everyone else from a different angle/standpoint. You can share personal experience, case studies, or exclusive interviews with experts in the field.
Use different formats. Present your content in various formats such as text, images, videos, infographics, or even interactive tools to make it more engaging and informative. This can help provide additional value to your readers.

Having a piece of content with unique information makes it stand out from the crowd and attracts links from other websites. Since external links are a ranking factor, the organic rankings of your piece of content improve. As a result of that, the traffic to your page increases.
Partner with a Professional SEO Services Company Go and Watch Your Organic Search Rankings Soar!
This guide is meant to be bookmarked, printed, and acted upon. If you are serious about your business goals, this detailed template will help you achieve them faster. At the same time, you will learn a lot more about SEO in the process as it relates to your content. If you get overwhelmed, don't throw in the towel.

At Americaneagle.com, we have digital marketing experts who are eager to help you and your business enhance your online presence on major search engines. We are a web design, development, and digital marketing agency that has partnered in growth for some of the world's most recognized brands.
---
About Author
---