It can be frustrating when you have an amazing product and all the resources available to promote it, yet customer engagement is lacking. Perhaps you receive one-off customers who don't return, you get little traffic, experience limited interaction with your social media posts, or you seem to be attracting everyone but your target customer.
One of the most important things you can do is build trust-based relationships with your customers, forming life-long partnerships that other industry players can't parallel.
Are you facing customer engagement challenges because you aren't looking at your business through your customer's eyes? How do you know what marketing strategies to employ? Do you know why customers choose to buy through your website? You need in-depth knowledge of your customer to thrive. This is where personas come in!
Customer engagement can be a challenge, but it all becomes clear once you take a step back. We invite you to take a seat, read on, and think about how your business appeals to your ideal customer.
What is a Customer Persona?
Hubspot, an Americaneagle.com partner, provides this definitive buyer persona definition:
"Buyer personas are semi-fictional representations of your ideal customer based on data and research. They help you focus your time on qualified prospects, guide product development to suit the needs of your target customers, and align all work across your organization (from marketing to sales to service)."
By creating personas, you will unearth invaluable information about your customers to keep them coming back, and, importantly, learn how to entice new prospects. Customers personas can help you improve all elements of your business, including marketing strategies, sales messages, brand messages, and product development. You will know whether to focus your efforts on Twitter campaigns or if your ideal customer is more of a TikTok fan. All channels will continue to be important, but you'll be able to segment your audience, target individuals by audience persona, and optimize your messaging to achieve better customer engagement.
How to Build Customer Personas
It's important to note that businesses often have multiple audience personas but it is recommended to start small.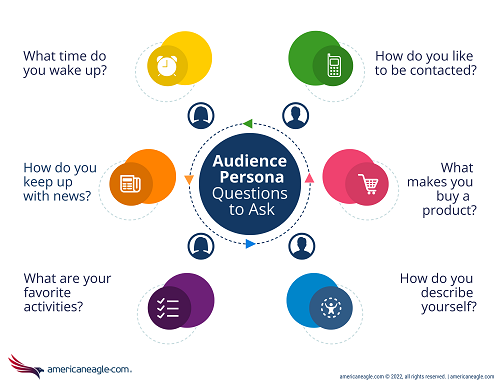 The first step to creating an audience persona is to talk to your loyal customers who have already purchased from you. These are the sort of customers that you want more of. It is important to ask questions about all aspects of their lives such as what time they wake up in the morning, how they keep up to date with the news, their favorite activities, how they describe themselves, and what makes them buy a certain product.
With this information, you gain a good understanding of your customers as individuals. You can use these insights to better time your email campaigns to suit their lifestyle, showcase offers on relevant products, and engage them with the information that's most relevant to their interests. Surveys and interviews are tried and tested ways of finding out valuable information that can help you determine the best way to communicate with customers, how to retain their interest, and how you can influence their purchase-making decisions.
From this research, you are able to create a "semi-fictional" character that includes their gender, age, shopping habits, social media use, challenges, and goals which will all help direct you and your business. Don't get too bogged down in having completely accurate data, the point is to have an overview of what your ideal customer is like. Through this character, you will begin to understand if you have been targeting the right people.
With such rich information at your fingertips, you will know the heart and soul of your customer, what moves them, makes them tick, and keeps them up at night. This information is key to creating successful strategies and executing them.
The Benefits of Customer Personas
So, you've spoken to your customers about your business and created your audience persona. We're ready to discuss how you can use this to improve customer engagement.
You will now know how your ideal customer interacts with your business, why they buy your product, what interests and concerns them, how they like to be contacted, what they expect from you as a business, and how they interact with social media. This information can now be used to communicate with customers as human beings, on a personal level, and in a way that complements their behaviors and lifestyles.
You will be able to create content that is meaningful and interests your customers. This will keep them coming back for more and increase the likelihood that they spread the word to like-minded individuals. Your advertising will be more targeted, your keyword research will be more efficient, and you will be reaching the audience you want at the right time and in the right places.
Building customer personas also empowers you to design future products with your loyal customers in mind. A recipe for new product success!
Re-Evaluate Your Customer Personas
Don't forget that the world is constantly evolving and that people change too. As trends come and go and people's priorities change, your audience personas will need to evolve as well. You are more likely to keep long-standing customers if your products adapt alongside them. By returning to and editing your personas, you can easily achieve this goal.
Speak to Our Customer Engagement Experts
If you would like professional assistance building your audience personas or information on more customer engagement solutions, our fantastic strategy and experience design teams are here to help. We work to collect information from research, focus groups, existing website analytics, and past user data to define and develop multiple user personas for your brand. These personas introduce your customers' wants, needs, and behaviors to further drive the design process. Contact us today to get started.
---
About Author
---