*Updated on 4/27/23
If you run a business and you have a website, you know the importance of ranking high on search engine results pages. However, it may be difficult to find a starting point to jump off from and boost your rankings. In this ultimate guide to SEO, you will find all the information you need to get started on your journey to SEO success!
What is SEO?
SEO stands for "search engine optimization." SEO is used to expand a website's visibility in organic search engine results. By using SEO tactics, you can increase the number of visitors to your website, improving the chance of a conversion. Search engines look for different elements on websites such as keywords, internal links, image alt text, title tags, and backlinks. These elements, along with the structure and design of your site, and other off-site factors, are all part of determining how well your site will rank on search engine results pages (SERPs).
How Does SEO Work?
SEO works through on-page and off-page SEO tactics, including technical SEO work as well as the process of optimizing a website's content, earning backlinks, and targeting keywords. These practices increase the rankings of the content as well as the website's visibility.
Common SEO Terms
Understanding a few common SEO terms can make learning about SEO much easier. Read on for some helpful SEO definitions.
Rankings
How well a page "ranks" refers to how high up it sits on search engine results pages – i.e. on the Bing or Google page that is displayed after a user types in a search term.
For example, if your site ranks on the first page of results, and in the top 3 listings, you're much more likely to receive clicks and drive traffic to your site. A web page may rank for multiple keywords, and rank at different positions for each keyword. For example, if you have a valuable piece of content about adopting puppies, you might rank in position 1 for the keyword phrase "adopt a puppy," and in position 2 for the keyword "adopt a dog." Your rankings may shift with changes to competitor content or search engine algorithm changes, so it's important to keep an eye on your rankings and revisit your content to make any necessary tweaks and ensure it continues driving traffic to the site.
Visibility
Visibility describes the prominence of your domain in search engine results. When a domain isn't visible for many relevant search queries, it has lower search visibility. When a domain has higher search visibility, the opposite is true. Greater visibility means more organic sessions (traffic) to your site.
On-Page SEO
On-page SEO is about building content and other tactics that happen on the page itself that are designed to improve your rankings. Content is at the core of your website and this process includes keyword research, regularly updating content, proper use of images and media, and the use of keyword-rich title tags and meta descriptions. All of these on-page SEO tactics will affect how well your pages rank.
Off-Page SEO
Off-page SEO is the process of optimization that happens off your website, specifically through earned backlinks. This process involves building relationships and creating content that others want to share. While this may take some time and effort, it's essential to successful SEO.
The Importance of SEO
Implementing SEO strategies can help you research and match customers' buying behavior. Your target demographic is searching for terms relating to your products and services. SEO tactics help you show up higher on SERPs for terms relating to your business.
How Does SEO Work on Google?
SEO works by optimizing the content on a website, doing keyword research, and earning inbound links to increase the ranking of the content and visibility of the website. While you can generally see results on the SERP once the website has been crawled and indexed by Google, it can take months to see the full results of your efforts.
What is SEO Strategy?
An SEO strategy is a structured plan that has been designed to help improve a website's ranking and increase organic search traffic. This detailed list will help you focus on what specific things will help bring in more traffic and increase revenue from SEO. If you're looking to create an SEO strategy from the ground up, it's important to know the steps to take in creating a successful strategy.
Analyze Your Current SEO
The first thing you want to do when creating an SEO strategy is to analyze what the current state of your SEO is. This is the best way to start tracking results, setting goals, and figuring out what's working and what isn't. Generally, you should observe your organic traffic, backlinks, and keyword ranking because this combination will give you the whole picture of what your site's performance is currently and historically.
Organic Traffic
Organic traffic is how many visitors are coming to your website from non-paid search and these metrics can be found through a myriad of tools, including Google Analytics. These metrics will give you a clear picture of how much of your website traffic comes from non-paid search versus paid search.
Keyword Ranking
Keyword ranking is the term used to describe your website's organic ranking in search engines for any given keyword and how your pages rank on Google. This metric is important because the higher your pages rank on search engines, the more organic traffic the page will get. When you're analyzing your keyword ranking, be sure to figure out which keywords generate the most organic traffic on your website. Some other specific information to look out for: your ranking position for your keywords, how much traffic the keywords bring in, and how many times people search for these keywords. Make note of the top five organic keywords, their current ranking, and search volume when creating your goals.
Backlinks
The next thing to check is backlinks, which is how many websites have links that lead to your own website. Websites with a high number of backlinks also tend to have a high volume of organic search rankings. The best way to think about backlinks? A vote of confidence. If multiple trusted websites link to your website, search engines will reward your site.
Set Your Goals
When you're thinking about an SEO strategy, setting your goals and KPIs (key performance indicators) is going to be one of the most important aspects. Without these goals and benchmarks, you won't have a focused SEO strategy that has a plan on how you want to reach said goals. Some KPIs to keep an eye on include organic traffic, backlinks, keyword rankings, average CTR, and coverage issues.
Audit Your Content
A content audit is the process of going through all the content on your website to find opportunities where you can improve your content. This is an important step in understanding what you need to do in order to improve your SEO by figuring out which pages aren't performing well and creating a plan to make the necessary changes. When you're auditing your content, first find the low performing pages to delete, redirect, or optimize because these pages are likely not generating traffic or sales. Low quality content is a major indicator to search engines that the content you're providing isn't good enough to rank highly. Next, evaluate your content based on the traffic that it received. Traffic is an objective number that will allow you to see what pages are receiving the most attention on search engines. Then, it's time to improve your content through adding visual elements, updating everything, and optimizing it for readability.
Improve On-Page SEO
On-page SEO is the practice of optimizing your web content for search engines and users. This is fundamental for your SEO strategy because it plays a massive role in Google's ranking factors. Some common factors include revising title tags, meta descriptions, URLs, headings, and internal links. A great and efficient way to audit your website is by running it through an SEO tool to see the full picture of what can be enhanced on your site to improve your SEO.
Fix Technical SEO Issues
Technical SEO is what's used to optimize your website to help search engines find, crawl, understand, and index your pages properly. The easier search engines like Google can go through this process, the better chance your website has to rank. Using tools like the Google Search Console to help monitor and troubleshoot your website's appearance in search results will allow you to have a clear understanding of what you need to do.
Improve Off-Page SEO
Off-page SEO includes actions that are taken outside of your website that can impact your rankings. This can include building backlinks, encouraging branded searches, and even growing your social media. The central aspect of off-page SEO is backlinks, which are used by search engines to determine the quality of the linked content. Therefore, if your website has a lot of high quality backlinks, there's a better chance your site will rank higher.
Analyze & Refine
The final step of any SEO strategy is also the most important. Analyzing your strategy, benchmarks, and stats will allow you go into the next step: refining. This step allows you to change the parts of your strategy that aren't working according to your KPIs and analysis. At the same time, Google is always making updates to its algorithm, so it's important that your strategy reflects that. Consistently analyzing and updating your SEO strategy will give you the highest chance to be successful.
SEO Strategies
SEO strategies are comprehensive plans to get more visitors to your website through search engines. A successful SEO strategy includes on-page SEO, which involves improving your web pages, and off-page SEO, which involves earning backlinks from other websites.
The Core Components of an SEO Strategy
To optimize your website, you need to improve the ranking factors in three main areas: content, technical website setup, and links.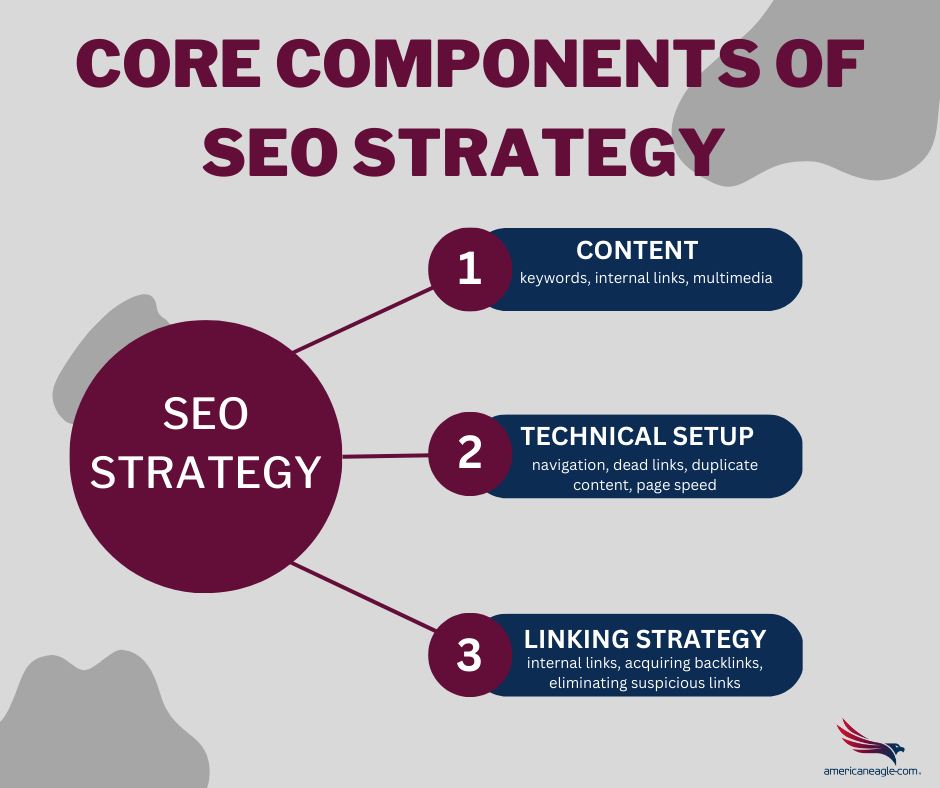 Content
Every time you use a search engine, you're looking for information. Content can come in a variety of forms: videos, blog posts, images, etc. This content will help your website gain greater search visibility. Content answers users' questions and helps them find what they're looking for. The more keyword-targeted, relevant, and useful content you publish, the higher your chance of increasing your search visibility.
Keywords
The process of optimizing your content begins with keyword research. This typically involves identifying terms and topics that are relevant to your industry and business. You can use SEO tools to find out which variations of words and phrases are more commonly searched, and how difficult they are to rank for. Once you have a list of keywords for your industry and business, it's time to start implementing them throughout the content on your website. It's recommended that you choose specific keywords to focus on per page. Keywords should be assigned to and targeted throughout each blog post, webpage, and any other content displayed on your website.
Content and On-Page SEO
Content
Every time you use a search engine, you're looking for information. Content can come in a variety of forms: videos, blog posts, images, etc. This content will help your website gain greater search visibility. Content answers users' questions and helps them find what they're looking for. The more keyword-targeted, relevant, and useful content you publish, the higher your chance of increasing your search visibility.
Keywords
The process of optimizing your content begins with keyword research. This typically involves identifying terms and topics that are relevant to your industry and business. You can use SEO tools to find out which variations of words and phrases are more commonly searched, and how difficult they are to rank for. Once you have a list of keywords for your industry and business, it's time to start implementing them throughout the content on your website. It's recommended that you choose specific keywords to focus on per page. Keywords should be assigned to and targeted throughout each blog post, webpage, and any other content displayed on your website.
Technical SEO Setup
Now that we've gone through the importance of high-quality content and keywords on your website, it's important to understand the way a search engine views your website. For you, your webpage is a collection of graphics, colors, text, formatting, design, and links. However, to a search engine, it is nothing but text. As a result, any elements the search engine cannot understand will remain invisible. Even though your website may look engaging to you, search engines like Google may find that its content is inaccessible. Technical setup, also called on-site optimization, ensures that your website and pages allow Google to scan and index your content without any problems.
Web Navigation
Search engines crawl websites to understand what they're about. Search engine crawlers can use navigational items and links to find more content to analyze and aid their understanding of your page, but they cannot see images, so it's important to set the navigation and links as text only.
Dead Links or Broken Redirects
A dead link sends the visitor to a non-existent page. A broken redirect link points to a resource that is no longer there. Both of these links provide users with a poor experience, but they also prevent search engines from properly indexing your content.
Similar Content
Pages containing identical or similar content will confuse search engines, making it nearly impossible to display any of those pages at all. If search engines find duplicate web pages or plagiarized content, your website may be penalized.
Page Speed
Search engines use the time that it takes for a page to load as an indicator of quality. Many different elements on a website, such as images or videos, can affect the load time of the webpage. However, SEO tools and tactics can be used to improve the load time of your pages.
Linking Strategy
The most important thing to understand is that no webpage will rank without two factors: relevance and authority. Search engines will prioritize pages that they consider to be the most relevant to provide users with the most accurate information. This leads to the third item that will be key to your SEO success; your linking strategy.
Internal links are links that lead to other, relevant content on your website.
Backlinks are references to your content on other websites. Every time another website mentions your content and points the readers to your website, for example via hyperlinked text, you gain a backlink. Google and other search engines use the quality and quantity of links like this as a signal to any given website's authority. The logic behind this is that people will reference a popular and high-quality website more often than a low-quality or mediocre one. It's important to understand that not all links are the same, and having low-quality backlinks can negatively impact your rankings.
Low-Quality Links
Low-quality links or suspicious links are those that are considered to be deceptive, attempting to make a search engine believe a website is more authoritative than it is. This type of practice may reduce your rankings. A professional SEO team will not focus on building just any links; the focus should be to generate the highest quality links possible. There are a few factors that help determine the quality of a link:
Links from websites on a topic similar to yours will carry more authority than those from random websites.
Links from more trustworthy websites will always have a better impact on rankings than those from untrustworthy websites.
Links from websites that have good quality links pointing to them will yield better results on search engines.
Acquiring New Backlinks
The process of acquiring new backlinks is referred to as link building, and it's important to understand that this can be a challenging task. If you want to be successful in link building, it requires strategic thinking, patience, and creativity. To generate quality links, you need to come up with a successful link-building strategy. Don't forget that your links must pass various quality criteria, and it can't be obvious to search engines that these connections have been built deliberately. Here are some strategies:
Editorial, organic links, come from websites that reference your content on their own.
Through the use of an outreach strategy, you can contact other websites for links. You could create a piece of content and email a website to tell them about it, and in turn, if they find it valuable, they will reference it. You can also suggest where they could link to it on one of their existing pages, and how it would add value to their piece.
Guest posts are blog articles that you publish on third-party websites – like those of a partner or industry informational sites. When you contribute a guest post, you're often allowed one or two links to your site within the author's biography.
Many websites offer an opportunity to create a link, such as online profiles. When setting up an online profile, you can also list your website there. It's important to understand that not all links carry strong authority, but some might.
Conducting competitive analysis can help you identify the backlinks of your competitors so that you can target similar ones for your website.
How to Track the Success of your SEO Strategy
Having a great technical setup, high-quality links, and keyword-rich content is critical to increasing your rankings on search engines. At the same time, monitoring your efforts will allow you to improve your strategy even further. Measuring your SEO success means tracking data about engagement, traffic, and links.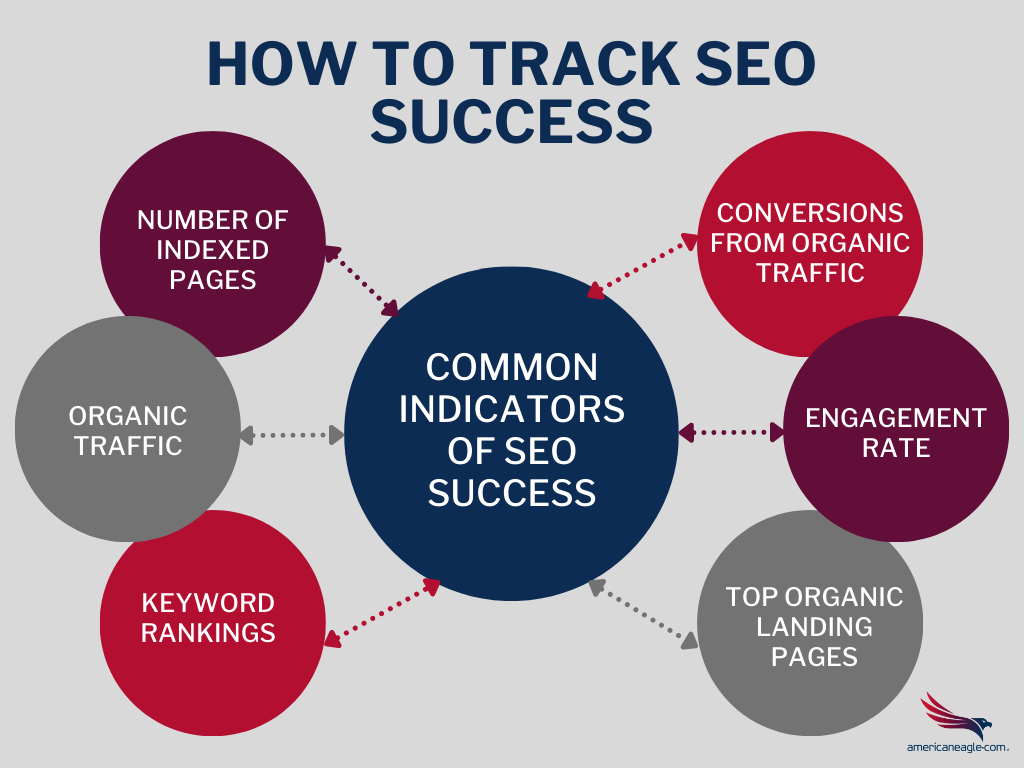 Your definition of success is unique to your business, but here are a few common indicators of success:
Number of indexed pages – indexed pages are the pages of a website that a search engine has visited, analyzed, and added to its database of web pages. Indexed pages show up in search results and can drive organic traffic to your website.
Organic traffic – refers to the visitors that land on your website as a result of unpaid ("organic") search results. Think of this as free traffic.
Conversions from organic traffic – conversions that come from traffic generated from search engines due to their relevance rather than paid advertising.
Engagement rate – metrics that track how actively involved with your content your audience is. Interaction from engaged consumers typically comes through likes, comments, or social sharing.
Top organic landing pages – organic landing pages are a way to target a specific page with specific keywords. The goal is to rank the page for several targeted keywords in order to bring in new organic traffic to your website.
Keyword rankings (branded and non-branded terms) – refer to your page's specific spot on the search engine results pages for a particular search query. When people enter a certain term into Google that relates to your topic, whichever spot your URL is shown in is your keyword ranking.
Local SEO
Local SEO is an SEO strategy that focuses on growing your website's visibility in local search results on search engines like Google. Any business that has a physical location or serves a specific geographic location can benefit from implementing local SEO strategies.
What is the Difference Between SEO and Local SEO?
Even though both traditional and local SEO focus on improving your rankings on search engine result pages, there's a difference between them. Traditional SEO focuses on improving your website visibility on a national or global scale, whereas local SEO focuses on improving your visibility in local search rankings. Both forms of SEO use many of the same strategies, but local SEO implements specific tactics to help your business get in front of people in your area.
Why is Local SEO Important?
Local SEO helps your business stand out and helps drive more traffic to the physical location of your business through online leads. Since the leads that come out of local SEO are from people who are specifically searching for products or services that your business offers, this makes these leads even more likely to produce an increased conversion rate.
What are the Major Ranking Factors in Local SEO?
According to Google, the three most important ranking factors are relevance, distance, and prominence. These factors play a massive role in your local SEO strategies, and gives your business the opportunity to continue to grow on a local scale. Tools like Bing Places for Business and Google My Business will allow you to grow your prominence on these search engines, as well as be able to manage listings and have a clear understanding of what your business looks like on their search engine.
Relevance
If your business is listed on a search engine, it already will start ranking it during localized searches. But if your business doesn't have specific details like hours, location, or a phone number, people searching for a service or product like yours in the area, your business won't be as high on the list. These details make your business more relevant in Google's eyes and will help Google understand your business better, pushing it up the ranks during a relevant search.
Distance
If someone is using Google to search for a product or service but they don't specify location, Google will calculate the distance. Ensuring that the location of your business is a part of Google Business Profile and Bing Places for Business will allow search engines to rank your business based on the proximity of it to the user when they're making the search.
Prominence
If your business is well known to locals, but you don't have any reviews online, it can be difficult to bring in new customers and expand your audience. Online reviews are a way to build credibility for your business, as well as give users an understanding of what your business is before they even make a purchase. Aside from reviews, directories, articles, and backlinks also give Google more information about your business, giving it the opportunity to rank your business when it's relevant to the search.
What is White Hat SEO?
In simple terms, white hat SEO is doing search engine optimization in the way that search engines like Google want you to. By following Google's guidelines and creating a long-term game plan that will withstand any updates Google does, you will be working your way up the search engine results page in a meaningful way. Some aspects of white hat SEO include high-quality content and ensuring your website is indexed properly.
What is Black Hat SEO?
Black hat SEO is all about breaking the rules that Google has set in place. They have clearly stated what can and cannot be done in an SEO strategy, and black hat is a strategy to break every rule. While this strategy may work for a time depending on the method, it's important to know that this is more of a short-term strategy. Google makes regular algorithm updates, so if you're doing something that will eventually get you in trouble with the search engines, it's better to rectify that sooner rather than later.
There are many aspects of black hat SEO that no longer work at all and will instead hurt your rankings, so it's important to know what they are and to avoid them. Some of these things include duplicate content from your site or someone else's, hidden text, and purchasing links.
Why Work with an SEO Agency?
Since SEO is such an important factor in the success of your site, it's important to make sure that you're working with people who understand your goals and the best way to reach those goals. Part of your success with an SEO strategy includes investing time and money because the more you put into it, the more you'll get out of it. Working with an SEO agency will allow you to take advantage of specialized knowledge. The people working on SEO day in and day out understand everything there is to know. They are invaluable experts on the topic and can provide you all the information you need about SEO.
SEO Resources and Trainings
When you're in the beginning stages of understanding SEO and SEO strategies, it's important to have resources to look into. Not only will this give you resources to continuously go back to, but it also ensures that you have a clear understanding of the best practices for SEO. Having resources like this will help give your SEO strategies a higher chance of success.
Google
Google is one of the most used search engines in the world, making it imperative to understand what Google has to say about SEO. They have a free search engine optimization starter guide that's a resource straight from the place where you want to have the most success through your SEO strategy. This is a great resource because it's always being updated with new information based on the growth and changes on the internet.
Semrush
Semrush is an industry-leading SEO backlinks checker and competitor research tool. Through this tool, you can enter a domain name and get:
A list of backlinks
Competing domains
The keywords it currently ranks for
An estimate of the traffic to that domain
There's both a free version and a paid version. While the free version is more limited in the tools that are available, both versions will, at a glance, let you see how authoritative a particular domain or page is. Having information like this will allow you to determine whether it's a site worth approaching for backlinks.
Screaming Frog
The Screaming Frog SEO Spider crawls your website URLs and analyzes your onsite SEO. This tool can be downloaded for free or you can purchase a license for additional, advanced features, but this may not be necessary because you can do the following and more in the free version:
Discover duplicate pages
Analyze page titles and meta data
Identify broke links, errors, and redirects
Create a Successful SEO Strategy
SEO is essential to website success. With in-depth keyword research, technical SEO tactics, and original high-quality content, your website will not only be SEO-friendly but will benefit from increased web traffic, brand awareness, improved user experience, and increased keyword rankings.
Use this ultimate guide to SEO as your starting point, and trust Americaneagle.com as your go-to agency partner for SEO services. Our digital marketing experts are well-versed in all aspects of SEO, with more than 25 years of digital experience. We work with B2B and B2C companies spanning various industries, some of which include healthcare, finance, government, education, and much more. Contact us today to accelerate your digital performance.
---
About Author
---