*Updated on 10/17/23
Choosing the right SEO agency is important because the potential impact on a business's online presence and growth can be immense. At Americaneagle.com, our experts take a comprehensive approach, developing compelling content and implementing effective technical strategies to boost your keyword rankings and secure your place at the top of search results. Whether you have a specific project or require ongoing support, we are a dedicated SEO agency ready to tackle your toughest challenges and elevate your online presence.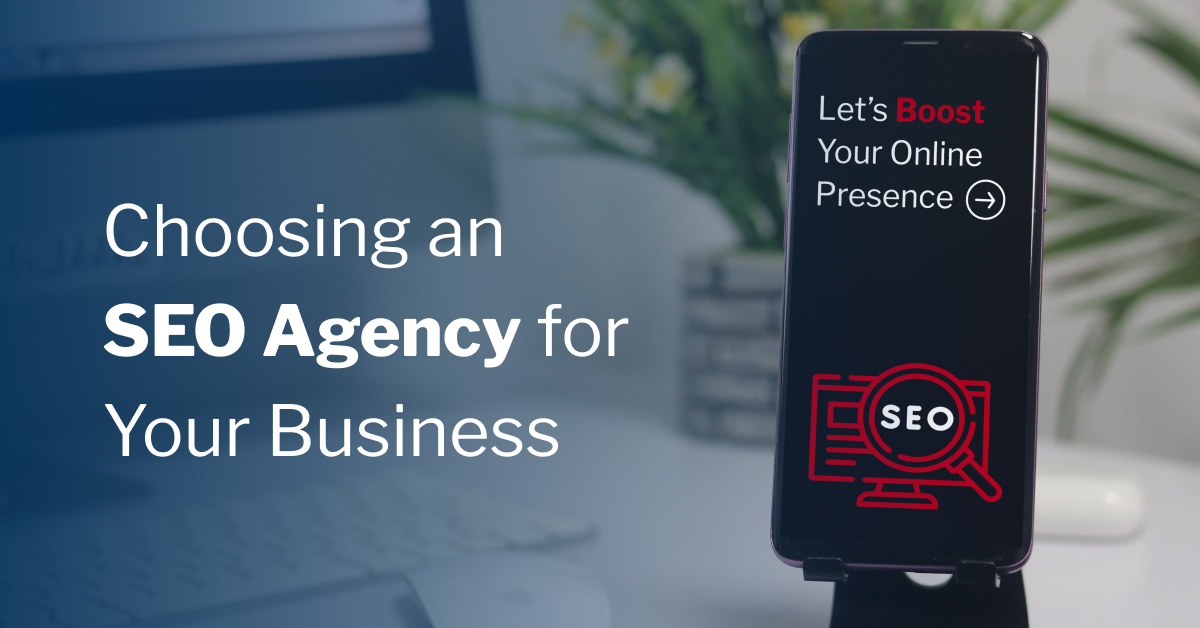 Understanding Your Business Needs
Define Your SEO Goals
When translating general business objectives into specific SEO-related targets, it's important to align the goals of your online presence with the overall objectives of your business. You can start by getting a better understanding of the business goals you'd like to accomplish through SEO. Do you want to increase sales? Improve brand awareness? Expand your market reach? Enhance customer engagement? Once you have a clear picture of what you want to achieve, from a business perspective, it's time to find an experienced, proven SEO agency to help you get results.
Determine Your Budget and ROI Measurement
Some long-term benefits of SEO include higher search engine rankings, increased organic traffic, improved brand visibility and credibility, and a better user experience for website visitors. By implementing effective SEO strategies, businesses can attract more qualified leads and ultimately increase their ROI.
There are various KPIs (key performance indicators) and metrics that businesses can use to measure the success of their SEO campaigns. KPIs may include website traffic, conversion rates, or revenue generated from search if your business goal is to increase sales. Based on your KPIs, it's important to develop detailed, measurable goals.
Key Characteristics of a Top SEO Agency
A top SEO agency has an experienced team of professionals who stay up-to-date with the latest trends and techniques in the SEO industry, have a proven track record of success, and communicate well with their clients.
Experience and Expertise
Hiring an SEO agency with a proven track record and experience in the industry will provide several advantages. First, they have a deep understanding of the ever-changing algorithms of search engines and can apply their knowledge to improve your website's ranking. In addition, they have access to the latest tools and technologies that can help in analyzing and optimizing your website. They have a team of writers providing copywriting services, complete keyword research, and other time-consuming tasks that save you time as they take care of all the technical aspects of SEO while you focus on running your business. Finally, they provide customized SEO strategies that fit your specific business.
Proven Track Record
SEO agencies, like any other business, thrive on their reputation for delivering results. Client testimonials and reviews are important in assessing the SEO agency's credibility. Showcasing previous successes and achievements is crucial in demonstrating expertise and value proposition to potential clients. Client testimonials provide authentic feedback, build trust, and provide transparency. SEO is complex and it that requires specialized knowledge and skills. By highlighting past and present successes, SEO agencies can demonstrate their ability to navigate this complex landscape and deliver tangible results.
Clear Communication and Transparency
SEO agencies play a critical role in enhancing a business's online visibility, and regular updates on how the progress is coming along are fundamental to this process. They provide transparency and help clients understand what actions are being taken and why, providing a sense of involvement and ownership. Consistent updates allow for real-time tracking of campaign performance and they help identify what's working and what's not working. When an SEO agency provides regular updates, it shows they're accountable for their work as well. This provides confidence for clients because it shows their SEO investment is being managed responsibly and professionally.
Clear communication, free from industry jargon, is another important aspect of client-agency interaction. When clients understand the terminology and processes involved in SEO, they're better equipped to make informed decisions about their campaigns. Providing regular updates on campaign progress using clear, jargon-free communication is vital for SEO agencies. It promotes transparency, accountability, and a stronger client-agency relationship.
Adherence to Best Practices
White hat SEO is a simple concept that has long-term advantages. It's doing search engine optimization in the manner that search engines like Google want you to. By following Google's guidelines and having a long-term strategy that takes into account Google updates, your site will show up high on the search results pages.

While white hat SEO is good, black hat SEO is not. Manipulative SEO tactics can have serious consequences and potential repercussions for your website and online reputation. These unethical SEO practices go against search engine guidelines and can result in penalties or even removal from search engine results pages. Using black hat SEO practices not only risks damaging your website's visibility but also undermines the trust and credibility of your brand. Search engines are constantly updating their algorithms to detect and penalize such tactics.
Tools and Technologies Used by the Agency
SEO Tools and Platforms
Using the right tools can greatly enhance the effectiveness of your website's SEO. These tools provide valuable insights, data, and metrics that can help optimize your website's performance and drive organic traffic. Three of the most popular tools in the SEO industry are Semrush, Ahrefs, and Moz:
Semrush: Semrush is an all-in-one SEO tool that offers a wide range of features. It allows you to perform keyword research, track rankings, analyze backlinks, conduct site audits, and monitor competitor strategies.
Ahrefs: Ahrefs is known for its comprehensive backlink analysis capabilities. It helps you understand the quality and quantity of backlinks pointing to your website.
Moz: Moz offers a suite of SEO tools that cover various aspects of search engine optimization. Moz's key features include keyword research, site audits, rank tracking, and link analysis.
These tools play important roles for SEO by providing actionable data and insights. They help to:
Identify areas for improvement
Track progress
Analyze competitors
Make informed decisions to optimize your website's performance
While these tools offer valuable information, they still require human analysis and interpretation to effectively use the data for your SEO.
Reporting and Analytics
Tracking tools like Google Analytics (GA) play a vital role in assessing the performance of SEO strategies. GA provides a comprehensive collection of data about website traffic, user behavior, conversions, and more. This helps identify any areas for improvement. Reporting and Analytics tools also measure campaign effectiveness. Google Analytics allows you to see which channels are driving the most traffic and conversions. With this information, you can optimize your campaigns to focus on the most effective channels and SEO tactics. They also provide user behavior analysis and audience insights to help you better understand how users are navigating your site and help you understand your target audience better. This enables you to tailor your content, messaging, and marketing strategies to their preferences and needs.
To interpret data and analytics, it's important to set clear goals and define specific objectives so you can analyze the effectiveness of the SEO strategy. By leveraging tracking tools like Google Analytics and interpreting the data correctly, you can make informed decisions and achieve better SEO results.

Customization and Flexibility
Tailored SEO Strategies
In the world of SEO, a one-size-fits-all approach simply doesn't cut it. Every industry and niche are unique, and to achieve success, it's essential to develop strategies tailored to specific industries and niches. Here's why customization is crucial for SEO success:
Different industries have their own set of keywords and search terms that are relevant to their target audience. By understanding the specific keywords in your industry, your content can be optimized to improve your search ranking. Just like keywords, each industry also has a distinct target audience with unique preferences and behaviors. By customizing your strategies to meet the needs and preferences of your target audience, you can create more engaging and relevant content that resonates with them. In addition, studying the competition within your industry is important for a successful SEO strategy. By conducting industry-specific competitor research, you can identify gaps and opportunities to differentiate yourself and gain a competitive edge. Creating valuable and relevant content is key to attracting and retaining your target audience. SEO strategies need to account for local and regional factors that may impact search engine rankings as well.
Adaptability
SEO continually changes. The need for strategies to evolve with algorithm updates is critical and the importance of adapting to market trends and shifts is necessary for SEO success.

Search engine algorithms, particularly Google's, undergo regular updates to improve search results. These updates impact search rankings and visibility. It's important to stay informed about algorithm changes and adjust SEO strategies accordingly. SEO is not just about technical optimization; it also involves understanding market trends and shifts. By keeping an eye on industry developments, consumer behavior, and emerging trends, you can adjust your SEO strategies to be more aligned with current market demands. Today, the focus of SEO prioritizes websites that offer valuable and relevant content, seamless navigation, fast loading times, and mobile friendliness. Adapting a user-centric approach can lead to higher rankings and improved website performance. Testing different strategies and analyzing data can help identify what works best for your specific business and target audience.
Training and Continuous Learning
There are several reasons why a top SEO agency will never let its team go through the motions when it comes to SEO expertise. When you're focused on the client's success, the need for continuous learning in the ever-changing field of SEO cannot be emphasized enough.
Staying Updated
Staying updated on the latest SEO trends and best practices is crucial for SEO agencies to deliver effective results to their clients. By staying updated with the latest trends, agencies can ensure that they are implementing the most effective strategies for their clients. This helps to maintain high search rankings, drive organic traffic, and achieve better results. Clients hire SEO agencies to improve their online visibility and increase their website's performance. Ongoing training and development enhance an agency's problem-solving skills and help them identify and address challenges that arise in their clients' campaigns. In addition, SEO agencies that prioritize ongoing training and development can establish themselves as industry thought leaders. By sharing their knowledge through blog posts, case studies, webinars, and speaking opportunities, they build credibility and attract more clients.
Educating Clients
SEO agencies that educate their clients on SEO basics hold a distinct advantage over those who don't. The best ways to educate clients on SEO strategy include providing them with regular reports and updates on their website's SEO performance, explaining the importance of keywords and content optimization, and offering training sessions or workshops on SEO best practices.
Cultural and Ethical Fit
As with any other industry, the company you partner with for your SEO should hold similar values and have a workplace culture that you respect. This sets the foundation for SEO success.
Company Culture
Understanding and respecting each party's goals and objectives and cultivating a harmonious working relationship that emphasizes mutual respect and shared values brings numerous benefits: enhanced collaboration, increased productivity, a positive work environment, better problem-solving, and long-term success. By valuing and respecting each other, teams can create an environment where everyone thrives and achieves their goals.
Ethical Considerations
Ethical data handling and transparent business practices are paramount in today's digital landscape. By protecting user privacy, building trust, meeting regulatory requirements, mitigating data breach risks, and empowering informed decision-making, businesses can ensure they operate ethically and responsibly in the handling of data.
Red Flags to Watch Out For
It's important to note that not all SEO agencies are the same. Make sure you are aware of the following warning signs when evaluating SEO agencies:
Unrealistic Guarantees
SEO is an investment in your online visibility and long-term success, so it's crucial to work with reputable agencies that emphasize a comprehensive and strategic approach, rather than those making unrealistic promises of quick or guaranteed results.
Low-Cost Traps
While cost is always a consideration, it should not be the sole deciding factor when choosing an SEO agency. Prioritize agencies that offer expertise, tailored strategies, quality content, ethical practices, transparent communication, and a track record of delivering tangible results.
Lack of Evidence
The importance of SEO agencies providing evidence of their expertise through case studies or client testimonials cannot be overstated. It establishes credibility, builds trust, validates industry knowledge, and helps potential clients make informed decisions about partnering with an agency.
Steps to Engage with an SEO Agency
Here's a step-by-step guide on how to approach and engage with an SEO agency:
Initial Research and Evaluation
You should consider the size of the agency, their capabilities, and company growth stage when looking for potential SEO agencies. When interviewing potential candidates, make sure to have a list of questions. The more organized your questions are, the more objective your comparison of the SEO agencies will be. Ask questions about their focus, approach, and how you would work together.
Establishing the Partnership
The importance of clear communication of goals and expectations from the outset is extremely important. In addition, you'll need to understand all terms and conditions before entering into a contract with your SEO agency choice.
Working Together
The benefits of all parties being aligned and working towards common goals is important for a successful SEO outcome. A smooth onboarding process and clear project management protocols should be clear from the start.
Post-Contract Support and Maintenance
SEO constantly changes; post-contract support plays a vital role in ensuring the long-term success of your SEO efforts. It allows for continuous optimization, technical updates, monitoring and reporting, content strategy, link building, and adaptation to market changes. SEO agencies must be proactive in addressing potential future challenges and updates.
Ongoing Support
An SEO agency that provides post-contract support ensures that your website remains optimized and competitive in search engine rankings over time. It should also include updating existing content and developing new content strategies to keep your website fresh, relevant, and engaging. Regular content updates help attract and retain organic traffic.
SEO Maintenance
Post-contract support should include monitoring key performance indicators (KPIs) and providing regular reports on the progress of your SEO campaign. This helps you track the effectiveness of the strategies implemented. Regular site audits and updating the SEO strategy is important to maintain and improve search rankings.
Case Studies and Portfolio
When choosing your SEO agency, it's important that they demonstrate and showcase their past work and successes.
In-Depth Analysis
Detailed case studies provide valuable insights into an SEO agency's approach, methodologies, and results. They demonstrate transparency, build trust, showcase real results, and help you evaluate the agency's expertise within your industry. Evaluating an agency's portfolio, specifically their case studies, is crucial for making an informed decision when choosing your SEO partner.
Local vs. Global SEO Expertise
If your business operates locally, partnering with a local SEO agency can provide valuable insights and targeted strategies for reaching the local audience effectively. If your business has a global reach, a global SEO agency can help you navigate the complexities of international markets and craft strategies to expand your online presence across different regions.
Local SEO
There are some unique challenges as well as opportunities when it comes to local SEO. Local SEO requires targeting location-specific keywords to increase visibility in relevant local searches. This includes optimizing for phrases like "near me" or specific city names. It's ideal for businesses with physical locations, such as brick-and-mortar stores or service providers catering to a specific area because it helps drive foot traffic and attract customers within a specific radius.
Global Reach
The choice between local and global SEO depends on your target market and business goals. Global SEO uses keywords relevant to a broader audience, often without location modifiers. Global SEO is the better choice for online businesses, ecommerce stores, or companies targeting multiple regions.
Final Thoughts
Careful consideration must be taken when choosing an SEO agency. It literally can be the difference maker when it comes to the success of your business.
Think Beyond SEO
Holistic digital marketing strategies encompass a broader range of services beyond SEO and offer several benefits for businesses.
Here's why agencies that provide a comprehensive suite of services are advantageous:
An integrated approach is important. SEO agencies that provide a broad range of digital marketing services can develop an integrated approach that aligns various channels, such as SEO, social media marketing, content marketing, paid advertising, email marketing, and more. This integration ensures a cohesive strategy. A holistic approach ensures synergy and consistency across different marketing channels. By having one agency manage multiple aspects of your digital marketing, you can achieve a unified brand voice, messaging, and visual identity. This consistency enhances brand recognition, trust, and customer engagement.
Agencies that offer a range of services can leverage each channel's strengths to target different segments of your audience effectively. They can customize strategies based on audience preferences, behavior, and demographics, ensuring maximum reach and engagement. While driving traffic to your website is essential, the ultimate goal is conversions and business growth. Agencies with a holistic approach understand this and focus not only on bringing in traffic but also on optimizing conversion rates. SEO agencies with a holistic approach can provide comprehensive analytics and reporting across all channels as well, for a deeper understanding of how different marketing efforts contribute to your business objectives.
Choosing an agency with a holistic approach can lead to a more integrated and effective digital marketing strategy that drives meaningful results for your business. Many companies spend heavily on PPC and other traffic acquisition strategies, but neglect optimizing their existing traffic, which is why conversion rate optimization services are important. The end goal is not to simply drive traffic to your website, it's to have that traffic convert and drive business growth.
Understand the Long-Term Nature of SEO
It's important to understand that SEO is a long-term strategy and achieving results takes time. When you choose an SEO agency, don't expect a quick fix. It's a process that requires consistency, patience, and ongoing effort. Building a strong online presence and establishing authority requires consistent optimization. The digital landscape is highly competitive, with countless websites looking for visibility and high rankings. It takes time to build a solid foundation, optimize your website, and earn credibility with search engines. Adapting to algorithm changes, optimizing your website accordingly, and building trust with search engines is an ongoing process.
Questions to Ask When Choosing an SEO Agency
What should I prioritize when selecting an SEO agency for a large-scale website?
Bigger websites often have a complex structure that includes multiple pages and different content. You should prioritize an agency's experience with handling SEO for larger websites, their technical SEO capabilities, and their ability to scale. Their experience with similar-sized businesses and their understanding of industry-specific challenges is also important.
How can I ensure that an SEO agency has the capacity and expertise to handle the complexities of a large company's website?
Ask for case studies or references from past clients with similar-sized websites to yours and find out the SEO tools they use and their approach to tackling complex SEO challenges.
What experience should an SEO agency have in web development to ensure seamless integration with our existing systems?
A top SEO agency should have a proven track record providing web development. Their ability to work closely with development teams, understand website architecture, and implement SEO recommendations without disrupting site functionality is crucial. Americaneagle.com has a proven track record of success providing web development services to clients in a wide range of industries.
How does an agency's expertise in related digital marketing services, like content marketing and social media, enhance the overall SEO strategy?
Content marketing can drive quality content creation, while social media can increase your website reach. A holistic approach, where all digital marketing efforts, including social media marketing services Americaneagle.com can provide, complement and boost the SEO.
What are the key indicators of an SEO agency's success in managing large-scale SEO campaigns?
Important factors you should look at include organic traffic growth, improved search rankings for targeted keywords, increased conversions from organic search, and a positive ROI. The ability to adapt to algorithm changes and market shifts while maintaining performance is also a key indicator of success.
How important is it for an SEO agency to have in-depth analytics and data analysis capabilities, especially for large websites?
There's a huge amount of data to analyze when it comes to large websites. An SEO agency's ability to derive actionable insights from all this data, understand user behavior, and continuously refine strategies based on analytics is crucial for success.
How can I gauge an agency's proficiency in conversion rate optimization and its impact on our bottom line?
You can request evidence of past projects, including A/B testing results, user experience improvements, and the subsequent impact on conversions.
What questions should I ask an SEO agency to understand their approach to email marketing and automation, especially for large audiences?
You should ask about their experience with the email platforms you currently use, their strategies for segmenting large audiences, how they craft personalized content, automating campaigns, and their approach to tracking email-driven traffic and conversions in relation to SEO. Americaneagle.com provides email marketing services as part of our holistic digital marketing solutions.
How does an agency ensure that their SEO strategies align with our broader digital marketing objectives?
The SEO agency you choose should conduct thorough discovery sessions to understand your broader marketing goals, and their ability to produce an SEO strategy that complements other marketing efforts, such as paid search management services or content marketing, indicates their alignment with your broader digital marketing objectives.
What safeguards and support does an SEO agency offer to ensure the security and performance of a large website during optimization processes?
Take a look at their protocols and process for website backups, handling sensitive data, and ensuring site uptime, along with their collaboration with IT or web development teams and procedures for implementing changes without affecting site performance.
What's Next?
Choosing the right SEO agency is tough. Sorting through the noise to assess expertise and fit can be time-consuming and difficult. We are here to help you and guide you throughout the process! Call (877) 932-6691 or use our online form to get in touch with us and discuss you SEO needs and whether or not the team at Americaneagle.com will be a good fit (and I think we will be).
---
About Author
---