*Updated 9/21/23
These three-letter acronyms are vitally important to digital marketing success in today's competitive world of search engine rankings. The difference between the two is this. Search engine optimization (SEO) focuses on technical and content adjustments to improve organic search results. Pay-per-click (PPC) efforts identify and refine the best paid advertising opportunities to raise brand awareness and grow customer conversions within search engines and beyond.
What is SEO?
Search engine optimization is the process of enhancing your website's visibility to help it rank higher on search engine results pages (SERPs) and gain brand-relevant organic traffic from search engines. The higher your site stands on search engine rankings, the greater chance your business is seen by browsers. Search success sparks important brand recognition, interest and engagement that leads to customer conversions. There are multiple types of SEO strategies that combine to increase SERP rank, such as keyword research, content optimization, internal linking, backlink relationships, and on-page and off-page technical SEO.
Keyword Research
Effective SEO begins with thoughtful and comprehensive keyword research. Understanding a brand's existing organic keyword performance, assessing competitor rankings, and pinpointing priority keywords are essential to search success. Keyword research provides the foundation for all SEO strategies.
On-Page SEO
There are many on-page factors that advance search engine optimization. On-page SEO influencers include keyword-rich page content, title tags, metadata, hyperlinks, and more. Each element of on-page SEO is indexed by search engines and directly influence SERP success.
Off-Page SEO
Off-page SEO focuses on ranking influencers that are outside of a brand's primary website. These considerations include backlinks from other industry or business relationship websites, social media, press releases, business reviews, listings, or public relations outlets.
Technical SEO
Technical SEO considerations include best practices for search engine indexing, XML sitemap, metadata markup, site speed improvement, site structure, and more.
SEO: Pros and Cons
SEO Pros
SEO is cheaper in the long run.
Essential business knowledge, product and service details, and brand interpretation are the core pieces of SEO. In many cases, SEO will prioritize and amplify what is already being created within business operations and marketing. Costs are typically limited to two set categories, team member time and agency consulting fees. Budgets do not get inflated by competitive bidding on high-demand keywords.
Target different funnel stages.
Most business marketers identify specific stages of brand relationships within their buyer journey. Those stages are often visualized as a funnel with initial awareness at the top of the funnel and sales conversions at the point. SEO strategies can effectively focus website content initiatives that advance relationships from one stage to the next. For example, thought leadership content welcomes new relationships and connects with brand expertise. Pages detailing product and service features, a brand's better and different story, share specific calls-to-action for engaged website users. Excellent SEO performance will get the right relationship to the best content to satisfy their current interests and needs. Satisfied customers regularly become repeat customers, and better yet, vocal brand advocates.
Search traffic is more stable.
To be sustainably successful with a branded digital presence, it is essential to achieve high ranking on popular search engines, such as Google. When consistently achieved, it will become much easier to maintain organic traffic to your website. Keep in mind that a regularly-updated website has a better chance of ranking higher than an antiquated one, where content may have grown stale.
Organic listings build brand authority.
When it is your brand that users see in search results when they have questions related to your market's products and services, you build brand authority. When curiosity is satisfied by your brand, trust grows. High organic ranking for strategically-targeted keywords that are relevant to your business build brand authority and promote your ongoing success within search engine strategies.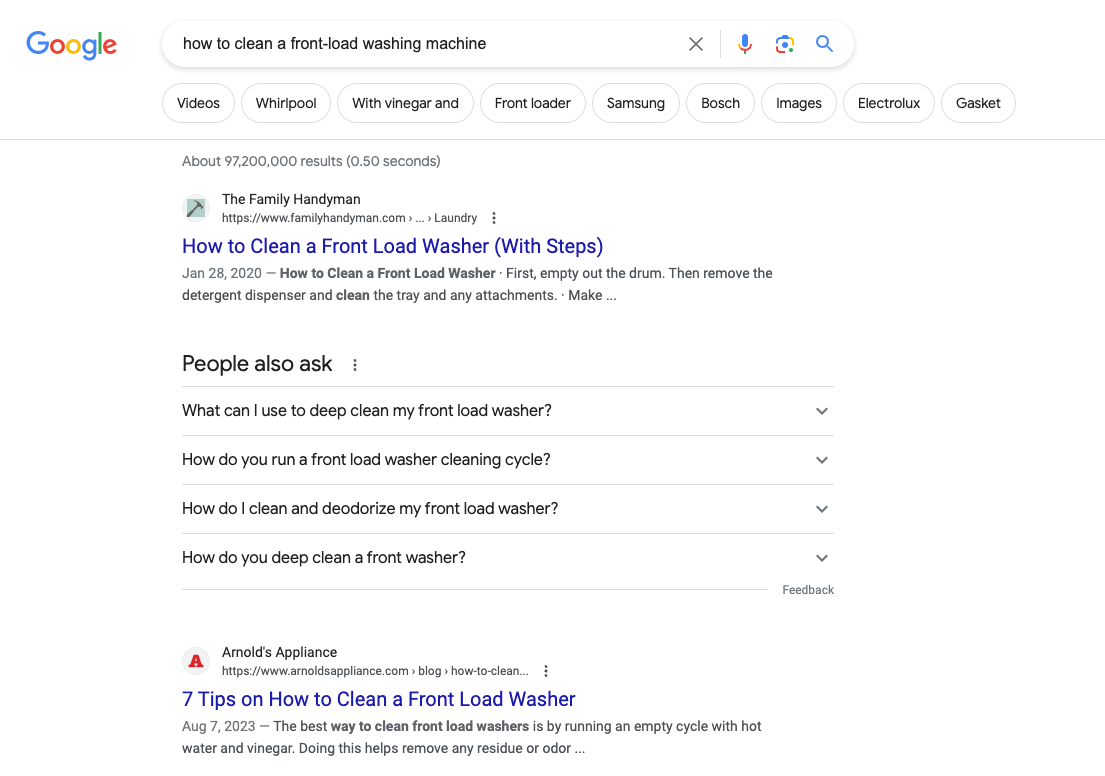 These organic search results provide a great example of SEO success for The Family Handyman and Arnold's Appliance. These brands are achieving excellent visibility for this high-volume search that is relevant to their businesses, "how to clean a front-load washing machine." Customers are more likely to follow links to websites that are listed highest within SERPs.
SEO Cons
Search engine algorithms change.
The world's most popular search engines, such as Google, change their algorithms pretty frequently. They are consistently refining methods of indexing and displaying websites in ways to improve user satisfaction. While general information is publicly shared to describe the intent of algorithm updates, identifying specific factors within the update to ensure SEO success requires highly-skilled trial and error. Organic search strategy needs to be periodically adjusted to align with major algorithm updates.

Optimization requires consistent updates.
It is always a best practice to frequently update your website, offering site visitors an up-to-date, optimal experience with your business. To maximize sustainable SEO success, your web resources and keyword strategies may need more attention than you are currently giving them.
Takes time to achieve results.
It is most rewarding when every effort provides immediately impactful results. Search engine optimization, however, will require some degree of patience. Do not expect to see immediate results. A lot of work goes into building search engine rankings and it could take weeks or months to show results.

Requires a high level of skill and expertise.
Experience with large volumes of optimization trial and error within leading search engines builds efficiencies and dependable strategy performance. SEO agencies that lead strategies for a wide range of clients and industries are often essential to SEO success.
Would your business benefit from an SEO agency relationship that can help your brand climb up search results in impactful ways? Americaneagle.com can be a valuable extension of your team.
What is PPC?
Pay-per-click is a paid advertising strategy in which an advertiser pays a publisher for each click a potential consumer makes on their ad. Businesses pay an established rate for each user interaction. Types of PPC offered to brands include search advertising, social media advertising, display advertising, and affiliate marketing. PPC ads can be displayed within multiple channels and are well-tracked to ensure ads are displayed and gaining attention. With PPC, testing and experimentation is necessary to figure out the best approach to reach the right audiences, at the right time, with the right method. Variables include keyword targets, bid setting, ad creative, and audience reach. The highest return on ad spend (ROAS) is the most common PPC performance goal.
Keyword Research
Keyword research for PPC is often more refined than organic keyword research. Specifically, buyer intent plays an elevated role in assessing ideal keyword targets to maximize ad performance.
Bid Setting
PPC ads are displayed with priority to the highest bidder for specific keywords. When setting bids, businesses team with their digital agency to identify the average cost per click for desirable keywords and set campaign budgets.
Audience Targeting
A specific audience persona, a fictional marketing character that embodies common customer traits, challenges, and interests, is helpful in targeting ad messaging with laser precision.
Ad Creation
Whether it is a text ad or display ad, the creative detail is what attracts PPC attention. Be concise with messaging that solves a specific problem for your targeted customer. Be consistent and authentic in your brand's language and personality.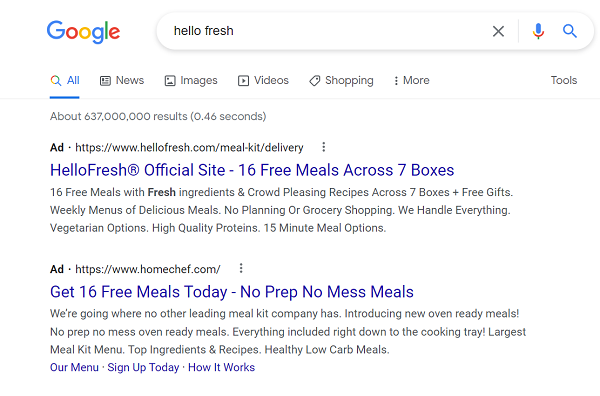 Here's a typical PPC text ad from Hello Fresh, a company that delivers fresh and packaged ingredients to subscribers. Their branded shopping ads are displayed at the top of SERPs when keywords, such as "easy at home meals," are searched.
PPC Cons
May be expensive.
Within PPC campaigns, brands pay for every ad whether it results in a sales conversion or not. You should also have an estimate or a solid budget in place. Bid pricing for keywords with proven reach and engagement can quickly escalate. When a designated budget runs out, ads no longer display.
Lower profit margins.
Ad expenses directly translate into loss of margin. Until the best ROAS is realized within a brand's highest performing PPC campaigns, sales revenue may struggle to keep desired margins in relation to ad investment.
Can become stale after a while.
Ad campaign impact has been proven to have diminishing returns. Even the highest performing campaigns eventually grow old and stale and lose audience interest. PPC ad agencies help brands to continually assess ad performance and optimize ad rotation.
Leverage the proven track record of the paid search services team at Americaneagle.com to promote winning PPC campaigns for your brand.
SEO vs. PPC ROI
The return-on-investment (ROI) comparison between SEO and PPC typically includes leadership perspective on long-term and short-term goals. Brands pursue SEO excellence as a long-term strategy aimed toward continual improvement and sustainable search visibility. Brands deploy PPC ad campaigns as a short-term strategy to provide immediate improvement for targeted keyword search visibility for a period of time.
Cost: SEO generally has lower costs in the long run, whereas PPC can be more expensive for limited-time search visibility.
Sustainability: High SEO rankings are more sustainable and require less ongoing effort compared to maintaining PPC performance across a comparable period of time.
Immediate Traffic: PPC can provide immediate traffic but stops the moment allocated budget is spent.
Budget Management: PPC requires attentive budget management to prevent quick depletion of funds.
Blend Strategies: Businesses often use quick wins and keyword lessons learned from PPC to inform long-term SEO strategies.
SEO vs. PPC – Which is Better?
While SEO is better for long-term search success, and PPC is better for short-term search success, the best search strategies combine both. There are other considerations that might favor one search strategy over the other. You might recognize one that is most important for your brand.
Stage of Business: For new businesses or product launches, PPC is more effective for quick market entry, while established businesses may benefit from the sustained growth that SEO offers.
Target Audience: You may be able to quickly identify where your brand's target audience is the most active. If they're primarily using search engines and engage with thought leadership content, SEO might be more beneficial. If sales from social media referrals skyrocket with your first social media ad campaign, that's your winner.
Budget Constraints: Businesses with limited marketing budgets may find SEO more cost-effective in the long run. Designated budgets requiring clear sales attribution reports will favor PPC.
Skill Level Required: SEO success is often dependent upon a high level of experience and expertise relating to periodically evolving search algorithms. PPC ad campaigns can be set up, assessed, and updated very simply to get started.
Flexibility: PPC allows for more agile adjustments from clear and immediate performance data. SEO flexibility requires patience to gather actionable data, but offers more sustainable search visibility.
SEO and PPC for Best Results
Customized Approach: The highest performing search marketing strategies are most often a customized blend of both SEO and PPC. This strategic approach allows businesses to capitalize on the immediate visibility provided by PPC while building a sustainable, long-term search presence via SEO.
Dynamic Strategy: As a business grows and market conditions change, it is common for their balance between SEO and PPC to be adjusted. A regularly assessed, dynamic approach to search marketing provides the necessary opportunities and flexibility to pivot strategies as needed.
Data-Driven Decisions: Businesses and search marketing agencies should be continuously monitoring key performance indicators (KPIs) for both SEO and PPC. This data-driven approach will help your brand make informed decisions to allocate resources for maximum ROI.
Consult Experts: Search marketing success can hinge on search engine knowledge and experience. Most leading brands maintain a digital marketing agency relationship to partner in search strategies. Confidence in that relationship expedites ongoing SEO and PPC strategies, performance assessment, and impactful advancement of search engine success.
What's Next?
The search marketing team at Americaneagle.com has partnered with leading brands across many industries in their performance-driven PPC campaigns and search engine optimization. Extensive, high profile brand experience within retail, manufacturing, healthcare, banking, associations, government, and many other industries have built sophisticated business understanding and insight throughout our teams. We welcome the opportunity to be introduced to your brand.
---
About Author
---