It's a common struggle within new businesses to build a name, reputation, and customer interest. The costs of advertising and marketing campaigns are extremely high, especially when first starting out. Marketing campaigns also have no guarantee of success. That said, there are two marketing strategies that may provide solutions to these challenges: search engine optimization (SEO) and pay-per-click (PPC).
What is SEO?
Search engine optimization is the process of enhancing your website's visibility to help it rank higher on the search engine results page (SERP) and gain organic traffic from search engines. The higher your site stands on search engine rankings, the greater chance your site may spark interest. There are multiple types of SEO that aid in increasing rank, such as keyword search, internal linking, and content optimization.
What is PPC?
Pay-per-click is where an advertiser pays a publisher for each click a potential consumer makes on an ad, allowing businesses to only pay for an interaction. Other types of PPC include social media advertising, display advertising, and affiliate marketing. PPC can be available on multiple channels and is extensive to make sure ads are being run and are bringing in attention. With PPC, a lot of testing and experimentation is needed in order to figure out the best approach.
The Pros and Cons of SEO
Do you have an idea of which marketing strategy will be the best fit for you and your business? To help give a clear understanding of SEO vs. PPC, here are some pros and cons of each for your consideration:
SEO Pros
SEO is cheaper in the long run - when creating content to organically drive traffic to your site, there really isn't an associated cost. If the content is user-friendly to create and update, that limits the need to spend money on developers and editors.
Target different funnel stages - your audience may all be in different parts of the funnel within the buying process. Some may be unfamiliar with your business and some may be ready to make a purchase on your site. Through SEO, you can create specific content based on where a customer currently is in the funnel. This will give your website the best chance of developing brand recognition as well as repeat customers.
Search traffic is more stable – to be successful, it's important to achieve a high ranking on SERPs, such as Google. Once completed, it will become much easier to predict organic traffic to your website. Keep in mind that a consistently up-to-date website has a better chance of ranking higher than an antiquated one.
Organic listings build brand authority – searches, including keywords that pertain to your products or services, increase brand awareness and reputation. Making your brand more recognizable generates interest and trust from consumers.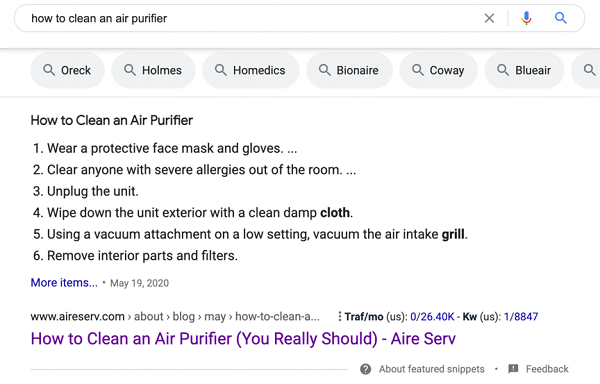 (Image: WebFX)
This ad is a great example of optimizing your website and content for the keyword "air purifier" and showing up at top of the search engine. Customers are more likely to click websites that are listed on the first page as opposed to those listed farther down the SERP.
SEO Cons
Search engine algorithms change - search engines, such as Google, change their algorithms pretty frequently. This means you'll have to keep a close eye on your strategy, occasionally adjusting in order to maintain that organic traffic.
Optimize your website regularly - keeping your website modernized will keep your standings within the SERP. Content will be a huge part of your site with constant additions.
Takes time to show results - do not expect immediate results. A lot of work goes into building search engine rankings and it could take weeks and/or months after a site's launch to show results.
Requires a high level of skill and expertise - you may need to hire senior-level experts who understand all of the nuances of SEO in order to make the most impact.



The Pros and Cons of PPC

PPC Pros
Quick results - unlike SEO, which may take months to see results, it takes just a few short hours to see progress with a PPC campaign.
Ads appear above organic rankings - when consumers search through the use of target keywords PPC will display at the top of any page, making the audience notice you.
Pinpoint your target audience – you're able to target ads toward an audience based on specific demographics such as geographical location, marital status, age, and interests.
Quickly run A/B tests - two ads can be run simultaneously to see which one will come out on top. The ad that didn't perform as well may be altered and posted again for a short period. There's also an option to kill the ad completely if, after edits, it still brings little success.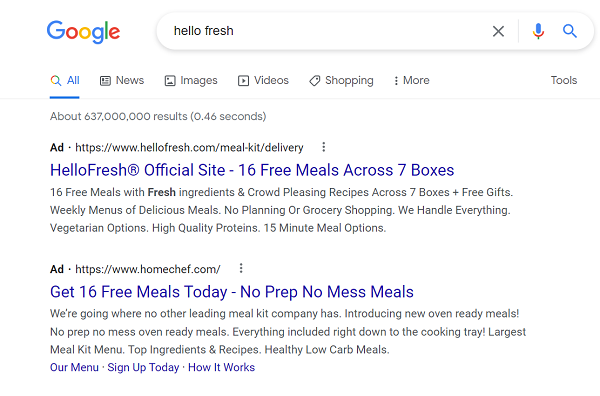 (Image: Google)
Here's a typical ad from Hello Fresh, a company that delivers fresh and packaged ingredients to subscribers. Their ads are always displayed at the top of a page when keywords, such as "easy at home meals," are searched.
PPC Cons
May be expensive - with PPC, you pay for every click on your ad no matter if you made a sale or not. You should also have an estimate or a solid budget in place. If the money runs out, your ad will be taken down and you will lose out on potential traffic.
Lower profit margins – your ad directly translates to profit, but the overarching costs of keeping the ad running will drain all profits from sales based on those ads, as not every click is guaranteed to be a successful purchase.
Can become stale after a while - there is limited control of your ads and how they do. It is also much harder to come up with new keywords and phrases to draw your audience in and stand out from the crowd.
Conclusion
SEO and PPC certainly have similar end goals. Both strategies are designed to generate traffic to a website and grow a brand's reach. It may take a lot of trial and error to figure out which strategies work better for your business – and it's not uncommon for businesses to apply a blend of both strategies for even more exposure.
Are you interested in promoting your business and taking it to the next level? Our team of strategists, developers, designers, and more have the knowledge and expertise it takes to ensure your website is progressing and meeting your business's growth goals..Contact us today to learn more.
---
About Author
---