*Updated 10/19/23
We have put together this strategy guide to help food and beverage brands get on the right track toward search engine optimization (SEO) success. The marketplace for food and beverage is, not surprisingly, more substantial and competitive than it has ever been. There is no better time than now to ensure your search performance is better than your competition.
At Americaneagle.com, we partner in digital strategy with some of the most recognized food and beverage brands in the world. In doing so, we have helped them to impactfully grow customer reach, engagement, and conversion by markedly improving search engine optimization. Would you like to learn more about our search engine optimization services?
No products receive more day-to-day interest, engagement, interaction, and consumption than food and beverage. More than just biologically essential fuel for all people, food and beverage is, literally, at the center of the table for life's most important gatherings. Food flavors all cultures as it satisfies our collective appetites. Beverage quenches our human thirst for community celebrations.
According to Statista.com, annual retail sales within the US food and beverage market in 2022 was 947 billion dollars. That total more than doubled over ten years. While rising production costs and prices contribute to a significant portion of those rising sales numbers, it is undeniably certain that marketplace demand for favorite food and beverage brands has never been stronger.
Food and beverage sales as a percentage of total retail ecommerce sales have also increased in recent years. Growth numbers released by Statista show an increase from 9.3% in 2017 to nearly 14% in 2022, with projections forecasting a jump to 21.5% by 2027.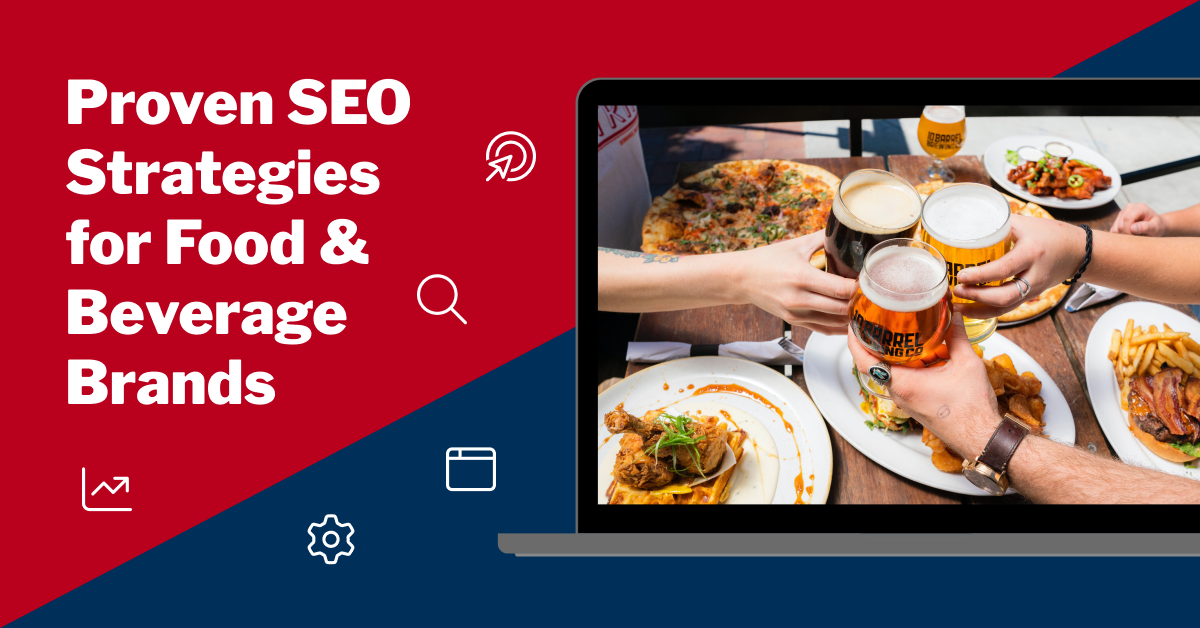 Create a Keyword Strategy That is Specific to Your Industry
Choosing high-performing keywords for a company that sells wine is very different from selecting keywords for a brand that makes custom-made t-shirts.
Here are some tips for writing keyword-optimized content, from landing pages to product descriptions:
Branded words. It might sound like a no-brainer, but many food brands don't rank for their own company and product names because they don't consistently include those branded keywords in all relevant sections of their website.
Non-branded words for your product categories. "Spicy sauce," "vodka sauce," and "pesto" are all examples of commonly-used names for Italian sauce product categories. While it's difficult to rank for many of these non-branded words, digital marketers should still target a selection of these types of keywords to improve broad reach and their odds of being discovered by a growing number of new shoppers.
"Where to buy" words. If your brand has physical store locations, or specific places to buy your products, help customers discover your website by optimizing your store locator page. If you have both physical locations and an ecommerce store, make sure to specify that online shopping is an option. Local search success can significantly improve overall brand reach and ecommerce revenue.
"Ways to use" words. Maximize your blog (if you have one) and other web content by creating features that inspire customers to cook more with your products. An example: "5 Ways to Use Pesto in Your Favorite Comfort Dishes."
Nutrition facts are another underused source of traffic. Nearly 90% of customers read food labels, so help customers make informed decisions by optimizing your digital content with nutritional details.
Focus on Earning Quality Backlinks
Whenever authoritative websites link to your online store, search engines like Google give you a bump up in rankings. It's less about the quantity of those backlinks, and more about their quality.
Partnerships with influencers are one of the best ways to start accumulating quality backlinks. Ask them if they would be willing to mention your brand in an article or an Instagram post in exchange for freebies and product samples. Blue Apron, for example, became a well-oiled backlink building marketing machine by partnering with mommy bloggers and Instagram influencers.
Other options include donating to charities or sponsoring a local event, such as a food festival. A sponsorship often includes promotional mentions, website and social media features, and other opportunities to receive links back to your website in posts and e-blasts.
Existing relationships with business partners and vendors can also provide your business with a considerable number of links. At Americaneagle.com, we regularly link to our partners' websites, whether in press releases, case studies, or other popular content. Our digital marketing team consistently helps our clients to build upon their existing relationships and increase relevant traffic through effective SEO tactics, including backlinks.
Contact us today at (877) 932-6691 to learn how Americaneagle.com can help your brand reach new customers.
Optimize Your Images for Search Engines
Following best practices for images on your website can give your brand an SEO advantage. Your food and beverage website, most likely, utilizes a wide range of visual communication and images that showcase your products, your team, logos, and more. Image search has become more popular within search engines in recent years. Image optimization will help you grow reach. To get promoted by search engines, ensure that your image files are properly named (descriptive file names), sized, and include optimal alt text.
Here are some best practices for optimizing web images:
Be certain files are saved within the RGB color space, not CMYK.
Choose JPEG for full-color photos or illustrations (raster) and SVG for logos and icons (vector).
Keep your image file size under 200 KB, even less if you can do so without intolerable sacrifice to quality. Use professional image editing software, like Adobe Photoshop, or even a free online image compressor to minimize the file size of JPEG, SVG, GIF, and PNG images. Doing so improves the loading speed of each web page that displays the file.
Place photos and infographics close to the related written content to signal relevancy to search engines like Google.
Write captions, but don't overstuff them with keywords and risk penalization by search engines.
Add keyword-rich, descriptive alt text to every image to rank higher on Google Image Search.
Image optimization goes beyond keywords and SEO. Quality photography and graphic design is a high priority and an important investment for leading food and beverage brands. Show the very best of your brand in your images. Get creative with your presentation, focus, background, combinations, and lighting. Brewdog, a multinational brewery and pub chain, does an excellent job of enticing its audience with unique pictures of the brewing and tasting processes. Inject brand personality that aligns with your products and culture. To make your products stand out, include a selection of large images and extreme close-ups with as much detail as possible.
Mobile Optimization
The world wide web is now in the palm of the hand of food and beverage consumers everywhere they go. It is impossible to truly maximize SEO performance for your brand without consistently optimized mobile-first design and development considerations.
Responsive Website Design
Responsive design, which ensures optimal website performance and user experience across multiple digital screen sizes, like smartphone mobile devices, is essential to modern SEO for digital solutions. Popular search engines have confirmed that mobile-friendly websites receive preferred positioning in search engine results pages (SERPs). The flexibility of well-executed responsive design promotes mobile browsing success.
Optimize Site Speed
Follow these best practices to improve site speed for mobile browsers and SEO success:
Reduce the quantity of elements on each page (HTTP requests)
Compress image files
Ensure efficient and well-written code
Minimize JavaScript
Secure a hosting provider with a reputable content delivery network (CDN)
Web development services from Americaneagle.com can help optimize site speed for your brand.
Optimize Mobile Navigation
Simplify your food and beverage website's navigation to make it easier for mobile users to get to the content, features, and functions they need. Review analytics specific to mobile users to be confident you know exactly what your handheld browsers are utilizing from your website. Prioritize navigation clarity and test functionality and ease-of-use on touchscreens.
Boost Your Food and Beverage Brands with Local SEO
Local SEO leads geographically-focused digital marketing. When it's done right, it provides productive opportunity for food and beverage brands to reach the people closest to them. Geotargeted efforts that blend organic strategies with paid ads can reach audiences with laser-focused proximity radius, IP targeting, zip codes, geofencing, and other methods.
Optimize Google Business Profile (Formerly Google MyBusiness) Listings
Claim and verify Google Business Profile listings for all physical addresses associated with your food and beverage company. More than a simple listing, this highly visible collection of information displayed within Google search results provides businesses full control over their address, phone number, website link, promotional images, products, reviews, Q & A, and more.
We provide greater detail and instructions within "How to Edit Google Business Information on Google Business Profiles."
Get Reviews
Mae West, a showbusiness celebrity of the mid-1900s, famously stated that "flattery will get you everywhere." When it comes to online reviews, that remains true today. When satisfied customers share complimentary reviews of products and brands, people listen. Shoppers trust the experiences of others.
How can your business promote positive reviews on highly visible platforms like Google and Yelp? Listen for your opportunities.
Professionals within high performing food and beverage businesses receive compliments all the time. Whether it is within email, conversations, contact us forms, satisfaction surveys, or any number of other ways, a light bulb should go off every time you receive thanks and appreciation from a customer. An appropriate response from any brand representative can be, "Thank you. Your experience with our product is important to me and all of us at (brand name). I would love for others to hear about it. Have you ever shared an online review via (insert review platform of choice)?"
More insights and ideas for your brand to promote positive reviews, testimonials, and social media engagement are shared in, "You Should Be Social Proof Marketing."
Use Local Keywords
Businesses can further align themselves with local communities by including "insider" keywords specific to their region. Identify local keyword opportunities to incorporate neighborhood names, counties, popular landmarks, annual events, or area sports teams and institutions. Be observant within your community. The more engaged you and your colleagues are in the communities you serve, the better you'll be at identifying appropriate local keyword opportunities that can benefit SEO for your food and beverage brand.
Attract local customers with our local SEO services.
User Experience (UX)
Customer-focused websites perform better when it comes to search engine optimization. Helpful content in well-executed digital solutions get proven results for food and beverage companies.
Clean and Intuitive Design
There are many elements of website UX that impact SEO performance for food and beverage businesses. Clean, professional design with an engaging layout and easy-to-read fonts minimizes communication friction. Modern search engines pay attention to intelligent UX signals and value UX success within search engine results.
Easy Navigation
Search engine robots benefit from easy navigation as much as your website users. Organize your website's content in a logical manner, providing clear navigation options and links. Often, navigation channels are driven by the website's most popular user intent. Regularly review your website analytics from a navigation perspective. Are there opportunities to create a quicker, more intuitive path toward your website's high-demand pages?
Fast Loading Times
Major search engines have consistently shared their algorithm's appreciation for fast-loading websites. Aim to be the best in the business when it comes to website optimization for speed. Every advancement your brand can make to speed up the delivery of your digital resources for site visitors will improve your overall SEO. As an extra bonus, fast-loading websites will also improve user satisfaction. It's a win-win.
Enhance your website's user experience with conversion rate optimization services from Americaneagle.com.
Content Marketing
Customers look to food and beverage brands to be subject matter experts. Prioritize content marketing strategies to ensure your brand's voice is prominent and respected in your market.
Create Valuable and Informative Content
Certainly, detailed product information and brand differentiators should lead content considerations within your digital solutions, but exceptional content marketing goes beyond that. What peripheral topics can you develop around your products to grow reach while you earn respect and trust? The quality of your website content tangibly represents the quality of your products and services. Approach content marketing from the perspective of your typical buyers. What do they need? What is important to them? How do they engage with your industry or product niche?
Use Relevant Keywords
Keyword strategies should be consistently interwoven with your brand's content marketing plan. Search engine optimization centers around the keywords you target. Take advantage of opportunities throughout your content topics that can amplify and expand upon the keywords that have proven to drive traffic to your site and promote customer conversions.
Establish Brand Authority
As the content for your food and beverage brand satisfies the curiosities of digital guests and answers the questions they have, your brand builds trust and affirms authority. You have an abundance of expertise to share. That begins with your product expertise, but does not end there. Claim your industry voice and share your perspective for an expanded reach within well-researched, timely, and brand-appropriate digital content.
Engage your audience with our content marketing and copywriting services.
Social Media Integration
Today's consumers expect to find their favorite brands on social media. Many potential customers will visit the social media profiles for a brand long before they considering a visit to their main website. Consistent brand representation, promotion, and active participation within major social media channels is no longer a peripheral consideration, it has become an absolute necessity within modern marketing strategies.
Promote Content on Social Media
Successful food and beverage brands are expanding their reach and engagement via social media. Platforms like Facebook, X (formerly Twitter), TikTok, Instagram, and LinkedIn offer businesses various ways to promote content of different formats to their followers. Popular content gets amplified when followers elect to share branded posts. This modern version of "word-of-mouth advertising" is a grass roots way to improve brand visibility and grow reach. Links shared across social media will increase overall backlinks and website traffic, positively influencing SEO as well.
Encourage User-Generated Content
Have you seen a food prep video on social media lately? Most likely, you have. These videos are among the most popular and viral content on social media channels. Wouldn't it be great if some of those popular culinary videos featured your food and beverage brand? Encourage your best customers to share their favorite recipes, and their best food prep video clips, that feature your products within their social media profiles.
Use Social Media Advertising
Social media advertising is effective for many food and beverage brands and can also provide a lift to SEO. Increasing brand recognition, website traffic, and reputation advances SEO success. Test targeted ads on the most active social channels for your business. In reaching new customers with your ads, you are likely to also improve your SEO.
Food and beverage brands are expanding their reach with social media marketing services from Americaneagle.com.
Voice Search Optimization
Voice search integration with connected devices has led to the numbers of voice searches performed each day to skyrocket.
Use Natural Language
Smart food and beverage brands are optimizing their branded resources for voice search success. To do so, they are consistently writing content in a conversational tone to match voice search queries. How can your content answer a common question regarding your products or particular industry segment? Let that question drive conversational responses within your digital content.
Use Long-Tail Keywords
Because voice searchers tend to use their natural speaking habits using complete sentences, long-tail keywords successfully align and produce consistently strong results. They also have lower competition. Specificity is the secret sauce in long-tail keyword performance. What are the specific ways your products are differentiated? What are the questions you hear as customers engage with your brand? Your business should know those answers, and those answers can lead to specific, high performing long-tail keywords.
Schema Markup
Schema markup is specific code vocabulary that is standardized to help search engines understand website content and its brand intent. Accurately representing your brand's digital resources with schema markup increases search engine visibility and grows reach.
Implement Structured Data
Specific data that is included within schema markup, such as postal addresses, phone numbers, star ratings, and more, help search engines to confidently index and represent those essentials within search results. Add structured data within schema markup to your website and improve search result success.
Improve Chances of Appearing in Rich Snippets
Using Schema to offer structured data ensures that search engines clearly understand the content of your website. This clarity empowers major search engines to display your content more visually and distinctively within search results. The prominently featured, enhanced listings within SERPs are referred to as rich results or rich snippets.
Video Optimization
Content available to online users throughout the world grows every day. There is no content category that has grown at a faster rate than video. SEO considerations for video are unique. They can also significantly contribute to successfully lifting brand success within search engines. Americaneagle.com teams with clients to ensure best practices for video quality, captions, titles, descriptions, thumbnails, indexing, transcripts, accessibility, keyword plans, tags, calls-to-action, and promotion. All of these factors contribute to high performing branded video content.
Create and Optimize Video Content
Video can be the most compelling type of content to engage others in your brand story. People consume a high capacity of video each day via televisions, theaters, computers, and smartphones. More and more brands are prioritizing video production beyond traditional 30- or 60-second ad spots. YouTube channels and social media platforms offer the opportunity to distribute video features and series to promote specific brand initiatives. Optimize your video efforts by making them accessible to new audiences across popular online video outlets.
Use Relevant Keywords in Titles, Descriptions, and Tags
Video content provides additional opportunities to sprinkle in relevant keywords to lift visibility and reach. Thoughtfully inject targeted keywords beyond your script and captions, including them in your video titles, descriptions, and meta tags to improve search results.
Customer Reviews and Testimonials
Successful brands have consistently invested in customer relationships and built trust to the point where they earn true brand advocates within their customer base. Those are the voices to amplify. Encourage your most consistent and loyal customers to share reviews and testimonials. In most cases, that request provides an affirmation to that customer that their experience is important to your brand. That is impactful and can further promote their affinity for your products and services.
Showcase Positive Testimonials
When you receive commendations and testimonials, share them. There are opportunities to amplify testimonials throughout advertising campaigns, websites, social media posts, email, and print promotions. Client testimonials are authentic representations of your best brand relationships and affirm trust and credibility with prospective customers.
Competitor Analysis
Analyze Competitors' Keywords, Backlinks, and Content
Popular SEO tools, like Semrush or Ahrefs, provide opportunities to analyze your competitors' digital strategies and success. Are competitors achieving higher keyword rank than your brand via specific content development or backlink promotion? Are there impactful keywords for which they seem to be underperforming in comparison to your brand? Knowing more about your competitors' SEO performance will help your brand's ability to compete and win.
Identify Opportunities for Improvement
In every competition, participant strengths and weaknesses get exploited. When brands compete within a marketplace, SEO competitor analysis provides valuable insights to advance digital success. Even when brands have substantially different market share, there is plenty to be learned within the digital strengths and weaknesses of competitors. There is always an opportunity to improve search visibility for specific targets and outperform key competitors.
Analytics and Reporting
Monitor and Analyze Website Traffic and Conversions
Search engine optimization success improves organic traffic to your website. That is why it is always worth your best effort. Effective SEO will increase the reach and visibility of your food and beverage brand, providing you more opportunity for customer conversion and revenue growth. Regularly track your organic traffic performance within available analytics tools.
Use Tools Like Google Analytics
Certainly, the most prominent of analytics tools is Google Analytics. The free analytics platform from the most recognized name in search is currently on version 4. Google Analytics 4 (GA4) provides food and beverage companies valuable insights into their website traffic, user behavior, conversions, and more.
Could your brand benefit from a data quality audit with Americaneagle.com?

Technical SEO
Numerous on-site technical elements can contribute to sustained search engine performance. These website specifics fall under the umbrella of technical SEO, and include the optimization of XML sitemaps, metadata annotations, site speed, site architecture, prioritizing content, and beyond. Consistent proficiency in technical SEO ensures that websites are comprehensively indexed by leading search engines, positioning them favorably in keyword search rankings.
Fix Broken Links
Broken links impair SEO as they diminish backlink authority, time on site, and lead to skyrocketing bounce rates. Broken links, and their 404 Not Found errors, signal to search engine crawlers that your website is outdated and unkept. Identify and repair broken links on your website to improve user experience and search engine indexing.
Remove Duplicate Content
Google, and other major search engines, do not want duplicate content showing up within their search results. They have become very good at unindexing webpages, and even penalizing entire domains, for duplicate content. Eliminate duplicate content on your site to avoid search engine penalties and improve your website's SEO. Be careful that your consistent marketing language, often repeated across many sections and pages within your website, is not being interpreted as duplicate content.
Address Crawl Errors
Free tools like Google Search Console can help identify crawl errors. Promptly resolve all crawl errors to ensure search engines can consistently index your website with success.
These tips should help you get a better understanding of how SEO can boost your digital reach, conversions, and sales. If you need a reliable SEO partner for your food and beverage brand, Americaneagle.com is the clear choice. Contact us today at (877) 932-6691 to learn more about our digital marketing services.
---
About Author
---