Modernized Sitefinity Site Boosts User Experience and Self-Sufficiency
Based in St. Louis, MO and owned by Berkshire Hathaway, XTRA Lease is the leading provider of over-the-road trailers for rent and lease in the U.S. With about 50 locations, XTRA Lease offers a fleet of about 90,000 trailers for rent and lease, including dry vans, flatbeds, reefers, chassis, and storage trailers.
Challenges
As part of their digital transformation roadmap, XTRA Lease wanted to apply new technologies to increase efficiency of their mission-critical branch processes and significantly improve the website user experience. To achieve this, XTRA Lease needed to move from SharePoint to a new Content Management System (CMS), in addition to creating an entirely new UI and UX for the website overhaul. Further, XTRA Lease relied on many manual processes for updating data on the website, which resulted in customers often being reliant on XTRA Lease's customer service and calling in.
Project
Platform
Industry
Professional Services
Transportation
Expertise
Digital Marketing
Web & Application Development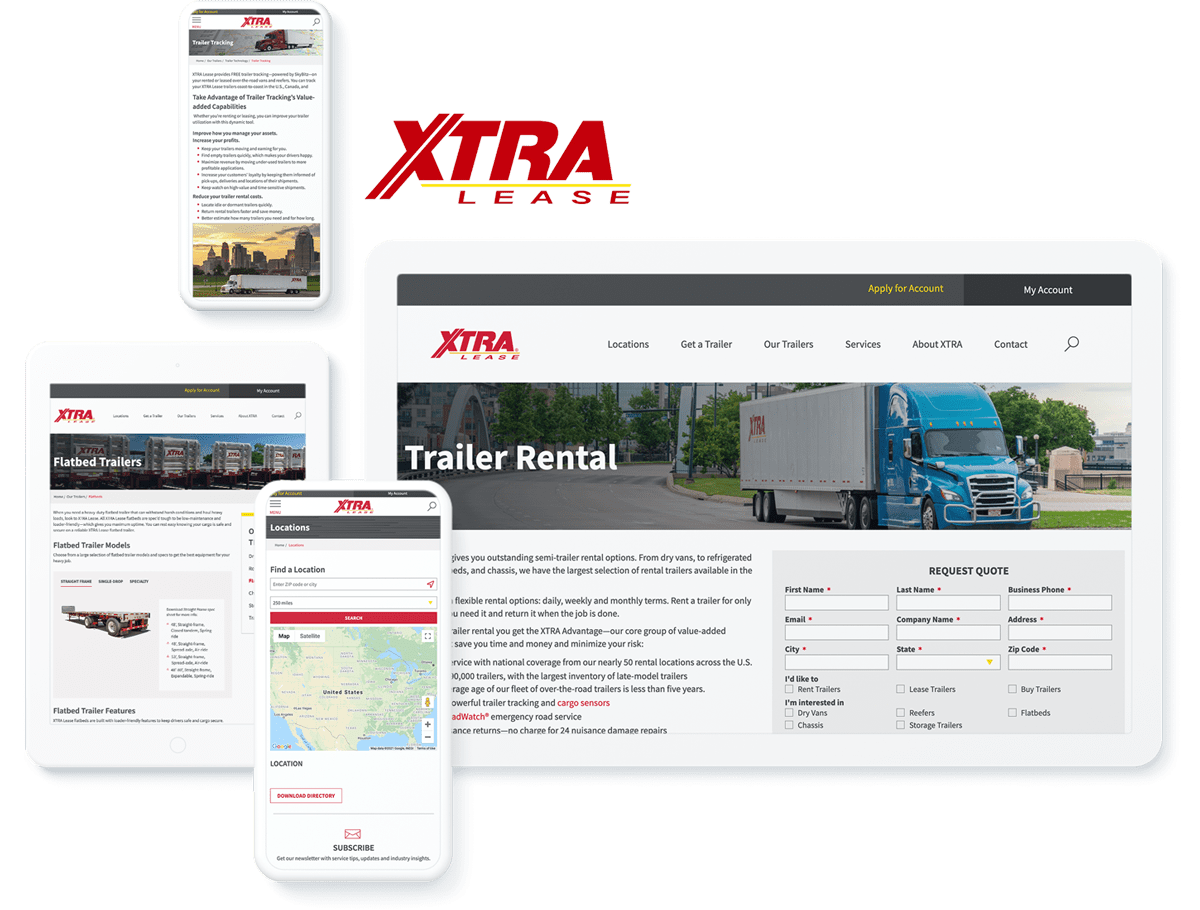 Solutions
XTRA Lease chose Americaneagle.com to lead the project because of their vast experience overall, and specifically as the top implementer of the Progress Sitefinity Content Management System (CMS).
To begin the project, Americaneagle.com started with workshops and technical planning, focusing on build specs for functional components, which would deliver the improved UX that XTRA's creative team wanted. Once the vision and tech specs were finalized, Sitefinity CMS was implemented, extended, and integrated with multiple XTRA Lease business applications, as well as Microsoft Dynamics 365 CRM. Americaneagle.com delivered the newly designed and implemented public facing website, inclusive of all relevant content that had been migrated, optimized, and styled from the old website and separate blog and career sites.
The new website boasts an array of visual and functional improvements, focused on delivering a better customer experience and making it easy for new customers to do business with XTRA. Notable improvements include a fuel savings calculator, the credit application system, real-time search of equipment and locations and much more. The website now embodies modern technical best practices, with flexible integration models which support connectivity to differing country-based systems, integration redundancies and accommodation of unique business requirements for data synchronization.
Overall, the new XTRA Lease website benefits from clean, trackable and informative analytics across KPIs and conversations. Additionally, the XTRA Lease team is self-sufficient in making website and content updates without involvement of developers. With Americaneagle.com's Sitefinity training and expertise, XTRA Lease is well prepared and equipped with an optimized site.