Soletrader (Twinmar Ltd.)
Site Features Responsive Design for Mobile and Tablet Users to have Access to eCommerce Site
UK company Twinmar operates three different brands, Soletrader, Soletrader Outlet and Sole, each with a corresponding website developed by Americaneagle.com. Soletrader, launched over 50 years ago, is the leading Twinmar brand and they have established themselves as a leader in designer footwear of the highest quality. Hand-selecting the best shoes from the most current brands, Soletrader provides a superior collection of shoes for men and women across all ranges.
Challenges
Soletrader turned to Americaneagle.com for the redesign of their current website. The company was suffering from an outdated design along with a cumbersome checkout process. Mobile usage also suffered since the site wasn't responsive. Soletrader needed a new solution that would bring them in line with today's shopper.
Project
Platform
Expertise
Digital Marketing
Web & Application Development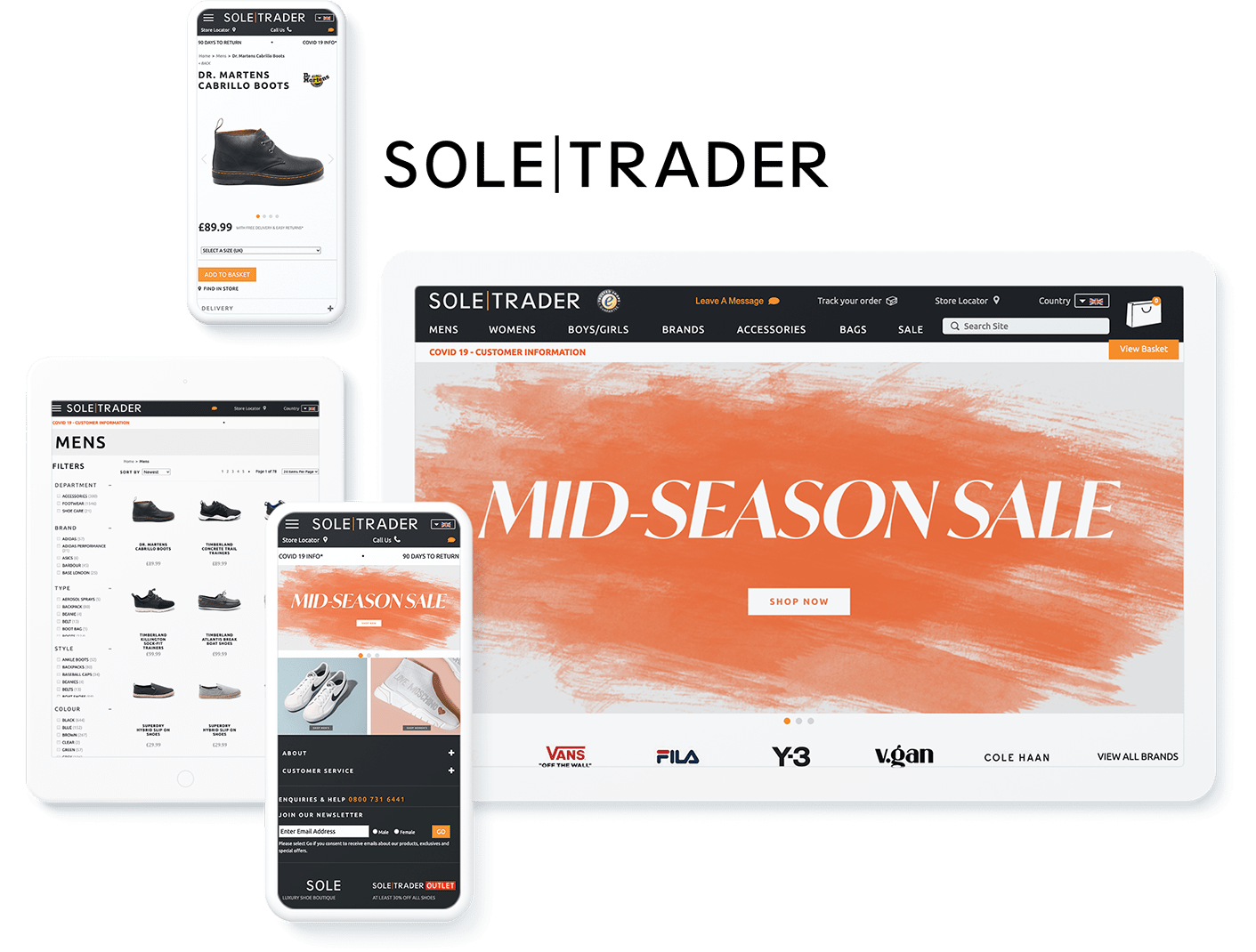 Solutions
Americaneagle.com redesigned and developed the site on ROC Commerce, a robust web platform that allows administrative users the ability to quickly edit pages, upload images and manage SEO.
The new Soletrader.co.uk site features modern and innovative design along with an intuitive navigation and faster speeds. Americaneagle.com created a user-friendly interface with responsive design that feels cutting edge and is perfectly aligned with the Soletrader brand.
The Soletrader site boasts outstanding features, such as a 'find in store' function, a currency converter that displays the price in US Dollars, Pounds, Sterlings and Euros, and global shipping options. The new site was built with a quick-buy function and a streamlined checkout process of just two or three easy steps.

"Through excellent project management and ecommerce knowledge, Americaneagle.com was able to deliver us a cutting edge, fully responsive website within a tight timeframe."