For over 25 years, Americaneagle.com has helped many clients in a variety of industries, with online excellence. We provide best-in-class web design, development, hosting, and digital marketing services.
In addition, Americaneagle.com is a Sitecore Platinum Implementation and Hosting Partner with expertise in building robust, customer-rich user experiences utilizing the latest capabilities of the Sitecore platform. For over 10 years, we've been providing quality Sitecore development services and support. Our expertise in strategy, UX design, digital marketing, and more allows us to build end-to-end digital experiences that deliver meaningful results.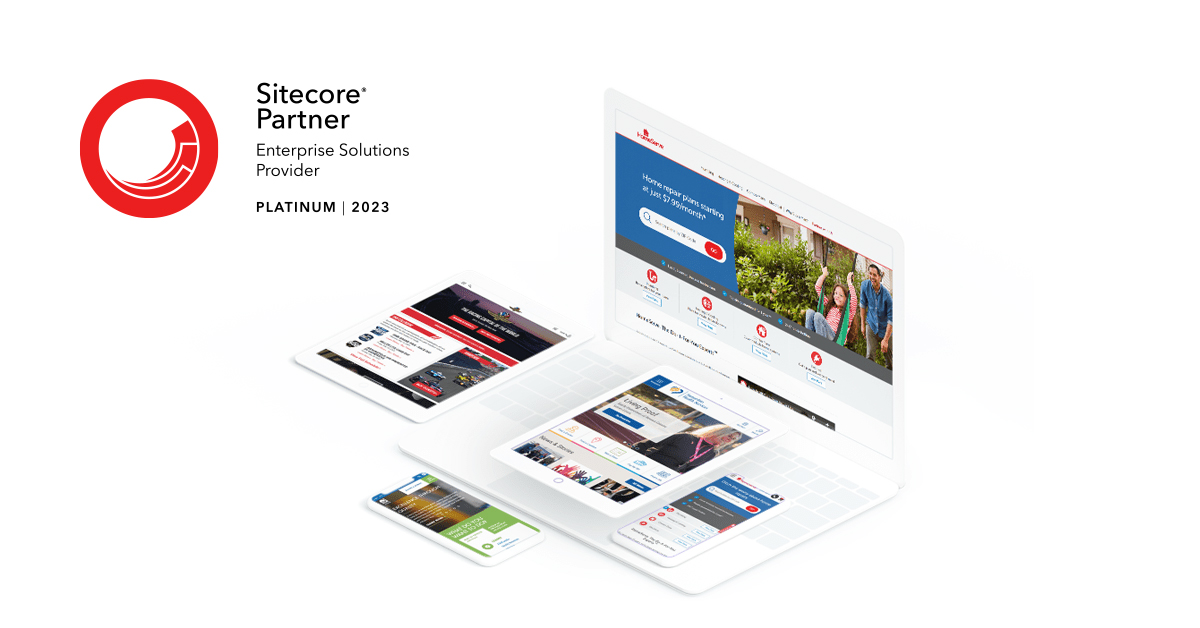 What Makes a Great Sitecore Website
A great Sitecore website leverages the power of Sitecore's digital experience platform to deliver exceptional user experiences. Some of the key factors that contribute to a great Sitecore website include responsive design, a user-centric navigation, and a clear visual hierarchy. By taking advantage of these key aspects, businesses will have a Sitecore website that delivers exceptional user experiences.
Responsive Design
Responsive design is mobile-friendly and provides an optimal viewing experience that adapts to different devices and screen sizes. Sitecore has built-in features and capabilities that allow users to create and deliver responsive websites and digital experiences. Americaneagle.com incorporates this feature into every Sitecore website we build, and tests the design on various devices and browsers to ensure a consistent and optimal viewing experience.
User-Centric Navigation

Website navigation is one of the most crucial aspects of website design. A user-centric navigation allows users to quickly and easily find what they're looking for, without hassle. To create a Sitecore website with user-centric navigation, our team keeps the navigation simple, consistent, and responsive. We also provide clear and concise labels and language, logical organization of the content, and well-placed CTAs leading to a Sitecore website that is engaging and conversion-friendly.
Visual Hierarchy
Establishing a clear visual hierarchy to guide users' attention to the most important elements on the page is critical for a great Sitecore website. Americaneagle.com uses size, color, contrast, and spacing to create focal points and effectively differentiate between headings, subheadings, and body text on every website we build. Images and icons are used to break up text and provide visual cues to guide users through the content. We keep the design simple and focus on the most important content.

Why Use Sitecore for Enterprise Website Design
The Sitecore platform offers a range of features and capabilities that make it an ideal choice for enterprise businesses due to functionality, scalability, and flexibility that caters to the diverse and complex needs of large organizations. It provides personalized content management, marketing automation, and customer experience management tools that can help businesses create engaging experiences for their customers across multiple channels.
Personalization and Customization

Sitecore excels in delivering hyper-relevant user experiences for every customer with real-time personalization and customization. Using real-time data and analytics, a Sitecore website integrates personalization and optimizes the digital experience for your target audience. Enterprises can tailor content, layouts, and interactions based on user behavior, preferences, and demographics, enhancing engagement and conversion rates.
Scalability and Performance

A great Sitecore website is designed to handle high site traffic and offers scalability to accommodate the growth of any enterprise organization. Its performance and optimization features ensure fast loading times and seamless user experiences, even for content-rich websites. With the constant advances in automation, personalization, and artificial intelligence, and with technology developing at a fast pace, Sitecore is flexible enough to adapt along with it.
Multichannel Marketing Automation

Sitecore's integrated marketing automation tools enable enterprises to create, manage, and optimize campaigns across multiple digital channels. The user experience adjusts to customers based on where they're at in their online journey, and it's consistent regardless of the point of engagement. This helps enterprises deliver consistent and personalized marketing messages that drive customer loyalty and brand awareness.
Advanced Analytics and Insights

The Sitecore platform includes built in analytics that provide valuable insights into user behavior, engagement, and campaign performance; this data-driven approach allows enterprise businesses to make informed decisions and refine their digital strategies for better outcomes. Sitecore-powered websites arm your marketing teams with live data and advanced analytics to optimize every digital marketing campaign.

Content Management Capabilities

Sitecore's powerful content management system (CMS) allows for easy creation, management, and optimization of digital content across unlimited channels and markets. The CMS platform supports multilingual content and workflow management, making it ideal for enterprises that have a global presence. It makes it easy to deliver standout content at scale and the Sitecore CMS can handle complex content needs along with providing developers with more agility.
Ecommerce Integration

For enterprises with online retail operations, Sitecore's platform includes ecommerce integration that gives your customers the experience they know and expect from today's growing list of online marketplaces. This integration facilitates the creation of personalized shopping experiences, streamlined checkout processes with order and transaction management, effective product promotions, supplier and merchant onboarding, and efficient workflow automation.
Security and Compliance
Security is essential and a top priority for Sitecore. With advanced security features and industry best practices, a Sitecore website ensures that enterprise websites are shielded from any threats. The platform also ensures compliance with data protection regulations and industry standards, safeguarding the reputation of enterprise brands and the privacy of user data.
10 Best Sitecore Website Designs for Enterprise Businesses
Renown Health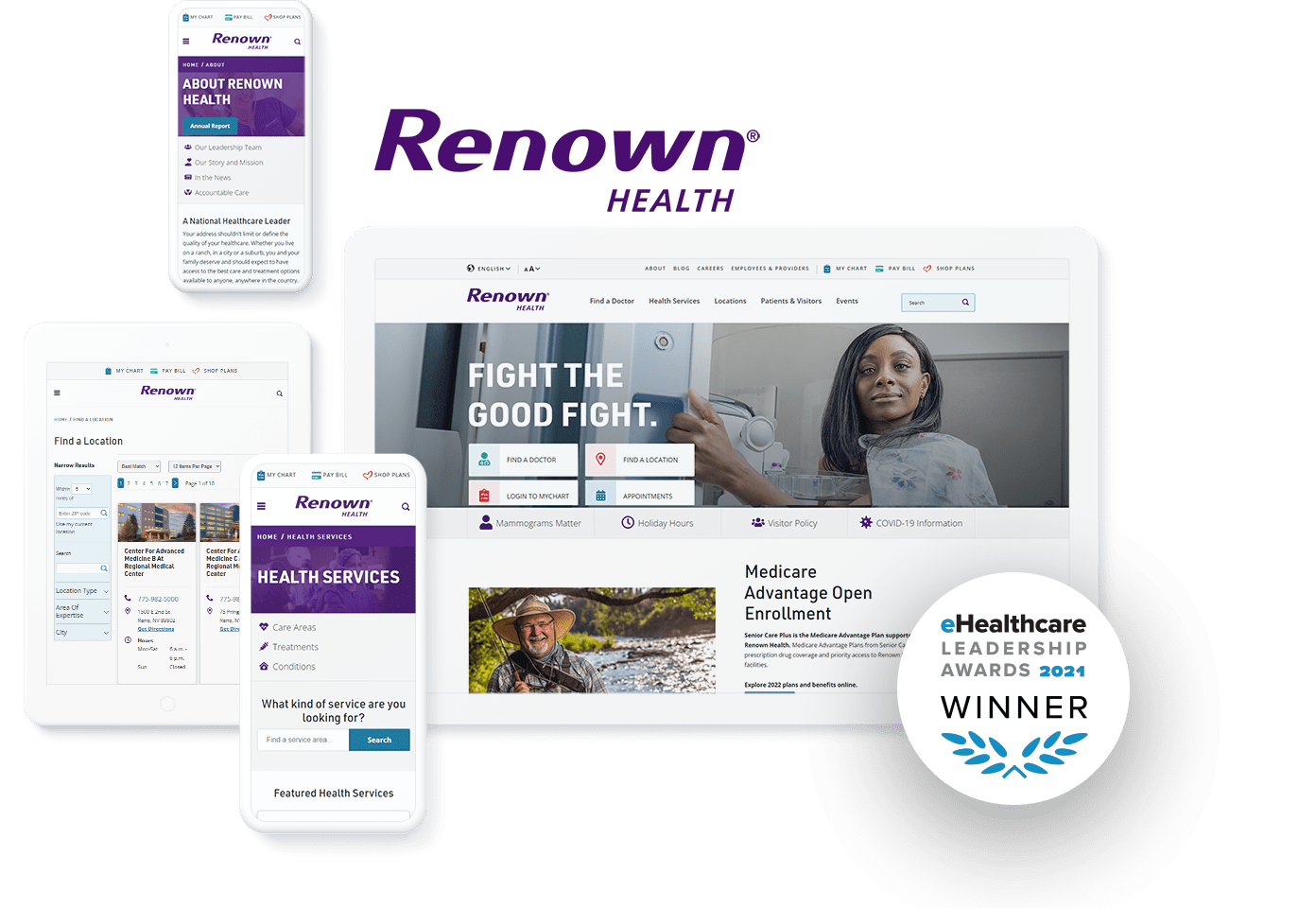 Renown Health wanted a single, unified website platform and content management system to house their array of properties under one name: renown.org. They sought the services of Americaneagle.com to bring their healthcare vision to life. With Americaneagle.com's expertise and experience in Sitecore implementations, we helped create a cutting-edge website for Renown's audience.
Cambium Assessment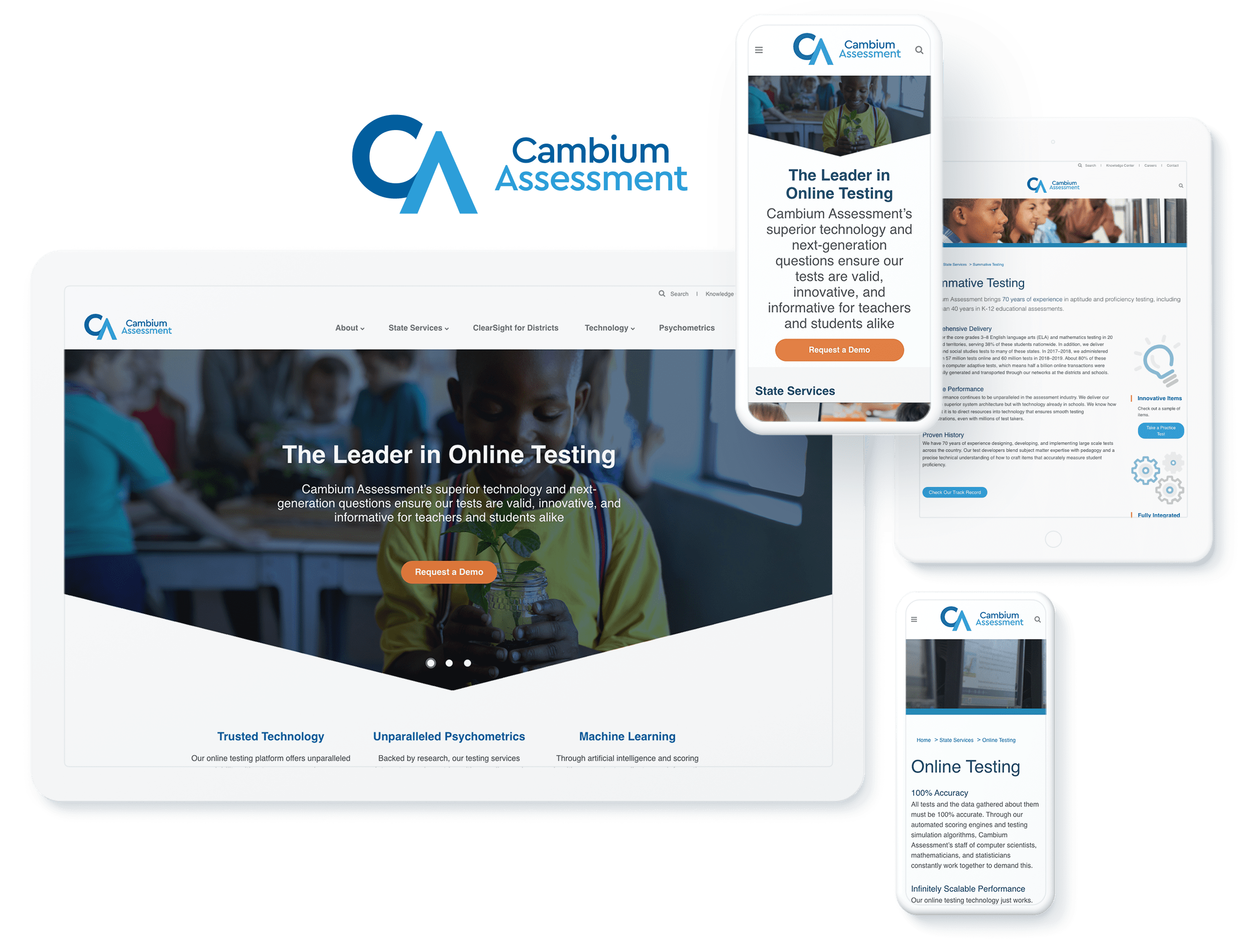 Cambium Assessment needed several web development, redesign, and hosting services. They needed a cutting-edge solution for their web presence needs. The goal was to implement a new Sitecore CMS for both the client facing and corporate portals. The corporate portals were completed in a multi-phased approach. We created a customized, user-friendly website on Sitecore's state-of-the-art Content Management System (CMS). Their hosted web portal is perfect for educational institutions and it serves their 30+ clients across the country.
Institute of Management Accountants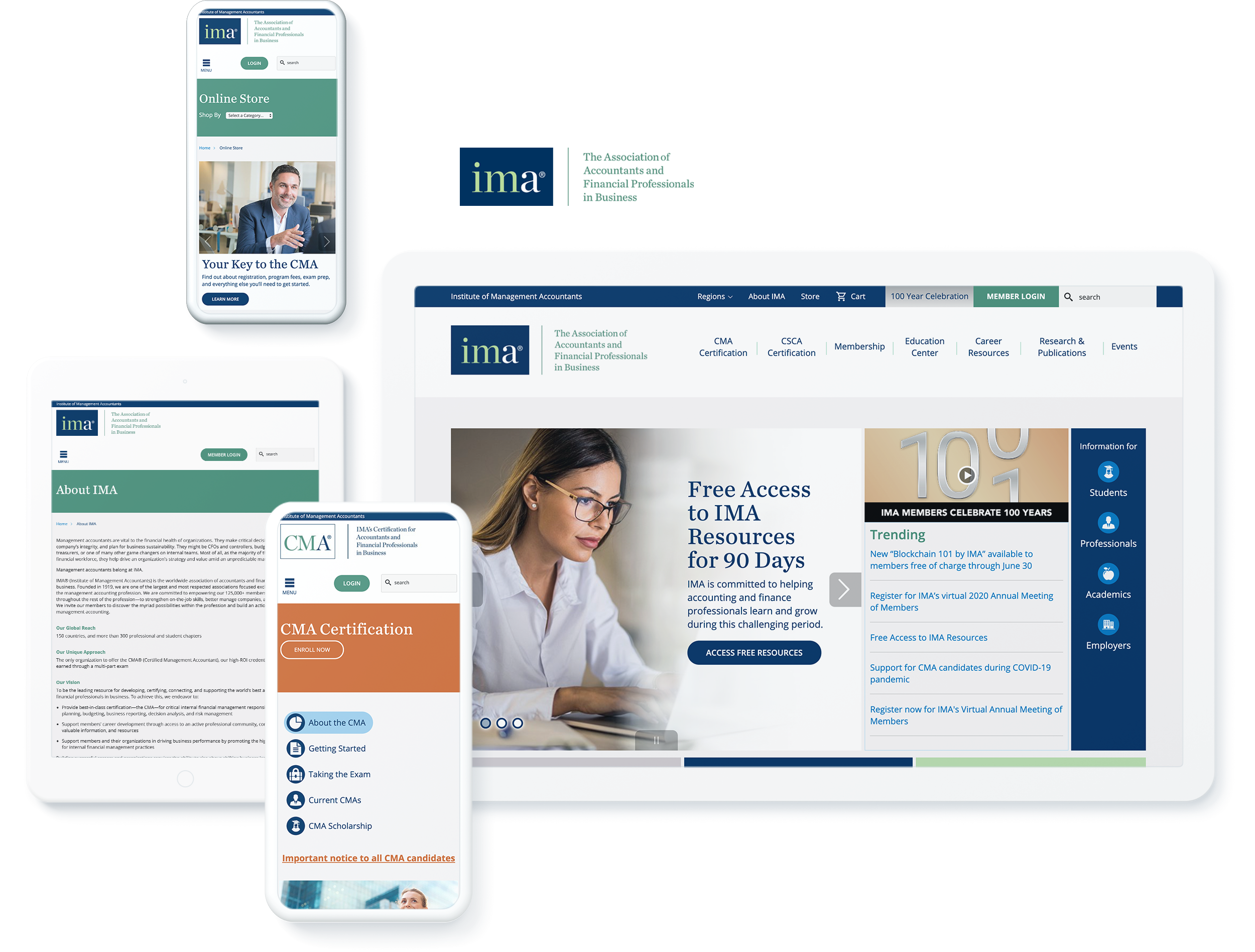 IMA approached Americaneagle.com for website design and development. The new website was built on the Sitecore CMS, enabling administrative users to create pages, upload images and manage SEO. The site also includes a responsive design so mobile and tablet users can quickly access the information.
Nashville Electric Service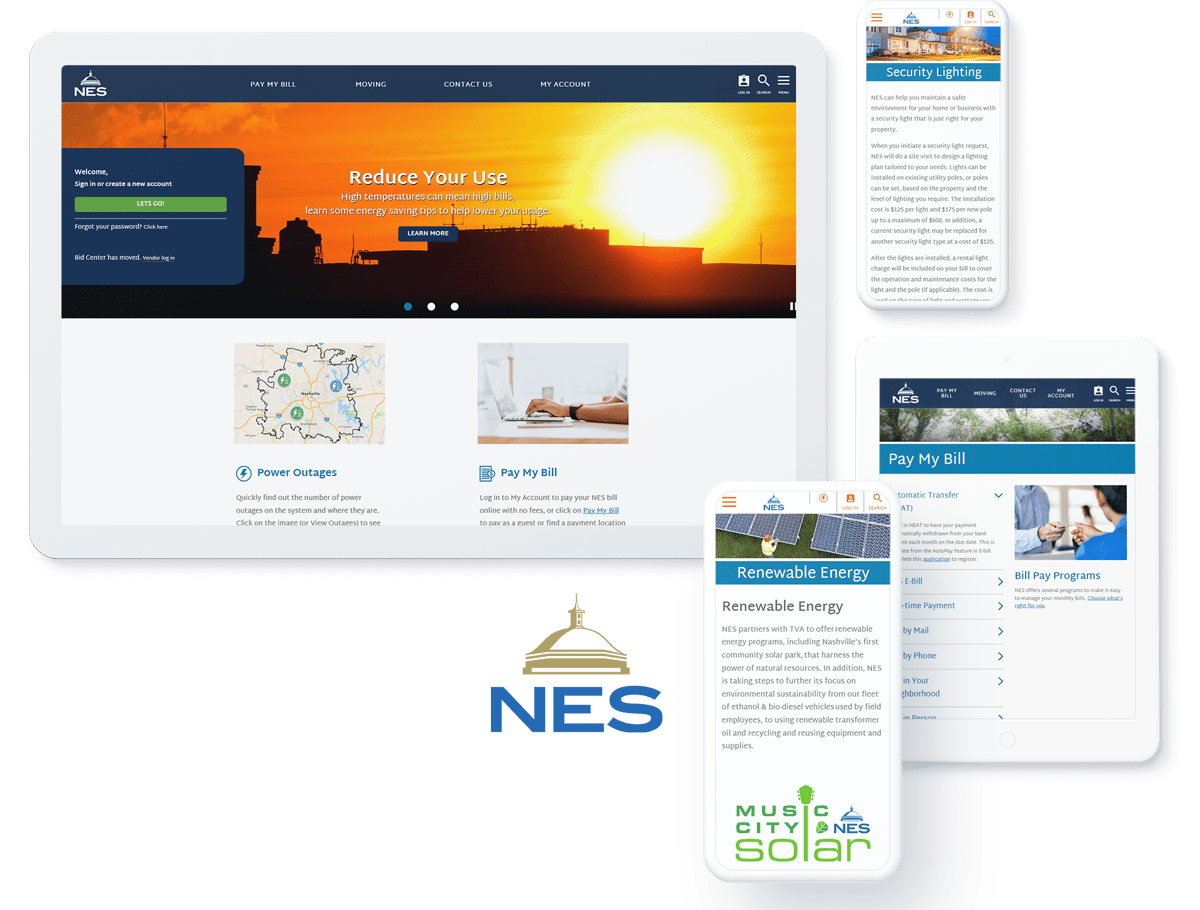 NES has partnered with Americaneagle.com to update their Sitecore web solutions. As part of this project, NES wanted to enhance their customers' experience by implementing a single sign-on system for integrated website account tools and services. In addition, NES wanted a streamlined and user-friendly interface.
HomeServe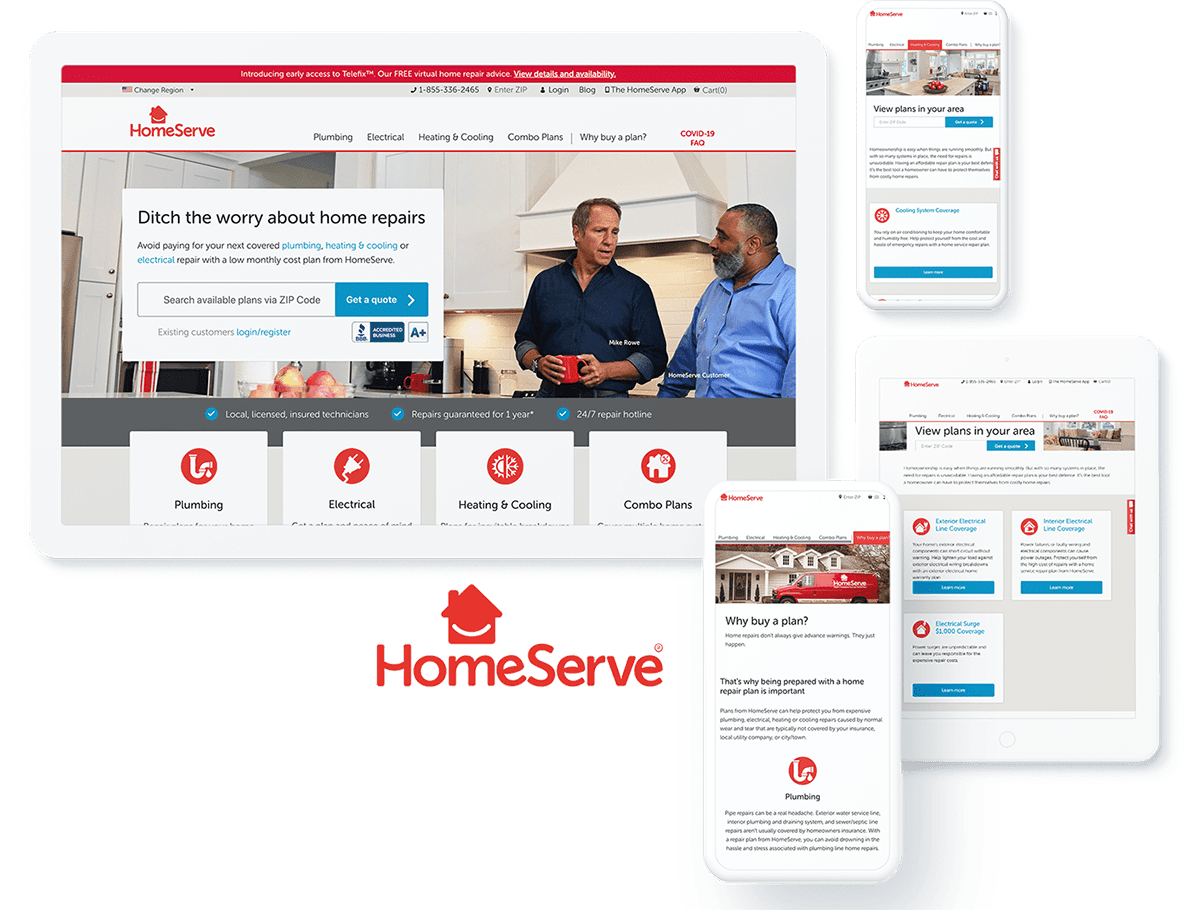 HomeServe partnered with Americaneagle.com to achieve a complete digital solution. By migrating to Sitecore, Americaneagle.com was able to enhance HomeServe's digital capabilities. With the help of Sitecore, HomeServe now has a dynamic site generator that drastically speeds up their time to market. HomeServe now boasts a strong online presence that effectively showcases their long-standing commitment to quality customer service and home repairs.
Spraying Systems

Spraying Systems undertook a Sitecore redesign and re-platform project with a different provider. However, only one site and part of the solution were delivered. The primary goal was to create a scalable solution for multilingual websites that could easily access assets from a central source and allow marketers to manage each site independently without IT assistance.
Embrace Home Loans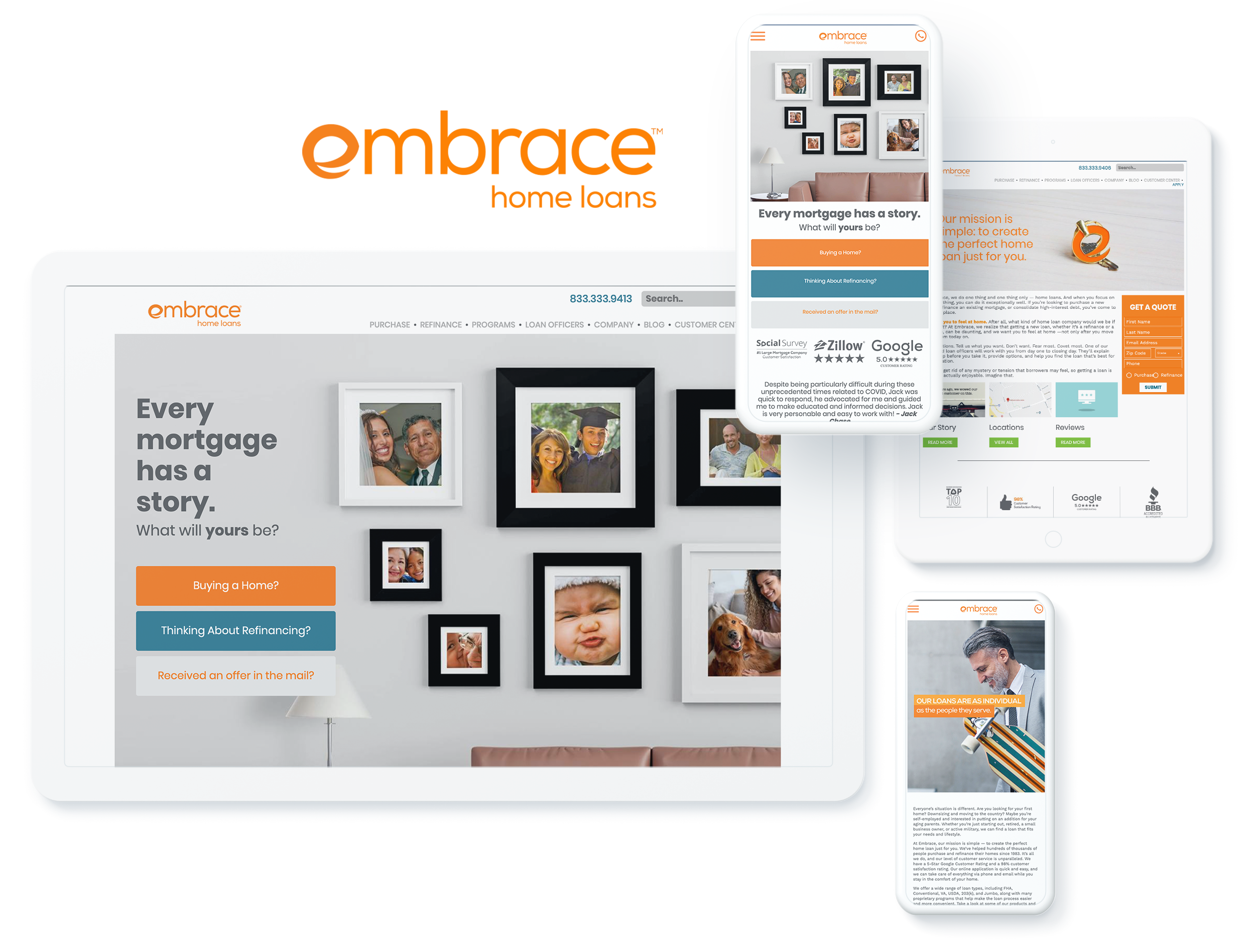 Embrace Home Loans specializes in lending for new purchases, refinancing, existing mortgages and consolidation of high-interest debt. They needed an experienced web partner to assist with Sitecore implementation, strategy, and graphic design. Embrace Home Loans turned to Americaneagle.com for a a Sitecore audit and upgrade, along with ongoing support, and Experience Marketing Strategic services.
United Wholesale Mortgage


UWM needed a streamlined way to create and showcase content and improve the overall user experience and onsite search capabilities. To achieve UWM's goals, Americaneagle.com produced a robust business, design, technical, and content strategy and implemented a composable stack that included Sitecore XM, Sitecore XP, and Coveo Enterprise.
Nordson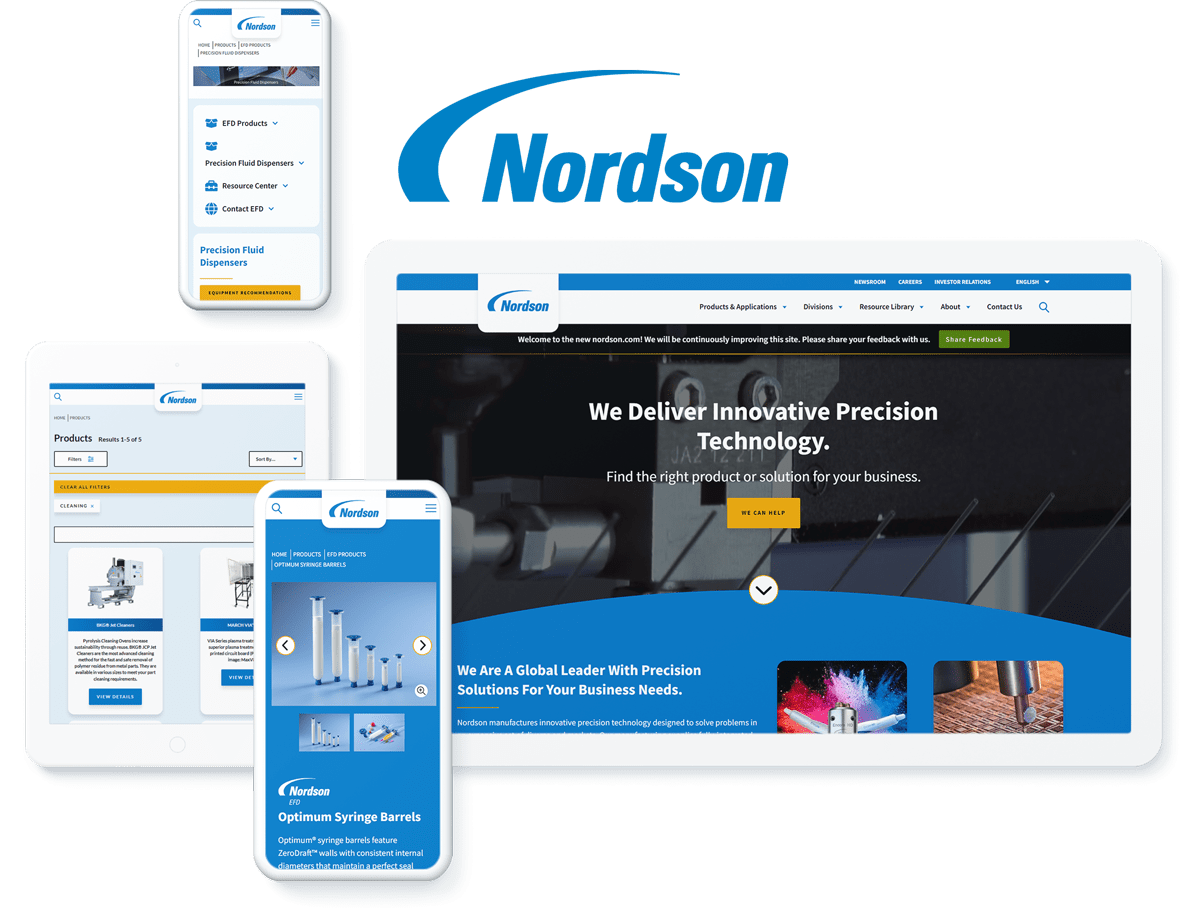 Nordson, a global company consisting of three major segments, is actively expanding through acquisitions and internal developments. They recognized the need for a digital agency partner to enhance their corporate branding and improve user experience across all digital platforms. They found Americaneagle.com!
The Joint Commission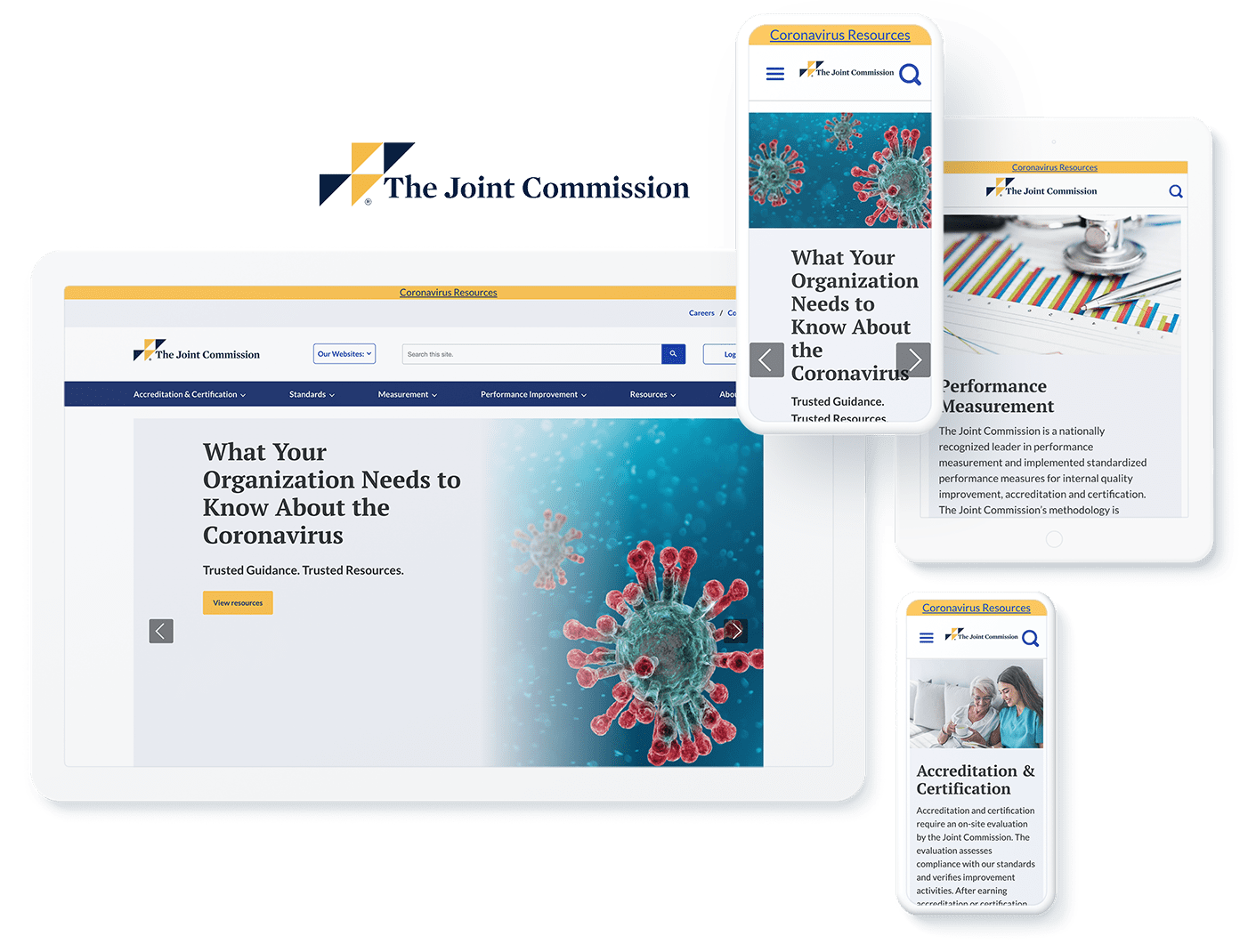 Because it operates four key lines of business, the Joint Commission had various, disconnected web properties that were difficult to navigate and utilize. The organization came to Americaneagle.com to consolidate its websites into one unified presence that still enabled them to hit their customer acquisition and lead generation goals. Americaneagle.com developed all four of the websites on the Sitecore platform, eliminating redundancies, streamlining the user experience, and crafting cohesive, yet distinct branding.
FAQ about Sitecore Web Design
What is Sitecore and how is it used in web design?
Sitecore is a comprehensive CMS platform that allows administrators to create, manage, and optimize their websites and digital experiences with the platform. It also offers features like personalization, analytics, and multichannel marketing, to name a few.
How does Sitecore support personalized web design?
The Sitecore platform helps boost engagement and conversion rates with tailored content, layouts, and interactions to match user behavior, preferences, and demographics.
Is Sitecore suitable for designing responsive websites?
Yes, Sitecore's platform is responsive and will seamlessly adjust to different screen sizes and devices, guaranteeing a flawless viewing experience on any device.
Can Sitecore integrate with ecommerce platforms for web design?

Yes, Sitecore offers seamless integration with top ecommerce platforms for personalized shopping experiences and streamlined checkout processes.
How does Sitecore ensure the security of web designs?

Sitecore prioritizes security with top-notch features and best practices to safeguard websites against threats, while staying in line with data protection regulations and industry standards.
Is Sitecore a scalable solution for enterprise web design?

Yes, Sitecore offers scalability to accommodate enterprise growth, regardless of where you're at in your online journey. It ensures high availability and performance with a cloud-ready architecture.
How does Sitecore facilitate content management in web design?

Sitecore features a powerful CMS, so you can create, manage, and optimize digital content easily. It also supports multilingual content and workflow management for seamless administrative operations.
Can Sitecore provide analytics and insights for web design optimization?

Yes, Sitecore's analytics tools provide valuable insights regarding user behavior and engagement, allowing you to make informed decisions and optimize your website for maximum engagement.
Is Sitecore suitable for designing accessible websites?

Yes, Sitecore creates accessible websites with ease. Their platform seamlessly integrates accessibility features, making it user-friendly for people with disabilities.
How does Sitecore support multichannel marketing in web design?

Sitecore's integrated multichannel marketing automation tools enables admins to seamlessly create and optimize campaigns across all their digital channels to boost brand awareness and generate loyal customers.
Americaneagle.com, a Sitecore Platinum Implementation Partner

The platinum partner status that Americaneagle.com has with Sitecore holds great significance. As a Platinum Implementation and Hosting Partner, our team has demonstrated exceptional expertise and a deep understanding of the Sitecore platform. This status is only achieved by meeting stringent requirements, such as having a team of certified Sitecore professionals and Sitecore MVPs.
Being a platinum partner means that Americaneagle.com has been recognized by Sitecore as a top-tier agency in terms of our capabilities, expertise, knowledge, and commitment to delivering outstanding Sitecore implementations. It also is a testament to our extensive experience and success in working with the Sitecore enterprise CMS and providing Sitecore development services to clients in a variety of industries.
Working with Americaneagle.com means you will be working with a trusted and reliable agency that has a proven track record of delivering high-quality Sitecore solutions. Americaneagle.com's platinum partner status also provides us with access to exclusive resources, training, and support from Sitecore, enabling us to stay at the forefront of the latest Sitecore developments and best practices.

---
About Author
---