Nordson Corporation Highlights Product Solutions within New Unified Web Presence
Nordson Corporation is an American multinational corporation that engineers, manufactures, and markets products used for dispensing adhesives, coatings, sealants, biomaterials, and other materials for fluid management, testing, inspection, UV curing, and plasma surface treatment. Nordson serves numerous markets including packaging, electronics, medical, appliances, energy, transportation, construction, and general product assembly and finishing. Founded in 1954 and headquartered in Westlake, Ohio, USA, they have operations and support offices in more than 35 countries.
Challenges
Nordson consists of three global operating segments that have grown significantly through recent acquisitions and internal advancements. They were seeking a digital agency partner to unify their corporate branding and user experience across their business's entire digital presence.

The internal teams at Nordson Corporation needed a sophisticated web solution that provided them with efficient workflow tools, advanced capabilities, an intuitive interface, and real-time integration across their existing business tech stack. Their digital experience platform, Sitecore, had not been initially implemented to maximize its extensive range of capabilities.
Project
Platform
Industry
Manufacturing & Distribution
Expertise
Digital Marketing
Strategy & Insights
Web & Application Development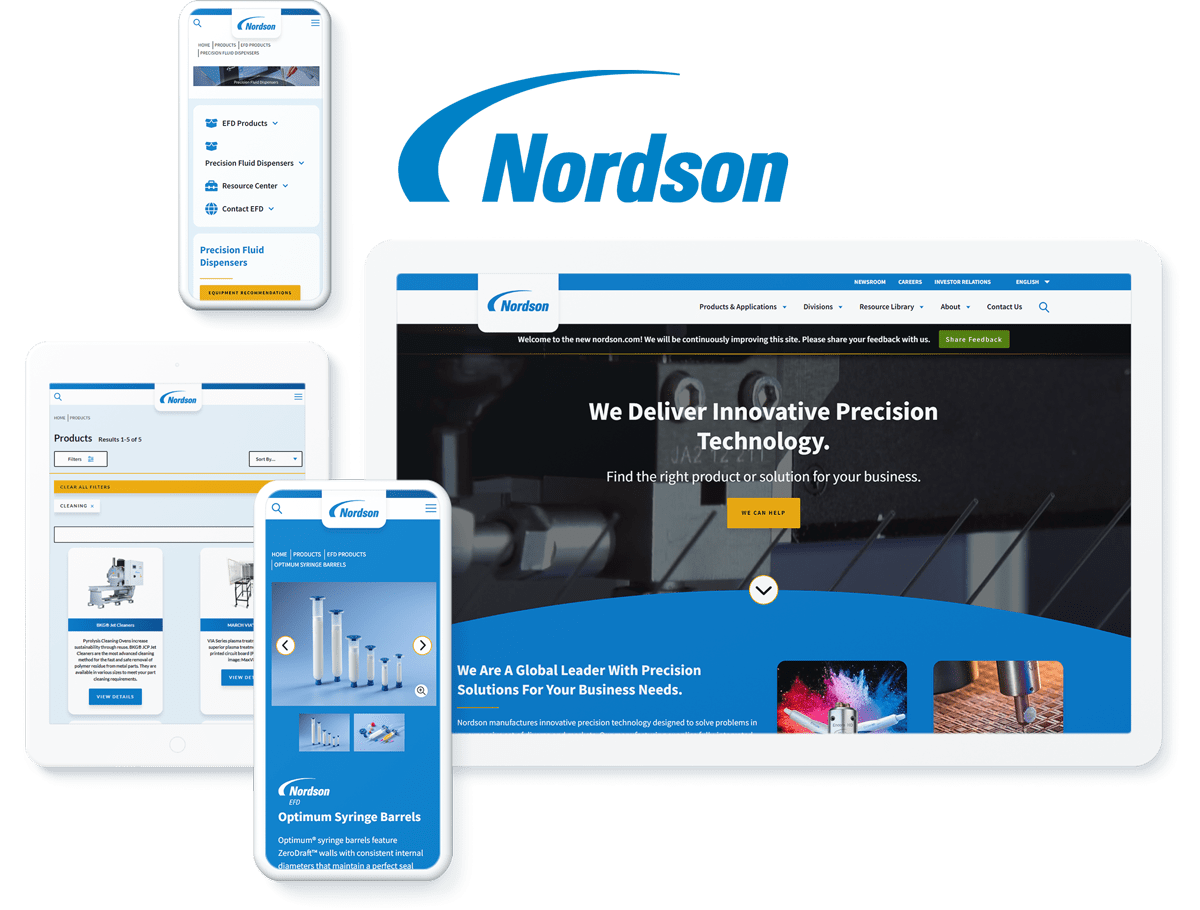 Solutions
Nordson Corporation selected Americaneagle.com to partner in reimagining a website solution that would be capably equipped to launch their next generation of business success. The agency's renowned Sitecore team, global experience, and successful track record serving multinational manufacturers provided Nordson the confidence that Americaneagle.com was the right partner selection.

The solutions team from Americaneagle.com led thorough business discovery and planning with all Nordson divisions that included professionals across a broad spectrum of business disciplines. Strategy priorities from those discovery meetings led to an informed framework and site plan that is now able to fully represent the breadth of Nordson Corporation within one responsive, consistently branded domain name at Nordson.com.

Asset management became an early priority to provide the organized foundation for website redevelopment success. Sitecore's Content Hub was utilized to coordinate internal collaboration between creators, editors, and approvers for content across all Nordson divisions. This effectively broke down content silos to advance content consistency, quality, availability, and successful omnichannel delivery. Connectivity between Sitecore's Content Hub and the platform's content management system (CMS) enables product views, description data, and other content to be dynamically updated throughout Nordson's new website.

Improved levels, consistency, and availability of detailed product and asset data supported sophisticated performance wins within Coveo site search. Custom search solutions provide intuitive results within common queries for brands, industries, product categories, and more. The search tool was also used to provide the logic behind a customized Product Quiz that engages the user with questions to narrow in on appropriate product solutions in Nordson's expansive inventory.

Currently, the website is available in nine languages. After selecting language preference, a user has full access to site resources that have either been interpreted or recreated within the Nordson domain. A translation workflow integrated with leading translation solution, Lionbridge, has been built into the Sitecore editing environment. The high-performing workflow and translation services has powered timely communication and product updates for more website users than ever before.

Sales teams throughout Nordson are benefitting from the efficient integration of leads from website forms with their internal customer relationship management (CRM) platform from SAP. The new website's seamless integration with the existing tech stack of Nordson Corporation continues to empower growth and efficiencies within their optimized digital solutions.
Partnering with Americaneagle.com has allowed us to prioritize next-generation digital solutions that unify our global brand. Maximizing the broad range of capabilities within Sitecore, our digital experience platform, our new web presence is also allowing us to diversify and personalize the delivery of product solutions specific to users' location and preferred language.