United Wholesale Mortgage
Customized Content Strategy Benefits Mortgage Lender's Wide Range of Users
Founded in 1986 and headquartered in Pontiac, Michigan, United Wholesale Mortgage (UWM), is the No. 1 wholesale lender in the country and works exclusively with independent mortgage brokers to provide a superior client experience. The organization leverages its resources and market position to provide training, technology and marketing support, and more, to help its entrepreneurial partners compete, win, and grow their businesses.
Challenges
UWM had an aging search and content solution, previously known as Ask UWM, that wasn't meeting business needs for their multiple personas. The company was using an older version of Coveo paired with Salesforce Communities that was not meeting their content or personalization needs for their multiple personas such as brokers, sales executives, and underwriters. Users were not easily able to find what they were looking for and much of the needed content wasn't possible within the old Salesforce Communities platform.
Project
Platform
Expertise
Experience Design
Strategy & Insights
Web & Application Development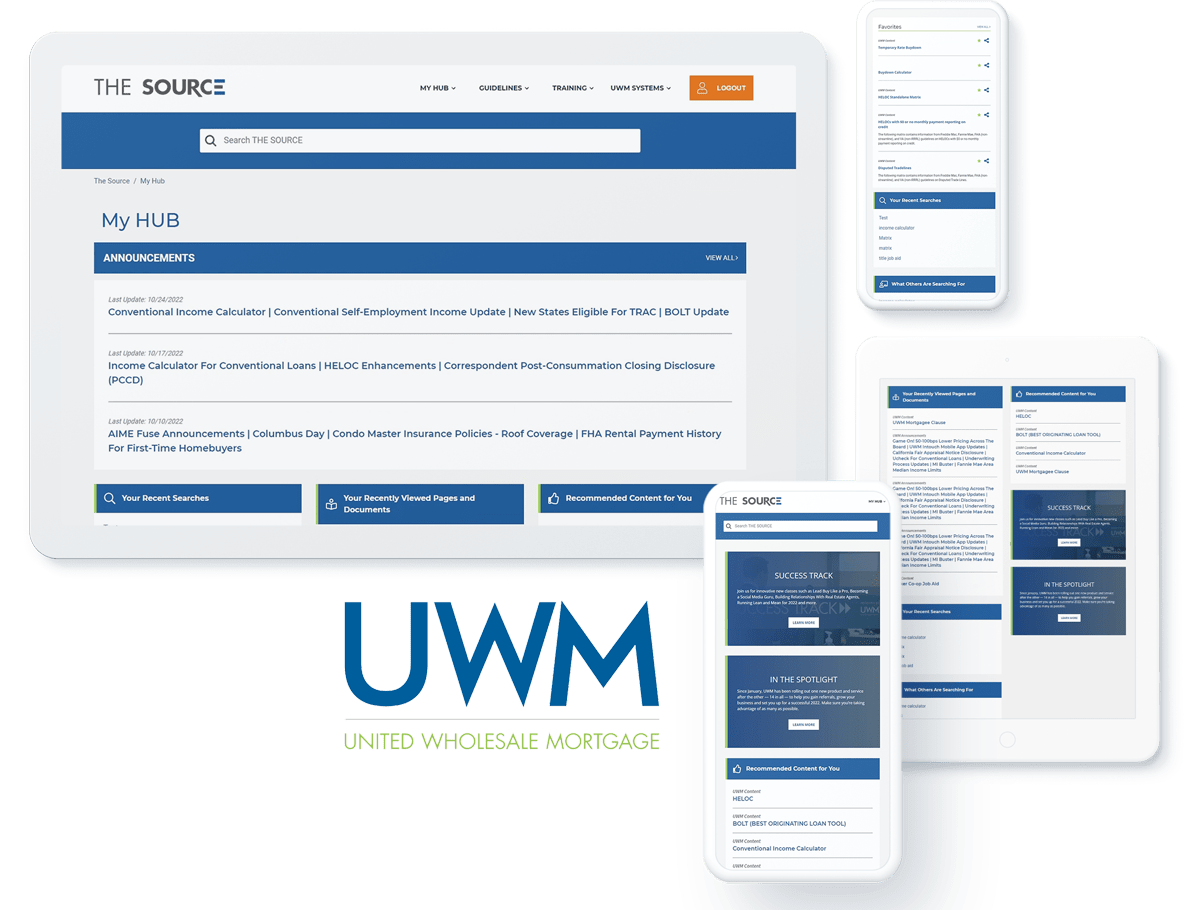 Solutions
UWM came to Americaneagle.com looking for a more streamlined way to create and showcase content and improve their overall search capabilities and user experience.
To achieve UWM's goals, Americaneagle.com provided robust business, design, technical, and content strategy. Following the discovery, the selected composable stack was decided to be Sitecore XM, Sitecore XP, and Coveo Enterprise. The overall platform was also completely rebranded from Ask UWM to The Source. As part of the project, Americaneagle.com converted thousands of documents into digestible web pages providing users the opportunity to find exactly what they're looking for in each guide. Documents from resources such as Freddie Mac, Fannie Mae, Veteran's Affairs, and more, were indexed, trimmed down from a collection of 10,000 to less than 1,000 web items, and then converted into individual, readable web pages.
Americaneagle.com created an advanced search feature to further enable users to locate and browse specific documents. To do so, UWM conceptualized some of their most common searches that were then user tested against each persona for accuracy and indexed by chapter and subchapter for readability. Additionally, users can favorite specific content to return to later, receive alerts when favorited content has been updated, and print and share links internally via email.
Lastly, to better service UWM users, Americaneagle.com created a central dashboard page that's personalized to each user type. The page includes personalized announcements, recent individual searches, recently viewed pages and documents, recommended content, content based on what similar roles are searching for, and favorited content.
Since partnering with Americaneagle.com, United Whole Mortgage has received complimentary feedback. It's wide array of user groups – brokers, account executives, underwriters, etc. – can now quickly and efficiently find the exact documents they're looking for, when they're looking for them. The partnership was a success and both parties are looking forward to collaborating on additional projects in the future.
Results
80

%

Successful Visitor Click Through to a Result

2.5

Average Click Rank

303,100

Unique Searches Per Month