Elevating the Healthcare Experience Through Consolidation
Renown Health is northern Nevada's leading healthcare organization and Reno's only locally-owned, not-for-profit health system. They are an entire network of Nevada hospitals, urgent care centers, lab services, x-ray and imaging services, primary care doctors, and dozens of medical specialties.
Challenges
Renown Health was using separate WordPress websites for their internal teams, patient portal, blogs, events, and more. However, as they continued to scale, they realized that having separate websites wasn't feasible in regard to achieving their overall company goals. The organization had a vision for a single, consolidated website platform and content management system to house their various properties under one name: renown.org.
Project
Platform
Expertise
Experience Design
Strategy & Insights
Web & Application Development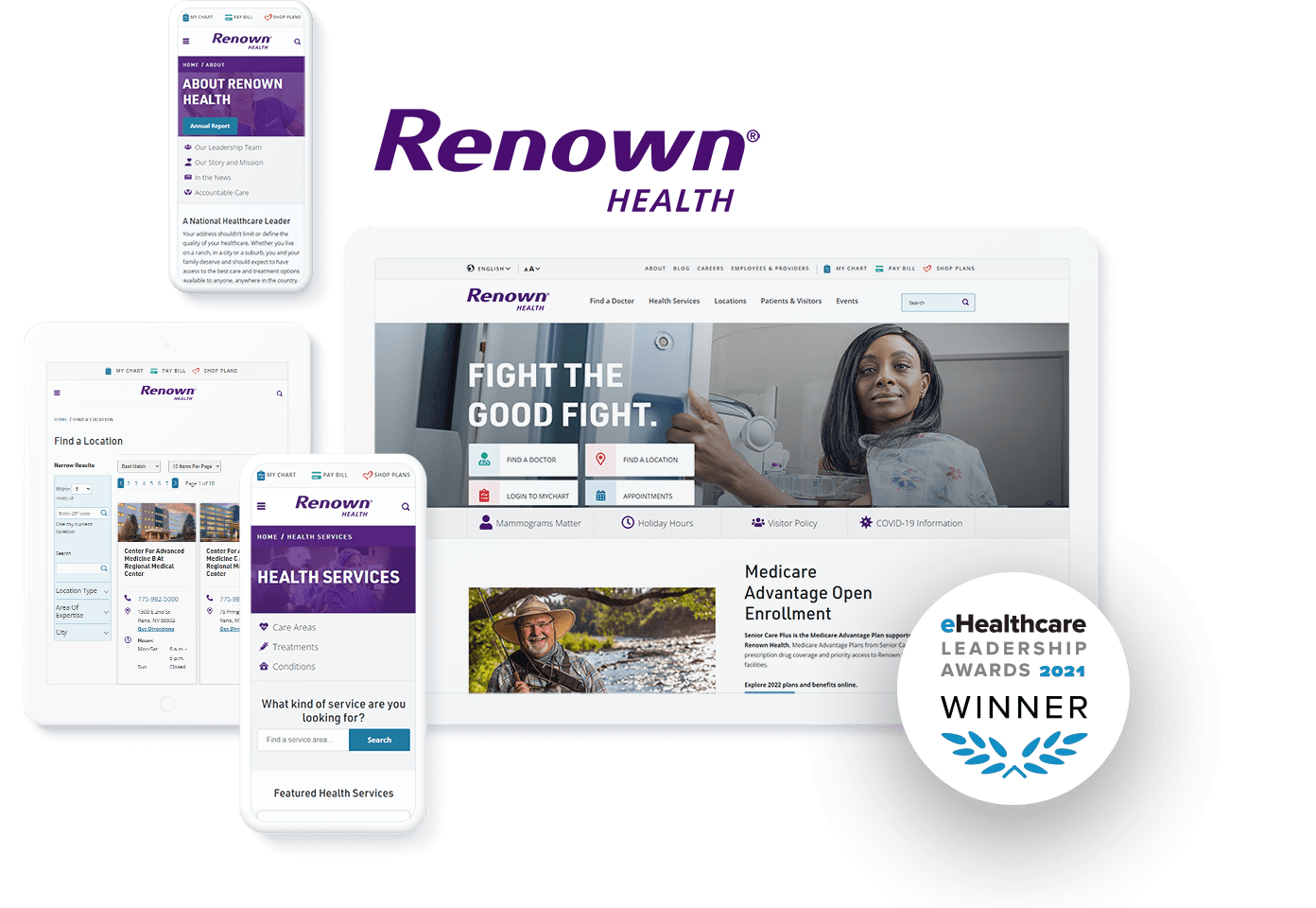 Solutions
Renown Health approached Americaneagle.com in December 2019 because of the agency's extensive knowledge in healthcare implementations on Sitecore. The teams decided to partner together to make Renown's vision a reality. Once the project kicked off, it went through various stages of discovery, definition, design, and development to reach the launch of a brand new, modern, and integrated website for the healthcare organization's patient community.
The process began with in-depth research based on persona creation and user journey mapping. After identifying Renown's specific target audiences, Americaneagle.com developed a robust technical and design strategy – to be built entirely on Sitecore's Experience Accelerator 9.3 – that would allow the organization to best serve its users. Additionally, the agency developed an extensive content strategy using an experience-first approach with a heavy focus on data to inform decisions going forward.
Through content audits and strategic architecture, Americaneagle.com set up easy-to-navigate page structures to consolidate the large, disorganized sitemap of the 6,000+ webpages Renown housed on their old websites. Additionally, the agency created a new interim search function on the homepage hero for direct, call-to-action, search features into Renown's doctors and locations. Then, they integrated an enterprise level search tool to enhance the indexing of their various locations, providers, and health services – as well as marketing content like blogs and events with a faceted, easy-to-use site search.
Furthermore, the rebuild included integrations with various systems such as Healthwise to dynamically display educational health content throughout the website to help grow Renown's domain authority. It also included integration with Sitecore Connect for Salesforce Marketing Cloud to increase marketing productivity and actionable results. Other integrations included MSOW, WooCommerce, and Hawksearch.
While the project began in the midst of the COVID-19 pandemic, when the healthcare system faced quite the uphill battle, Renown Health saw substantial increases in acquisitions, engagements, and conversions as a result of their partnership with Americaneagle.com. With the ongoing support of the digital agency, Renown Health will continue to make digital improvements in order to serve their patient community to the best of its ability.
Results
103

%

Increase in Conversions (People Looking for Doctors)

90

%

Increase in Page/Session Engagement

368

%

Increase in Session Count

142

%

Increase in Organic Traffic

"We strive to deliver a patient-first experience, enabling us to deliver individualized experiences for our partners, patients, and community. Working alongside our implementation partner Americaneagle.com for our Sitecore-powered digital transformation has proven to be a valuable strategic decision for our organization."