Google is Changing How to Manage Your Business Profile to Make Updates Directly in Google Search and Maps
Change is in the air! Google recently renamed Google My Business to 'Google Business Profile' alongside rolling out changes to the platform itself. Rather than logging into the Google My Business platform to make updates to your page, Google is encouraging businesses with a single location to manage their profiles directly on the search results page. They will also be releasing new features such as Call History and Messaging.
New Google Business Profile Features
Let's start with the new features. In addition to being able to claim and verify your Google Business Profile directly in Google Search and Google Maps, Google is making it easier to communicate with customers.
Call History: This is a new feature to allow you to see the call log of those who click the 'call' button from your Business Profile. You'll be able to see recent calls, missed calls, and more.
Messaging: Enabling the 'Chat' feature allows business owners to send messages with customers in real time. This includes an automated welcome message, photo-sharing, and more.
How Do I Get My Business on Google?
In order to manage your business on Google and use the new features, you need to claim your Business Profile if you haven't already done so. To begin managing your business listing, search your business name in Google Maps and then select the 'Claim this business' link in the profile. It will then guide you through the process to both claim and verify the listing. If you do not see your business on Google, for example, if it's a brand-new location, you may need to first add your business through Google Maps. Check out the Google Business Profile Help Center for more step by step instructions on how to add or claim your business on Google.
How About the Old Google My Business?
The Google My Business portal, as we know it today, isn't technically going away. While Google prefers a business to manage single business locations directly in the search results, the existing Google My Business web application will still exist. It will be renamed as 'Business Profile Manager' and will live on to service business with multiple locations or for SEO or Digital Marketing agencies to manage multiple client locations.
Google My Business Through the Years
As more people turn to and rely on Google for localized business information, Google has continued to fine-tune the way it displays listings and gives business owners control to manage them. Search Engine Land pointed out the name changes over the years. Here's a timeline of the evolution of local business listings on Google over the years:
March 2004: Google Local
September 2009: Google Place Pages
May 2012: Google+ Local
April 2013: Google Places for Business
June 2014: Google My Business
November 2021: Google Business Profile
As we say goodbye to 'Google My Business' or 'GMB' and get used to the new branding, we can look forward to more trustworthy, reliable business information in search.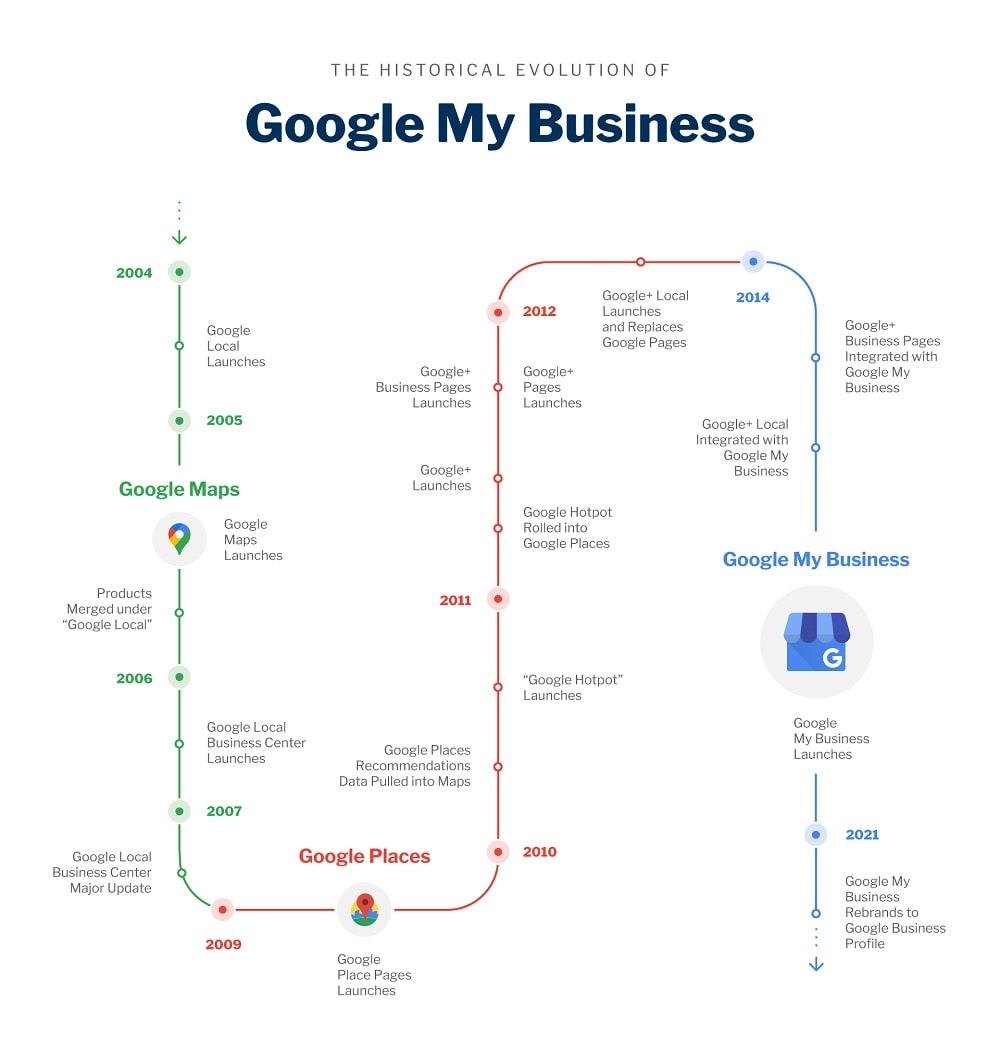 If you need help claiming or optimizing your Google Business Profile,
contact the team at Americaneagle.com
to lend a hand.

---
About Author
---