*Updated 9/21/23
ChatGPT (generative pre-trained transformer) is a popular topic of conversation these days, and for good reason. Industry experts and users alike agree it'll continue to revolutionize the way humans work, and more specifically, develop content and marketing strategies. The technology requires skilled human interaction to maximize productive results. This article highlights ideas for using ChatGPT in effective and efficient ways to take your business's content marketing planning and performance to the next level.
What is ChatGPT?
ChatGPT is one of many AI chatbots that have quickly increased in popularity. Because more people are using ChatGPT than any of the others, it is our focus. Developed by OpenAI, the free large language model artificial intelligence (AI) chatbot is currently at version 3.5 and has been widely adopted as a creative tool designed to interact with users in a conversational, human-like manner.
ChatGPT originally launched for public use in November of 2022. In its first three months, it welcomed over 100 million users, making history as the all-time, fastest-growing software application in the world.
An advanced, subscription-based version is now available as well. It operates on an increasingly sophisticated language model called GPT-4 and is marketed as ChatGPT Plus. It is priced at $20 per month. Benefits of the subscription, beyond the performance enhancements within GPT-4, include priority access to new features and plugins.
ChatGPT Enterprise is an additional option that was released in August of 2023. Chat GPT Enterprise provides businesses with tightened privacy and security features as well as expanded usage. The administrative console within ChatGPT Enterprise also gives businesses advanced control to tailor the ways employees use the tool.
Since its release, ChatGPT has received strong feedback, both positive and negative. Cybersecurity experts, academics, journalists, scientists, and ethicists are among those who fear this technology could do more harm than good. ChatGPT has already been used to write malicious code to hack computer files and fake research paper abstracts that are difficult to distinguish from real ones.
It only takes a few interactions with this AI system to see that ChatGPT is far from replacing human expression and creativity anytime soon. Relying on it too heavily in the workplace can lead to ethical and legal concerns. Still, a majority of enterprises are already reaping many benefits by utilizing the chatbot. Used responsibly, the technology can certainly offer impactful help to content marketers.
Chat GPT and Content Marketing Strategy
ChatGPT can provide instant feedback to improve content marketing strategies. Use the following examples to streamline your content topics, research, keywords, and audience engagement.
SEO
ChatGPT takes much of the hassle out of keyword research by suggesting relevant phrases which you can prioritize throughout your content marketing strategy. Be certain to consistently consider keyword priorities within web page copy, meta descriptions, blogs, alt text for images, titles, and headings.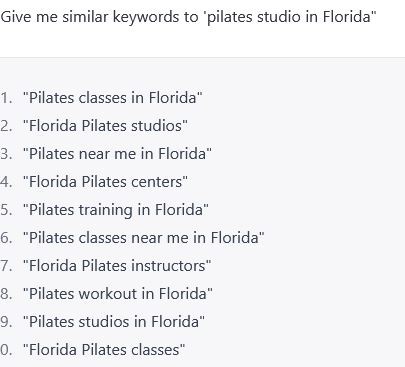 The tool can also help you determine the ranking difficulty for specific keywords. Just ask it whether "[insert keyword #1]" would be easier to rank for than "[insert keyword #2]."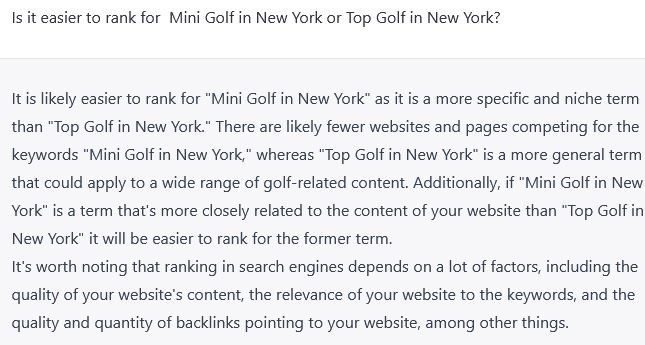 Content Brainstorming
The bot can also double as a brainstorming partner, generating a list of ideas on a certain topic (e.g., create a list of blog titles relating to 'artificial intelligence in marketing.')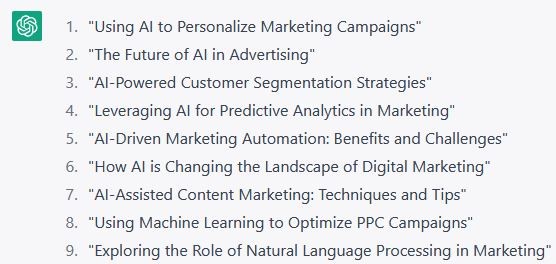 While the chatbot can help writers overcome their creative block, it won't replace the human perspective, nuance, and sophistication of your brand. Copying and pasting exactly what ChatGPT serves you will lead to a very dry piece of content that will spark minimal engagement from your readers. Edit results to make every piece of content the very best representation of your brand.
Content Strategy
Ask ChatGPT to design a content marketing strategy for you and it'll deliver suggestions. While it won't be a fully fleshed-out roadmap, you'll receive a set of tactics to get you started. The more information you provide about your product, services, and targeted audiences, the more specific and useful the suggestions will be for your business. Your brand's better and different story is what separates your business from competitors. Be certain those differentiators are included throughout your content strategy.
ChatGPT can't effectively replace content strategists, but suggestions and ideas can certainly improve efficiencies and, ultimately, performance. A skilled strategist can gather ideas and suggestions from ChatGPT to confidently develop a thorough strategy to achieve digital success.
Social Media
It can become time-consuming and tedious to generate unique captions for all your brand's social media posts on various platforms. Enter ChatGPT, which will not only write these for you – within the exact character limits – but it'll also add catchy call-to-action (CTA) ideas and relevant hashtags.
Facebook post caption:

LinkedIn post caption:

Translations
ChatGPT is a freakishly accurate translator, which means you'll be able to fine-tune messaging for international audiences at the drop of a hat whether it's for a website, ad copy or for chat support FAQs, training materials, etc.

Customization and Personalization
Conversation dialogue with ChatGPT helps to train the tool to provide more helpful responses. Skilled users are capably training the tool to more consistently represent the voice of their brand. In doing so, ChatGPT can also consider characteristics of specific audience personas and segments. Maximize the deep learning algorithms within ChatGPT that allow it to better comprehend your brand and audience in creating contextually appropriate responses.
Forbes magazine published an article entitled, "Train ChatGPT to Write Like You In 5 Easy Steps" that we have found very informative and helpful. Customization and personalization training within ChatGPT, combined with refining your chat prompt strategies through trial and error, will consistently improve the tool's content marketing abilities and performance.
Note: refrain from training ChatGPT with any business information that might be considered confidential. Privacy remains a topic of concern for many businesses in regard to ChatGPT.
Multimedia Content
ChatGPT specializes in natural language processing tasks. It does not have a sophisticated image generator or multimedia functionality. There are other AI tools that have emerged to deliver various formats of visual communication media.
Performance Metrics
Performance metrics for digital content has traditionally focused on engagement rates, conversion rates, and ROI. Regardless of the key performance indicators (KPIs) that are consistently tracked by your brand, continue to track date and analyze performance in the same way, but be certain to segment or identify content that has included ChatGPT suggestions and influence.
Data from your existing analytics tools will help you make informed determinations of what is working best for your brand. Continue to focus your ChatGPT efforts, and content marketing strategies, on high-performing content topics and channels.
Ethical Considerations When Using ChatGPT for Content Creation
The quick rise in the popularity of ChatGPT has outpaced a unified legal framework for its use. The legal ambiguity associated with ChatGPT and other large language models exists worldwide. Void of clear rules, users are often relying on their own ethical compass to direct their use of the emerging technology.
Copyright infringement is the most prevalent ethical and legal challenge. Large language models, like ChatGPT, absorb large volumes information from a wide array of available data sources. Models have shown the potential to generate responses that are identical, or very close to, copyrighted content.
Privacy is an ethical concern as well. In its short lifespan, ChatGPT has already fallen victim to cybercriminals that capitalized on a vulnerability which shared chat history of active users. OpenAI fixed that particular vulnerability within ChatGPT. In a press release about the incident, a company spokesperson said, "It was possible for some users to see another active user's first and last name, email address, payment address, the last four digits (only) of a credit card number and credit card expiration date. Full credit card numbers were not exposed at any time."
Other ethical concerns include instances of bias, discrimination, malicious misuse, and an overall lack of transparency from AI firms.
The most ethical use of ChatGPT involves uncompromised, active participation in the editing, fact checking, and final authoring of content that will be published and represent your brand.
Data Privacy & Security
While all ChatGPT conversations are protected by end-to-end encryption, users should exercise caution in what is shared in platform conversations. Personally identifiable information (PII), such as an individual's full name, social security number, IP address, financial or medical information should never be shared. Other types of information that users should entirely avoid within chat bots include confidential business information, corporate secrets, source code, and sensitive data.
There are specific privacy laws, such as GDPR in the EU, and CCPA in the state of California, to which ChatGPT is not in compliance. Specifically, individual's rights to have personal information be deleted or corrected is protected by those laws. ChatGPT has no process to fully comply, nor was permission ever granted by individuals to collect their personal information.
Privacy and security are the main incentives driving businesses toward ChatGPT Enterprise. The enterprise solutions provide businesses with more control over privacy and security settings, as well as its implementation and use throughout an organization.
Americaneagle.com, Your Content Marketing Agency Partner
ChatGPT is a revolutionary AI tool, but it's not your answer to all your digital marketing problems. Emotional intelligence, human reasoning, creative thinking, and the soft skills required to align brand teams remain the key elements at the core of business growth and success.
This is where Americaneagle.com excels.
Our experts are eager to develop a content marketing strategy that will drive more of the right traffic to your website. They take both your audience and business needs into thoughtful consideration before building a strategy that truly moves the needle forward. They leverage additional digital marketing services, such as search engine optimization (SEO), copywriting, content strategy, social media marketing, paid search and PPC management, and more, to ensure you stand out from the competition.
Contact us today to get started!
---
About Author
---