In this episode of the Lessons for Tomorrow podcast, our host, Tim Ahlenius, VP for Strategic Initiatives at Americaneagle.com, introduces Buy with Prime, a novel offering from Amazon. He's joined by Derek Majewski, Partner Development Manager, a pivotal member of the Buy with Prime team. Derek's extensive experience spans multiple Amazon businesses, including Launchpad and seller recruitment, and he specializes in collaborating with agency partners like Americaneagle.com. The discussion sheds light on the evolution and impact of Buy with Prime, highlighting its seamless integration with merchants' websites and its role in revolutionizing the ecommerce landscape.
Understanding the Buy with Prime Option
Originating from Amazon Prime's launch in 2005, the concept of Buy with Prime responded to the challenge of enhancing conversion rates for merchants who sell directly on ecommerce platforms. With over 200 million Amazon Prime members enjoying fast, free delivery, Amazon invested significantly in its fulfillment network. Derek's insights reveal how "Buy with Prime" was conceived to bridge the gap between viewing and purchasing, offering a solution that Americaneagle.com and other partners brought to life through seamless integration with merchant websites.
Enhancing Shopping with Buy with Prime
Americaneagle.com's interest stemmed from recognizing the need to capture transactions swiftly, especially during times of heightened uncertainty like the pandemic. The collaboration capitalized on the familiarity of Amazon Prime among consumers, offering a seamless experience at the product detail page level. Americaneagle.com lent its expertise to shape the feature during beta testing, ensuring integration into various ecommerce frameworks. This integration led to over 30 successful Buy with Prime implementations, delivering immediate purchases while preserving the potential for upselling and enhancing clients' overall shopping experience.
What Does Buy with Prime Offer?
Buy with Prime brings a transformative shift in the ecommerce industry. The integration process is seamless and empowering for merchants. By displaying the Buy with Prime branding, merchants attract Amazon shoppers with the Trust of Prime. This generates an impressive average conversion rate increase of 25%*, driven by fast, free shipping, transparent delivery times, and the familiar checkout experience. Shoppers can use their Amazon account for convenient purchases, ensuring secure payments, swift delivery, and easy returns. This evolution aligns with the expansion of Prime shopping benefits since its inception in 2005, offering both merchants and customers enhanced value and a seamless shopping experience.
*This data point measures the average increase in shoppers who placed an order when Buy with Prime was an available purchase option versus when it was not, during the same time period.
The Evolution of Prime Shopping Benefits
The evolution of Amazon Prime over 18 years highlights a relentless commitment to enhancing convenience for customers. From 2005's launch with two-day shipping to 2022's Buy with Prime introduction, the expansion includes additional benefits such as Prime Video, Prime Day deals, Whole Foods discounts, Amazon Fresh, and more. The acquisition of MGM Studios and Prime Gaming further amplified offerings. Buy with Prime stands out as a direct-to-consumer feature, allowing Prime members to experience the same convenience on external websites. Americaneagle.com collaborates with Buy with Prime to seamlessly integrate this evolving feature, enhancing merchants' experiences and underscoring the platform's dedication to value and innovation.
How Americaneagle.com Supports Buy with Prime
Since joining as an early Agency Partner with Buy with Prime, Americaneagle.com has gained valuable insights into the implementation process. The agency recommends an initial allocation of hours depending on complexity, with simple integrations often requiring around five hours. Flexibility is crucial, given variations in setups. Implementation approval typically comes from subject matter experts or main marketing contacts. Americaneagle.com brings a wealth of experience to the table, including expertise in variant SKUs for Shopify and a WooCommerce plugin. The ease of integration across platforms, like BigCommerce's custom connector, further streamlines the process. This collaboration ensures seamless, platform-agnostic Buy with Prime implementations, enhancing merchants' online experiences.
The Impact of Buy with Prime on Merchants
The impact of Buy with Prime on merchants has been remarkable. Americaneagle.com, through its collaboration with Amazon, has witnessed tangible benefits. Online shoppers prioritize convenience, reliability, and trust. Data from comScore's 2020 State of Retail Report underscores that 55% of shoppers deem free shipping crucial when making online purchases. Merchants adopting Buy with Prime tap into this demand, attracting Prime members to their sites, and converting high-value traffic. Moreover, the feature allows merchants to nurture post-purchase relationships resulting in enhanced customer engagement. As a result, merchants report increased conversion rates and optimized customer lifetime value, showcasing the significant value that Buy with Prime brings to the ecommerce landscape.
How Amazon's Buy with Prime Transformed Online Shopping
Americaneagle.com has observed significant benefits from implementing Buy with Prime, particularly in boosting conversion rates for clients. The installation process is versatile, working seamlessly with major ecommerce platforms like Shopify, BigCommerce, and WooCommerce. Placing the Buy with Prime button strategically on the product detail page ensures optimal visibility and user attention. Complex product variances are handled through custom code, adapting the button to user selections. Thorough validation guarantees minimal impact on page loading speed. Americaneagle.com ensures seamless integration of branding guidelines, resulting in a cohesive user experience. Customization options enable alignment with the site's aesthetic, enhancing the overall shopping journey.
The Future of Buy with Prime
The future of Buy with Prime holds promising developments based on merchant feedback and evolving trends. Amazon acknowledges the need for easier integrations with various ecommerce service providers, ensuring hassle-free installations for merchants. Notably, the recent launch of the Buy with Prime cart functionality directly addresses a common request. This enhancement enables customers to conveniently purchase a variety of items in a single transaction, amplifying the utility of the feature. By valuing merchant input and streamlining user experiences, Amazon's Buy with Prime is poised for continuous growth and refinement, meeting the demands of both ecommerce agencies and their merchant partners.
Aligning Buy with Prime with Evolving Ecommerce Trends
Buy with Prime's future holds dynamic enhancements based on merchant needs and feedback. Key roadmap items include introducing cart-building functionality and extending features to collection pages. These innovations enhance both merchant capabilities and shopper experiences, especially for complex products. Amazon's commitment to continuous improvement and integration aligns with evolving ecommerce trends. The focus remains on refining Buy with Prime based on real-world implementation experiences and merchant insights. As the feature evolves, it ensures not only convenience but also adaptability to diverse merchant needs and consumer expectations.
The Convenience of Buy with Prime for Merchants
Merchants are experiencing significant benefits from Buy with Prime. For example, Patrick Sean Pacino from Great Circle Machinery noted that the trust gained through the Buy with Prime badge has led to over 70% of the website orders and revenue coming from the channel. For Fatuma Dozie of Bossy Cosmetics, the convenience of fast free delivery led them to wholeheartedly embrace Buy with Prime, prominently displaying it on their homepage and leveraging social media to educate customers. This flexibility in badge placement and marketing tactics highlights how merchants can leverage Buy with Prime across their sites, meeting customer needs and enhancing convenience.
How to Address Common Concerns and Questions from Customers
Customer service is a crucial aspect of the Buy with Prime experience. Customers have two support methods: self-service resources through the "Get Support" button on post-order pages and reaching out to merchants directly for assistance. Merchants can provide customer support through their own websites' "Contact Us" links or within the Amazon system's "Send a Message" feature. The merchant console and knowledge center offer valuable resources, and partnering with experts like Americaneagle.com can streamline the process. Clear communication channels and support options ensure a seamless experience for shoppers, enhancing trust and satisfaction with Buy with Prime.
How to Optimize Your Merchant Website for Buy with Prime
Optimizing the merchant website for Buy with Prime involves utilizing features like the Buy with Prime Marketing Toolkit and Social Ads for Buy with Prime. Merchants can leverage the trust and recognition of the Prime badge to drive interest in their products across various marketing channels, showcasing the benefits of fast and free delivery. The Social Ads app simplifies attribution of conversions from Facebook and Instagram campaigns. This emphasizes the importance of continuous website optimization, moving away from the "set it and forget it" approach to web development. Iteration, testing, and adapting to customer preferences ensure a seamless experience and sustained success with Buy with Prime.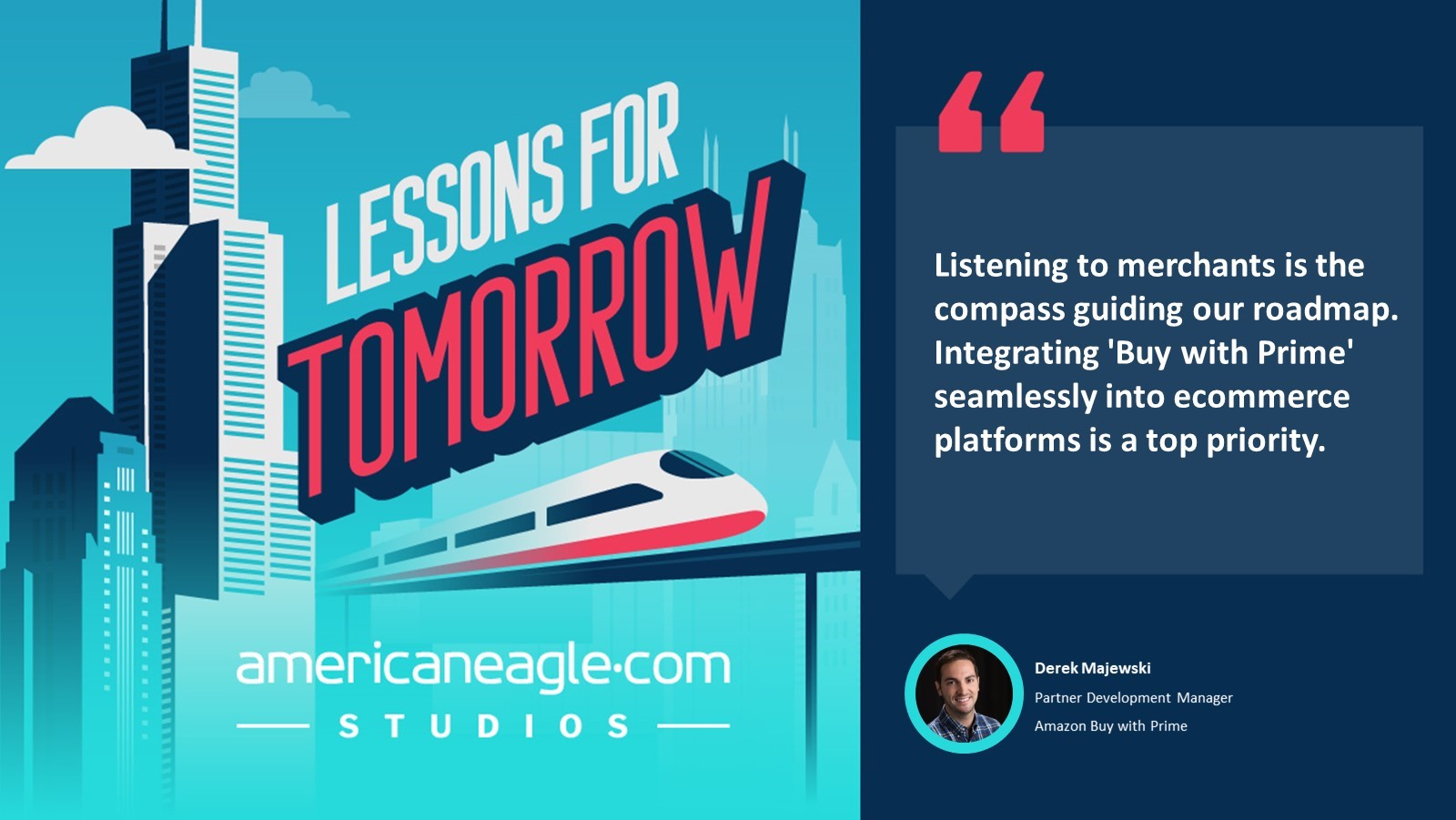 Simplifying the Purchasing Process to Help Improve Conversions
Simplifying the purchasing process with a one-click option can boost conversion rates by over 10%. Skipping the shopping cart and proceeding directly to checkout can help decrease cart abandonment rates, which typically range from 60% to 80% in ecommerce. This streamlined checkout experience leads to higher customer satisfaction and increased brand loyalty, reinforcing the importance of seamless website optimization for Buy with Prime's success.
How Buy with Prime Helps Mitigate Potential Challenges for Merchants
Buy with Prime can help mitigate potential challenges in ecommerce by streamlining the checkout process, reducing cart abandonment, and enhancing customer satisfaction. Addressing pitfalls like underestimating the power of social proof, offering free shipping to meet customer expectations, and simplifying the purchase journey can significantly impact success. Avoiding assumptions based on competitors, ensuring scalability with well-defined processes, and prioritizing customer support are key. Buy with Prime's immediate transaction option addresses distraction-related cart abandonment, benefiting both merchants and customers. Learning from past mistakes and aligning offerings with customer needs ensures a successful partnership between merchants and Amazon.
Establishing Credibility with "Reviews from Amazon"
"Reviews from Amazon" allows merchants to display authentic Amazon.com reviews on their off-Amazon product pages that offer Buy with Prime. This feature enhances shopper trust by providing social proof and familiar experiences. The inclusion of star ratings and full text reviews in real time increases conversion rates. As mentioned above, customer reviews complement Buy with Prime's streamlined checkout process, reducing cart abandonment and elevating customer satisfaction.
The Value of Buy with Prime for Merchants and Customers
Buy with Prime has undergone a transformative journey since its inception and has revolutionized the ecommerce experience as we once knew it. The integration holds immense value for both merchants and customers, streamlining checkout processes, reducing cart abandonment, and bolstering trust through its one-click purchase feature. The conversation emphasized the success stories and potential enhancements, showcasing its adaptability across diverse industries. As ecommerce trends evolve, the dialogue hints at even more innovative possibilities on the horizon. The continuous evolution of Buy with Prime exemplifies its pivotal role in shaping the future of seamless and customer-centric online shopping.
Listen to the Lessons for Tomorrow Podcast Today!
Start listening on Apple Podcasts, Spotify, or wherever you get your podcasts. You can also watch the podcast taped in the Americaneagle.com Studios on YouTube.
To read the transcript/captions of this episode, click "CC" within the YouTube video.
Connect with:
This podcast is brought to you by Americaneagle.com Studios.
The Lessons for Tomorrow podcast is centered around conversations between industry experts sharing insights from the past, to apply in the present, to achieve success in the future. This podcast is the "motivational poster" in your ear; each episode is centered around conversations that motivate you to tackle new initiatives at your organization. We will be talking with some of the best and brightest minds in technology and marketing and will hear from the experts themselves about their latest experiences, their most recent challenges, and the road ahead. Every episode has a different story, a different answer, and a different approach.
Follow now.
---
About Author
---