Buy with Prime
is a Win for You
and Your Customers
Online merchants see a 25% average increase1 in conversion rates when implementing Buy with Prime.

Americaneagle.com is one of the original four agencies to be named official partners of Buy with Prime at the start of the program. We continue to be at the forefront of providing direct-to-consumer (DTC) merchants with this proven option to expand their businesses. As a Buy with Prime agency partner, we collaborate to optimize the buying process for shoppers. By smartly integrating Buy with Prime's effortless one-click purchase option into websites, businesses enable current Amazon Prime members to benefit from fast, free shipping, transparent delivery times, and free returns on eligible orders in a trusted checkout experience that millions of shoppers know.
Ecommerce experts at Americaneagle.com are ready to help your business successfully integrate Buy with Prime into your online store.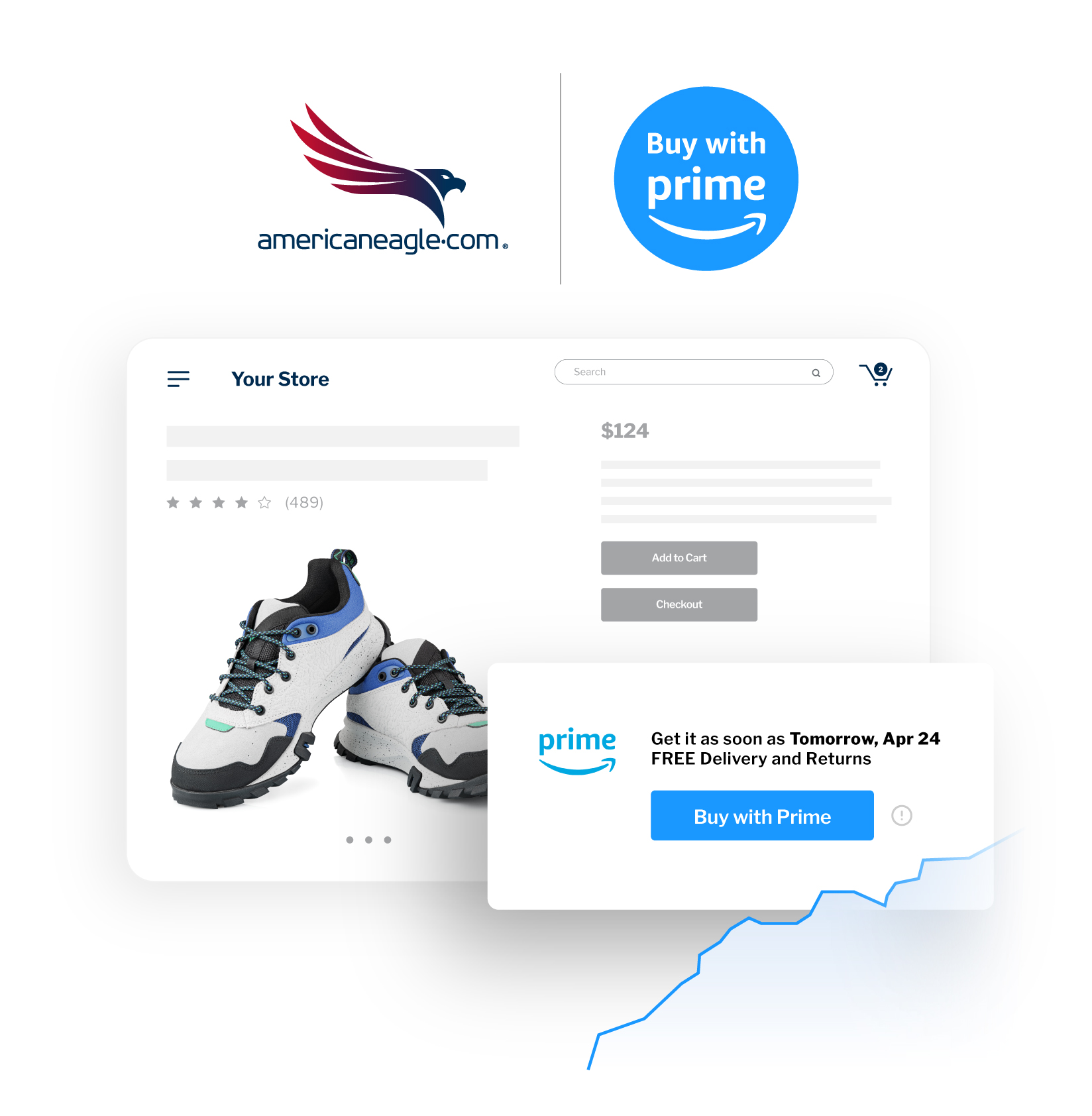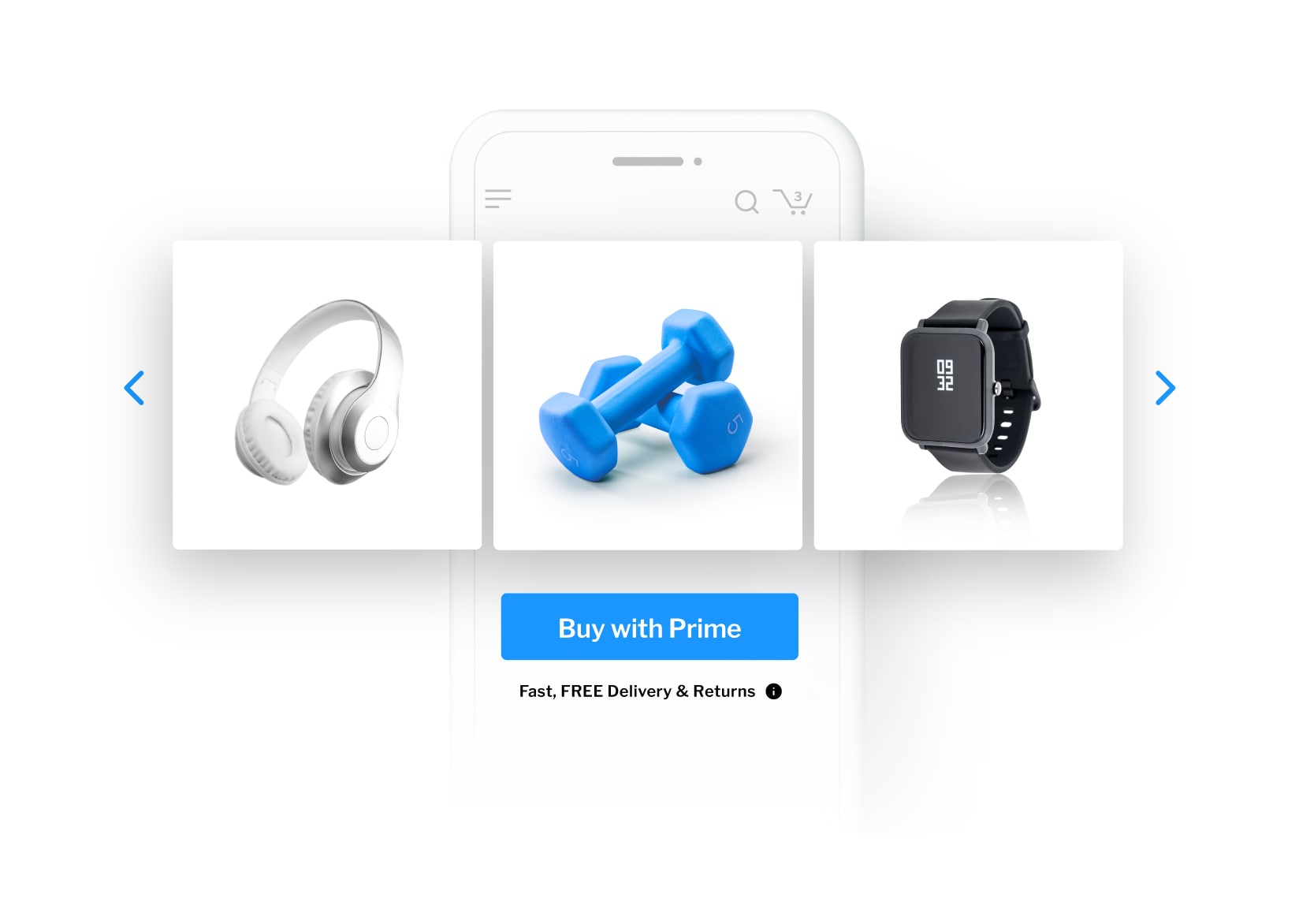 What is Buy with Prime?
Buy with Prime allows Amazon Prime members to shop at their favorite brands' ecommerce sites and also receive the benefits of fast, free shipping and easy returns on eligible orders within its familiar, trusted checkout experience. Buy with Prime is available to all U.S. merchants who utilize Fulfillment by Amazon.
How does Buy with Prime work?
If you are interested in utilizing Buy with Prime to expand your direct-to-consumer business, Americaneagle.com can assist you in getting started. Our experienced team will help you integrate the code onto your website, connect it to your Seller Central and Amazon Pay accounts, and provide assistance with any necessary technology or design considerations to ensure it looks great and performs well on your product pages.
With Buy with Prime, merchants will receive order information, including email addresses for customer orders, which they can use to provide customer service and build direct relationships with customers. For merchants already using Fulfillment by Amazon, Buy with Prime can be easily added to their online store because their inventory is already stored in Amazon fulfillment centers. Merchants can get started by linking Buy with Prime to their Seller Central account and their Amazon Pay account. Merchants can then import their existing Amazon product catalog information and use Amazon's fulfillment services to start fulfilling orders from multiple sales channels with one pool of inventory. Using Amazon Pay, merchants can provide a seamless Buy with Prime checkout experience offering Amazon Prime members a fast, familiar way to pay using the shipping and payment information from their Amazon account. After installing the Buy with Prime button code in their online store, merchants can easily add Buy with Prime to one or more products.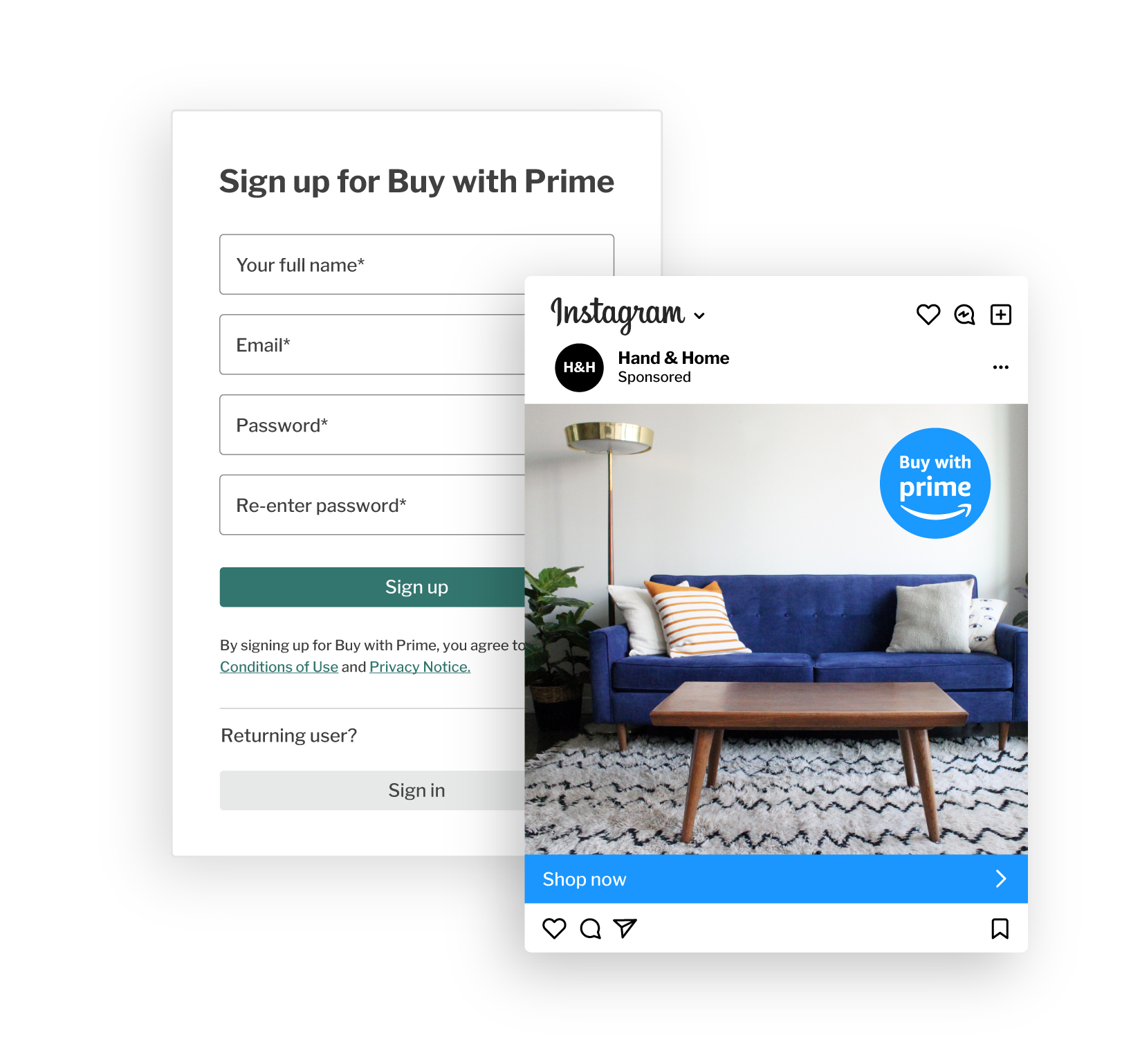 Why implement Buy with Prime?
There are many ways that Buy with Prime increases shopper conversions by 25% on average1 within online stores. Millions of Prime members are familiar with the efficient Amazon checkout process. Those shoppers have typically set up account details within Prime, such as their address and preferred payment method. Instead of having to re-enter all that information within merchant websites, Buy with Prime streamlines the shopper experience. This means shoppers are less likely to abandon their online carts. Seeing the Prime badge minimizes the trust barrier that shoppers may have with a new online store and ultimately makes it easier for them to make a purchase. Shoppers also value the benefit of free 1-2 day delivery. Amazon's easy return network is an added comfort for shoppers as well.
Merchants can also accelerate growth with a suite of marketing solutions designed to promote the Buy with Prime badge across their website, social, search, and email marketing channels, or reach Amazon shoppers with relevant ads on and off Amazon.com. Merchants can help improve their brand's credibility among shoppers by offering authentic reviews from Amazon on products offering Buy with Prime.
As an official partner agency of Buy with Prime, Americaneagle.com is optimizing the implementation of this program for the merchants we serve.

How Americaneagle.com
Can Help
Lean on Americaneagle.com's 20+ years of ecommerce experience to implement this proven revenue channel for your business. Americaneagle.com helps merchants implement, test, and support the success of Buy with Prime. We have helped many other businesses develop collection pages when implementing Buy with Prime. Instead of implementing across an entire product catalog, a specific collection of products can utilize Buy with Prime within your online store.
Get Started with your Buy with Prime Implementation Today
As one of Buy with Prime's original four recognized agency partners, Americaneagle.com clients benefit from our unparalleled ecommerce expertise.
Get started with your Buy with Prime implementation today.
;
Americaneagle.com is thrilled to announce that it is now an official Buy with Prime Agency Partner and one of the very few agencies wor... Read More

Buy with Prime can make ecommerce checkout easier for shoppers on your website. Read More

Brittney Montague, Lifecycle Marketing Specialist at Amazon, discusses lifecycle marketing and the process of guiding potential custome... Read More
1: Based on internal Amazon data, this data point measures the average increase in shoppers who placed an order when Buy with Prime was an available purchase option versus when it was not, during the same time period.