SameSky Health Maximizes Content Hub to Create Meaningful Connections
SameSky Health is a cultural experience company that removes barriers to care and forms meaningful relationships to bring people to health. Launched in 2017 and based in North Hollywood, California, SameSky Health guides health plan members on their annual wellness journeys by building trusted relationships that encourage dignity, autonomy, and companionship as they navigate disparate life experiences within a complex healthcare system.
Challenges
Because SameSky Health's network encompasses 2.3 million-plus members across 15 states, in more than 25 languages, the main challenge it was facing was a question of scale. The company needed to determine how it was going to create a leading healthcare experience to reach every single member of its significantly diverse, linguistically, and geographically dispersed audience across a number of different channels.
Project
Platform
Expertise
Digital Marketing
Experience Design
Strategy & Insights
Web & Application Development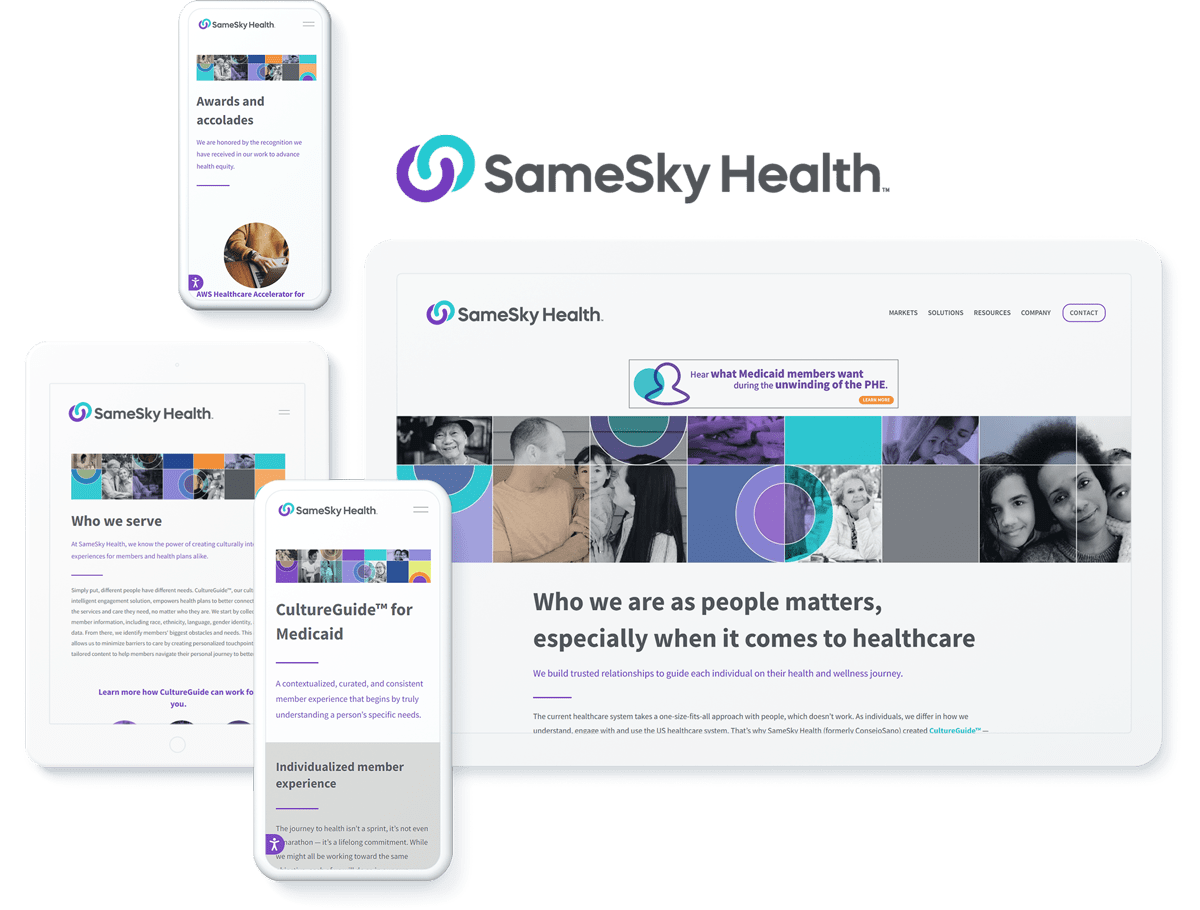 Solutions
To address this challenge, SameSky Health and Americaneagle.com leveraged the already powerful Sitecore Content Hub tool as a foundation to create a brand-new experience for SameSky customers, while also giving the marketing team a powerful tool to drive conversions and meaningful conversations.
As SameSky Health was new to the Sitecore ecosystem, they had a blank slate to build the content experience in which they envisioned. Starting with the aforementioned Content Hub implementation, which was completed during an intense three-month development phase, SameSky and Americaneagle.com built numerous customer journeys and syndicated content which was stored directly in the Content Hub instance and then distributed across multiple channels through SameSky's own middleware. In this case, Content Hub serves as the base repository for not just digital assets, but also houses countless multi-lingual, multi-step customer journeys and structured content nested within each other.
As a result of the single location, SameSky's marketing team is now able to streamline the creation and deployment process quickly, creating a scalable process that allows it to offer personalized paths for numerous members who have a variety of different needs. The unified experience also enables the team to better manage wider marketing initiatives and campaigns as every aspect is stored within a single location which enables both speed and scale. SameSky stores email messages, text messages, call center scripts, and the entire customer life cycle messaging in Content Hub. This is then exposed through Experience Edge for SameSky's multiple third-party platforms to retrieve and utilize.
Even with the wide variety of individuals and groups that SameSky serves, each can receive a specialized and helpful healthcare experience because it can create and launch any number of stored content as well as generate new content without requiring significant resources. The project demonstrates that Content Hub is more than just a digital asset manager (DAM), but an engine for digital marketing and customer-focused teams. It also has improved the healthcare experience for SameSky's members as they will now receive more personalized content experiences to further meet their specialized needs.