Largest and Oldest Auto Show in North America with Us Since 2004
First staged in 1901, the Chicago Auto Show is the largest and oldest auto show in North America. Since 1935, the show has been produced by the Chicago Automobile Trade Association (CATA), which first contacted Americaneagle.com in 2004 for a redesign of ChicagoAutoShow.com with a focus on navigation and browser compatibility. Since then, Americaneagle.com has worked with the CATA every year to revamp the Chicago Auto Show website.
Challenges
The Chicago Auto Show was looking to provide a better user experience to patrons, along with new innovative techniques for ticket purchasing. The solution had to create operational efficiency and provide an online ticket purchase and paperless ticket process.
Project
Platform
Expertise
Experience Design
Web & Application Development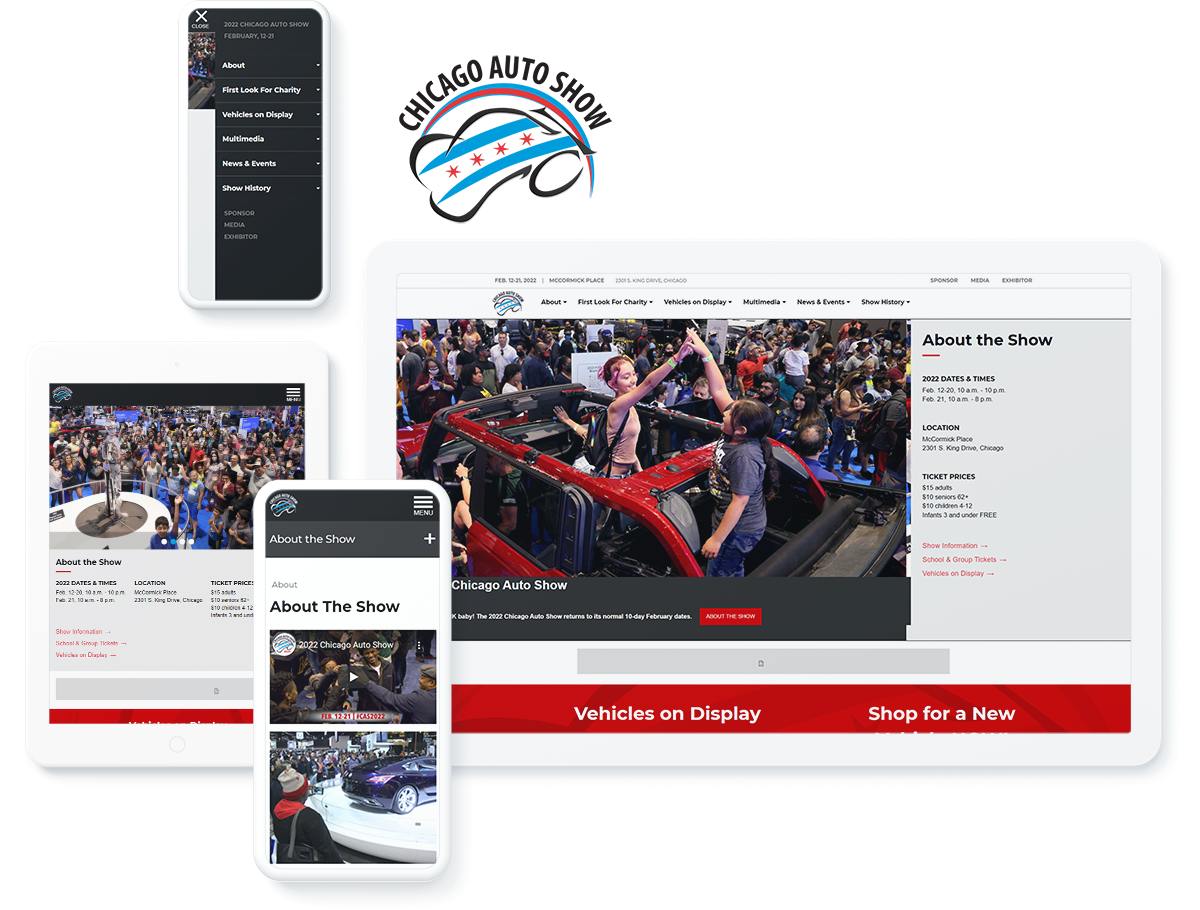 Solutions
The Chicago Auto Show has been a long-time customer that began working with Americaneagle.com for a graphical redesign. Since then, we've worked with the client to produce new functionality focused on increasing online and mobile sales.
The mobile site we produced gives customers the option to purchase show tickets directly on their mobile device. Each mobile ticket includes a bar code that is scanned upon entry, eliminating the need for printed tickets and streamlining the entry process.
As a result of the new mobile ticketing solution, overall online sales surged. Each year we redesign the website with a new look and feel as well. The latest site has new and exciting graphics, as well as the ability to create promotional tickets to allow various sponsors to create their own customized URL's with discounts for their customers. The iOS and Android app includes mobile ticketing, virtual tours, webcam floor views, show floor maps, photo galleries, and videos. Beacon technology was also utilized, to the delight of show sponsors. New functionality continues to be added each year.

Chicago Auto Show fans expect a superior show experience, and we strive to live up to those expectations both at the show and online. We have worked closely with Americaneagle.com for nearly a decade to create a virtual show experience that's unparalleled and expands the show's reach beyond its attendees.