Seamless Web Solution Takes Climbing Equipment Manufacturer to New Heights
Founded in 1922, Werner Co. is a leading manufacturer of climbing equipment with expanding operations in the United States, Canada, China, Mexico, and the United Kingdom. The company has multiple brands and over 20 separate websites with a vast portfolio brands offering ladders, access systems, fall protection equipment, and jobsite truck and van storage equipment.
Challenges
As Werner Co.'s line of brands and products continued to expand, the company was in need of a more robust, feature-rich web presence. Werner has a large product line and the company had multiple third-party tools that also needed to be integrated into the site. Additionally, Werner needed to streamline content operations to give its marketing and merchandising teams more control over the site. Content edits had to go directly to a previously contracted developer and even simple changes took two weeks at a time.
Project
Platform
Industry
Manufacturing & Distribution
Expertise
Strategy & Insights
Web & Application Development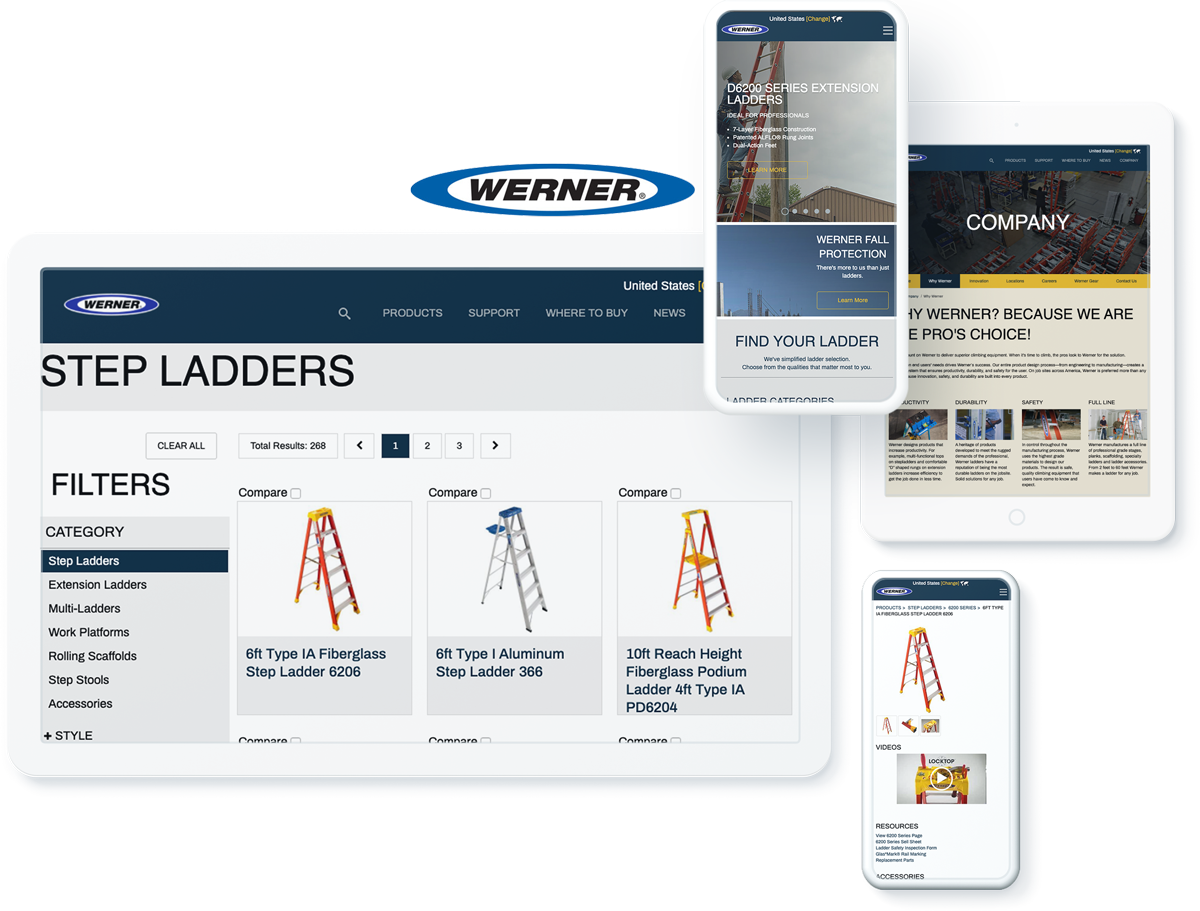 Solutions
Werner Co. came to Americaneagle.com for a solution that would fit their goals and clean up their online operations using the Sitefinity platform.
Work began with an in-depth strategic discovery process to uncover business challenges, technical integration points, and functional requirements. An extensive audit revealed multiple issues that were hindering Werner's ability to work effectively. The Americaneagle.com team leveraged their Sitefinity expertise to migrate Werner's 20 sites on to one admin platform and streamline the process to launch new sites as product lines expand. For more consistency across brands, the team created a global template and Resource Package structure that made it simple to create unique palates for the different brands. With these updates, small, day-to-day content edits no longer had to go through developers. The Americaneagle.com team also integrated multiple third-party tools and applications, including Salesforce, BazaarVoice, PriceSpider, and Werner's PIM system.
On the frontend, 'Find Your Ladder' functionality was implemented on to the homepage, allowing users to select from attributes like ladder type and size to find the exact product they need. The Americaneagle.com team also configured product listing and details pages to promote faster navigation and built out a product comparison tool that enabled customers to compare specifications while still on the listing page. All of this was driven by Werner's PIM system, which was reconfigured to consistently map real-time brand data across each site instance. This kept product information accurate without the need for multiple updates.
Since partnering with Americaneagle.com, Werner Co. has seen significant improvements in performance and productivity. The Werner Co. now has a scalable solution that will last as the company grows.

"Another great example of why I like dealing with Americaneagle.com. This is an example of them being aligned with our business requirements while simultaneously being cost-conscious. If we had a Supplier of the Year Award, I would nominate them."