National Electrical Contractors Association
User Experience Gets Supercharged in the New National Electrical Contractors Association Website
The National Electrical Contractors Association (NECA) is the voice of the electrical construction industry that brings power, light, and communication technology to communities across the U.S. NECA's Gold Seal ensures quality and safety. Their membership is made up of expert contractors representing the top of their field. NECA membership initiatives encompass advocacy, events, education, training, and labor relations.
Challenges
NECA's previous website was created with a build-as-you-go approach. This approach progressively deteriorated the site's usability, design, information architecture, content, functionality, and search solution.

The previous website design had not been updated in many years. It had become outdated in many ways and was not optimized for mobile consumption.

Over time, the website grew to thousands of pages. The site became unmanageable as the pages lacked specified ownership and governance plan. The lack of clear ownership often impacted the usefulness of content as pages were left unattended and became outdated.

The previous website's navigation was described as a mega-menu that attempted to present an all-inclusive representation of the site's content. Users often expressed frustration reading through the extensive navigation menus, unable to efficiently find content.

As the site's popularity grew over time, so did the desire for new functionality. Functionality was added in the form of adding more websites, mobile apps with duplicate content, and custom solutions, amplifying the growing challenge of consistent content maintenance.

The original search solution deployed was simple in nature. It was not able to effectively assist users in their efforts to efficiently find specific information.

NECA approached Americaneagle.com to pursue a more agile, intuitive, and search-centric website solution that would serve membership more effectively. The goal was to create a more modern and engaging web experience. A successful redevelopment project would also prioritize ADA compliance, a fully responsive, mobile-friendly solution, and prove to be an impactful resource for NECA's members and the entire electrical industry.
Project
Platform
Expertise
Experience Design
Web & Application Development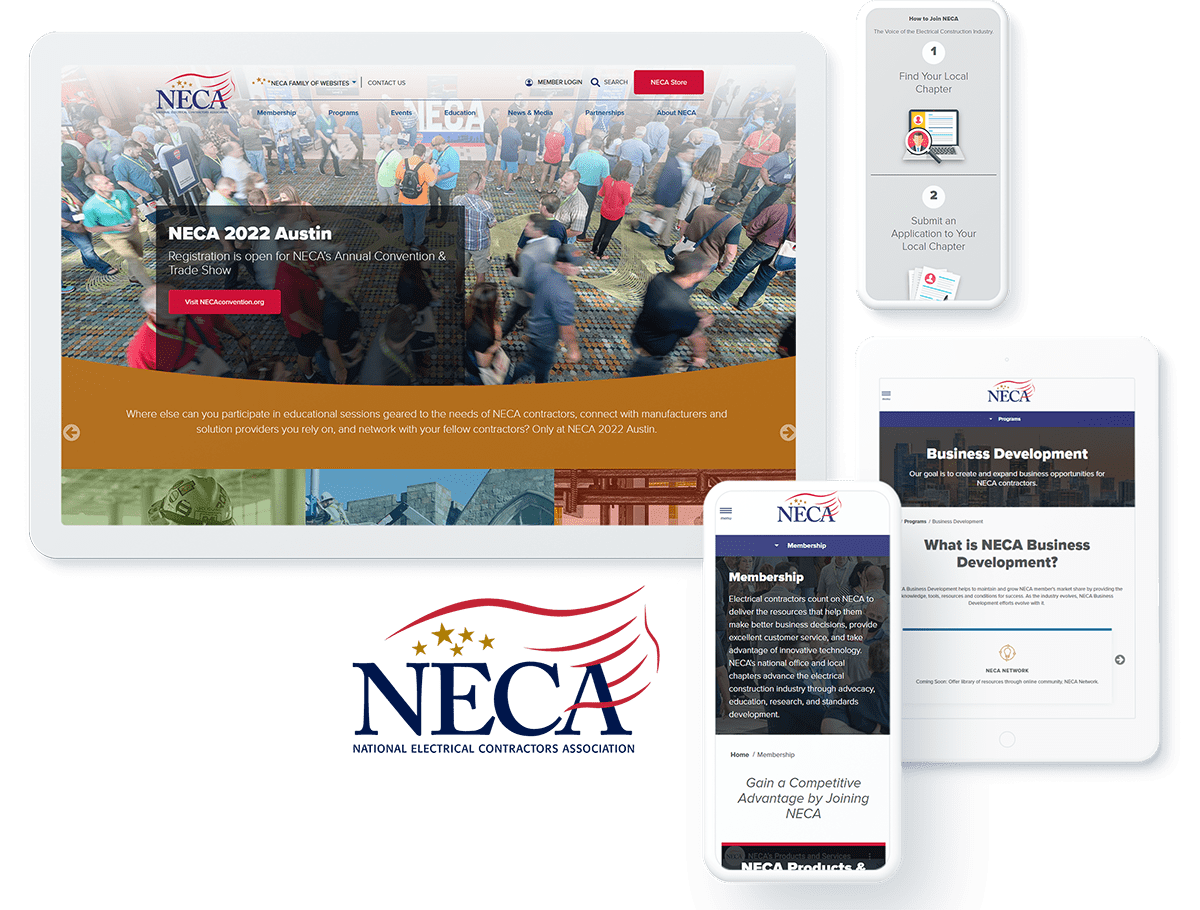 Solutions
Together, the team at NECA and Americaneagle.com collaborated to develop a website to solve the association's identified digital challenges.

NECA's new design leveraged the best responsive practices for user interaction on desktop, mobile, and tablet devices. The website's modernized aesthetic focuses on imagery and visual communication elements, in addition to text, to engage and communicate with site users.

Web content was reviewed with great scrutiny to ascertain what was most important. Dated information was removed and opportunities were taken to consolidate page content. The result of this exercise is the website's ability to prioritize and deliver current, important information to its visitors without overloading or losing them in a navigation labyrinth.

NECA's new sitemap revamped the utility, main, and footer navigation. The main navigation now allows for three content tiers beneath the top level. The third tier is used sparingly. Limiting content to only the most current, prioritized information, the new sitemap provides users with an easy-to-follow path to the content they wish to consume.

NECA consolidated custom solutions, sunsetted select websites, and archived apps that were providing duplicate information. A single-sign-on solution was implemented their digital resources, integrating platforms like Moodle learning management system (LMS) and HigherLogic (NECA Network) via their association management software (AMS) platform, Nimble AMS. These integrations enabled the personalization of content for both individuals and groups of consistent site users across multiple association domains. For members who regularly access NECA's family of websites, they have appreciated the ability to log in once and have access to all the resources their account permissions allow.

As a society, we have become accustomed to quickly searching or "Googling" for any answer we need. NECA implemented an advanced search solution, Hawksearch, to improve search functionality and, as a result, shorten the time it takes users to find the information they seek. The advanced search solution provides filters on search results pages, allowing users to narrow the results quickly and efficiently to identify the information they need.

The new website positively impacted member experience immediately. Their initial feedback expressed widespread appreciation for the redeveloped Progress Sitefinity website by Americaneagle.com. Many of the member comments centered around the site's engaging design aesthetics that visually escalated the sophistication of the association's digital presence.

Projects on the near horizon include new websites for NECA Chapters, redesigning NECA's Electrical Contractors Magazine, NECA event management solutions, the National Electrical Installations Standards (NEIS) website, and more. It is a shared goal to bring NECA brands under the Progress Sitefinity umbrella for a more unified digital experience. The launch of necanet.org was just the beginning.
Results
56

%

Increase in Average Session Duration

24

%

Decrease in Bounce Rate

23

%

Increase in Average Time on Page

17

%

Increase in Average Pages Per Session