Digital Marketing Optimizations Accelerate Senior Living Vendor's Online Presence
Headquartered in both Portland, Oregon and Dallas, Texas, Frontier Management provides guidance and ongoing support to senior living communities across the US. It operates more than 130 locations spanning 19 states and is an expert in independent living, assisted living, and memory care.
Challenges
Prior to partnering with Americaneagle.com, Frontier Management was working with a third-party vendor to acquire audiences and source viable leads. Over time, Frontier grew dissatisfied with its vendor as it was spending too much money and not seeing enough return on investment.
Project
Platform
Expertise
Digital Marketing
Strategy & Insights
Web & Application Development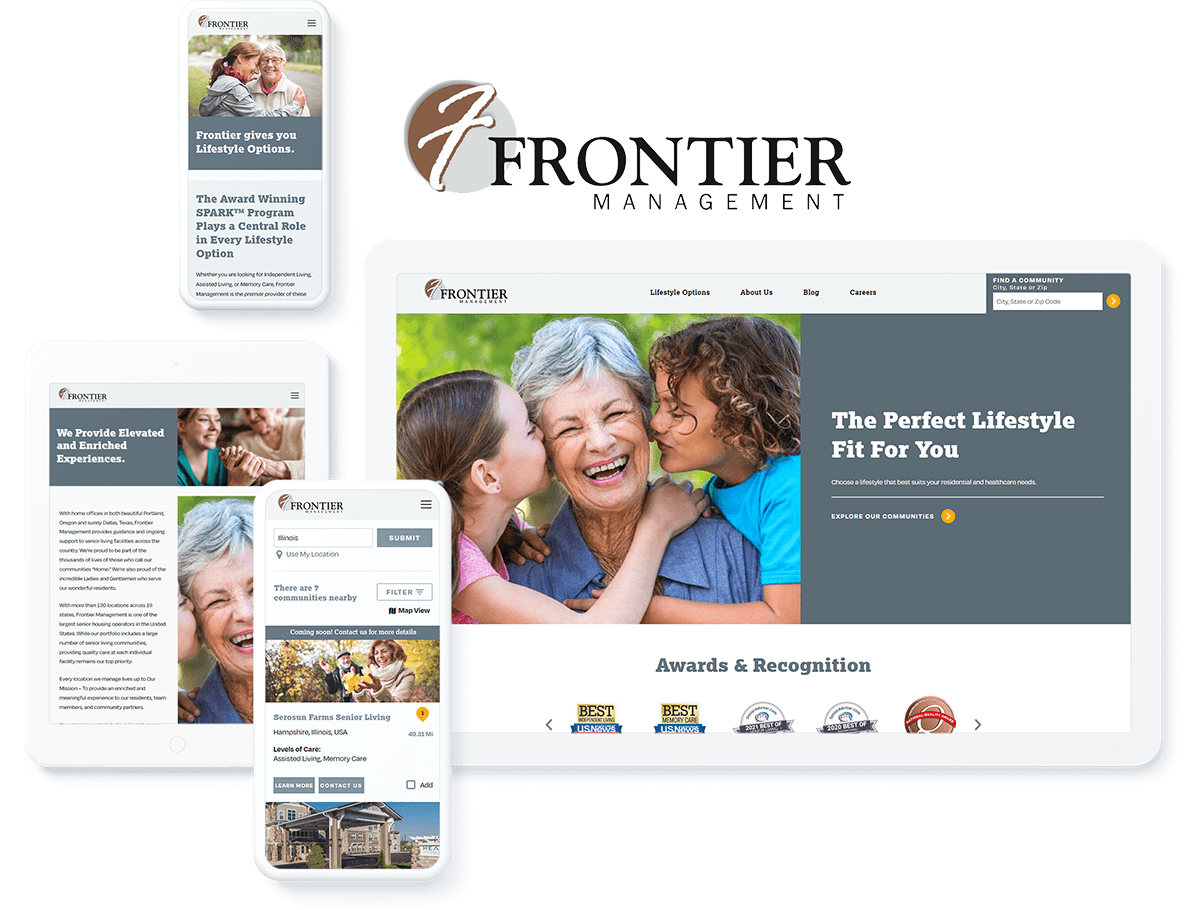 Solutions
Frontier Management engaged Americaneagle.com to assess opportunities and challenges in establishing a future digital property that could accomplish two major goals: acquire an audience that has an interest in placing an individual in a senior living environment and acquire leads that lead to an actual placement. These goals were identified through in-depth market analysis and foundational strategy.
Americaneagle.com then provided a number of strategic recommendations to help Frontier Management establish a successful digital presence. Some of which included enhancing Frontier's organic search presence through ongoing keyword search and strategy, ongoing optimization of Google My Business and Yext, updating the blog link structure, implementing social ads for various communities, and focusing on local search engine optimization (SEO) efforts.
Americaneagle.com also overhauled more than 130 paid search campaigns and continue to optimize the ad buy across all properties and expand by adding new ad groups. Other success factors include the launch of the SPARK Program, a unique selling proposition for Frontier which separates them from competitors, launch of website redesigns inclusive of the homepage, interior pages, and blog posts, continued updates including video gallery options, promotional pop-ups, a geo-location feature that displays communities near customers' respective locations, and more.
Since transitioning to Americaneagle.com, Frontier Management has experienced great success across all channels supported. Both parties are excited to continue to optimize the website in an effort to drive Frontier's business goals even further.
Results
47

%

Increase in Total Leads

43

%

Decrease in Cost Per Lead

35

%

Increase in Keyword Rankings

62

%

Increase in Ad Conversions