BigCommerce Implementation Results in a More User-Friendly Experience for Candy Manufacturer
Founded in 1983, Albanese Candy is a confectionery manufacturer, retailer, and distributor located in Merrillville, Indiana. The company sources high-quality ingredients from U.S. and European growers to produce a wide variety of products including gummies, chocolates, nuts, mixes, and sugar free candies.
Challenges
Because Albanese Candy is an ecommerce company that ships products to countries around the world, website functionality is vital to its success. However, prior to partnering with Americaneagle.com, the candy manufacturer faced serious challenges with its hosting platform. As the site stood, Albanese was unable to make product, image, or page updates easily, as well as any changes they did want to make, weren't happening quickly enough. Lastly, the site had no order flexibility resulting in a thwarted user experience.
Project
Platform
Industry
Food & Beverage
Manufacturing & Distribution
Expertise
Experience Design
Web & Application Development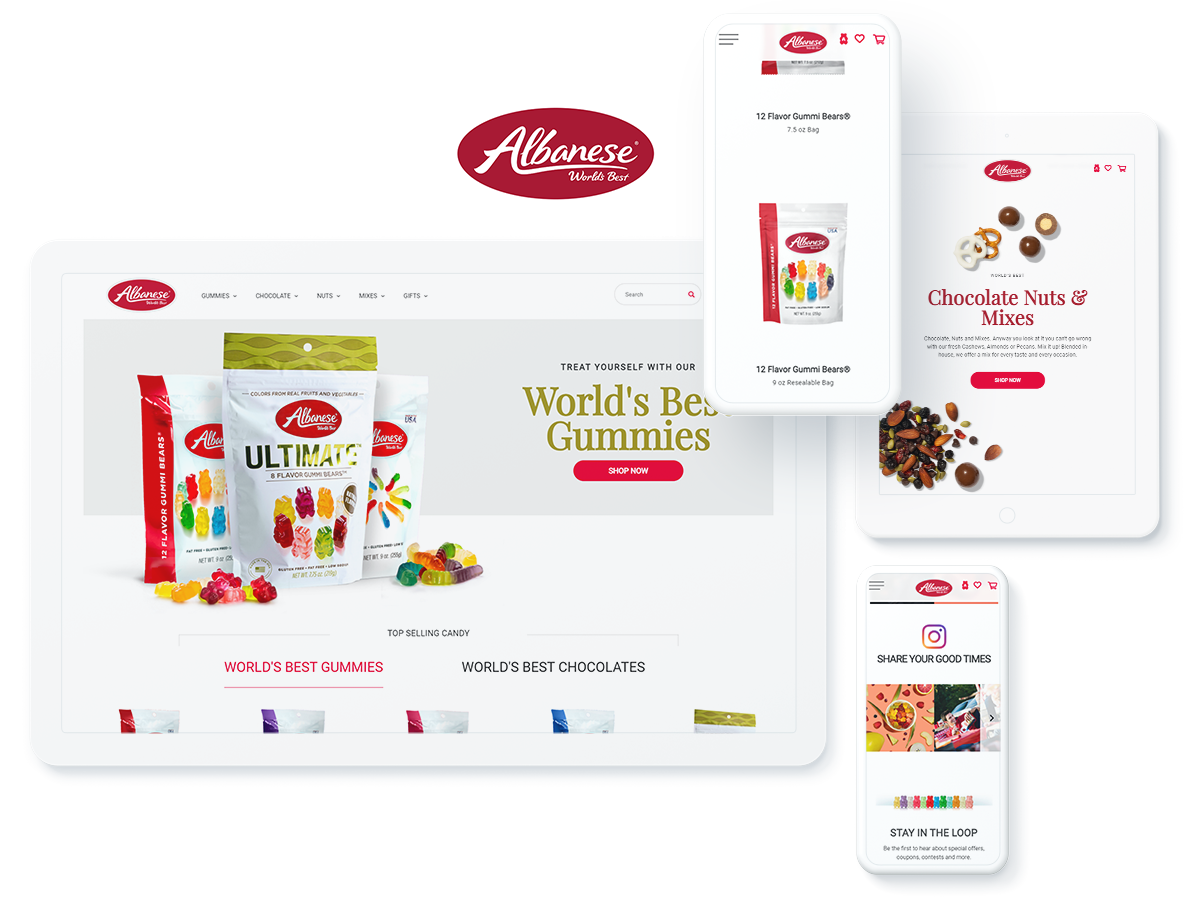 Solutions
Albanese Candy approached Americaneagle.com for a re-platform and redesign of their existing site. After reviewing the company's challenges and goals, it was determined that BigCommerce, a user-friendly ecommerce platform, would best enable Albanese's success. The new platform would allow backend users to quickly and easily make product, image, and page updates.
After the BigCommerce implementation, Americaneagle.com built customized product features. For example, a product detail page (PDP) was built so that Albanese can have certain items listed on the actual product as individual items. They are also displayed as a parent/child on the PDP. The tailored feature allows customers to straightforwardly navigate Albanese's products.
Moreover, Americaneagle.com created a curbside pickup option for customers to be able to order online and pick up in stores. The digital agency also created and coded new shipping rules for delivery orders to allow for more flexibility in how the product is shipped out. To tie all of the new features together, new graphics were created and implemented in order to give the website a refreshed, cohesive design.
Albanese Candy has received positive feedback as a result of its partnership with Americaneagle.com. The new website is significantly easier to use and allows backend users to make changes to their products and content pages, and is more modern and easier for customers to navigate.