Zero-party, first-party, and third-party data get thrown around quite a bit, but what is zero-party data, why is it becoming increasingly important in an age of data privacy concerns, and how can it be leveraged to enhance the B2B and B2C ecommerce sales funnel?
What is Zero-Party Data?
As the name implies, third-party data is information about your customers from a third-party source. First-party data is observations you've made about your interactions with a customer. And finally, zero-party data is information from the customer with their input.
Imagine this: your friend meets you daily with a large cup of black coffee. A mutual acquaintance tells you it's a large coffee with two sugars. This is third-party data, information given to you from an outside source. Through your keen observation and strong reasoning skills, you decide your friend must like this particular brand of coffee as you see them with it every time you meet. That deductive reasoning based on past interactions and observations is first-party data. However, during one encounter, you ask your friend if they like black coffee with two sugars in that particular brand. The answer surprises you as they say they prefer hot chocolate, but coffee is the only option available from a shop on the way to your regular meeting. You now have information about their preferred drink directly from the person in question, thus zero-party data.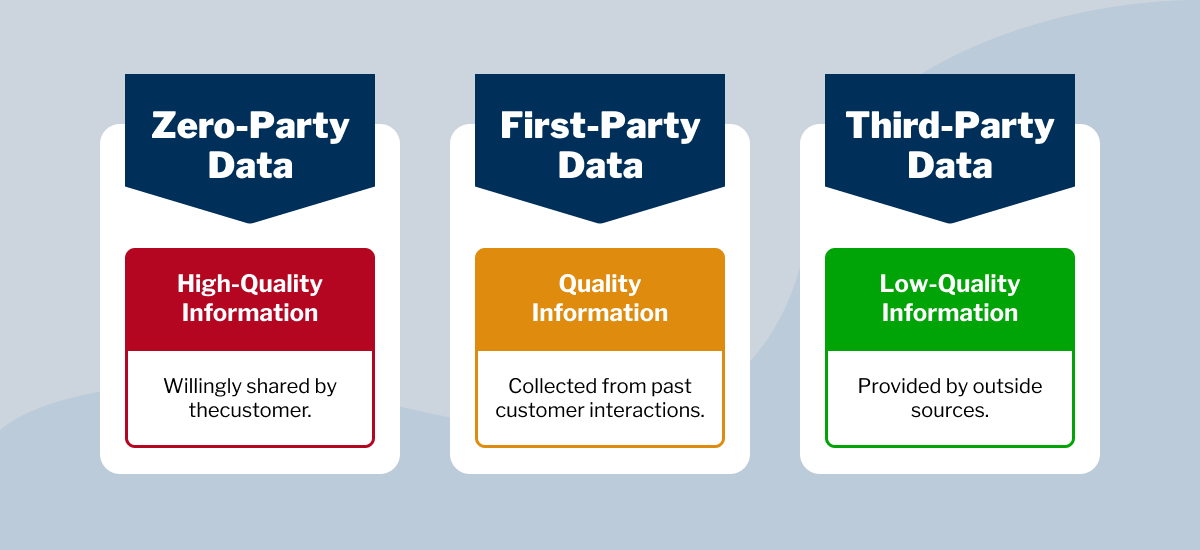 The Age of Data Privacy
Data privacy, or information privacy, in the digital age, has become an important topic over the last few years. It's common to hear about someone's personal data being compromised or general concern regarding how much information a company has on an individual and how that data is being used without that customer's knowledge.
These concerns have prompted government regulation and self-regulation by companies and technology providers. The European Union enacted GDPR (General Data Protection Regulation) in 2018 as a comprehensive data privacy and protection to provide individuals transparency and control over their personal data. California followed in 2020 with a similar regulation called the California Consumer Privacy Act (CCPA). Additionally, third-party cookies are being phased out by major web browsers such as Google Chrome, Apple Safari, and Microsoft Edge. These initiatives significantly impact how the capture of new online clientele and current client retention must be approached with online advertising.
Zero-party data, however, is provided willingly by the customer and should be specifically relevant to the online target market a business is trying to capture.
Struggling to understand your desired target market? Our advanced SEO and data analysis services can help you make sense of your desired audience and how to correctly capture their zero-party data. Click here to learn more about our search engine optimization services and data analysis services.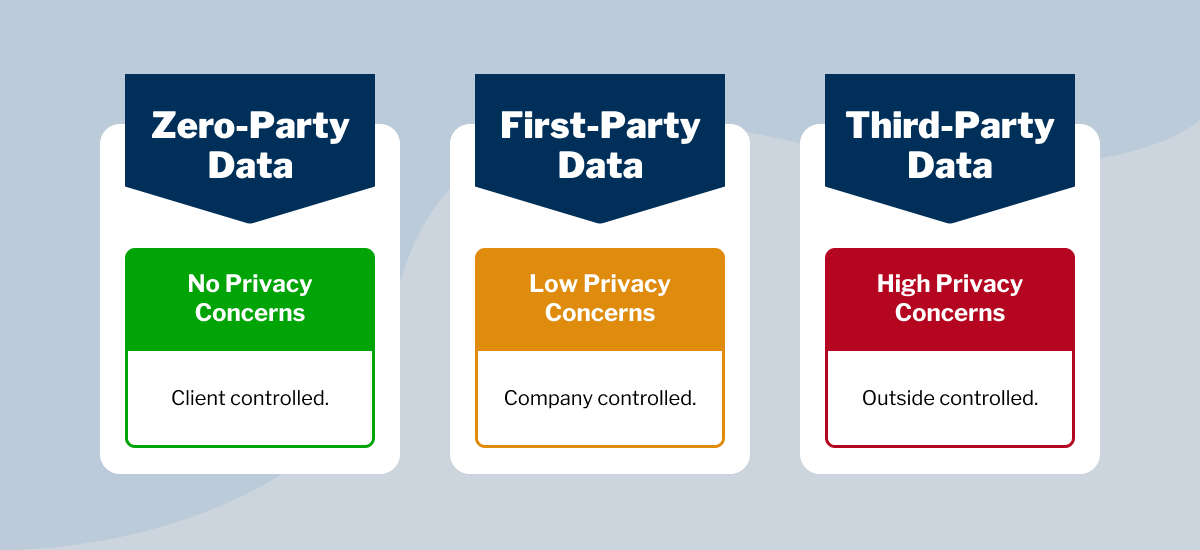 For more information on the GDPR, check out our article "GDPR Principles: Unpacking Data Protection in the EU."
For more information on CCPA, check out another Americaneagle.com article titled, "CCPA & CPRA: What You Need to Know About Consumers' Privacy."
What Customer Information Should be Collected & How Can it be Leveraged for a Better Experience?
Zero-party data collected in the targeted sales funnel should be specific to the product catalog being sold and not overly burden the client with additional steps. Asking one or two additional questions at customer touchpoints will have little impact on the customer experience. However, asking 10-20 questions will most certainly cause a customer to become annoyed at the delay of their interaction – and likely increase the amount of shopping cart abandonment.
Enhance the B2C Ecommerce Experience
The ultimate goal of any ecommerce site is to complete sales; the faster customers find the items they are looking for without digging through product entries that do not match their interests, the more likely they are to complete their transaction. When determining what information will allow for the highest impact on the customer experience, it's helpful to consider the conversation if the customer had reached out via phone or entered a brick-and-mortar location.
What are those first two questions after the initial greeting?
For example, if a store sells auto parts, the most relevant piece of information that will help drive a personalized and relevant shopping experience would be, "What is the year, make, and model of your vehicle?" Instantly, this would allow the shopping experience to be personalized to those products available for that vehicle. This personalization increases the shoppers' experience and the likelihood that they will find a product relevant to them in a shorter time.
Looking at another example, an online store that sells baby clothes would find it beneficial to know if the customer is expecting and when. There is now a data point that would allow for a personalized shopping experience of infant clothing that aligns with the relative age of the baby. The baby hasn't arrived yet? The shopping experience can reflect those items that all new babies may require. Cribs, car seats, monitors, clothes sized zero to three months, and items of that nature. As the baby grows, the shopping experience can change on repeat visits to automatically update based on a simple age calculation.
Enhance the B2B Ecommerce Experience
The previous two examples were focused on B2C and D2C engagements, but zero-party data is just as relevant in the B2B and B2B2C spaces, if not more so. What is the customer's role within their current organization? A purchasing manager and an accounting person will have wildly different interactions. Serving content related to a purchase manager for a specific channel will perform the same function as the previous two examples. However, for the accounting person they are coming to the site to access the billing portal to print, review, or pay outstanding invoices.
On top of on-site personalization, zero-party data can be leveraged for various other efforts ranging from digital marketing to order fulfillment and invoice collection. The purchasing manager will not be the correct person to contact regarding an outstanding B2B invoice. Instead, leverage zero-party data to identify who is responsible for outstanding invoices and send them automated reports on a regular cadence. The reverse is also true: product promotions, item substitutions, or new growth initiatives in the b2B space should be targeted toward purchasing managers.
The limits for personalization are endless and only restricted by the quality of zero-party data collected. It's a fine balance between collecting the right data and being too intrusive to the customer's shopping experience. Zero-party data should never detract from the shopping experience.
In summary, there are several places an ecommerce solution should be leveraging zero-party data in both the B2C and B2B space:
Provide relevant product suggestions
Allow for targeted promotional offerings
Create email marketing strategies with highly qualified targets
Use in loyalty incentives and overall brand experience interaction
Build a clearer picture of customer personas
Automating back-office interaction based on correct roles in the B2B setting
Where to Collect Zero-Party Data?
Three quality touchpoints with the customer would allow for collecting zero-party data non-intrusively in an ecommerce setting: customer account registration, shopping cart check-out, and interaction pop-ups.
Customer Account Registration
Collecting zero-party data during new account registration is the best location to collect information. The customer is already expecting to fill out a form of information, and one or two extra blanks to fill in won't subvert the customer's expectations as long as those questions are related to the product catalog. Questions that feel intrusive or out of bounds of what's required will cause the customer to abandon creating a new account.
There is a drawback to collecting information during the account registration process — specifically, guest checkout. While not as dominant in B2B, guest checkout is a requirement of B2C engagement. No registration, no zero-party data. Forcing an account registration when required by business rules normally found in the B2B space is completely acceptable. Forcing registration where not required by additional business rules to collect zero-party data will ultimately have the opposite of the intended effect and increase abandonment instead of increasing the customer's experience quality.
Check-Out Process
In much the same vein as customer registration, the check-out process is another prime location to collect zero-party data. Again, the client is already filling out a form to complete their order. This behavior is expected, and an additional field or two will have little to no impact on the customers' expectations.
The downside of collecting zero-party data is one of practicality. When working with a SaaS (software as a service) based solution, the ecommerce check-out process is highly restricted regarding the development changes that can be implemented.
Even if the check-out process is open to modification, implementing partners will generally recommend against changes to the check-out process quite strongly. Changes to the check-out process can cause a cascade of unexpected technical difficulties due to the number of different systems interacting during this stage of the customer experience (e.g., tax calculation, shipping calculations, inventory confirmation, address validation, payment processing, order submission, etc.). A simple change of adding two fields can dramatically increase testing, validation, bug-fix budgets, and implementation timeline delays.
Looking for a seamless check-out process that converts? Our ecommerce development team excels at developing user-friendly shopping experiences that lead to increased conversions. Learn more about our ecommerce web development services.
Interaction Pop-Ups
Pop-up interaction is another good choice for collecting zero-party information. Typically, in ecommerce, the pop-up interaction is used for some variation of signing up for a newsletter and receiving a certain percentage off the customer's first order. While this was considered best practice for quite a few years, recent A/B testing is starting to show a shift with some demographics. Instead of behind a high-quality interaction, buyer fatigue has set in, and there is no longer interest in being subjected to another random marketing email. Instead, there is now an opportunity to use this pop-up to drive targeted zero-party data requests that can then, in turn, be used for a better customer experience and retention.
If a client has an account and is logged in, data can easily be saved to their existing account. In those cases where the client has already provided zero-party data, the pop-up can be targeted to provide an interaction specifically for that customer. This can be a targeted coupon, a reminder of orders in their wish list or saved cart, or announcements of new product offerings.
However, if the customer does not already have an account or is not logged in, this zero-party data would not be captured for long-term use. The customer experience should encourage a shopping flow that moves the zero-party data to someplace of permanence, such as a completed order or new account sign-up.
Utilize Multiple Touchpoints to Capture Zero-Party Data
Combining these capture points will help offset any single touchpoint downfalls (e.g., should altering the shopping cart experience not be an option, zero-party data can be captured in a pop-up interaction and combined with the check-out data post-order completion). The key takeaway is to use multiple touchpoints and prepopulate those touchpoints should the customer have already filled out the information earlier in the sales funnel.
Boiling it down:
Customer registration is a good touch point for collecting zero-party data, but generally, a customer should not be forced to register for an account to make a purchase.
Check-out is another good location to collect information, but it may affect your implementation budget, timeline, and accumulated technical debt.
Pop-up interaction has an opportunity to offset customer fatigue with this style of interaction but does not solve data perpetuity concerns by itself.
The best results will be achieved by deploying multiple capture points but must be persistent across to avoid having the customer enter the same information multiple times.
Bringing it All Together for a Better Ecommerce Experience
Zero-party data in B2C and B2B ecommerce implementations is quickly transitioning from a bonus piece of information to best practice. Coupled with changing regulations and data privacy initiatives, it is important to take proactive steps in adjusting to this new normal in online business practice. By collecting and adopting zero-party data, an ecommerce solution will enhance the customer shopping experience, improve customer retention and shopping cart value, and be forward-thinking regarding data privacy.
Benefits of zero-party data:
Provides extremely relevant customer persona data
Empowers the ability to build a personalized shopping experience
Competitive advantage by offering a superior customer experience and understanding of customer needs
Addresses several data privacy concerns and pending depreciation of third-party data
Final thought: zero-party data has the potential to transform how B2B and B2C ecommerce engagements interact with customers, elevating those interactions to be more meaningful and productive.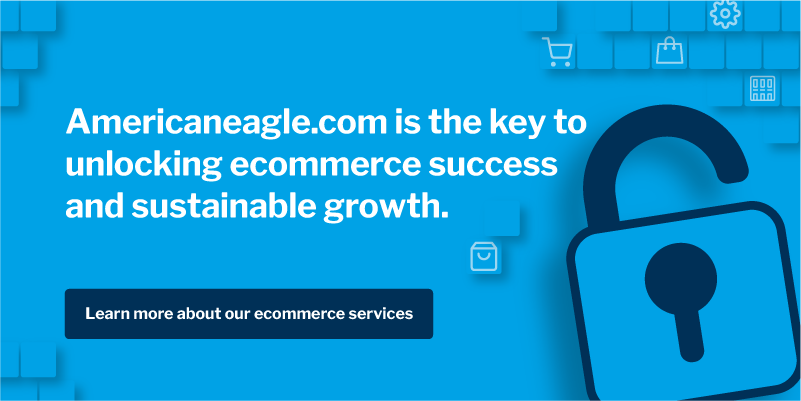 Are you looking for new ways to provide customers with a better ecommerce experience? Let Americaneagle.com's expert ecommerce strategists, technologists, and developers help you. Call (877)-932-6691 or email us at [email protected] to get started today.
---
About Author
---