Incorporating pay-per-click (PPC) advertising into your marketing plan yields a prime opportunity to exhibit your website upfront in search engine result pages (SERPs). This occurs whenever users look up specified keywords or use precise, longer keyword phrases and are prompted with ads having a cost-per-click charge. Google and Bing are the search engines where this method of advertising takes place alongside social media channels. When developed and executed carefully, paid search marketing can create a seamless user journey that can significantly enhance PPC strategy, resulting in increased ROI and other benefits.
What is Paid Search?
You can greatly maximize your online presence and attract visitors to your website by utilizing pay-per-click (PPC) advertising. This cutting-edge approach lets you showcase ads across a variety of channels, including search results, websites, and social media. You'll be free to customize ads with text, images, and video, and target specific demographics based on location, interests, and device. Best of all, you only pay when someone clicks on your ad. Say goodbye to traditional advertising and hello to the benefits and growth of PPC advertising, ideal for any business seeking to enhance their online opportunities and increase their bottom line.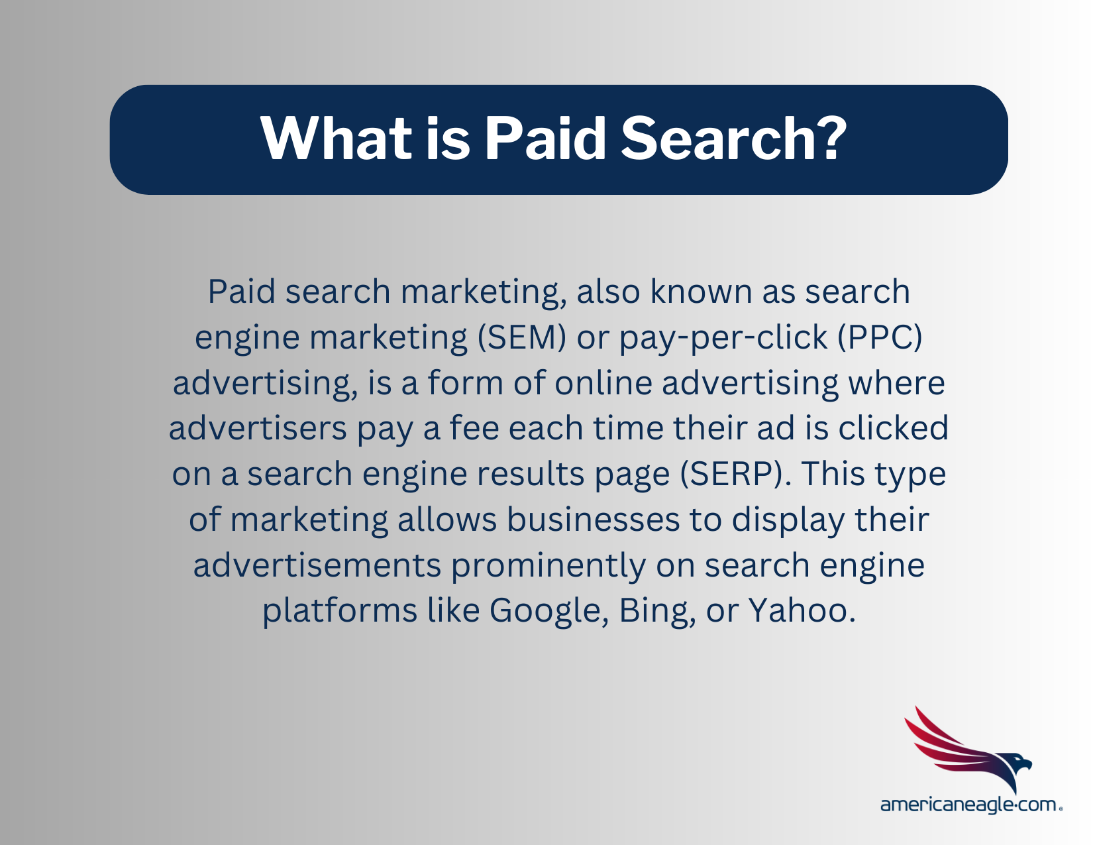 Paid Search Terms to Know
Ad Extensions
Enhance your PPC ads by providing additional information such as phone numbers, business locations, and product/store reviews.

Ad Groups
Manually created subdivisions of a campaign that help you organize your ads by theme, product type, or keywords.

Google Ads (Formerly Known as AdWords)
Google's paid search platform where you can run and manage your Google ads.

Ad Position
Refers to where your ad appears in the search results page.

Ad Schedule
Allows you to set your ads to display during particular hours of the day and/or days of the week, also known as dayparting.

Average CPC
Refers to the average price you pay per click on your ad.

Bounce Rate
Measures the percentage of users leaving a site without viewing other pages, giving valuable insight into user behavior.

Broad Match and Broad Modified Match
Keyword match types that trigger your PPC ads to show with relevant searches.

Campaigns
The highest level in an account, combining keywords, ads, and targeting methods to help your ads show to the right people at the right time.

CSE or Comparison-Shopping Engine
A platform that allows users to search for products and compare prices between different vendors.

Click
Refers to when someone clicks on an ad and visits the website.

Click-Through-Rate (CTR)
Measures the percentage of times your ad has been clicked on in relation to the number of times it appeared or has been shown.

Conversion
Happens when a customer completes a specified action, whether it be a click, download, or filling out a form. Conversion Value refers to the amount of each conversion, allowing us to optimize the account to go after the most profitable keywords.

Cost-Per-Click (CPC)
The amount an advertiser pays per click, and Daily Budget refers to the maximum amount of money you're willing to spend on your paid ads for a day.

Data Feed
The format that is accepted by a CSE to list their items, often represented as an excel file.

Display Network
A group of more than a million websites, videos, and apps where ads can appear.

Exact Match
A keyword match type in which your PPC ads show for a specific word or phrase in relevant searches.
Geo-Targeting
Allows you to target specific locations from countries to zip codes.

Google Merchant Center
Google's platform for managing and submitting shopping feed data.

Google Shopping
The campaign type and marketplace where Google CSE ads appear.

Impressions
Refer to the number of times your advertisement showed up on a page, website, or mobile app.

Keywords
Words or phrases used to display an advertisement.

Landing Page
The page of the website where your advertisement takes the user. It should include the same details, selling points, and promotional information as your ads.
How Does Paid Search Work?
Discovering how ads appear on search engine results pages (SERPs) happens through an instantaneous auction process that is initiated whenever someone searches for something online. Advertisers participate in the auction by bidding on keywords and multiple factors, including bid amount and ad quality, determining the winner who lands the coveted top position. These auctions power PPC and winning ads go on to appear on SERPs. Advertisers utilize platforms like Google Ads to set up their ads and choose their location and timing. Accounts are organized into campaigns for easy management and reporting, while campaigns get further split into ad groups containing relevant keywords and ads. Keep an eye out for this process and ensure your ads are primed and ready to respond to each query.

What are the Benefits of Paid Search?
There are many benefits of paid search; therefore, its popularity and the reason why so many businesses have used it to their advantage: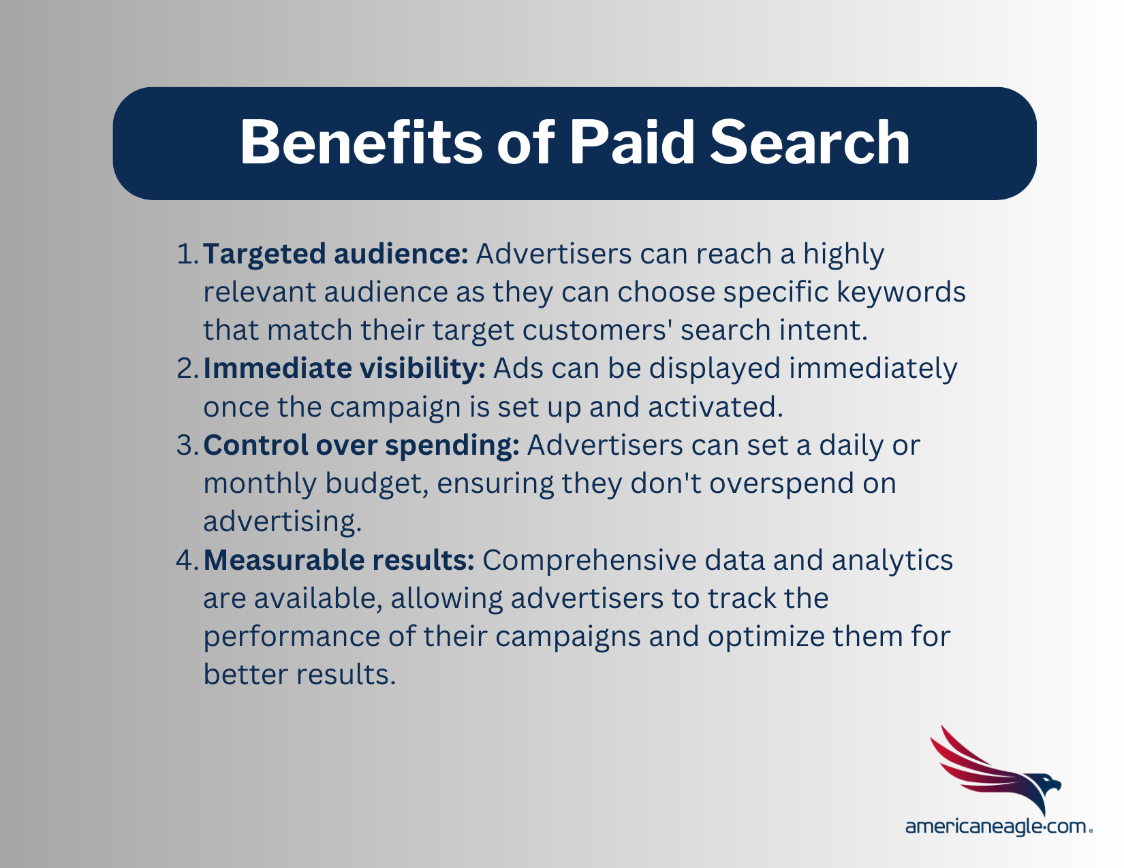 Paid search advertising allows for targeted search results and an increased reach, with cost-effectiveness and quick execution.
Placing ads in paid searches gives first-page exposure in the top search engines, and traffic is both consistent and immediate.
It increases brand visibility, with analytics and results that are easy to measure, plus you have full control over optimizations.
Geo-targeting and ad scheduling give more control over ad settings.
Continuous improvements in tools available allow for remarketing, retargeting, etc., which helps better target customers.
People who click on paid search ads are ready to buy, so brevity and simplicity of information offered can help secure conversions.
Organic Search vs. Paid Search (SEO vs. PPC)
Want to improve your website's visibility? Learn the differences between paid and organic search. Here's what you need to know:

Pricing
Paid search requires payment for ads, while organic search is free.

Speed
Paid search delivers quick results, while organic search can take weeks or even months.

Positioning
Paid search results are at the top of search engine pages, making them more visible and clickable.

Copy
Paid search ads have character limits while organic search results have more space.

Both approaches have strengths and limitations. By considering your goals and budget and crafting compelling content, you can boost traffic to your website and online presence.

To learn more about how SEO and PPC can work together to benefit your digital marketing strategy, check out this episode of Modern Marketing Messages.
Common Paid Search Platforms
Looking to expand your advertising reach? Here are some of the most commonly used paid search platforms:

Google Ads
The largest pay-per-click platform in the world, offering access to a wide network of partner and display sites.

YouTube Ads
Tap into a massive audience, including over 368.7 million 18- to 24-year-olds who use the platform regularly.

Facebook Ads
Offers highly specific targeting options and native ads that blend seamlessly into users' feeds, with the added bonus of advertising on Instagram.

Microsoft Advertising
Provides unique features such as ad scheduling and in-market audience for search campaigns.

TikTok
Explosive growth and high engagement rates make it a popular choice for advertisers.
LinkedIn Ads or Twitter Ads
Both are excellent choices for B2B advertising, with a user base of approximately 875 million and over 450 million active users worldwide, respectively.
Don't miss out on reaching your target audience efficiently and effectively – choose the platform that works best for your business.

How to Set Up a Paid Search Campaign
Now that you know some of the basics when it comes to paid search, let's look at how you would go about setting up a paid search campaign.
To make your paid search campaigns successful, start by coming up with the business goals that you want to achieve and how your campaigns can contribute to those goals. Are you looking for more website visits? Increased sales? Improved brand awareness? Promoting an event or special offer? Something else? Determine how much you're willing to invest in order to achieve these goals. Make sure you know who you want to target, the theme of your campaign, how you'll measure success, and the campaign type.
Do keyword research! Create ad groups with 1-5 relevant keywords to target for search engine display. Your Quality Score depends on selecting closely aligned keywords for each ad group. If keywords fall outside of the theme, create a separate ad group for them.
Key PPC Campaign Settings
Once you have set parameters and done your keyword research, you're ready to launch a search campaign on AdWords. Get started with these key campaign settings:

Campaign Types
Search Ads are the most widely used form of PPC advertising. These text ads appear on search engine results pages and drive targeted traffic to your website.

Another popular campaign type? Display Ads. This advertising solution lets you showcase visually appealing ads on external websites, including popular social media platforms.

Social media advertising on platforms like Facebook, LinkedIn, Twitter, and Instagram allow you to reach your target audience directly in their social feeds or within their profiles, providing you with an opportunity to make a lasting impression.

Take advantage of remarketing by using cookies or a list of contacts to specifically target individuals who have interacted with your company in the past - whether they filled out a form, read a blog, or simply visited your website. This is a great way to make sure your brand stays on their radar.

Daily Budget
Segmenting your campaigns by the stage of the marketing funnel or conversion type allows you to set budgets that align with the value they bring to your business or the click volume required to meet your goals. If you have different budgets allocated by product type, brand, or offer, creating separate campaigns for each allows you to have better control over those budgets.

Location Targeting
Choose the Location setting to specify where you want your ads to appear. For instance, if you want your ads to reach customers across the United States, you can simply select this option. if there are specific areas within these targets where you don't want your ads to appear, you have the option to exclude them. Take it a step further with "Advanced Search" to add multiple locations or target a radius around a specific area. If you have physical locations and have linked your Google Business Profile to your AdWords account, you can even set your campaign to show ads within a specific radius around each of your locations.

Bidding Method
With a range of strategies to choose from, tailored to different campaign types and goals, you'll choose the ideal bidding method for your campaign. Whether you're aiming for clicks, impressions, conversions, or views, your bidding strategy should match those goals.

Ad Rotation and Scheduling
With an ad schedule, you have the ability to exhibit advertisements or alter bids at specific times. For every campaign in your account, you can generate up to 6 ad schedules each day.
For ecommerce sites, Google Shopping provides you an avenue to showcase your products with eye-catching images, prices, and a brief description in a carousel format on search pages. By optimizing your target keywords, you can reach consumers who are actively searching for what you have to offer.
Set Up Google Analytics
Google Analytics is a free tool that provides insights into website performance, user interaction, and popular content. It can be used for PPC campaigns and more and you can install it on your website.

When creating your paid search campaign, set your goal for sales, leads, or website traffic. Google provides recommended settings, but you can also customize your own campaign. Also, to ensure better results, separate Search and Display campaigns and avoid Display Network inclusion. Target specific regions with location targeting and refine your language settings. Finally, examine each setting carefully and fine-tune bid modifiers for optimal performance.
Common PPC Tools to Use
There are a number of PPC tools and software programs that advertisers and digital marketers commonly use to manage and optimize their paid search campaigns. Here are some of the more common ones:
Google Ads (formerly known as Google AdWords): Google Ads is the most widely used PPC advertising platform. It allows advertisers to create and manage their ads on Google's search engine and display network.
Microsoft Advertising (formerly Bing Ads): Microsoft Advertising is a PPC platform that enables advertisers to run ads on Bing and Yahoo search engines.
Facebook Ads Manager: This tool is used to create and manage PPC campaigns on Facebook and Instagram, targeting specific demographics and interests.
Twitter Ads: Twitter Ads provides advertisers with the ability to promote their tweets, accounts, or trends to a targeted audience.
LinkedIn Ads: LinkedIn Ads allows advertisers to target a professional audience based on job title, industry, company size, and other criteria.
AdRoll: AdRoll is a cross-platform ad retargeting solution that helps advertisers re-engage website visitors with relevant ads as they browse other sites.
Semrush: While Semrush is primarily known as an SEO tool, it also offers PPC features like keyword research, competitor analysis, and ad campaign management.
WordStream: WordStream is a PPC management tool that provides automation and optimization features to help advertisers improve the performance of their campaigns.
Optmyzr: Optmyzr is a PPC management software that offers advanced reporting, bid management, and other optimization tools.
SpyFu: SpyFu is a competitive research tool that allows advertisers to analyze their competitors' PPC strategies, keywords, and ad copy.
AdEspresso: AdEspresso is a tool specifically designed for Facebook and Instagram advertising, offering features for A/B testing and campaign optimization.
Marin Software: Marin Software is an enterprise-level PPC management platform that provides tools for managing large-scale PPC campaigns across multiple channels.
Of course, these tools and software programs vary in features, complexity, and pricing, so it may take some time to figure out which one works best for you. Depending on your specific goals and even the size of your PPC campaigns, you may elect to choose one or a combination to streamline efforts and achieve meaningful results.
Paid Search Management and Tracking
Effective paid advertising requires continuous monitoring and management for optimal results. You will maximize the impact of your paid search campaign by actively managing and monitoring what's working and what's not working. Don't just "set it and forget it" – you will gain valuable insights and create a more efficient and successful campaign if you properly manage and track your PPC campaigns.
PPC management involves a broad range of techniques, such as setting and modifying goals, conducting split testing, introducing new keywords, optimizing conversion paths, and adapting plans to achieve objectives. Effective PPC management requires analyzing your strategy and advertising expenditure, refining your plan to enhance keyword performance, and allocating resources to particular keywords while maximizing ROI. Additionally, a sound management strategy involves keeping an eye on search engines, social platforms, and ad networks to stay informed about any changes or updates that could impact your paid campaigns. Given the extensive nature of PPC management, it may be worthwhile to invest in a reliable PPC management tool as well.
The PPC Metrics You Should Track
You already know that metrics are crucial. It's essential to keep track of some key metrics in your PPC campaign: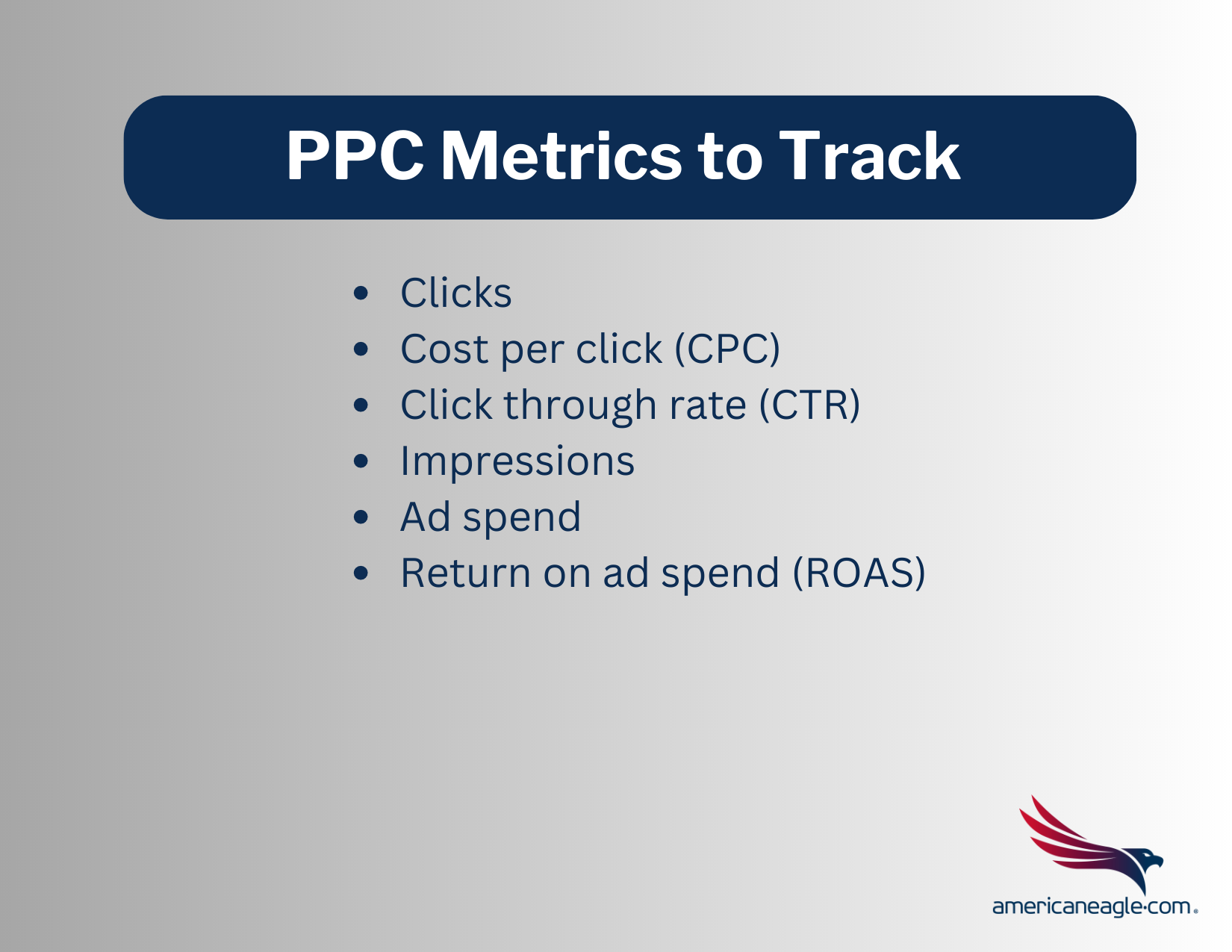 Clicks are the total number of clicks you receive on an ad, and this metric is affected by your keyword selection and the relevance of your ad copy.
Cost per click (CPC) is the price you pay for each click on your ad.
Click through rate (CTR) is the percentage of ad views that result in clicks. CTR benchmarks vary by industry and determine how much you pay (CPC).
Impressions are the number of times an ad is viewed and they're most relevant for brand awareness campaigns.
Ad spend is the amount you are spending on your ads, and you can optimize this by improving your Quality Score.
Return on ad spend (ROAS) calculates the revenue received for every dollar spent on ads and is the ROI of your ad campaign.
You will greatly increase the odds of your campaign being successful by monitoring and tracking your paid search campaign.
How to Improve Paid Campaigns
There are a variety of strategies out there to improve your paid campaigns.

Bid Adjustments
Bid adjustments let you change your bids based on performance, including device, demographics, and language. For instance, if a keyword isn't performing well on mobile, you can add a negative bid adjustment to bid lower on mobile searches.

A/B Testing
Testing is a crucial aspect of any PPC campaign, and A/B testing is especially important for paid ad campaigns, as it can help increase click-through and conversion rates. When testing ads, there are only four parts that need to be examined: the headline, description, landing page, and target keywords. Even minor changes to these elements can have a significant impact on results, so it's important to make changes – one at a time – and keep track of where improvements come from. To ensure effective testing, it's a good idea to prioritize potential tests by their impact and allow enough time for data gathering and it's also important to test ads early on to avoid wasting budget on underperforming ads.

Conversion Tracking
By placing a tracking code on the landing page where visitors are directed after submitting a form, conversion tracking can be used to monitor the page's performance. Enabling this function will provide you with the necessary insights to make changes that will improve your conversion rates.

It is important to regularly monitor the performance of your keywords and make necessary adjustments. Consider increasing bids on keywords that are generating favorable outcomes, while removing or reducing the spending for those that are not.
What is PPC Automation?
Say goodbye to spending hours on tedious updates for your Google ad campaigns - there's a better solution: PPC automation software. It uses computer algorithms and robotic process automation to optimize your campaign management without needing any manual input. By utilizing third-party applications, you can let the software do the hard work while you focus on growing your business. Not only does this save you time, but it also leads to better results.
Types of PPC Automation
PPC tools can boost your click-through rates and overall performance with ease. Reporting can be a pain, with hours spent compiling data and creating spreadsheets - but automating your reporting systems through integrations can make it a much more efficient and smoother process. Integrations can help you pull data from various apps and platforms, such as Google Ads or Instagram.
How a PPC Strategy Helps Increase Revenue
Are you using PPC advertising to drive traffic to your website or promote your app? While it can boost brand awareness, just attracting visitors is not enough. To generate sales, you need a solid strategy that includes persuasive copywriting, effective ad copies, appealing landing pages, emotional headlines, and clear call-to-action buttons. Keep in mind that an increase in website traffic does not always translate to sales. That's why email marketing can be a powerful tool for direct promotion. Without a well-planned strategy, your PPC campaigns may not produce desired results. To see success, invest in targeted efforts beyond just driving traffic.
Common PPC Mistakes & How to Avoid Them
There are a few common mistakes digital marketers can make when it comes to paid search campaigns. It's important to set clear goals from the beginning and ensure that conversions are being properly tracked.

One common mistake is the lack of research before starting a campaign. Conducting research is crucial for understanding search volume, competition, and average costs per click. Tools like Google's Keyword Planner are recommended for gaining insights.

Targeting the right audience is another critical aspect often overlooked. Businesses should focus on their niche audience and use data from research to tailor the campaign specifically to them. Utilizing locations, demographics, interests, and activities can help in effective targeting, and remarketing is suggested to reach past visitors based on their behavior patterns.

Using the wrong keyword match types is another common mistake. The post suggests starting with narrow matches and gradually expanding while building negative keyword lists.

A/B testing of ad copy is stressed as an important practice. Small changes in ad copy can significantly impact click-through rates. It's recommended to test calls-to-action and whether users respond better to product features or benefits.

Neglecting the landing page can undermine even the best ad campaign. Optimizing the landing page is vital, and the post suggests placing the unique value proposition prominently, aligning it with ad headlines, and ensuring a clear conversion action.

Don't utilize the "set it and forget it" approach. Paid search campaigns need regular monitoring and adjustments to stay relevant as search intent changes daily.

Best practices for paid search campaigns emphasize the need for careful planning, goal-setting, research, and continuous monitoring in paid search campaigns. By avoiding these common mistakes and implementing a strong foundation, marketers can improve the effectiveness of their paid search efforts and achieve better results.
Frequently Asked Questions about Paid Search
What is the difference between SEO and SEM?
While they're often mixed up, there are some clear distinctions. SEO helps increase organic traffic to your website over time by focusing on content and user experience. On the other hand, SEM can yield quick results through paid ads that show up when people search relevant terms. Learn how to enhance your website's traffic with the right approach.
Can I pick my own keywords?
Yes, but don't be lured into using common industry buzzwords to promote your products or services. This approach may not be the most effective for targeting keywords. Opting for general keywords that you select independently can end up costing more and yielding less results. Instead, conduct careful research to identify specific and relevant keywords that are tailored to your business needs.
How much do I need to spend?
It all depends on your goals, budget and industry. Based on these three criteria, try it for a few months to see what works and what investment makes sense for your business objectives.
How can you tell if your ads are working?

To know if it is really paying off, keep a close eye on your key performance indicators (KPIs) which can range from conversion rates, cost per click, click-through rate, the number of calls, form submissions, and conversion costs. It's essential to track any impactful changes in these metrics to ensure a solid return on investment.
What is my quality score?

Google evaluates the quality and relevance of your keywords and ads to assign a quality score to your ad. This score is determined by a variety of factors, including the quality of your ad and the relevance of your landing page to your advertisement. Additionally, your budget also plays a role. Improving your quality score can benefit your cost per click, making it more cost-effective and competitive for your advertising budget.
Partner with an Expert Paid Search Agency
Achieving immediate leads for your website is critical, and paid search is often the best solution, but ineffective campaigns, improper keyword targeting, and a lack of optimization can burden your business financially. You don't have to navigate these pitfalls alone. If you're looking to implement paid search or enhance an existing campaign, we're an online agency with an experienced team of paid search agency experts who can assist you with a comprehensive ad strategy, an accurately anticipated ad spend, strategic keyword targeting, compelling ad content, and more.

Americaneagle.com's Paid Search Marketing Services
Our comprehensive paid search services include:

Search Engine Marketing (SEM) Audit
Search Engine Marketing Strategy
Keyword Research and Competitor Analysis
Campaign and Landing Page Creation
A/B Testing
PPC Campaign Management & Ongoing Reporting

For a free paid search audit of your campaign, please contact us today!

---
About Author
---