In this episode of the Sitecore Water Cooler podcast, we dive into the highly anticipated Sitecore DX Minneapolis event through the eyes of Americaneagle.com's seasoned Sitecore MVPs. Our MVP team, including James Gregory, Mohammed Syam, and Gaurav Agarwal, along with our Global Sitecore Practice Director, Jonathan Price, are all set to attend the event. With their extensive experience and expertise, they share their insights into the upcoming week's activities, including the MVP Summit, Sitecore Detox, and Sitecore North America. Get ready for an exclusive glimpse into the future of Sitecore and the community's role in shaping it.
Sitecore DX Minneapolis Sessions
Americaneagle.com's Sitecore MVPs have their sights set on an exciting lineup of sessions at Sitecore DX Minneapolis. Mohammed is keen on the MVP Summit's Q&A sessions with Sitecore project teams, offering insights into product roadmaps and strategies. He's particularly interested in Exam Cloud, Custom Connectors, and component-level personalization sessions at Sitecore Detox. Gaurav, attending his first event, is excited about the roadmap for Sitecore and Cloud CDP. James is looking forward to composable sessions, exploring the possibilities of artificial intelligence (AI) in Sitecore, and the insights across various industries. These sessions promise to deliver valuable knowledge and insights for the Sitecore community.
Americaneagle.com, Sitecore DX Minneapolis Speaking Sessions
Jon Price, Americaneagle.com's Global Sitecore Practice Director, offers a tantalizing preview of his eagerly awaited sessions at Sitecore DX Minneapolis. In these sessions, he dives into the real-world application of composable technologies in collaboration with United Airlines. The first session offers a captivating glimpse into how United Airlines harnesses composable tech, impacting millions of travelers and transforming airport experiences. Jon will be joined by Charles Hong, Digital Signage Product Owner at United Airlines, to reveal the inner workings of this transformation.

The second session, featuring Rick Bower, Director of Customer Transformation at Sitecore, focuses on a hybrid approach to leveraging personalized and CDP technologies alongside existing Sitecore infrastructure, providing practical insights for attendees to apply in their day-to-day work. Jon's sessions promise to deliver illuminating takeaways and firsthand examples of these transformative technologies in action.
New Sitecore Products to Watch Out For
Americaneagle.com's Sitecore MVPs are keeping a close watch on several Sitecore products poised to make waves at Sitecore DX Minneapolis and beyond. James is particularly intrigued by the roadmap for Search and Hyper Discover, anticipating improvements that merge content and commerce search capabilities for more precise product recommendations. Gaurav is eager to explore the new features in Content Hub, enhancing his content management workflows. Mohammed's focus lies on XM Cloud, keen to uncover the latest additions and features that can elevate ongoing projects. These products hold the promise of enhancing Sitecore implementations and delivering richer, more integrated user experiences.
What Excites Our MVPs About Sitecore DX Minneapolis
As the Americaneagle.com team gears up for Sitecore DX Minneapolis, their excitement is palpable. Maggie, a first-year Sitecore MVP, is eagerly anticipating the MVP Summit, where she'll gain exclusive insights into Sitecore's latest offerings and connect with industry experts. Gaurav, also attending his first in-person MVP Summit, is thrilled about meeting fellow MVPs face-to-face and soaking in the roadmap presentations. Mohammed, a seasoned attendee, is excited to rejoin in-person events after a four-year hiatus. James is intrigued by the shifted timing of the MVP Summit, allowing for a deeper dive into product discussions. Jon is looking forward to gaining clarity on product migration strategies and showcasing successful client stories. Together, they anticipate an event packed with knowledge sharing, networking, and valuable takeaways.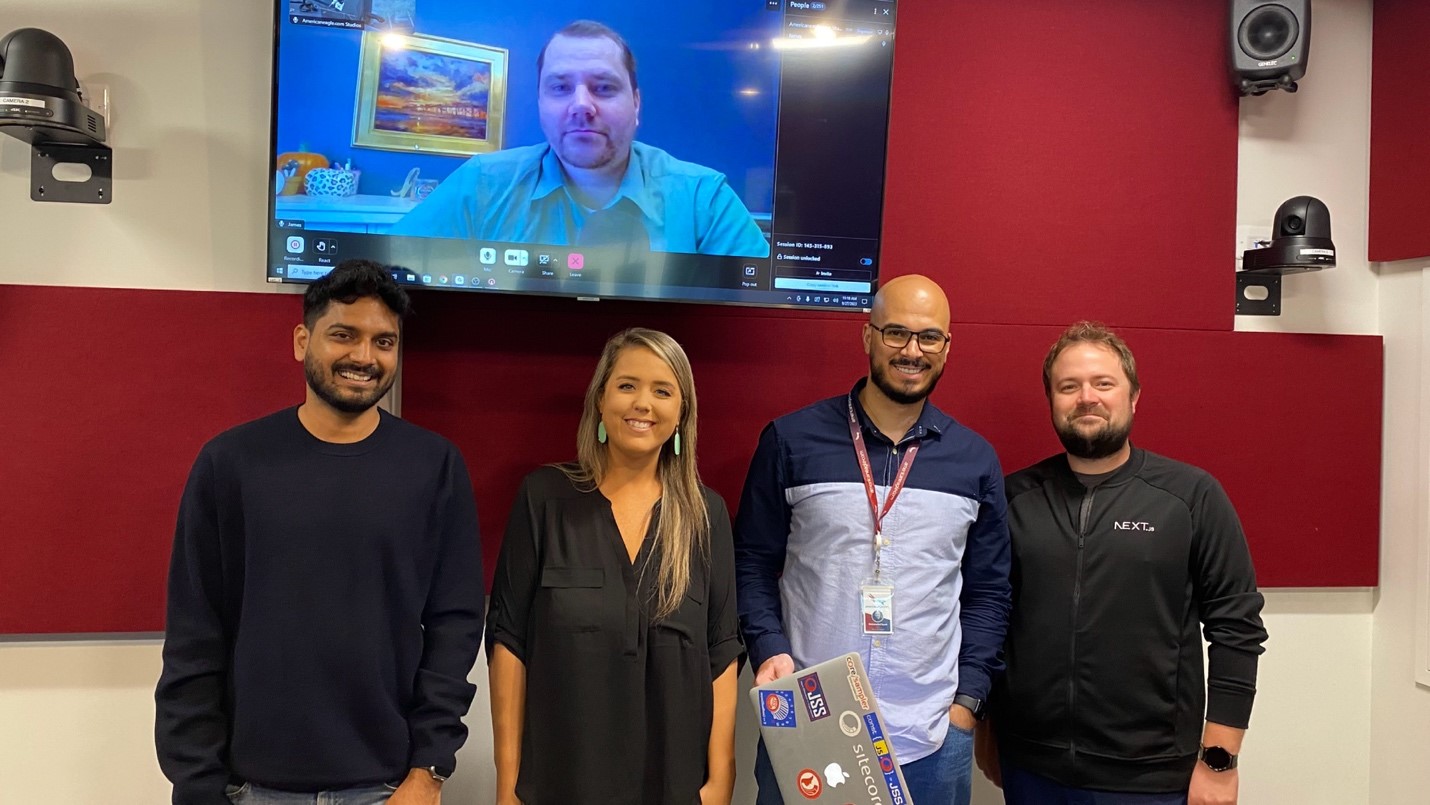 Connect with Us at Sitecore DX Minneapolis
Americaneagle.com's Sitecore MVPs are buzzing with excitement as they prepare for Sitecore DX Minneapolis. Their diverse range of experiences and perspectives highlight the anticipation surrounding this event. From the exclusive insights of the MVP Summit to the promise of real-world client success stories, the week promises a wealth of knowledge and networking opportunities. Sitecore DX Minneapolis is a pivotal event for the Sitecore community, offering a glimpse into the future of Sitecore technologies and strategies. Stay tuned for more updates and insights from Americaneagle.com's MVPs as they dive into this transformative experience.
Listen to the Sitecore Water Cooler Podcast Today!
Start listening on Apple Podcasts, Spotify, or wherever you get your podcasts. You can also watch the podcast taped in the Americaneagle.com Studios on YouTube.
To read the transcript/captions of this episode, click "CC" within the YouTube video.
Connect with:

This podcast is brought to you by Americaneagle.com Studios.
About: For years, 'water cooler talk' has been a natural way for people in the workplace to come together and connect on common interest topics in what would otherwise be a formal environment; it boosts morale, improves culture and gets the creative juices flowing! Some of the best workplace ideas and conversations happen through face-to-face conversations around the 'water cooler,' so just as the name implies, The Sitecore Water cooler Podcast is a casual conversation between colleagues and peers centered around all things Sitecore. This podcast is an outlet for various Sitecore experts within the Sitecore community to have a meaningful discussion around the latest with Sitecore products, every day topics, challenges and successes associated with this top-of-line digital experience platform. Each podcast episode will range in topic, but will be geared towards quick-hitting initiatives that affect how business is done today. Whether you're a new Sitecore user, a Sitecore MVP, or just someone who wants to learn more about Sitecore technology and capabilities, then meet us at the watercooler!
---
About Author
---