The world of digital marketing is a vast landscape of strategies, tools, and ever-evolving trends that businesses must navigate to thrive in the digital age. In this episode of "Modern Marketing Messages," our host, Taylor Karg, delves into the insights shared by Zeina Yacoub, a senior digital marketing strategist at Americaneagle.com.
With her wealth of knowledge and experience, Zeina takes us on a journey through the intricacies of digital marketing, shedding light on various aspects of this dynamic field. From the fundamentals of crafting effective marketing campaigns to the future trends shaping the industry, Zeina's expertise provides valuable insights for both seasoned professionals and newcomers alike. Whether you're a business owner, marketer, or simply curious about the digital marketing landscape, this episode offers a wealth of information to enhance your understanding and inspire your marketing endeavors.
Introducing Senior Digital Marketing Strategist Zeina Yacoub
Zeina, a senior digital marketing strategist at Americaneagle.com, has been in the digital marketing industry for over eight years. In her role, she focuses on strategy and builds integrated marketing campaigns for various clients. By combining different channel tactics, she creates a cohesive strategy that aims to drive success for clients. Zeina joined Americaneagle.com in April 2023, bringing her wealth of experience and expertise to the team. Her dedication to crafting effective marketing strategies makes her a valuable asset in achieving client goals.
The Path to Americaneagle.com, a Digital Marketing and Web Design Company
Zeina's journey to Americaneagle.com began with her experience in the agency space. She started her career at a benefits enrollment agency and then transitioned to a marketing role for nonprofit associations at Association Management Center. However, the pandemic disrupted the association industry, prompting Zeina to explore new opportunities. She then took on an in-house role at Worldwide Insurance Brokerage, where she focused on raising awareness for a single organization. Despite enjoying her time there, Zeina yearned to return to the agency space, craving the diverse range of clients and the ability to tailor strategies to their unique needs. This desire led her to Americaneagle.com, where she could drive key performance indicators that are specific to each client's business.
Digital Marketing Specialist Job Duties
As a senior digital marketing strategist at Americaneagle.com, Zeina's day-to-day responsibilities involve comprehensively viewing the company's client projects. Her primary focus lies in crafting strategies that connect various marketing channels, including SEO, content marketing, email marketing, social media, and more. Zeina works closely with a team of specialists, collaborating on roadmaps and monthly plans to maximize the effectiveness of clients' allocated hours. With marketing being a rapidly evolving field, Zeina's role as a strategist includes staying up-to-date with industry changes and providing guidance and support to her team and clients.
Steps to Advance in a Marketing Strategist Career
Zeina's interest in digital marketing developed organically as she discovered the versatility of her English degree. Initially drawn to writing, Zeina found herself uncertain about how her skills would translate in the workplace after graduating. She naturally gravitated towards writing-focused roles, eventually landing a job in communications where she honed her skills in crafting the brand voice and messaging for various marketing channels. This experience led her to realize the connection between writing and marketing strategy as both require a creative edge. Zeina's love for writing and her belief in its importance as a skill in marketing has propelled her throughout her career, viewing it as a valuable tool in her marketing toolbox.
Client Responsibilities as a Digital Marketing Strategist
Zeina's focus is on effective communication, road mapping, and monthly planning to optimize the allocated hours on retainer projects. Given the dynamic nature of marketing, she emphasizes the need to adapt quickly to ever-changing trends and ensure the most impactful use of time and resources.
She works with clients across various industries, including spas, insurance, associations, and state colleges. This diverse range of clients adds excitement and variety to her day-to-day work. Zeina appreciates the dynamic nature of agency life, where she doesn't have to focus solely on one subject matter. The opportunity to apply her expertise across different industries allows her to continuously learn and adapt her strategies, making her job more fulfilling and engaging.
Skills Required for a Senior Digital Marketing Strategist
According to Zeina, success in her role as a digital marketing strategist requires agility and adaptability, as the field constantly evolves. Embracing change and turning it into an opportunity is seen as a valuable strength. Additionally, being observant and drawing inspiration from daily experiences contributes to success. Effective communication is crucial, both within the team and with clients. Building trusting relationships through open lines of communication allows for meaningful collaboration. Zeina emphasizes the importance of digital marketing roadmaps, which provide transparency and clarity to clients, showcasing the planned strategies and activities for the month and enabling clients to understand how their retainer hours are utilized.
Biggest Challenges with Digital Marketing Strategist Job Responsibilities
One of the major challenges Zeina faces in her role is delivering bad news to clients. When strategies don't yield the expected results, breaking the news can be difficult. However, she emphasizes the importance of communication and transparency, reassuring clients that their best interests are always a priority. Zeina sees these challenges as opportunities for improvement and experimentation, understanding that marketing is an ever-changing field. By maintaining open lines of communication and demonstrating initiative, Zeina and her team work towards finding new solutions and guiding clients in a positive direction.
Biggest Challenges with Digital Marketing Clients
One of the most frequent challenges Zeina encounters with clients is their struggle with SEO (search engine optimization). SEO requires a significant investment of time, effort, and patience, as search engine algorithms constantly change. Zeina and her team work to stay updated on these changes and adapt their strategies accordingly. However, waiting for SEO results can be difficult for clients who desire immediate outcomes. Zeina emphasizes the importance of creating high-quality original content that meets the needs of users. While SEO may take time, she believes that incremental progress and a long-term perspective yield significant improvements in search rankings and website performance.
The Future of Influencer Marketing and Emerging Trends
Zeina expresses her passion for discussing the evolving landscape of influencer marketing in the digital realm. She highlights the importance of trusted sources of information and how audiences rely on influencer recommendations. With the rise of influencer marketing on social media, Zeina ponders how this trend will shape the industry. She mentions brands exploring AI-generated content, but warns that audiences can quickly detect inauthenticity. As influencer marketing becomes more saturated, Zeina wonders about the future impact of AI-generated influencers and how audiences will respond to this evolving dynamic. The topic intrigues her and she looks forward to observing the future developments in the field.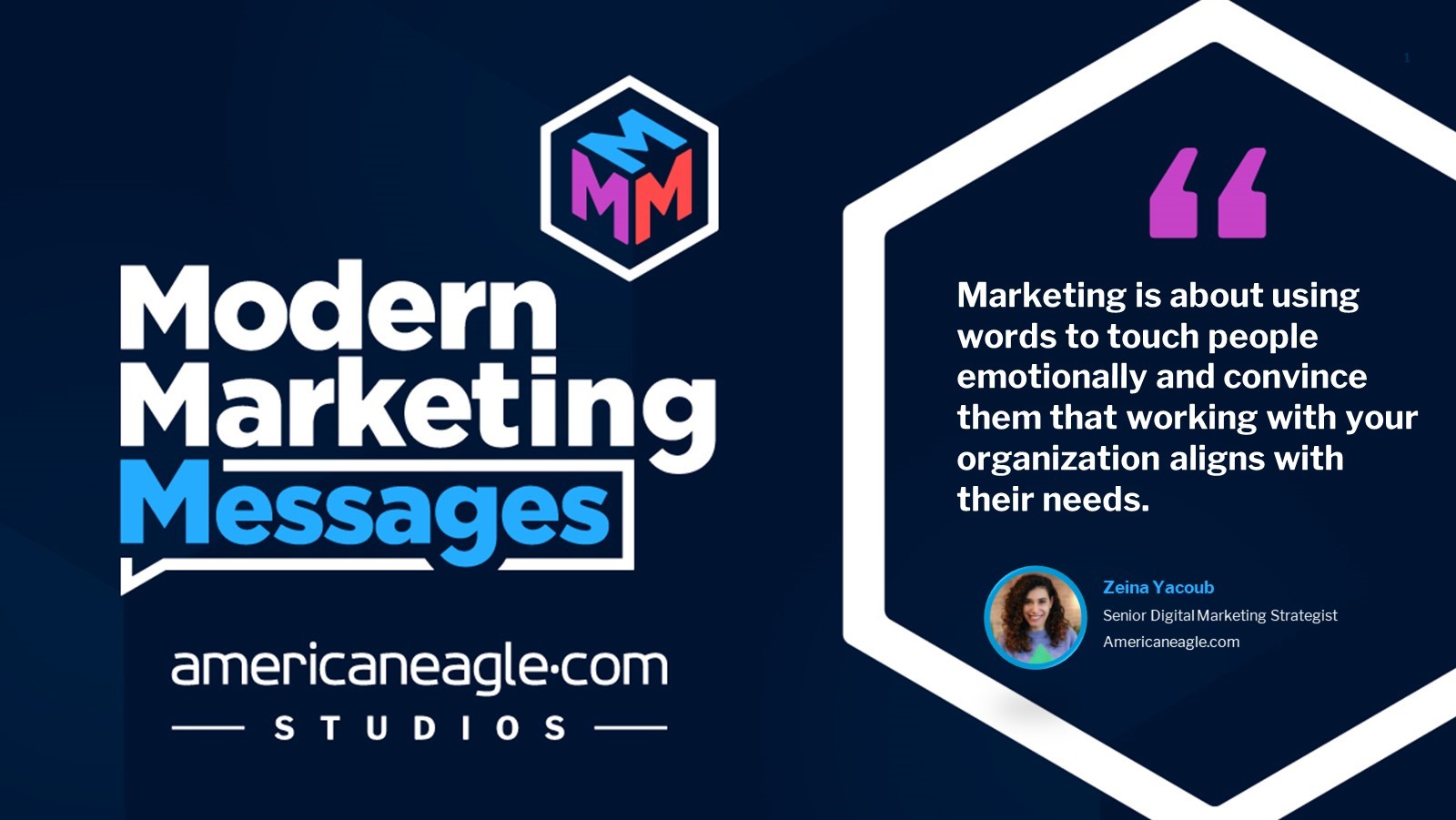 Common Mistakes with Implementing a Digital Marketing Strategy
Zeina emphasizes the mistake of viewing digital marketing as separate channels and highlights the importance of adopting an integrated approach. She explains that solely focusing on one channel, such as social media or email marketing, won't yield the desired results. By connecting the dots and considering the holistic nature of marketing, businesses can effectively meet their audience's needs across various platforms. Zeina acknowledges that marketing strategies and best practices evolve over time and it's crucial to adapt and integrate different channels for success. She mentions that her role involves convincing clients of the benefits of this integrated approach and collaborating with individuals from different roles to create a cohesive marketing plan.
Favorite Part of Working at an Online Agency
Zeina expresses that her favorite part about working at Americaneagle.com is the level of trust and autonomy she has in her role. She appreciates the incredible managers who have faith in her abilities and allow her the freedom to think through strategies and see them come to life. Zeina acknowledges the wealth of knowledge, resources, and talented individuals within the organization, making it unique in the online agency space. She also values the support she receives from her managers and colleagues, mentioning their willingness to assist whenever needed. Additionally, she highlights the benefit of having offices across the country, which allows her to stay productive and connect with coworkers in person.
Soft Skills for Successful Marketing Strategists
Zeina advises digital marketers starting out at a new company to read books, not just marketing-related ones, but works of creative literature as well. She believes that good writing is a cornerstone of effective marketing, as it captures attention and evokes emotional responses. By training their brains through reading, marketers can discern what constitutes good writing and learn to create compelling content. Zeina also encourages marketers to observe and draw inspiration from marketing tactics in the world around them, paying attention to their own reactions as consumers. However, she emphasizes the importance of data-driven decision-making and using objective data to guide strategies. Zeina also finds inspiration in fiction and memoirs, as storytelling is crucial in personal narratives and brand marketing.
Key Digital Marketing Trends to Watch
According to Zeina, the future of digital marketing will involve increased personalization and a more one-to-one approach. Marketers will strive to make their campaigns as relevant as possible to specific audience segments, utilizing sophisticated segmentation techniques. Additionally, Zeina mentions the importance of original and high-quality content, noting that Google is pushing for it. However, she speculates that the way writing is currently used may evolve as humans adapt to the changing landscape. Achieving the kind of writing that resonates with both humans and search engines will require further exploration and improvement.
Learn How to Leverage Digital Marketing Trends for Business Growth
In conclusion, our exploration of Zeina's insights as a digital marketing strategist at Americaneagle.com has provided us with a comprehensive understanding of the intricacies and challenges of this dynamic field. From her journey to the agency space and her diverse range of experiences, we've learned about the importance of tailoring strategies to meet the unique needs of clients from various industries.
Zeina's emphasis on effective communication, adaptability, and the integration of marketing channels highlights the key qualities required for success in this role. We also gained valuable insights into common mistakes and misconceptions in digital marketing and the future trends shaping the industry, such as increased personalization and the evolving role of storytelling. Overall, Zeina's expertise and passion for her work have shed light on the ever-changing landscape of digital marketing and provided us with valuable guidance for navigating this dynamic field.
Listen to Modern Marketing Messages Today!
Start listening on Apple Podcasts, Spotify, or wherever you get your podcasts. You can also watch the podcast taped in the Americaneagle.com Studios on YouTube.
To read the transcript/captions of this episode, click "CC" within the YouTube vide
Connect with:
This podcast is brought to you by Americaneagle.com Studios.

About: The Modern Marketing Messages discusses the latest and greatest in both online and offline marketing tactics, strategies, and trends. We take a deep dive in to anything and everything marketing, speaking to the best and brightest minds in technology and marketing. Episodes will cover different areas of focus, from advanced SEO to paid search, personalization to influencer marketing and everything in between.
Follow now.
---
About Author
---