Email marketing is one of the most effective marketing channels as it provides companies with an opportunity to build an audience that will lead to results. Through the use of email marketing, you can better understand the likes and dislikes of your audience, giving you an opportunity to provide a better user experience with your emails. If you're interested in learning more about email marketing and how it can help grow your business while also connecting with your audience in a personal way, read on and bookmark this page for future reference.
Alternatively, reach out to our email marketing team for assistance tailored to your business needs.
What is Email Marketing?
Email marketing is the digital marketing strategy of communicating with customers via email. Types of email campaigns include newsletters, promotional campaigns, event announcements, and more. Email marketing offers a direct line to your audience, and because you have control over the message and content, email marketing is an extremely effective strategy. Implementing email marketing in your digital marketing strategy may prove to be useful in a different way than SEO or paid ads because you have more control. If implementing SEO, it's important to understand that Google has the power to demote or de-index your website. On the same thread, if you're implementing paid ads into your marketing strategy, search engines like Google or Bing can refuse to run your ads or ban you from advertising on their platform altogether.
Why is Email Marketing Important?
Email marketing can help businesses reach engaged users, recover abandoned carts, drive sales, and more; all of these interactions help you develop your relationship with your audience. Email marketing is one of the most effective marketing strategies because it allows you to connect with your audience in a customizable and personable manner, by personalizing content, segmenting campaigns, and more. Email marketing is one of the most cost-efficient ways to not only welcome potential new customers to your brand, but also to keep your current audience engaged.
Does Email Marketing Work?
Email marketing has been a staple for marketers for more than two decades now. Over time, it's grown in popularity and effectiveness and most believe it'll continue to play a pivotal role in a brand's overall marketing strategy for years to come.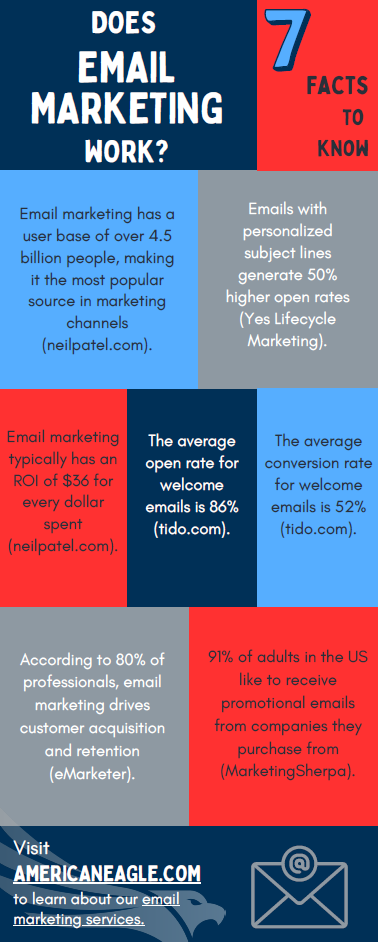 What is Email Marketing Automation?
Email automation gives you the opportunity to make use of a complex email strategy by sending automatic emails based on actions. In order to have a successful email marketing automation campaign, start by segmenting your lists, which is the process of using data about your subscribers and putting them into different groups. Depending on your audience, the data may include:
Behavioral data from your website, such as when they're most likely to be looking at your website or making a purchase.
Demographic data, such as location, age, gender, etc.
Topics important to your audience, such as their likes/dislikes or interests.
Grouping your audience based on this data will allow you to create more personalized campaigns. After you've segmented your email list, it's time to design a series, which is a compilation of emails that will fill the goals of the email campaign. Once your workflow has been designed, it's time to determine which actions will trigger the next email in the sequence. There are 5 main types of automation tracks: welcome track, abandoned cart, first-time purchase, re-engagement, and interests.
Welcome Emails
The main point of a welcome track is to welcome the contact to your mailing list, set expectations about your brand, and offer tips, tricks, and other useful information about your brand. The welcome track will help increase brand awareness, brand loyalty, and drive additional benefits for your brand – including brand revenue. The trigger for the welcome track is a new email collection, which occurs when someone signs up for your email list on your website or fills out the pop-up form on your site. In regards to best practices for this track, make sure you send the first email as soon as they fill out the form or make a purchase, include at least 2 emails in the series, and make sure you know how long you want this track to run.
Welcome Email Structure
When writing your welcome email, it's imperative to ensure you have all the important information included. This email is the first point of contact between you and the user, so having the right first impression will set the tone of how the user views your brand.
Here are some basic bullet points of the information to include in a welcome email series:
Introduce your brand and thank the contact for signing up
Provide expectations about what information you will send and how often
Include useful links to resources, blogs, or specific areas of your website
Encourage the user to create an account if applicable – provide benefits
Provide next steps or a follow-up action they can take
Depending on your audience, offering an incentive at the end of the series can move a contact in the consideration phase to the purchase phase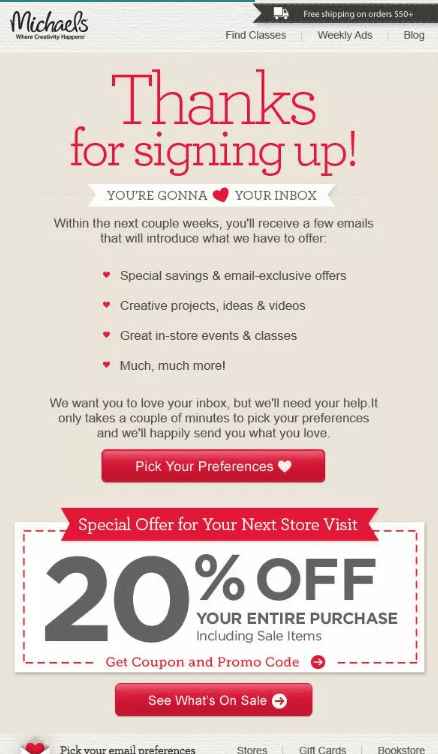 Abandoned Cart Emails
An abandoned cart email track has a few goals, including re-engaging with a customer who is or was considering a purchase to give them a simple way to complete their purchase. Some other goals for this email track are to gain otherwise lost revenue and to stay ahead of the competition by ensuring the customer doesn't forget about your brand. The trigger for this series is when a cart has at least one item in it and the user has exited the page. Best practices for this series include making sure your workflow will remove a user from the automation if they complete their purchase or empty their cart, sending the first email within the first hour of the trigger because this is when they're most likely to still consider the purchase, and sending at least 3 emails.
Abandoned Cart Email Structure
When you're writing the emails within the abandoned cart series, it's important to have a structure to your emails in order to have a positive user experience and further encourage the user to complete the conversion.
Below is the information to include in an abandoned cart email series:
Provide a clear summary of the cart contents: price, selections, imagery, etc.
If multiple items are included in the cart, limit the number shown to avoid overloading the user
Clear calls to action.
Incentives can be a great pull, however, do not overdo it to avoid a negative user experience due to frustration over the number of emails they're receiving from you.
Use urgency-related language

Don't be afraid to highlight limited stock, item popularity, etc.

Re-enforce key selling points or competitive advantages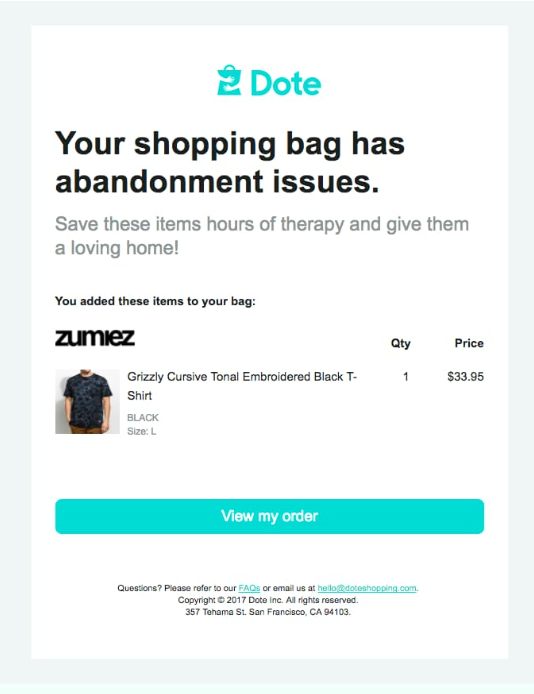 First-Time Purchase Emails
The first-time purchase track is meant to ensure that the customer feels valued and part of your company's brand. The goals of this email series are to maintain contact engagement, increase customer retention and repeat purchases/actions, provide relevant information, gather addition information about your contacts, reiterate the company voice and culture, ask for feedback, and/or offer incentives. This email series uses segmentation rules, grouping users into two categories: repeat customers and first-time purchasers. This series should be sent following a first-time purchase. Depending on the other automation series you're implementing, it's best to send this email once the order is received and be sure to personalize the email to each customer.
First-Time Purchase Email Structure
When you're writing the email for the first-time purchase email series, it's important to create a feeling of gratitude to the customer. Not only will this provide a positive user experience, but it will also encourage the customer to make more purchases in the future.
Here are some basic bullet points of the information to include in the first-time purchase email series:
Thank your user for their purchase
Provide product recommendations based on purchase
Make reordering/additional actions easy
Invite the user to follow you on social channels
Consider an incentive to entice a follow-up purchase

For example, if your business sells clothing and a user purchased a dress, send an email with accessories that your business has curated to go with that item.

Request referrals and reviews – and ensure satisfaction
Provide testimonials
Reiterate customer service and support options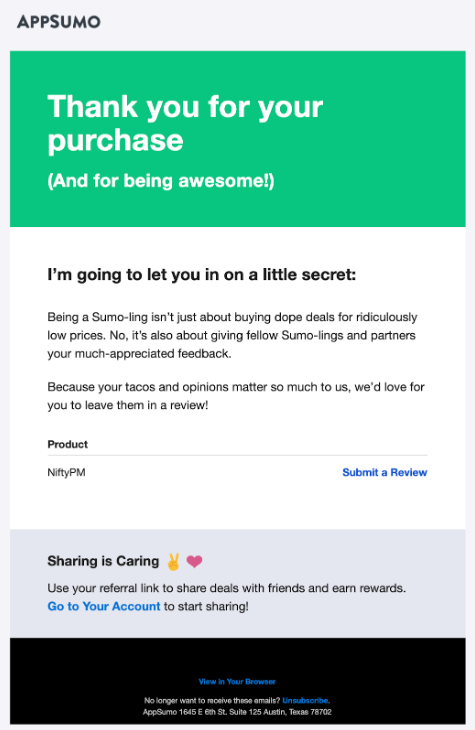 Re-engagement Emails
The goals of a re-engagement email series are to re-activate unengaged contacts, improve customer retention, increase email deliverability, and improve email performance. The trigger for this email series is to utilize action-taken based segmentation to target inactive email subscribers. In order to be successful with this type of email series, it's important to have a clear understanding of what "inactivity" means for your company, which can be different for everyone. Ensure that your email design is personal, to the point, and targets your customers' emotions in order to have the highest probability of them re-engaging with your emails. It's also important to determine the frequency and timing of this email series to maximize the probability of a custom re-engaging. As a general note, it's best to send out emails between 10AM-12PM because that time frame has the highest likelihood of the user opening the email. Regarding the frequency of emails, a lot of it comes down to testing how many emails your users are opening on a weekly basis and it's best to start with 1-2 emails per week and go from there.
Re-engagement Email Structure
It may feel frustrating to have email subscribers that are inactive, so it's important to have a clear understanding of the best way to re-engage them with your brand. When it comes to this email series, make sure the email is clear and encourages the user to re-engage with your email content.
Here are some basic bullet points of the information to include in a re-engagement email series:
Acknowledge a user's inactivity with clear messaging - "We miss you" or "Are you still there?"
Include a button with a clear action - "Yes, I want to stay subscribed"
Send users to a thank you page after clicking this button
Include expectations, benefits, and value propositions of the emails you send and how they are relevant to the contact's needs
Be clear about what the intention of the email is. Let the user know that if they do not
act within a certain amount of time, they will automatically be removed from your communications. Removing inactive users from your email lists will not only ensure that you're efficient in your email marketing efforts, but also that users won't get frustrated with receiving emails they don't want, which will give them a negative user experience with your business.
Interests Emails
This form of an email series has one main goal: engage users based on their interests. This can be done in many forms, and no matter how you do it, it's important to create fun and creative emails that users want to open and make them feel like their likes, dislikes, and opinions matter to you. Possible triggers for this email series could be a preference page subscription section or a webform that allows users to select their interests.
Interests Email Structure
It may feel frustrating to have subscribers who aren't as active with your emails, so it's essential to learn more about your audience in order to have them become more interested in your content. If you have a clear understanding of what interests your audience, you will be able to create more exciting and engaging content for them.
Here are some basic bullet points of the information to include in an interest email series:
This is more of a "bonus" track, so you can have a little more fun with it
You can mix different asset types within your interest track such as:

Videos/Tutorials
Blogs
Before and Afters
Case Study/Whitepaper /eBook
Infographics

CTAs in interest tracks can be "CONTACT US" or "LEARN MORE" since the goal of this track is to get prospects excited and re-spark interest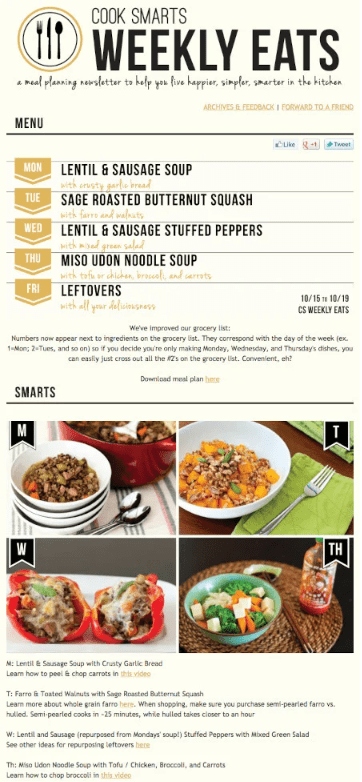 Additional Email Automation Types
Aside from the above automation series that can be made, there are additional automation types that can be used to improve the user experience and increase brand awareness.
Birthday
Wish them a happy birthday
Give them an incentive/gift
Can also apply to: anniversaries, milestones, holidays, etc.
Browse Abandonment
Target specific phases in your conversion funnel and remind a user what they were looking at
Utilize category listings, product detail pages, or any other specific pages within your website
Include information from the page the user left off at and give them clear ways to continue through the funnel
Form Submissions
Follow-up with a user following a download
Include related content, ask for feedback, thank the contact, and/or simply provide confirmation of their download.
Email Marketing Strategies
In order to have a successful email marketing strategy, it's important to understand that there are multiple components needed. From email list building to ensuring that you're engaging subscribers, each aspect has equal importance in creating a successful email strategy. Let's go through each component to give you a clear understanding of their role in an email marketing strategy.
Email List Building
The first component of a successful email marketing strategy is email-list building, which is the foundation of your strategy and will dictate how successful your strategy is. In order to build a list that can be successful, you must use building strategies that are designed to attract your target audience. Some examples of good list-building strategies include hosting webinars, creating a downloadable asset, and offering a coupon.
Segmentation
When used in email marketing, segmentation is the process where email subscribers are broken down into smaller groups based on specific criteria. The criteria can be location, purchase history, demographic, interests, and more depending on your business and email marketing goals. This is used as a personalization tactic in order to deliver more relevant email marketing to your audience. The goal of segmentation is to increase engagement and drive conversion because implementing the use of targeted messages allows you to send relevant content to the right people. If you want to start an email segmentation, begin by defining your data points, create personas for your customers, choose your segments, create content based on the data - then measure, adjust, and repeat.
Email List Hygiene
Another essential email marketing strategy is implementing and practicing good email list hygiene. This means removing incorrect email addresses, which will improve your metrics and deliverability. It may also be helpful to keep a list of email subscribers who haven't interacted with your emails yet and send out an email to gauge their interest. If they're no longer interested, it's best to remove them from your list in order to avoid giving them a poor user experience with your brand.
Engage Subscribers
It's important to regularly send emails to your list in order to keep your subscribers engaged. Sporadic emails could lead to a reduction in subscribers, users forgetting your brand, and conversion rates that don't meet your benchmark. If there are email subscribers who were once engaging and now ignore your emails, it may be helpful to run a re-engagement campaign through paid ads to see if they will engage with your content.
Keep Email Campaigns Focused
When you're designing email campaigns, it's important to focus on one objective per campaign and email. When it comes to email marketing, trying to focus on too many things at once doesn't work, and can lead to reductions in your conversion rate.
Track Your Campaigns
Having a successful email campaign requires more than just sending your subscribers an email every few weeks. To understand which of your email marketing strategies is the most effective, you must track the performance of your campaigns. This means defining and tracking the right key performance indicators.
Depending on what your goals are with email marketing, your key performance indicators may include:
Open rates
Click-through rate
Sales
Unsubscribe rate
Advantages of Email Marketing
Email marketing is one of the most effective ways to reach your audience and it has the highest return on investment (ROI) of all forms of marketing. This makes it one of the most advantageous ways to grow your business.
Personalized Content
Personalizing your content is a great way to grow your relationship with your email subscribers. Email marketing allows you to segment your customers into different lists based on their interests to send out highly personalized content. From creating the best subject lines to images that resonate with your customers, and providing valuable insight that helps your audience, email marketing is the perfect way to deliver messages that feel personal.
Brand Recognition
Email marketing can boost your brand recognition with your audience. If you're consistently sending high quality content to your email subscribers, they will begin to not only recognize your emails, but look forward to them. To give your audience a way to give feedback on your brand, think about creating a brand identity survey. Not only will this give your audience an opportunity to feel like a part of the brand, but it will also give you the chance to make meaningful changes based on the feedback.
Customer Relationships
Email marketing provides your business with a unique opportunity to create a close relationship with your customers. They are receiving information about your brand on a consistent basis, and when you help make their lives better through the content you give, they will learn to appreciate and trust you. This relationship has the chance to grow and can lead to your audience looking to your business for information since you have been providing them with value and they'll think of you first when they need your services.
Website Traffic
Email marketing is a great way to entice email subscribers to visit your website. If they're on your email list, then they've already visited your site once and filled out the form with their information. Sending promotions and other content will only further encourage them to revisit your site. Email campaigns can also be used to get customers to engage with other aspects of your website, such as your blog or new content.
Credibility
When someone receives emails from an unknown sender or they get an email with a suspicious looking subject line, it can feel like spam which will lead to emails being deleted before even being opened. There are many different aspects of an email that will encourage a customer to open an email. For some, it's an emoji in the subject line, for others having a similar subject line for each email may push them to unsubscribe. Tailoring your content for your audience is crucial in building credibility between your brand and your audience. It's also a good idea to create a permission-based email list that includes a checkbox for users to agree to be on your email list while at the same time informing the user what kind of emails they're signing up for and how often they'll receive emails.
Disadvantages of Email Marketing
Businesses use email marketing as an affordable and effective form of advertisement. If you're considering implementing email marketing as part of your marketing efforts, it's important to understand what sort of roadblocks you may face.
Spam
People receive countless promotional emails every day, comprised of both brands they've subscribed to and brands they haven't. In order to limit the number of promotional emails they see on a daily basis, people will adjust the spam filters on their email serves. Some ESPs, like Gmail, will filter emails for their users into different tabs that they may not check on a consistent basis. This could result in your email ending up in someone's spam folder without them ever seeing it.
Engagement
Every successful email marketing campaign includes constantly tweaking your email campaigns in order to keep your subscribers engaged. Often, a user will subscribe to an email list solely as part of a promotion, such as a discount on a product. No matter how someone ends up on your subscriber list, it's important to work hard to maintain a high level of engagement.
Common Email Marketing Services
If you're looking for a new email marketing platform, finding the right solution for you and your business may seem overwhelming at first. Here we explore five top email marketing platforms to consider, to make the decision-making process easier: MailChimp, Constant Contact, ConvertKit, GetResponse, and Aweber.
MailChimp
MailChimp can be used in a multitude of ways and is one of the few platforms that lets you keep things simple but also offers more complex functionality. This platform can be used simply to send newsletters or to complement more advanced email strategies that include sending abandoned carts and other automated emails. Pricing is free with limited features for up to 2,000 subscribers and pro plans start at $10 a month.
Constant Contact
Constant Contact is an ecommerce-focused marketing platform with a drag-and-drop design, but it can also be used by bloggers, nonprofits, and service businesses. Plans range from $20-$45 and higher depending on how many subscribers you have.
ConvertKit
ConvertKit has become one of the most popular email marketing platforms. One of the most unique things about this platform is that 100% of its features are focused on helping online creators such as bloggers, artists, and musicians. Pricing for this platform is based on subscriber numbers, and pricing is free with limited features for up to 1,000 subscribers. A full-fledged plan with 1,000 subscribers or fewer starts at $29 and they also offer a 14-day free trial.
GetResponse
GetResponse includes all the features that are expected from an email marketing platform, such as autoresponders and email marketing automation. Their plans also come with email marketing tools such as landing page software and popups, both of with can help you build your email lists. GetResponse offers a full 30-day free trial, and their plans start at $15 a month with limited functionality.
Aweber
Aweber is one of the simplest email marketing platforms on the market. However, it can reliably be used for sending newsletters and autoresponder emails. You can try any plan free for 30 days if you have less than 25,000 subscribers on your list. Paid plans start at $19 a month.
What are Email Marketing Best Practices?
When it comes to email marketing, you want to make sure you've structured your strategy for success and done everything possible to make sure you create relationships with your subscribers. There are many best practices when it comes to email marketing, including subject lines, A/B testing, tracking, design, personalization, and deliverability.
A/B Testing
In order to specify your messaging for your unique audience, you should consider A/B Testing. A/B Testing or Split Testing is a way of sending two campaign variations simultaneously in order to compare their results.
There are two types of A/B Testing: A/B Split Testing and Champion/Challenger testing. Here is a graphic that explains both types of testing and their uses.

Once you've decided which type of test to implement, think about exactly what you want to test out. Here are some examples but remember to only test one thing at a time to make sure you know exactly what's working and what isn't.
Subject Line

Question vs. statement
Humorous vs. serious

Personalization

Using a user's name or known preferences

Body/Headline/Subhead Text

Long copy vs. short copy
Font size and color

Call to Action Buttons

Color, placement, and language used

Date and Time

Morning vs night
Day of the week

From Name and Address

Human name vs company name

Images/Videos

Does an image help the message or distract?
Do images work best at the top or within the body?

Message Layout

Placement of CTA's
Placement of Images and copy
Length

Specific Offers

Example: % off or Free Shipping
Who to Test
Generally, testing with an entire list will yield the best results, but there may be times when a smaller portion or segment will be more advantageous. Radical redesigns involve sending to a small sample first in order to help you understand if the change you made resonates or not. Limited time promotions are a great way to figure out what works and what doesn't - and then you can send the winning version to your larger email list.
When to Test
There are large and small changes that can be made for this type of testing. Small changes include subject lines, copy changes, message layout, etc. You can run many tests on small changes until you have the data you need to implement a winning variation. Any larger changes that you want to make should be made infrequently so you don't shock or confuse your audience.
How to Measure
When you're conducting A/B testing, it's important to have a clear image of what your goals are. By better understanding what metrics you're hoping to improve on, you will have a clear focus when creating a test. Some examples are:
Open rate
Deliverability rate
Click-through rate
Conversion rate
Study the data from your tests to determine a winner and then implement the changes to your regular campaigns. If you're looking to conduct A/B testing, don't be afraid to continue testing and challenging how you do things in order to grow.
Email Subject Lines
Subject lines are the very first point of contact between a subscriber and your business, making it important to leave a positive impression. People judge the contents of an email by the subject line. More often than not, the subject line is what will help them decide if they're going to open an email or not. Understanding how to create an engaging subject line will boost your open rate and give you a better opportunity to increase your conversion rate.
At first glance, you may think a subject line is nothing more than just that. However, there's much more to it. Here is a breakdown of the first thing a subscriber will see when your email shows up in their inbox:
Sender Name

First thing users will see
Stay friendly and familiar

Subject Line

41-50 characters

Preview Text

The preview text can be seen following the subject line and it provides an opportunity to describe the contents and purpose of your message
40-160 characters
NOTE: Not all preview text is created equal. Different email service providers and mobile devices will and do show this differently, so it's important to test.
Take a look at the two examples of a subject line below. Of the two, the second one is more descriptive than the first, which is not only more engaging to a user, but it will also further entice them to open the email.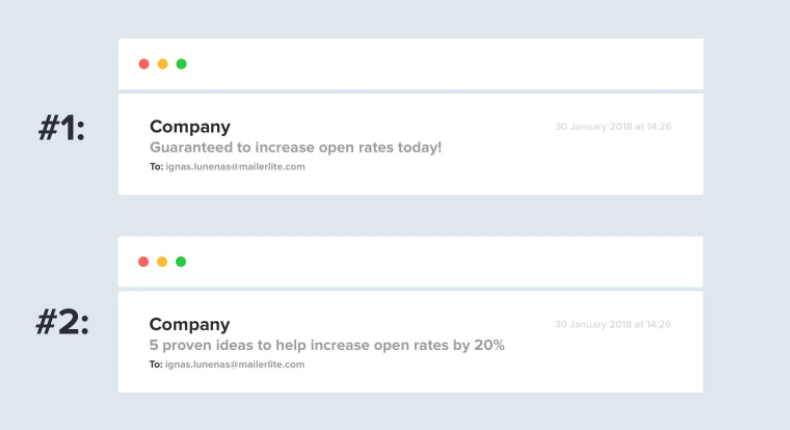 Some quick tips to write an engaging subject line:
Use a familiar name (someone or something they may recognize from your brand)
Use action verbs and convey urgency
Don't hide the offer that you're giving to them in the email
Avoid false claims and all caps, this will make your email look spammy and users could lose trust
Ask a question to encourage users to open the email
Personalize the subject line to make the user feel special and want to open the email
Get creative!
Email Marketing Tracking & Measurement
Users opening your email and clicking the link is great, but it's just the start. If you're using email marketing, you should be tracking or measuring every email that is sent out. There are many different benchmarks that you may want to hit as part of your email marketing goals, and every business is different. Here are a few things that may be beneficial to look at when tracking your emails:
Number of orders
Revenue generated
Number of conversions
Number of prospects gained
Subscriber rate
Bounce rate
Traffic generated
In order to track your campaigns in a more beneficial way, make sure that proper UTM tracking has been set up so you can find your answers in Google Analytics. It's also important to check with your ESP on your tracking setup options. If this isn't available on your ESP, manually create UTM links with Google Campaign Builder or with tools like UTM Builder. and establish your naming convention. Finally, view the data and see which emails drive the most transactions, have the best site engagement, or drive the most traffic. Make sure to track this every month and adjust as needed.
Mobile-Friendly Email Design
Everyone has a smartphone, and most people use that smartphone for almost everything they need on a daily basis – call mom or dad, check their calendar, make dinner reservations, check their email, and more. All major email servers like Gmail or Outlook have created mobile apps for their users to check, respond, and send emails on their mobile devices. As such, it is imperative to ensure that your emails are designed to be mobile-friendly. If your emails aren't mobile-friendly, you risk pushing away some of your subscribers for good.
Responsive Email Design
The first aspect of having a mobile friendly email design is making single-column layouts your default when designing your email templates. This will ensure that emails read on mobile devices are formatted properly, so that users don't experience shifting images, overlapping columns, or overflowing text. Single-column layouts require that your content blocks are placed one on top of the other, helping you specify a hierarchy of information. Having a hierarchy such as this will make it convenient for users to navigate your emails, making their experience positive and motivating them to make a purchase or interact with your business further.
Optimal Font Size and Styles
When it comes to having a mobile-friendly email design, it's important that users have the ability to read your content without a struggle. A phone screen is much smaller than a tablet or desktop, so you need to be cognizant of the size and style of your fonts. If your subscribers can't read your content, they won't be able to further interact with your emails and it could lead to them unsubscribing from your emails altogether. For headlines in an email, anywhere from 22 to 26px is a good size and for body text, anywhere from 14 to 16px works well. Not only are these font sisters mobile-friendly, but your text also won't be too big or small. As for font styles, make sure that the styles match your other marketing materials while also being readable for subscribers.
Image Optimization
While images lend vitality to your emails, it's important to recognize that not all mobile email clients will display images by default. This means that you need to be mindful when creating images for your emails. The best course of action is to treat images as auxiliary elements and make sure that your email messaging doesn't rely on images. If your marketing relies upon text, then you will know that no matter where subscribers are reading your email, they will be able to understand the message.
Button Size and Placement
No matter where you're looking to find tips on making your emails mobile-friendly, most will stress the importance of making your emails click friendly. The last thing you want is your subscribers trying to click on a link in your email and end up clicking on something else entirely. An interaction like this will give the subscriber a negative user experience and may deter them from opening any future emails from you. To avoid this, make sure your mobile-friendly email templates stand out and use white space generously around each button and link in your email.
Email Deliverability
Email deliverability is when the server accepts the file and delivers it to the mailbox, making it the actual ability to get emails to land in the recipient's inbox. Email deliverability is the foundation of a successful email marketing campaign. In short, if your emails don't reach your subscribers' inbox, it's as if you never sent them an email at all. Ensuring that you have a high rate of email deliverability is a matter of building a positive sender reputation, implementing email authentication protocols, and avoiding the dreaded spam folder.
Sender Reputation
ISPs care a lot about the credibility of your domain and IP address, so much so that before any email is delivered, they will run a "reputation check". The goal of this process is to see whether you're likely to send unwanted messages or have any corrupt motives. Sender reputation can be built through email authentication protocols, best practices, and more.
Email Authentication Protocols (SPF, DKIM, DMARC)
If your business is considering implementing email marketing tactics into your strategy, it's important to consider the technical aspect of email marketing. This is imperative because if your emails don't get delivered to your subscribers' inboxes, your efforts will be useless. Spambots are known to try and impersonate real people or organizations in order to get users to open their emails. To prevent this, ISPs implement multiple types of email authentication techniques to ensure the email originator is legitimate. These methods are SPF, DKIM, and DMARC.
SPF
SPF, also known as Sender Policy Framework, is an important authentication method. SPF records tell an incoming server which hosts or IP addresses are allowed to send email with a given email address. Before an email appears in a mailbox, an incoming server will check and if things don't match up, an email could be rejected right away.
DKIM
DKIM stands for DomainKeys Identified Mail and is used for email validation. Essentially, DKIM checks if an email was sent by the owner of the email address through a digital signature that's included with every email message that's sent. This signature includes encrypted details such as message body and/or headers, sender's domain, etc. When an email with DKIM is received by a server, it will recreate the signature with a public key and compare it against the DKIM received. If the signatures match, the email will get a significant boost in deliverability, otherwise it will be a hint for the server that the sender might not be who they claim to be.
DMARC
DMARC is the most sophisticated of all three methods because it combines both DKIM and SPF, while adding an extra check that's known as an alignment test. DMARC also allows you to tip a receiving server on what it should do if an email fails their test, which could mean the email is discarded right away, sent to a spam folder, or proceeds as usual. For each test the email message fails, a sender may receive a report with the details of what happened while also providing a first-hand source of knowledge if any spoofing happens or a legit email fails a test. DMARC requires at least one of the above methods to be implemented, but it wouldn't hurt to have all three set up in order to have better cybersecurity credibility and protection.
Avoiding Spam Filters
When it comes to email marketing, spam is a death sentence for an email marketing campaign. Most email users don't look at their spam folders, so if your email ends up there, it's unlikely it will ever be read by the user. To avoid spam filters, there are a few things that you can do:
Stick to the Email List
One of the best ways to stay out of spam filters is to make sure your emails are going to inboxes that have given explicit permission to receive them. If someone joined one of your events years ago or signed up for a forum 6 years ago, it doesn't necessarily mean they want to get an email about a new product. If they don't want to receive the email, there's a good chance they will mark your message as spam. It's important to understand that even a few of these requests could get you blocked on any future campaigns, no matter which DNS server you use.
The Unsubscribe Button
If you make it difficult for a subscriber to unsubscribe from your emails, sooner or later they will want to clean out their mailbox by marking emails they don't want as spam. While this may seem counterintuitive because you worked hard to get them to subscribe to your emails in the first place, it could leave you with hundreds of email subscribers who don't even open your emails. They could have signed up to access a blog or try a product, but they're no longer interested, or maybe they simply receive too many emails and want to clean out their inbox. No matter the reason, ensuring that there's a clear unsubscribe button will not only clean up your email list, but will further ensure that the people receiving your emails will open and interact with your content.
Spam Traps and Blacklists
Spam traps are fake email accounts that are set up by ISPs and placed in various locations around the internet. While bots are harvesting emails, they also tend to add these addresses to their collections because they look no different than the actual accounts that bots are after. If you send even one email to an account like this, your deliverability will immediately begin to suffer. As a result, spammers and those making mistakes like this will end up on blacklists that are set up by various algorithms in place. Many email service providers like Gmail, Outlook, or Yahoo check against these blacklists and decline emails if they find enough reasons to consider an email as spam before delivering an incoming email.
Monitoring Email Deliverability Metrics
The process of monitoring your email deliverability metrics usually consists of tracking whether an email was opened or if links were clicked. This will help your email marketing team in seeing how much of your email content is being interacted with by your subscribers. There are several tools that can be used to track your metrics, like Mailtrack, MXToolbox, and others that will let the platform know immediately when an email is opened, and links are clicked. Tools like this will also help you gain a better understanding of your users, such as what kind of device they use, the operating system, and which apps they use.
Email Marketing Examples
When you're implementing email marketing campaigns into your marketing strategy, it can be overwhelming to figure out what will work best for your business. Here are some real-world examples of successful email marketing campaigns:
Netflix
More than half of all households in the US subscribe to multiple streaming platforms, meaning that every platform is constantly fighting for our attention. As a result, brands like Netflix have made their emails much more targeted. This email from Netflix provides a curated list of new content based on the user's watch history. Not only does this email have a lot of visuals that make it appealing to the eye, but it also has a CTA that will prompt you to watch the trailer for any show on the list. The email uses Netflix's familiar black and red design, making the experience of scrolling through the email like scrolling through the streaming platform. This email works well because it entices the user to head over to Netflix and explore the new shows and movies they have to offer. The personalization of this email makes the user feel as though this was made specifically for them, furthering the relationship between Netflix and the user.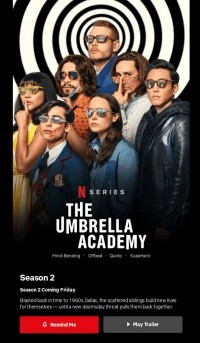 Venmo
This email was designed to re-engage users in a friendly and informational way. Through highlighting the changes that the Venmo app has gone through, and the benefits that come from these changes, the content in this email encourages the user to try the app again. Not only is this email brief, but it contains enough valuable information that allows the user to make a well-informed decision. This email works well because the content is welcoming to the user.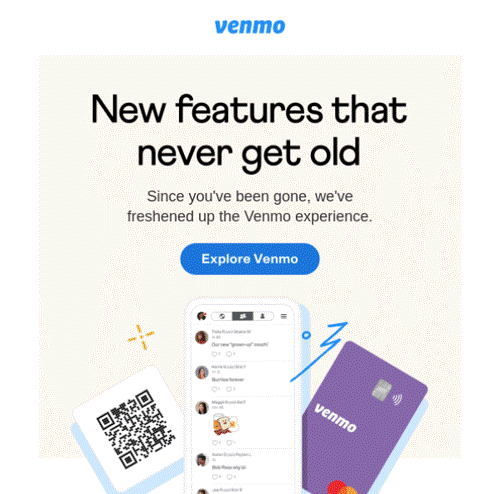 Uber
Uber's emails are simplicity perfected. Email subscribers are alerted to deals and promotions that are currently being offered through emails like the one below. The brevity of the initial description combined with the clear call to action is perfect for users who are quickly skimming the email. The design of the email is consistent with the design of the app, website, and social media, making it a cohesive and recognizable brand. Brand consistency is a tactic that Uber has nailed in order to gain brand loyalty from their users.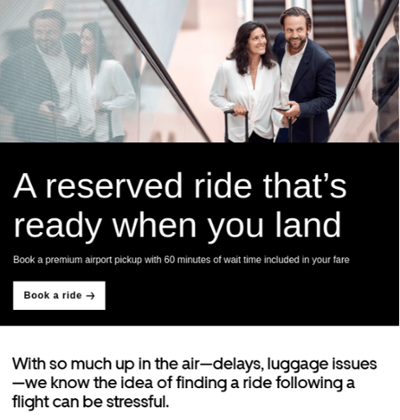 GDPR, CAN-SPAM, and Other Compliance
Email is one of the most effective marketing channels, but before you get started in making and sending out email campaigns, it's important to have a basic understanding of the laws around email marketing. Having this knowledge will ensure that your email marketing efforts are done in a manner that is successful and doesn't break any laws. There are several different laws that guide email marketing for commercial purposes, including CAN-SPAM in the U.S. and GDPR in the EU. Learn more below about these laws and how they shape email marketing.
Understanding GDPR Compliance
The EU General Data Protection Regulation (GDPR) is the biggest measure to control data transmissions and privacy guidelines. Approved in April 2016, this marked the beginning of an effort to change the ways data integrity was viewed. GDPR constitutes personal data as anything from names and photos to personal medical information or the user's IP address. In a nutshell, GDPR requires personal data to be protected through explicit consent given by the user in order to receive messages or emails from commercial businesses. GDPR also says that you may not use private information for any purpose besides those you disclosed when they gave consent.
CAN-SPAM Act Requirements
In 2003, the United States passed the CAN-SPAM Act, which was the first of the major email marketing laws that exist today. This law regulates all commercial email, including emails that advertise a product or service, make a product launch announcement, or encourage you to explore a commercial website.
Some of the major provisions in the CAN-SPAM Act include:
Commercial or promotional emails must be marked.
You must respond to opt-out request ions promptly.
You must be up front about who you are, where you can be reached, and the contents of your message.
You are solely responsible for the actions of your subcontractors, making it more important that everyone complies with the rules.
Like other FTC regulations, sending one marketing email that is out of compliance will set you back with a fine of over $40,000. This will add up quickly and covers every email sent to each address in violation.
Opt-In vs. Opt-Out Subscriptions
When someone is providing explicit consent to receive marketing emails from your business, it's imperative that you implement a double opt-in and a clear opt-out button. This will ensure that both you and the subscriber consent to sending and receiving marketing emails. A double opt-in is when you send someone an email that indicates that their email has been sent to your list and asks the user to confirm their consent. When a double opt-in is implemented, it leaves no room for questions as to whether or not the owner of an email address agrees to having emails sent. If you keep a log of this permission, it will make it all the more difficult for a regulator to argue that you don't have enough permission to send emails.
Providing Clear Unsubscribe Options
In the same vein, it's important to ensure that a user can clearly unsubscribe from your emails at any time. It's always frustrating when a user has to jump through hoops to unsubscribe from an email list, so having a clear opt-out or unsubscribe link at the bottom of every email will make it clear and concise.
Email Marketing FAQs
If you've never done email marketing, it can be intimidating. Here are some of the most common questions and answers about email marketing:
What's the best time of day to send emails?
Figuring out when to send is entirely dependent on your business and customer base. Generally, it's best to send emails on weekday mornings between 10AM and 12PM. If you're looking to send emails on the weekend, try to send it on Sunday night so it's seen by your subscribers first thing Monday morning. The best thing is to experiment with different days and times in order to figure out what works best for your audience.

Is email marketing more effective than social media?
Social media has grown at an exponential rate in recent years, and while it is an incredibly useful tool when implemented into marketing strategies, email marketing is still a preferred method for promotions. Email marketing has a much higher conversion rate than social media, making it much more effective in a marketing strategy.

Do I need to send newsletters?
This is something that depends on your target audience and the way they respond to your content. Some audiences love newsletters while others may only want to get an email when information is needed right at that moment. If you're looking to expand your email marketing strategy into newsletters, experiment with the formatting and when to send the newsletter out to figure out what works best.

How often should I send emails?
Emails should be sent as often as possible without annoying your email subscribers, depending on your audience. Some companies can only send emails once a week while others can send emails daily and maintain high engagement levels. Finding what works for your business comes down to trial and error, so start slow and work your way up and see how your subscribers respond.

How long should emails be?
There's a sweet spot of how long emails should be to contain all the necessary information without overdoing it. This is about 50-125 words, and most people will only spend 30 seconds or less reading an email. Make sure to include the most important information and the call to action at the top of the email where they will be seen first.
Work with a Digital Marketing Services Company
Email marketing delivers massive returns for marketers and gives you the opportunity to learn more about your audience. Having a personal and direct line to your audience allows you to grow your audience and push your marketing initiatives forward. If your business is looking to implement email marketing or improve your strategies, look no further.
Americaneagle.com has experienced email marketing and automation specialists who are incredibly talented. Our team will help you create strategies and workflows that effectively move people through the sales journey and give your business the opportunity to flourish. Not only do we work on email automation, but our specialists also do email marketing strategy creation, email audits, email message creation, automation workflows, and drip campaigns. Please visit our email marketing services page for more!
Americaneagle.com's team of digital marketers has the experience to help your business grow. Contact us today and learn how we can help you soar.
---
About Author
---