In 2004, Petr Palas created Kentico with the belief that there could be a more efficient way to manage and create content. Since then, Kentico has developed several product offerings. Most notably, their flagship product titled 'Xperience' represents the core digital experience platform (DXP) offering. As a DXP, Kentico Xperience has successfully evolved from a simple content management system to now include a native suite of digital marketing tools.
Throughout the years, Kentico has stayed committed to consistently evolving its product to create the best possible experience for customers. Here at Americaneagle.com, we are a Kentico Gold Partner and have a dedicated team of Kentico-certified marketers and developers, allowing us to provide high-quality Kentico solutions to our customers. Explore our Kentico development services page to learn more about the incredible work we do with the platform.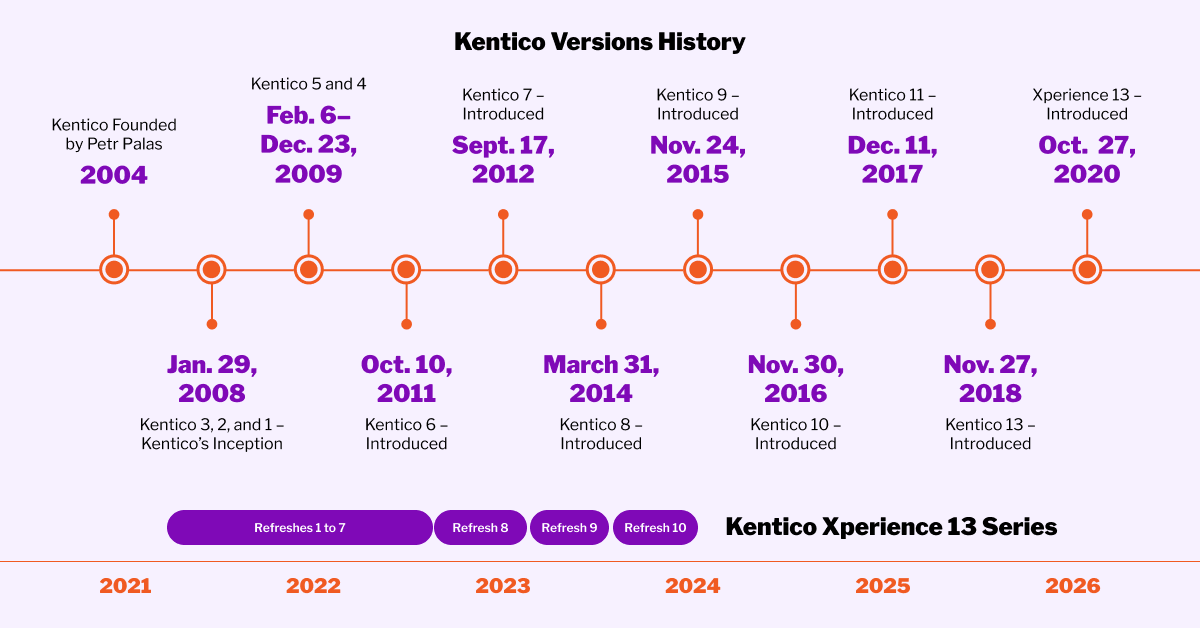 Kentico Version Timeline
First introduced in October of 2020, the current version of Kentico, Kentico Xperience 13 (KX13), will have a planned multi-year tenure with support expected to continue through 2026. During this time, KX13 will continue to receive security hotfixes, feature refreshes, and technical support that is all aimed towards creating the highest quality DXP. To continue the legacy of Kentico 1, first introduced in 2008, KX13 will remain a viable offering while Kentico focuses on the latest iteration of its products, Xperience by Kentico.
Xperience by Kentico (Current Beta - 2026)
Over the next three years, Kentico Xperience 13 will be going through a multi-year planned transition to Xperience by Kentico. This transition has multiple refreshes, hotfixes, and technical support to continuously improve Kentico Xperience. Kentico is committed to creating products that embrace a multi-experience, accelerate cloud capabilities, increase speed and productivity, and continue to strengthen what customers love the most. The platform has outlined its priorities starting in October 2023 to make improvements to its Xperience product, including reusable field schemas, mass actions in listings, integration with CRM, and more.
Visit the Xperience by Kentico roadmap to dig deeper into the strategic pillars in development.
Kentico Xperience 13 Series (2021 – 2026)
Xperience 13 Refresh 10 (June 22, 2023)
Added WebP and SVG format support
Xperience 13 Refresh 9 (March 24, 2023)
Added Copy-pasting sections in Page Builder
Xperience 13 Refresh 8 (December 13, 2022)
Added features like scheduled redirects and integrations with Twilio, Salesforce, reCAPTCHA v3, and more.
Xperience 13 Refreshes 7 to 1 (Between March 17, 2021, to September 29, 2022)
Additions include AI image recognition, Google Search Console, MS Dynamics 365, Looker Studio integration, and .Net 6 support.
Xperience 13 Introduced (October 27, 2020)
Introduction of enhanced marketing automation, platform improvements, and integrations with voice assistants.
Kentico 12 Introduction (November 27, 2018)
Introduction of Page Builder, Widgets, Form Builder, and MVC A/B Testing.
Kentico 11 – Introduced December 11, 2017
Focused on GDPR compliance, enhanced ecommerce features, email builder, and Azure Search.
Kentico 10 – Introduced November 30, 2016
Introduction of responsive images management, improved contact and campaign designs, and integration with platforms like Power BI.
Kentico 9 – Introduced November 24, 2015
Emphasis on security with Anti CSRF tokens, MVC support, and enhanced email marketing.
Kentico 8 - Introduced March 31, 2014
Features from 8.2, 8.1, and 8 with advancements in email marketing, SharePoint integration, and a revamped module development.
Kentico 7 – Introduced September 17, 2012
Introducing chat, marketing automation, and translation management among others.
Kentico 6 – Introduced October 10, 2011
Features focusing on marketing like A/B testing, lead scoring, and personalization.
Kentico 5 and 4 (February 6, 2009 - December 23, 2009)
Introduction of intranet solutions, widgets, and enhanced user interactions.
Kentico 3, 2, and 1 (January 29, 2008 - Kentico's Inception)
The first three versions of Kentico started out with building a solid foundation for content management, content staging, content scheduling, and more.
Kentico Founded in 2004 by Petr Palas
In 2004, Petr Palas founded Kentico from his bachelor thesis. His goal was to create a product that would streamline productivity for developers, businesses, and consumers. Within the first year, Kentico built a team and the CMS product.
Supported Product Versions & End Dates
Kentico provides support for both their CMS and digital experience platforms, which furthers their commitment to fixing bugs and improving version of their products. These supported versions simply means that Kentico offers full support for that version, which includes bug fixes, updates, and security patches. The end dates of technical support for all versions of Kentico to exist are outlined below.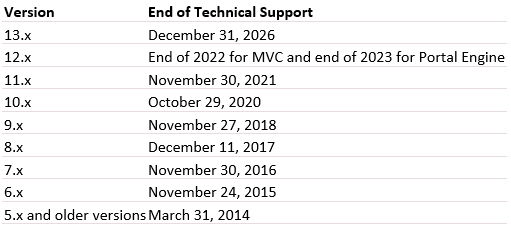 Kentico Hotfixes
Kentico hotfixes are software updates or patches provided by Kentico to address issues, bugs, vulnerabilities, or performance improvements in the software. It's crucial for Kentico users to regularly apply these hotfixes to Kentico installations to ensure reliability and security to your websites. If these patches aren't regularly applied, it can negatively impact the user experience on your website, as well as put your website at risk security wise.
Kentico: Dedicated to Improving Customer Experiences Since 2004
Since 2004, Kentico has been dedicated to the continuous improvement of their platform, as well as ensuring user satisfaction. Over time, Kentico has continued to grow in their technology development, which has furthered their journey of creating a product that boosts productivity and the user experience.
---
About Author
---