The progressive digital experience platform (DXP) solutions from Kentico are successfully serving more businesses than ever before. The platform's intuitive and highly capable editing environment empowers a brand's professionals across many disciplines to consistently contribute to engaging, user-focused digital experiences. With a sophisticated blend of out-of-the-box content management, personalization, digital marketing, and commerce capabilities, enterprise Kentico websites and digital solutions are effectively hosted on either cloud or on-premises (on-prem) server environments.
Americaneagle.com is a Kentico Gold Solution, Quality Expert and Hosting Partner. Now is the time to pursue next-generation Kentico development and hosting solutions with Americaneagle.com.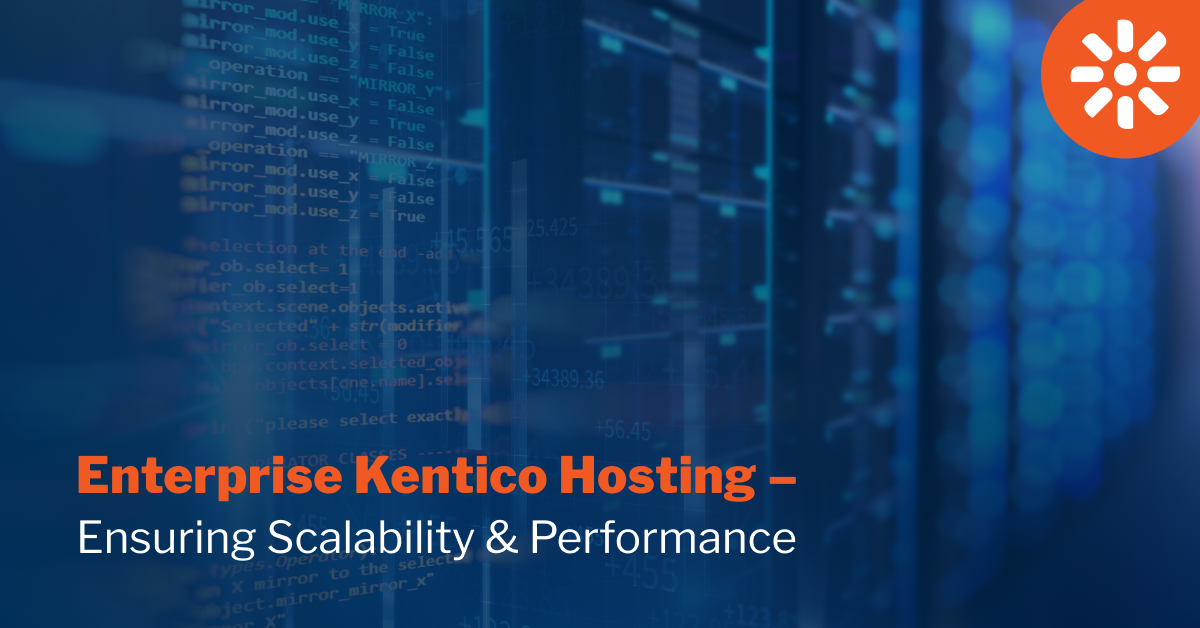 What is Enterprise Kentico Hosting?
Web-dependent businesses choose enterprise-level hosting solutions to provide their brand with advanced capabilities and performance. Enterprise Kentico hosting provides the highest level of reliability, security, integration, service, and speed.
The confidence that high engagement websites are served by performant, enterprise-level hosting, is essential to modern business success. When digital demand peaks during planned events or unexpected surges, businesses can expect that enterprise Kentico hosting providers have thoroughly planned and resourced excellent user experiences without interruption or latency.
Enterprise Kentico Hosting vs. Standard Hosting
Excellent enterprise Kentico cloud hosting options are available within the Microsoft Azure platform. There are also excellent, fully-managed, on-premises hosting options within server environments that are optimized for hosting ASP.NET Core applications.
Both the cloud and on-prem enterprise hosting options provide advanced performance for high-traffic, high-engagement, high-impact digital solutions. Comparing both of these enterprise options to standard hosting agreements, businesses prefer enterprise hosting due to superior uptime guarantees, more server space, load management, resource planning, scalability, staging environments, compliance, redundancy, managed backups, enhanced security, and intrusion detection. 24/7/365 resource monitoring, customer success management, and professional support are also common differentiators that favor enterprise Kentico hosting providers.
A software-as-a-service (SaaS) platform product and hosting option is also available direct from Kentico. The subscription to Kentico SaaS can be a capable option for some business solutions.
Why Enterprise Kentico Hosting is for Large Businesses & High-Traffic Sites
Modern digital solutions are developed with sophisticated strategy, integration, and capabilities to advance business goals. The ultimate success of all the effort, planning, and execution put into launching a website is dependent upon its ability to reach intended audiences. That is where enterprise Kentico hosting is delivering brand experiences that businesses can rely on. Enterprise-level hosting services provide today's businesses the confidence and peace-of-mind that digital solutions demand. Stability, speed, security, and speed are all hosting necessities for large business, high-traffic success.
Core Features of Enterprise Kentico Hosting by Americaneagle.com
As one of the world's leading Kentico enterprise hosting partners, Americaneagle.com provides unparalleled hosting services that are specifically tailored to websites and applications built on the Kentico platform. Over many years, our Kentico development team has cultivated a deep understanding of the technical requirements and best practices for hosting Kentico websites. We're experienced in configuring servers, databases, integrations, and infrastructure to ensure our clients' optimal performance, security, and reliability.
Kentico Gold Solutions, Quality Expert & Hosting Partner Expertise
Americaneagle.com is a Kentico Gold Partner.
Smart businesses on the Kentico platform look for the trusted, top-tier of support from recognized Kentico Gold agency partners. Earned annually, a Kentico Gold Partner has completed certification exams and proven development capabilities, performance, and consistent client success.
Hosting environments for Kentico Gold Partner receive a detailed annual review for capabilities and performance as well. When businesses choose hosting from a Kentico Gold Partner, they can rely on:
24/7/365 Monitoring and Support
Advanced Application Performance Monitoring
Monthly Application Performance and Hosting Utilization Reports
Proactive System Monitoring and Upgrade Recommendations
A Dedicated Account Manager
A Real Person on the Phone at Any Hour
Managed Kentico Cloud Hosting with Americaneagle.com
For businesses to make an informed enterprise hosting choice, leading considerations are typically budget, scalability needs (current and multi-year growth estimate), time to market, existing business system(s) integration needs, and applicable international data compliance.
As a Kentico Gold Hosting partner with successful client solutions within both cloud and on-prem environments, we help to make the best deployment and service selection for each unique business we serve. For clients selecting managed cloud hosting with Americaneagle.com, we provide:
Cloud Hosting Deployment
Service Level Agreement (SLA)
Uptime Guarantee
Vulnerability Management
24/7/365 Live Support
Managed Backups
Kentico Product and Infrastructure Upgrades and Updates
Management of Microsoft Azure-Hosted Infrastructure
Certified Microsoft Azure Administrators
Microsoft Gold Partner
On-Prem Enterprise Kentico Hosting with Americaneagle.com
For clients selecting on-prem enterprise Kentico hosting within Americaneagle.com's privately owned and operated data centers, we provide:
Level 1 PCI-Compliant Private Data Center Hosting
Service Level Agreement (SLA)
Uptime Guarantee
Threat Detection and Prevention with Cloudflare
Intrusion Detection System (IDS)
24/7/365 Live Support
Managed Backups
Kentico Product and Infrastructure Upgrades and Updates
Content Delivery Network (CDN) with Cloudflare
Next Generation Endpoint Protection
Scalability for Peak Times
Once Kentico platform solutions are deployed within Americaneagle.com's on-prem enterprise hosting, we conduct continual stress testing and load analysis. Virtual server clusters are scaled to match client demand, adding resources during high-traffic periods, whether they are planned or unplanned. Whether it has been significant traffic surges from a Super Bowl commercial or a presidential inauguration, our hosting scalability has dependably served our clients' digital assets with excellence.
Americaneagle.com's on-prem deployment also leverages the content delivery network (CDN) services of Cloudflare. Not only does this leading option in CDN improve reliability, performance, and security, it also caches static resource to optimize asset delivery and minimize the direct requests to on-prem servers. Efficiencies from CDN caching enable overall site performance at a higher scale.
Performance Optimization & Load Balancing
Performance tools should be monitoring and responding to server resource optimization within enterprise Kentico hosting solutions. Within on-prem hosting at Americaneagle.com, we monitor and optimize server performance 24/7/365. Mobile optimization for websites and applications includes server-side AMP (Accelerated Mobile Pages) tools that monitor performance, response times, errors, requests, third-party calls, and more. The performance optimizations of Cloudflare's CDN caching have also proven to be extremely significant for Kentico clients.
Secure Kentico Hosting
Within enterprise Kentico hosting environments, advanced security measures are essential. On-prem hosting with Americaneagle.com includes physical location security, a host-based intrusion detection system (HIDS), anti-virus protection, bot and DDOS protection, PCI framework, web application firewalls, vulnerability scanning tools, security patch plan, security certificates, and monitored, tiered access to server resources.
Minimized Downtime Risks
Businesses should have a service level agreement (SLA) with their hosting provider that clearly indicates a guaranteed uptime percentage. The robust hosting infrastructure and support that should be expected from enterprise Kentico hosting options, both cloud-based and on-prem, minimizes the risks of website downtime to the point that guaranteed uptime should be nearly 100%.
Denial of Service Attack Prevention
A distributed denial of service (DDoS) attack aims to make a system or resource unavailable by flooding it with traffic. Preventing these malicious attacks is crucial for maintaining server and service availability. Americaneagle.com deploys advanced protection against network and layer-7 DDoS attacks that include proven techniques and capabilities within Cloudflare.
Intrusion Detection Systems
Intrusion Detection Systems (IDS) are tools used to monitor networks and systems for malicious activity and policy violations. On-prem hosting with Americaneagle.com includes a Suricata intrusion detection system that monitors the network for suspicious activity and sends real-time alerts to our network operations center. The IDS rules are automatically updated on a nightly basis through an automatic download system.
PCI Compliant Hosting Provider
On-prem enterprise Kentico hosting with Americaneagle.com includes an annual risk assessment as part of our Level 1 Visa/Mastercard PCI (Payment Card Industry) compliance program. This is the highest level of compliance. The PCI DSS (Data Security Standard) is a single security standard that is a comprehensive combination of the cardholder security programs from the five major credit card companies. The standard was created to protect customers from increasing identity theft and security breaches.
In 2007, Americaneagle.com became one of the first ten data centers in the world to achieve PCI compliance in managed hosting. We have continued to annually achieve PCI compliance ever since.
Dev Ops & Automated Deployments
Automated deployment (auto deployment) provides the opportunity to quickly deliver customizations and other project changes to production server environments without disruption to the live environment, down time, or the need to manually merge configurations or databases. It involves the use of various tools and scripts to automate the steps involved in deploying software updates, reducing human error, and improving the efficiency and reliability of the deployment process. Auto deployment is particularly beneficial in agile and DevOps development environments, where continuous delivery and quick feedback loops are essential. It aligns with the principles of iterative development and allows enterprise hosting teams to respond rapidly to changing business requirements and user feedback.
Secure Staging & Development Environments
Well-designed staging and development environments are key for securely building and testing applications and changes to your website.
Enterprise Kentico hosting clients receive dedicated non-production environments, ensuring uninterrupted development processes, dedicated CPU and memory resources, and most importantly, a stable environment to launch and test changes before deploying to production websites.
Backup and Disaster Recovery Protocols
Backup plans provide seamless recovery from both cloud and on-prem enterprise Kentico hosting solutions.
Scheduled data center backups within Americaneagle.com include sister center data replication. The offsite replication's recovery point objective is one hour or less in the event of complete destruction of the main data center.
Custom Configurations & Integrations
Hosting solutions are determined based on traffic, uptime and security requirements. Our virtual environments are scalable, providing as many virtual servers as needed. In addition to providing servers, we specialize in optimizing CDN caching to maximize cloud delivery while minimizing the impact on website servers.
Enhanced Site Performance
Enterprise Kentico hosting clients have access to application performance monitoring tools that allow for detailed diagnosis, performance monitoring, and optimization opportunities. Our experts are able to use these tools to fully maximize the performance of your website.
Compliance with Industry Standards
Americaneagle.com maintains a security policy based on PCI, ISO 27001, and NIST standards. We also have a set of documented server build and hardening standards based on Center for Internet Security (CIS) benchmarks. This means that our systems are hardened based on industry best practices such as disabling of unnecessary services, removal of unnecessary software, resetting of default credentials, and having one primary function per server. Our compliance practices have made our Kentico enterprise hosting environment an ideal choice for highly regulated industries, like healthcare and financial services.
Long-Term Cost Efficiency
Our hosting solutions are flexible. We adjust the hosting assets based on your traffic and unique business needs. We offer individual resource upgrades without the hassle of pre-determined tiers that require you to upgrade all resources while only needing one. Our enterprise Kentico hosting allows clients to see their costs upfront for the resources to be utilized. This transparency eliminates the surprises that are common in other usage-based hosting options. Our temporary upgrades are available for up to one week, usually the duration of a high traffic event, after which we downgrade back to normal specifications.
How to Choose the Ideal Enterprise Kentico Hosting Provider
A guide on the factors to consider when selecting a hosting provider for Kentico.
Track Record of Success
If you and your business need a reputable partner for enterprise Kentico hosting solutions, we are happy you've arrived here at Americaneagle.com. We encourage you to learn as much as you can about your potential hosting partner. At Americaneagle.com, we are happy to share client references, contacts, and case studies with you and your team. Your hosting partner should clearly detail and introduce a track record of success with businesses similar to yours in size, scope, industry, and reach. A proven track record goes a long way toward assuring digital success for your business.
24/7 Dedicated Support
The digital solutions for your brand do not take time off. Neither should your hosting services. Is hosting support available to you and your business 24 hours a day, seven days a week, 365 days a year? Is that around-the-clock support available to you in the way you would like it, whether that is a telephone hotline, email, chat window, text, or any combination of those? It should be.
Why Americaneagle.com is the Go-To for Enterprise Kentico Hosting
As a Kentico Gold Partner, Americaneagle.com tailors digital strategy, implementation solutions, and support services specific to each unique client's marketplace and business goals. There is no better time than now to plan next-generation Kentico development and hosting solutions with Americaneagle.com. Call us to speak with a Kentico solutions expert today at (877) 932-6691.
---
About Author
---