ADA compliance refers to the adherence to the Americans with Disabilities Act, a law that prohibits discrimination against individuals with disabilities in various areas, including employment, public accommodations, transportation, and telecommunications. In addition, it requires that websites be accessible to individuals with disabilities. ADA compliance is important because it ensures that everyone has equal access to content, information, and services online.
Digital accessibility means designing and developing a digital solution that is accessible to everyone, regardless of age, ability, or means of access. This includes websites, mobile apps, and any digital products. Accessibility is crucial in today's digital-first world because it ensures that all individuals, regardless of disabilities or limitations, can access and use digital content, services, and technologies. It promotes inclusivity, equal opportunity, and eliminates barriers that may prevent individuals from fully participating in the digital world.
What is ADA Compliance for Websites?
Websites should be designed and developed in a way that allows people with disabilities, such as visual impairments or hearing loss, to perceive, navigate, and interact with the content effectively.
Accessible online content is user-friendly for everyone. Creating accessible web experiences for all users is crucial to ensure that everyone, regardless of their abilities or disabilities, can access and use the information and services provided on the website. It promotes inclusivity, diversity, and equal opportunities for all individuals.
When it comes to user experience (UX) and search engine optimization (SEO), accessibility ensures that websites and digital content are usable and accessible to all users, including those with disabilities. By making a website accessible, it improves the overall UX for everyone, regardless of their abilities. Additionally, accessibility is a key factor in SEO as search engines prioritize websites that are accessible and user-friendly.
How to Assess Your Website for ADA Compliance?
WCAG is an acronym for Web Content Accessibility Guidelines. They were created and they're distributed by W3C, the leading standards-making body for the Web. W3C also develops other Web standards such as HTML, XML, and CSS. The Web Accessibility Initiative (WAI) is led by W3C and works with individuals, businesses, and organizations worldwide to make the Web accessible to people with disabilities.
The steps to evaluate your website's compliance with ADA standards include conducting a thorough accessibility audit, reviewing WCAG guidelines, manual and automated testing, ensuring proper color contrast, providing alternative text for images, and implementing accessible forms and multimedia.
Automated Tools for Assessing Accessibility
Web accessibility evaluation tools include automated ones such as WAVE and Axe that are designed to determine the accessibility of websites and other digital content. Their purpose is to identify potential accessibility issues and provide feedback to website developers and content creators. These tools analyze the HTML code, CSS styles, and other components of a website page to check for compliance with accessibility standards, such as the Web Content Accessibility Guidelines (WCAG).
By automatically scanning webpages, these tools can help identify common accessibility barriers, like missing alt text for images, improper heading structure, or lack of keyboard accessibility. The goal is to assist developers in identifying and addressing accessibility issues early on – during development – ensuring that websites and digital content are accessible to all users, including those with disabilities.

Automated accessibility evaluation tools, such as WAVE and Axe, are valuable resources for identifying potential accessibility issues on websites and applications. However, they do have some limitations that should be considered, including false positives, a limited scope, a lack of understanding the context in which a website or app is being used, and difficulty in evaluating websites with dynamic content, among other limitations. While automated tools can identify potential issues, manual verification is still necessary to determine the actual impact on users and to address any false positives or missed issues.
Despite these limitations, automated accessibility evaluation tools are still valuable for conducting initial assessments and identifying common accessibility issues. They can help save time and provide a starting point for further manual evaluation and accessibility improvement efforts.
The Importance of Manual Testing
Manual testing for accessibility of a website involves manually reviewing and testing various aspects of the website, such as navigation, keyboard accessibility, color contrast, alt text for images, and screen reader compatibility. Manually reviewing the website's design, content, and functionality to ensure it is accessible and usable for individuals with disabilities is important because human judgment is necessary in evaluating accessibility. It allows for subjective and qualitative assessments that go beyond objective measurements.
While automated tools may provide valuable data, they cannot fully capture the user experience and the nuances of accessibility. Human judgment takes into account factors such as context, user needs, and the impact of accessibility barriers on individuals, resulting in a more comprehensive evaluation.
Americaneagle.com's Expert Accessibility Services
Beyond just legal compliance, accessibility is crucial for businesses because optimizing websites for accessibility improves search engine performance and expands audience reach, leading to increased revenue and customer loyalty. Americaneagle.com offers consulting, training, assessments, and remediation services to promote accessibility and inclusivity for businesses.
How to Identify and Resolve Common Accessibility Issues
Some typical web accessibility barriers include lack of alt text for images, absence of closed captions for videos, insufficient color contrast, and inaccessible forms. Solutions to these barriers include adding descriptive alt text, providing closed captions or transcripts for multimedia content, ensuring sufficient color contrast, and making forms accessible with proper labels and error messages.
To address these barriers, it's important to hire an experienced company that has successfully ensured many websites, in all kinds of industries, are accessible to all.
Legal Aspects of Web Accessibility
Non-compliance with digital accessibility standards can lead to legal consequences such as lawsuits, fines, and damage to a company's reputation. In the U.S., the Americans with Disabilities Act (ADA) requires that websites be accessible to individuals with disabilities. Failure to comply with this law has resulted in numerous lawsuits against companies such as Domino's Pizza, Netflix, and Target, among others. In 2019, a federal judge ruled that the website of the grocery chain Winn-Dixie was not accessible to blind individuals and violated the ADA, resulting in a $6 million settlement.
Maintaining Ongoing ADA Compliance
It's important to regularly monitor and update a website for accessibility because accessibility needs can change over time. New technologies, devices, and user needs may arise, and regular monitoring and updates ensure that the website remains accessible to users. It also helps to address any issues or obstacles that may have been missed during the initial website or app development or testing phase.
There are several tools available that can help you monitor the accessibility of your website. Here are a few popular ones: WAVE is a web accessibility evaluation tool provided by WebAIM. It helps identify accessibility issues on your web pages and provides suggestions for improvement.
Lighthouse is an open-source tool developed by Google. It provides an accessibility audit feature that can be used to test the accessibility of web pages.
aXe is a popular accessibility testing engine developed by Deque Systems; it can be integrated into various development environments and browsers to help identify and fix web accessibility issues.
Siteimprove is a comprehensive web accessibility tool that offers automated scanning, issue identification, and reporting, and it also provides suggestions for improving accessibility.
It's important to note that while these tools can help identify accessibility issues, manual testing and evaluation by individuals with disabilities is also important to ensure a truly accessible website.
Evaluate Your Website's ADA Compliance with Americaneagle.com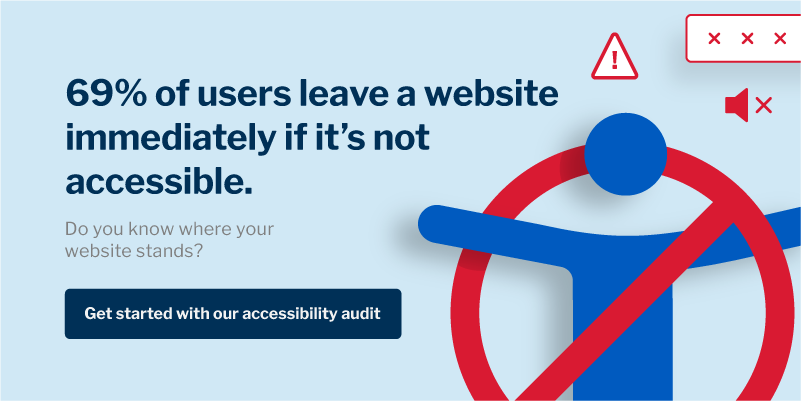 ADA compliance is important because it ensures equal access and opportunities for individuals with disabilities. It helps to eliminate barriers and discrimination, allowing people with disabilities to fully participate in society and have equal rights and opportunities in employment, education, transportation, public accommodations, and more.
It's important to take proactive steps towards web accessibility not only for your users, but also to stay within the law.
Call our accessibility experts today. We provide an audit that evaluates your website's ADA compliance and we work with you to take the necessary steps to ensure ADA compliance for your website and other digital products.
---
About Author
---