The world's most successful businesses prioritize brand access for all people. WCAG and ADA considerations lead their continued priorities and efforts. The following information can put your business on the right track toward successful brand inclusivity.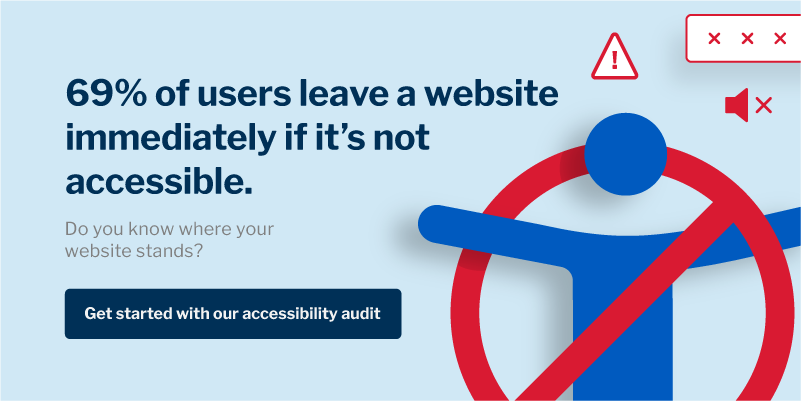 What are the Web Content Accessibility Guidelines (WCAG)?
WCAG is the world's most prominent digital accessibility standards.
Developed, tested, published, and distributed by the World Wide Web Consortium (W3C) as a leading initiative of the Web Accessibility Initiative (WAI), WCAG guidelines and strategies maximize web inclusion for people with disabilities. Since WCAG was first released in 1999, its guidelines and consistent enhancements have internationally improved all peoples' ability to perceive, understand, navigate, and contribute within the World Wide Web.
WCAG compliance improves the accessibility of websites and web applications across all digital devices for people with a wide range of disabilities, including auditory, neurological, physical, speech, cognitive, and visual disabilities. WCAG aims to ensure everyone can use the internet.
The accessibility team at Americaneagle.com helps successful client brands lead inclusive digital practices detailed in the Web Content Accessibility Guidelines (WCAG).
Four principles guide WCAG. The guidelines aim to make all internet content:


Perceivable
Operable
Understandable
Robust
WCAG 2.2 is the most recent release of the guidelines. When released in October of 2023, WCAG 2.2 added nine additional criteria to the 78 of its predecessor, WCAG 2.1. The nine new criteria within WCAG 2.2 improve considerations for users with disabilities on mobile devices and those with low vision or learning impairments.
The next release of WCAG is currently in development and is anticipated to be named WCAG 3.0. While public working drafts have already been released, an official 3.0 release date has not yet been announced.
The Americans with Disabilities Act (ADA) outlines legal obligations in place to promote inclusivity across businesses in the United States. ADA Compliance Services are available to clients from Americaneagle.com.
Content Guidelines for Perceivable WCAG Principle

Content perception, enabling fundamental comprehension and interpretation, requires consistent use of text alternatives (alt text) for non-text content, such as images and videos. Multimedia files should include narrative transcripts. WCAG includes many other modern perceivability guidelines for improving responsiveness across devices, adaptability for screen sizes or screen readers, and more. Adaptability examples include a website's ability to increase font size or successfully transition to dark mode.
Content Guidelines for WCAG Principle
Today's inclusive web practices make digital solutions operable for users with disabilities. WCAG advances functionality by making considerations for keyboard-only users (no mouse necessary). Keyboard traps and dead ends should be remedied. Character key shortcuts should be tested and function predictably. Keyboard focus should have an assigned, logical order that keeps elements in focus completely visible and unobscured by other page elements.
Operability considerations are also important for motion graphics. Any content on a timeline should have a cadence that maximizes time to read and interact with each sequence. It is recommended that controls for pausing or adjusting timing of motion graphics or video content be available. Motion graphic time limits should be avoided.
Fast flashing, strobe-like graphics should not be used as they can cause seizures or other adverse physical reactions.
Interruptions of page display, reauthentication, or timeouts also provide barriers to inclusive operability.
Content Guidelines for Understandable WCAG Principle
WCAG includes guidelines that help inclusive understanding of website content, navigation cues, and overall functionality of digital resources. Guidelines focused on understandability consider a wide range of user limitations, as well as the assistive technologies available to help people with disabilities.
Vocabulary should not be overly-expansive. Unusual words should be replaced with those more commonly used, when possible. A lower secondary reading level is best practice within WCAG. Abbreviations should not have an assumed understanding. A mechanism for identifying the expanded form of all abbreviations should be accompany their use.
Further promoting understandable web resources, pages and navigation should operate in predictable ways. Content priority should lead user interface focus priority. Navigation options and execution should remain consistent across the resources of a particular website, including a consistent option for help.
Input fields and their potential actions should be clearly labeled. Input assistance and error correction should be clearly indicated and described as well. Authentications should also remain accessible.
Content Guidelines for Robust WCAG Principle
WCAG aspires to consistently set and raise a high expectation for inclusivity. The guidelines intend to go beyond providing the basic or necessary digital functionality for people with disabilities. Robust compatibility maximizes all modern digital considerations and assistive technology for prevalent accessibility across the internet. Consistent commitment to WCAG compliance requires regularly-scheduled testing of digital performance on a wide range of assistive devices and technologies.
Three Levels of Testable Criteria to Validate ADA Compliance
There are three designated levels of WCAG testing and validation compliance for each established accessibility guideline, A, AA, and AAA.
Level A Standards of WCAG represent the minimum level of accessibility. Although "single A" provides some quickly attainable goals for businesses to improve accessibility within digital solutions, it does not achieve substantial internet inclusivity for many users with disabilities.
Level AA Standards of WCAG is the level of accessibility that is most commonly referred to in legal proceedings. WCAG "Double A" is recognized by many countries across the globe as their legal accessibility standard for regulations.
Level AAA Standards of WCAG are the highest benchmarks for digital accessibly. Progressively inclusive businesses strive for the "Triple AAA" level for every possible compliance guideline. It is not possible for all digital content to satisfy AAA requirements.
The Positive Impact of Accessible Web Content
The benefits of WCAG compliance extend to all internet users. The guidelines have proven to be helpful for internet users of all abilities. In addition to being developed for those living with disabilities, WCAG improves usability across a wide array of connected devices. Situational limitations that can face all website users, such as high sunlight or high noise environments, can be minimized by effective WCAG compliance. Some people may also experience "temporary disabilities," like lost eyeglasses or a broken arm, and can benefit from WCAG.
WCAG compliance also improves search engine optimization (SEO). The inclusive considerations within WCAG have a direct and positive impact on search engine results pages (SERPs).
People with disabilities face many obstacles and hardships in their everyday life. Educated neighbors and businesses know that many of those obstacles are unnecessary and can be easily removed, or at least diminished.
WCAG plays a critical role in making the internet accessible to all individuals, regardless of their abilities or disabilities. When it comes to online resources and digital solutions, WCAG empowers inclusivity and the successful use of the internet by everyone.
Socially responsible corporate entities unwaveringly promote equal opportunities. Isn't WCAG compliance simply and obviously the right thing to do? Ultimately, non-compliance with WCAG increases litigation risk for neglectful brands.
Are you concerned about your brand's web accessibility? Act now, before a lawsuit, escalating legal expenses, and fines demand reactive remediation. Americaneagle.com provides an efficient and thorough Website Accessibility & ADA Compliance Audit.
---
About Author
---