Since the Americans with Disabilities Act (ADA) was signed into law in 1990, states across the country have implemented laws in order to give guidance in making websites accessible to everyone. One of the staunchest supporters of this is the state of California, in which the accessibility laws are some of the most stringent in the country.
Overview of California ADA Compliance for Websites
What are the Web Accessibility Requirements in California?
California not only follows the federal standard in the ADA and Section 508, but they also follow regulations set under the Unruh Civil Rights Act and the California Disabled Persons Act (CDPA). The Unruh Civil Rights Act was passed in 1959 and prohibits discrimination based on disability, including on websites and in digital services. The California Disabled Persons Act is a law that was signed into effect in 1974 and guarantees people with disabilities the same rights as the general public to use public spaces and facilities. These laws, in combination with the ADA and Section 508, express the web accessibility requirements for businesses that operate in California.
How is ADA Compliance Different in California?
In comparison with other states, California takes ADA compliance very seriously. State law declares that any business that chooses to violate the act is also committing a civil rights violation, meaning that a violator can expect a minimum $4,000 fine in addition to other potential legal costs. California state laws provide individuals with disabilities more avenues for legal action, and businesses that are not in compliance face a higher likelihood of facing a lawsuit. At the same time, California takes web accessibility seriously due to the California Unruh Civil Rights Act which, together with the ADA and the CDPA, adds additional layers of protection for individuals with disabilities.
Guidelines for Business Compliance of California Accessibility Laws
For businesses that are operating their website in California or serving Californians, it's imperative to ensure that the website is compliant with the accessibility laws in the state. The first requirement is to be compliant with the WCAG 2.1 Level AA for web accessibility, and while it isn't specific to California, it's still important to be sure to follow these guidelines. WCAG involves ensuring that websites and digital content are perceivable, operable, understandable, and robust for all users, including those with disabilities.
Under the CDPA, businesses are required to provide full and equal access to their websites for individuals with disabilities. This includes making websites and web-based services accessible to screen readers, voice recognition software, and other assistive technologies. At the same time, the Unruh Civil Rights Act requires businesses to ensure their online presence does not discriminate against individuals with disabilities.
When it comes to ensuring that a website is accessible, it's important to have a clear understanding of the guidelines set by the ADA, Section 508, and the WCAG.
Web Content Accessibility Guidelines (WCAG) & Section 508
WCAG standards are the most prominent digital accessibility standards used around the world today. WCAG development has been consistently organized within four principles, and there are testable criteria that validate the three levels of compliance: A, AA, and AAA. Level A is the minimum level of compliance and Level AAA is the highest level of compliance. The four principles are perceivable, operable, understandable, and robust. The criteria for these principles are outlined below.
1. Perceivable
Provide text alternatives (alt text) for non-text content, such as images and videos.
Provide captions and transcripts for narrative multimedia content.
Ensure content is responsive, adaptable, and can be presented in different ways, like dark mode or increased font size, for example.
2. Operable
Ensure that all functionality is accessible using only a keyboard (no mouse necessary).
Provide ample time in motion graphics and other content with a set timeline so that users can successfully read and interact with that content.
Avoid content that could cause seizures or physical reactions.
3. Understandable
The website's text should be readable and understandable.
Use clear, consistent, and predictable navigation mechanisms.
Provide input assistance, field descriptions, and error prevention for forms.
4. Robust
Maximize compatibility with current assistive technologies.
Test to ensure the website can be accessed and used by a wide range of technologies.
The ultimate goal of these criteria is to ensure that any user is able to fully experience a website and consume its content.
Common Web Accessibility Barriers
There are a number of challenges associated with web accessibility that may result in an inaccessible website for those with disabilities. One of the most common is a lack of proper alt text descriptions for images, which can be a barrier for people who have a vision impairment and rely on screen readers to consume content. Additionally, if a website isn't navigable by keyboard alone, users with motor impairments rely on keyboards and may struggle to interact with a website. Videos and other multimedia aspects need to be accessible in the way of captions or audio descriptions as to not exclude users who are deaf, hard of hearing, or blind. Finally, if your website has a non-responsive design and, for example, doesn't adapt well to different screen sizes and devices, it may be extremely difficult to navigate for those who rely on assistive tools.
Some examples of website elements that are considered inaccessible include pop-ups, auto-playing media, color-reliant information, inaccessible forms, and non-descriptive links. All of these elements may cause disruption to accessibility tools such as keyboards and screen readers, which then may lead to users who rely on these tools to struggle when navigating a website.
Making Your Website Accessible
When you're designing a website for accessibility, it's all about prioritizing inclusivity and optimizing the user experience for all users. It starts with gaining a deep understanding of accessibility guidelines and engaging with experts to gain insights.
From the beginning, setting your site on semantic HTML structures content in a logical manner, ensuring that screen reader users can navigate your content seamlessly. At the same time, keyboard operability is a must, as well as ensuring a responsive design for various devices.
In regard to the design of a website, high contrast colors enhance readability, while descriptive alt text for images and captioned multimedia makes web content accessible. Focus indicators help keyboard users and accessible forms provide clear instructions for screen readers. It's also important to conduct regular testing and user feedback in order to further refine the design.
Web Accessibility Audits & Evaluation Against California Guidelines
­­­­­­Remediating and implementing accessibility fixes is a crucial step in ensuring an inclusive online presence for users. By prioritizing fixes, creating an action plan, and incorporating ADA compliance into website development workflows, businesses are able to provide a more accessible experience to users.
The first step of this process is to conduct an accessibility audit to identify issues, then prioritize fixes based on the impact and severity of the issues. In regard to prioritization, be sure to fix issues that affect the core functionality of the website first. Once a prioritization list has been made, it's time to develop a detailed action plan with clear tasks, responsibilities, and timelines for addressing the issues. This is also the time to establish ongoing monitoring and maintenance procedures in order to mitigate and prevent future issues.
When thinking about integrating ADA compliance into website development workflows, be sure to include all phases of development, including design, content creation, coding, quality assurance, and more. There are a variety of accessibility testing tools such as WAVE or Axe that can identify and address common issues. Here at Americaneagle.com, we have a team of accessibility experts with a deep understanding of the accessibility requirements who can implement these tools and give recommendations accordingly.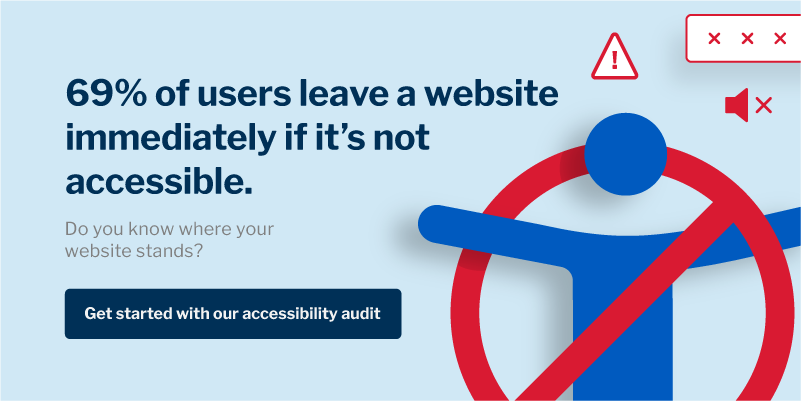 Legal Considerations for California and Beyond
Understanding the legal considerations for accessibility compliance in California is imperative for preventing lawsuits and fines for not having a website that's compliant. While federal laws, like the ADA, provide a foundation for web accessibility, California has it's own state laws and regulations. The California Disabled Persons Act (CDPA) is a California state law that specifically addresses the rights of individuals with disabilities and requires websites and digital services to be accessible with disabilities. The Unruh Civil Rights Act is a California state law that prohibits discrimination on the basis of disability, including on websites, and is closely tied to the CDPA.
The CDPA and Unruh Act are two of the most well-known accessibility legal considerations in California. However, there are two more laws that are important to note. The California's Unfair Competition Law (UCL) is be used to bring legal action against businesses for unfair businesses practices, including the failure to provide accessible websites and digital services. Section 11135 of the California Government Code requires state and local government entities in California to make their electronic and information technology accessible to individuals with disabilities.
Here at Americaneagle.com, we have a team of accessibility experts who have a deep understanding of WCAG, ADA, Section 508, VPAT, AODA, and EN 301 549 guidelines.
Many companies have faced legal actions for failing to provide accessible digital experiences, particularly in the CDPA and Unruh Act. In defending ADA lawsuits, businesses have increasingly recognized the need to prioritize accessibility and they often settle cases by committing to make their websites accessible and adhere to the WCAG.
In order to proactively address accessibility and prevent legal challenges, businesses develop compliance plans that include regular audits, employee training, and the incorporation of accessibility into their web development workflows. This approach aims to identify issues and make the necessary changes before they result in legal action. Additionally, record keeping is a critical component of the compliance plan. Businesses maintain detailed documentation of accessibility efforts, including audit results, remediation actions, and ongoing improvements. These records serve as evidence of a commitment to accessibility and are vital for legal defense.
Siteimprove + Americaneagle.com Partnership to Streamline Accessibility Compliance
Americaneagle.com partnered with Siteimprove to unveil the expanded Siteimprove Connector for Sitefinity CMS. This integration helps brands ensure their websites are accessible to everyone. Digital marketers that use this Connector will gain valuable insights to increase marketing reach, enhance performance, deliver maximum ROI across digital channels.
To help ensure the highest levels of accessibility, the Siteimprove/Sitefinity Connector includes best-in-class features, including Siteimprove CMS plugin, Prepublish check, and integrated settings. These features give companies the ability to ensure accessibility on their websites and improve the user experience.
Future Trends in California
Preparing for regulatory changes and embracing the future of inclusive web design involves a proactive approach that focuses on building websites that are inherently accessible from the beginning. This means integrating compliance into every stage of web development, from selecting the platform to designing functionality, color schemes, and navigation.
Emerging trends and technologies, such as AI-driven accessibility tools and more advanced screen readers, will play a pivotal role in making the digital space even more inclusive. By staying current with these developments, businesses can continue to meet the needs of diverse users and stay ahead in the realm of accessibility.
The future of web design is all about integrating accessibility from the beginning, preparing for regulatory changes, and staying at the forefront of emerging technologies to ensure a more digital landscape.
Make Your Website More Accessible with a Digital Agency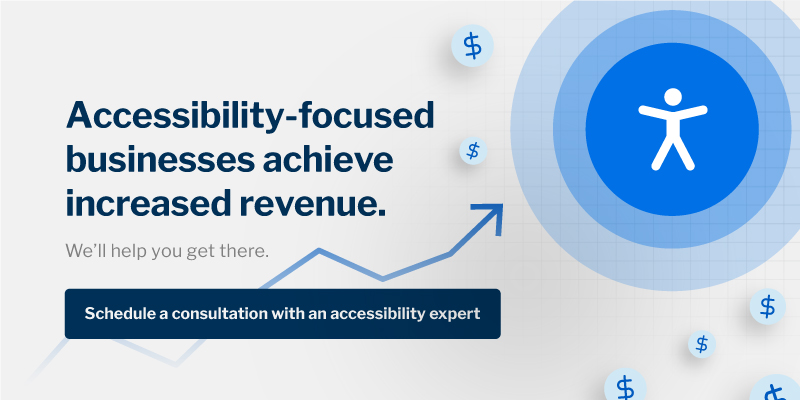 Ensuring your website is accessible is more important than ever before, especially for businesses that operate in California. Here at Americaneagle.com, we have a team of accessibility experts with a deep understanding of the needs that come along with staying compliant in guidelines. If your business is looking to ensure it's compliant with accessibility guidelines, contact us today to learn more about our ADA compliance services.
---
About Author
---